Chrome Hill, Parkhouse Hill, High Edge and Hollins Hill 4 Peaks
This Chrome Hill, Parkhouse Hill, High Edge and Hollins Hill walk is a lovely Peak District circular walk. At just under 10km it's not too long distance-wise but does involve some steep climbs and scrambling so is more challenging. As well as the Dragons Back Walk, we've added on two extra nearby peaks as part of the Peak District Ethels challenge.
Chrome Hill and Parkhouse Hill form the Dragon's Back Walk, as they're said to resemble a sleeping dragon. They're pretty special, rising out of the surrounding farmland like they do. Interestingly, these hills form part of a prehistoric limestone reef knoll and if you're lucky you can still see fossils there. They're designated as a Site of Special Scientific Interest though, so it's an offence to remove anything from the site. I think we saw a fossil – only one mind.
Chrome Hill stands at 425m above sea level and is only around 500m from Parkhouse Hill, which stands 360m above sea level. We also hiked up High Edge (472m high) and Hollins Hill (509m), exploring the beautiful Staffordshire countryside.
Our walk started in Hollinsclough, where we found parking and a tea rooms selling lovely cakes, sandwiches and sausage rolls. They also have loos available. From the tea rooms we set off towards Parkhouse Hill, the first of our 4 peaks. You pass the base of Chrome Hill on the way to the start of the climb up Parkhouse Hill, as well as the honesty shop in a shed!
Parkhouse Hill is very steep and narrow. The path is a muddy track with limestone rocks, and after a period of rain gets very slippery. The climb is relatively straightforward though, with the path winding up the side of the hill. At the summit there is a rocky outcrop. The descent from Parkhouse Hill is even steeper than the climb up, so take care! It's really slippery as well. We had to slide down part of it on our bums!
After you've reached the bottom of Parkhouse Hill you follow the track to the start of the climb up Chrome Hill. Just before the cattle grid, head over the stile and follow the faint path up the hill. Be sure to look back at the view as you climb because Parkhouse Hill looks amazing from this side!
Chrome Hill is a bit less steep than Parkhouse Hill. It was really windy when we did this walk, and walking along the ridge was a bit treacherous at times. At the top of Chrome Hill there is another rocky outcrop.
Going down Chrome Hill, you'll pass a natural arch in the rock, and a little cave. The path is easy to follow but is steep and slippery in places. We met a couple of guys here who decided climbing Chrome Hill in the wind was a bit beyond them, it was so bad!
Pass through the gate and head over farmland towards High Edge. There is another steep slog up the field and then you'll pass through some relatively level fields before crossing the cattle grid out onto the road to High Edge.
High Edge is the next peak, and is the site of two machine gun bunkers which formed part of RAF Harpur Hill. There are some amazing limestone formations here too, so well worth a visit. There are two hilltops here, with the lower one overlooking Buxton Speedway.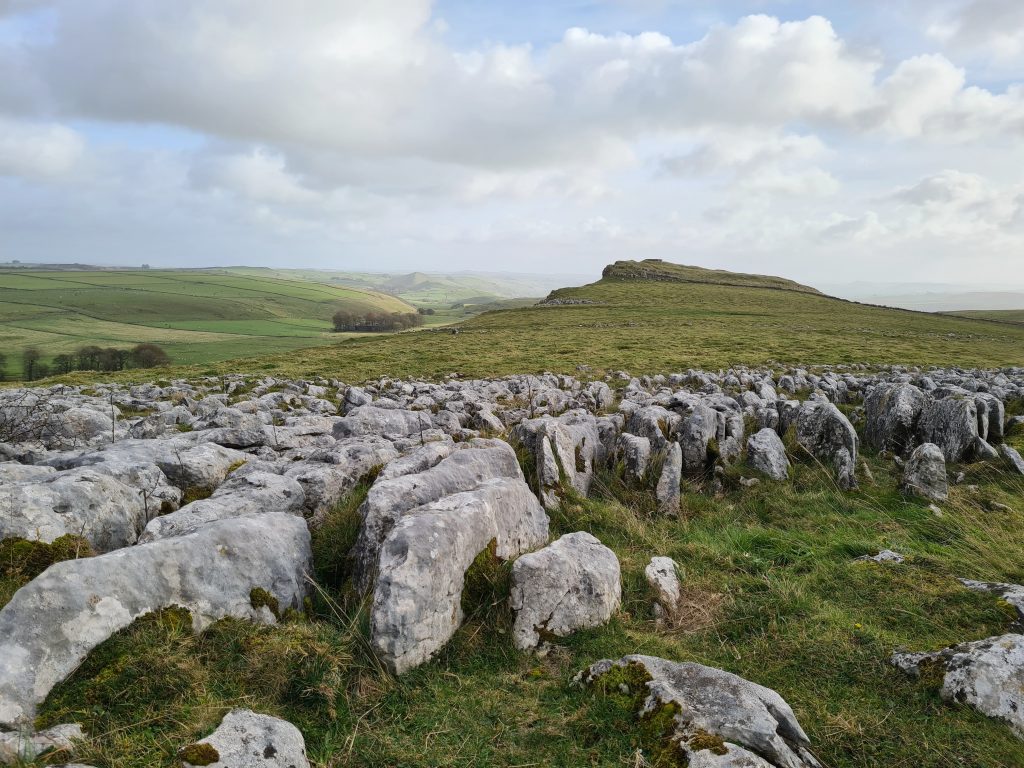 Head back to the road and down the track to Booth Farm. There's a stile in the fence which will put you onto the route up Hollins Hill. After a relatively short climb you'll reach the summit, which has a bowl top.
It's a gentle ascent back down the hillside, which gives fantastic views of Chrome Hill and Parkhouse Hill. You'll pass over a lovely little old stone bridge and then back down the lane to Hollinsclough.
There isn't a pub in Hollinsclough unfortunately, so we jumped in the car and headed to the Ye Olde Cheshire Cheese Inn in Longnor. Longnor is a really pretty little Peak District village and one we'll definitely come and explore again (not least because we need to bag some local trig points!).
We really enjoyed this Chrome Hill walk, and will definitely be doing it again!
Parking: Head to Hollinsclough SK17 0RH.
Facilities: In Hollinsclough there is a tea rooms at the Chapel Hall (open Saturday, Sunday and Bank Holidays) with toilets. There is also an honesty shop in a shed en-route.
Walk Time: 2-3 hours
Difficulty: ▲▲▲
Route Map:
Trig Points Bagged: None
Peak District Peaks Bagged: Chrome Hill, Parkhouse Hill and Hollins Hill
Peak District Ethels Bagged: Chrome Hill, Parkhouse Hill, Hollins Hill and High Edge
How long does it take to climb Chrome Hill?
The walk up Chrome Hill would be about an hour from Hollinsclough. It's a shame to only climb one of these hills though! This walk took us 3 hours 49 minutes but it was really windy so we had to take our time crossing the ridges of Parkhouse Hill and Chrome Hill.
Where do you park to walk up Chrome Hill?
We parked in Hollinsclough (SK17 0RH) in a lay-by outside the Chapel Hall. There is a tea rooms here so you can use the loo and buy a cuppa or snack.