List of Peak District Ethels and Walking Routes
A few months ago I stumbled across a new challenge in the Peak District – a list of 95 Peak District Ethels! Here's our Peak District Ethels list, with walking routes to help you bag those Ethels.
So what is an Ethel?
These are 95 hills in the peak District which are "over 400m above sea level and significant lower prominent hills". Named after Ethel Haythornthwaite, the pioneer behind the Peak District National Park, the challenge is to climb all 95 Ethels and was created by the countryside charity CPRE in May 2021. There's a handy app to help you keep track of your progress too, created by Doug Colton. You can download the Ethel Ready app for Android or iPhone. The app is great as it shows you information about each Ethel and whether there is a trig point there too or not (if you're bagging the Peak District Trig Points like us, this is so helpful!).
There are four Peak District Ethels which have a summit over 600m – these are Kinder Scout, Bleaklow, Higher Shelf Stones and Grindslow Knoll. There are 27 hills with summits of 500m or more, 37 Ethels which have summits of 400m or more and 27 prominent hills lower than 400m but with character. The Ethels also include the county tops of Cheshire, Derbyshire. Staffordshire, South Yorkshire, West Yorkshire and Greater Manchester and 5 Marilyns, being hills with a prominence of 150m or more. Some of the hills are just outside the Peak District National Park but they're all great places for a hike.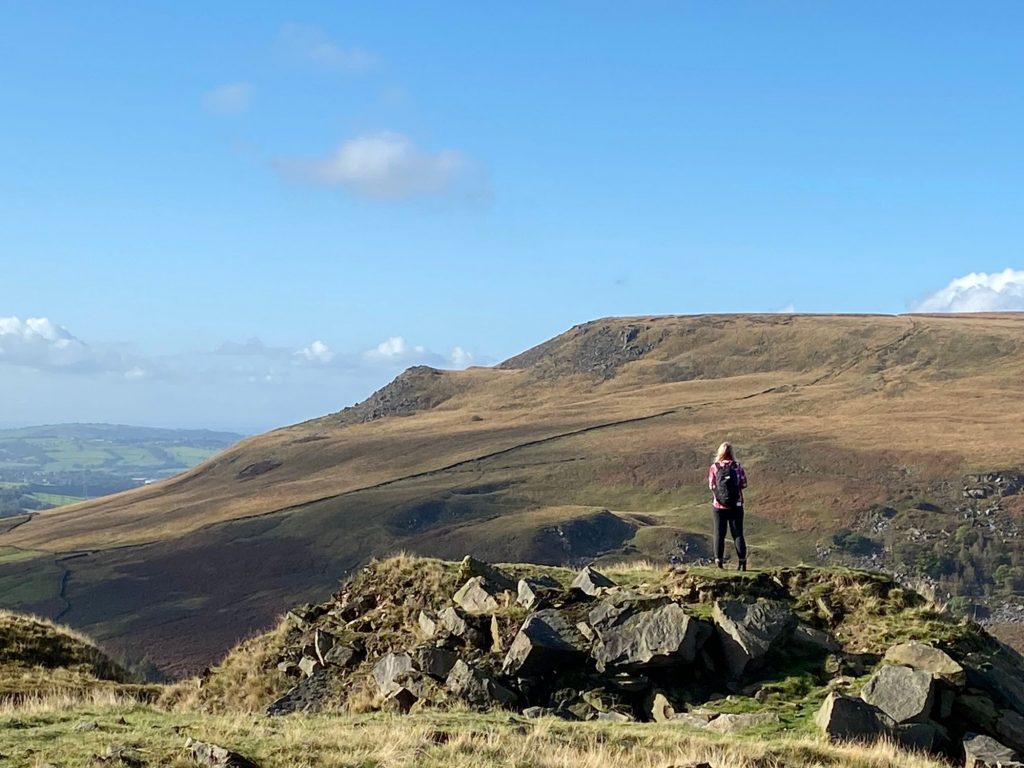 We try and plan our Ethel walking routes to take in at least two Ethels, as it makes for a nice long walk in the Peak District. Our little girl comes with us on most of these walks, so Ethel bagging is a great family activity and a great way to get kids outdoors exploring. We don't take her on the epic long ones though! If you are wanting to start hiking with kids, this walking challenge could be just the way to get started and keep them motivated! Here's a list of the 95 Peak District Ethels, and the ones highlighted in pink have walking routes that we have done so far.
EDITED: July 2022
We have completed the Ethels! We started on 24 September 2021 and finished on 27 June 2022. You can find the walks on my Komoot profile. I still update Komoot with all the other Peak District walks we do so if you want some walk inspiration, come and follow on there. 
You can also check out this list of 21 short Peak District walks, with 21 quick and easy Ethels to bag to help you on your way to completing the challenge.
Don't forget to download your Ethel Ready app to keep a track of your progress! As well as the list of 95 Ethels in the Peak District, I also have a list of the 88 Trig Points for the Peak District Trig Point Challenge and a list of the 105 Peak District Peaks for the Peak District Peak Bagging Challenge. Some of the Ethels aren't on the Peak Bagging List, so our walks usually involve a bit of admin afterwards to tick off the right peaks on the right lists!
You can follow on Instagram to keep up to date with our latest walks and check out new Ethel bagging walking routes in the Peak District National Park.
EDIT: I've put together a blog post with 40 or less walks to complete the Ethels Challenge. I'm updating this as we walk, and if I can combine the Ethels I will do!