Stanage Edge Circular Walk
This Stanage Edge circular walk is just over 11km and takes in High Neb trig point, Stanage Pole, White Path Moss trig point and Higger Tor, meaning you can get 2 trig points for the Peak District Trig Point Challenge and 4 Peak District Ethels! This is a lovely scenic walk which is a great walk for kids to do as there is plenty to see!
This Stanage Edge circular walk starts in the Dennis Knoll car park, near Hathersage in the Hope Valley. This is a small car park so I'd get there early to make sure you can get a space. There are other car parks nearby though if not.
From the car park, we headed up the hillside to High Neb trig point, our first of the day. The path winds its way up the rock face, past a load of abandoned millstones. As tempted as I was to carry one home, these things weigh over a ton each and are the remnants of the quarrying industry which was all over this part of Derbyshire. For years these stones would have ground flour in the mills until they were replaced by cleaner, cheaper alternatives. Now they're just a reminder of days gone by and the reason this is such a popular part of the Peak District with photographers! I'll be sure to come back when the heather is in bloom.
Once you've climbed up to the top of High Neb, it's a short walk north-west to High Neb trig point which has amazing views over the surrounding Peak District. This is an Ethel, a Peak District Peak and a trig point! I love ones like this as it means I can tick a lot off my list!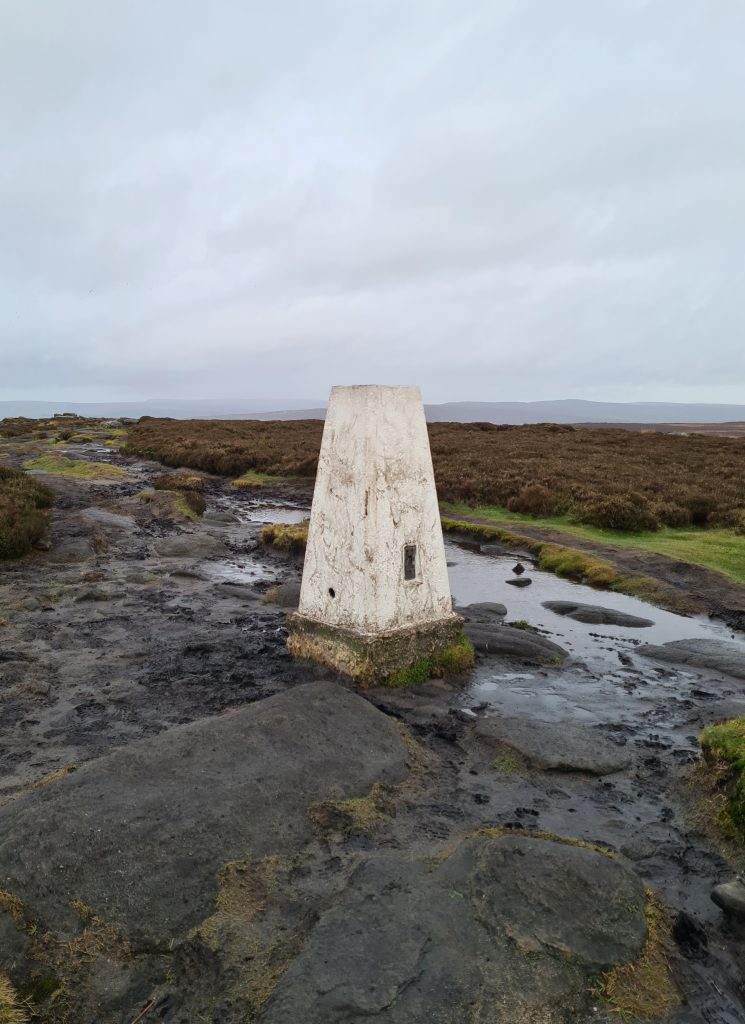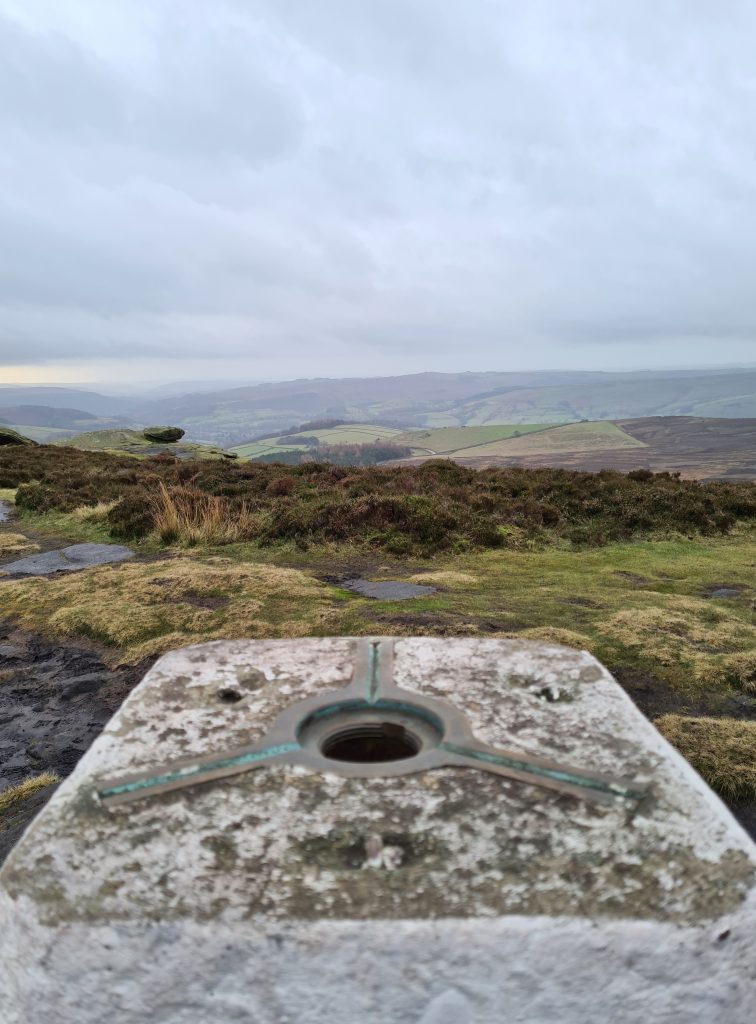 After we'd taken our photos, we headed off along the ridge towards Stanage Pole. The path follows an ancient packhorse route along the ridge, and there are loads of huge rocks giving amazing views down the valley.
Stanage Pole marks the county boundary between Derbyshire and Yorkshire and has been in place for something like 500 years. It's a pretty impressive pole! This was our second Ethel of the day.
We headed off over the moorland towards White Path Moss trig point. The moorland was wet and boggy, so I'm glad we had waterproof walking boots on! If you didn't want to head over the moors you could retrace your steps from Stanage Pole along the track and then follow the line of the ridge again.
At White Path Moss trig point the walk started to get really busy. We had to queue to get across to the trig point itself, which is situated on a small rocky outcrop. This is definitely at the busier end of Stanage Edge, with there being more car parks and more visitors at this end. There are tons of rocks for the kids to climb about on though, and Robin Hood's Cave where the man himself apparently hid! We didn't see it though (we weren't looking, but next time we go!).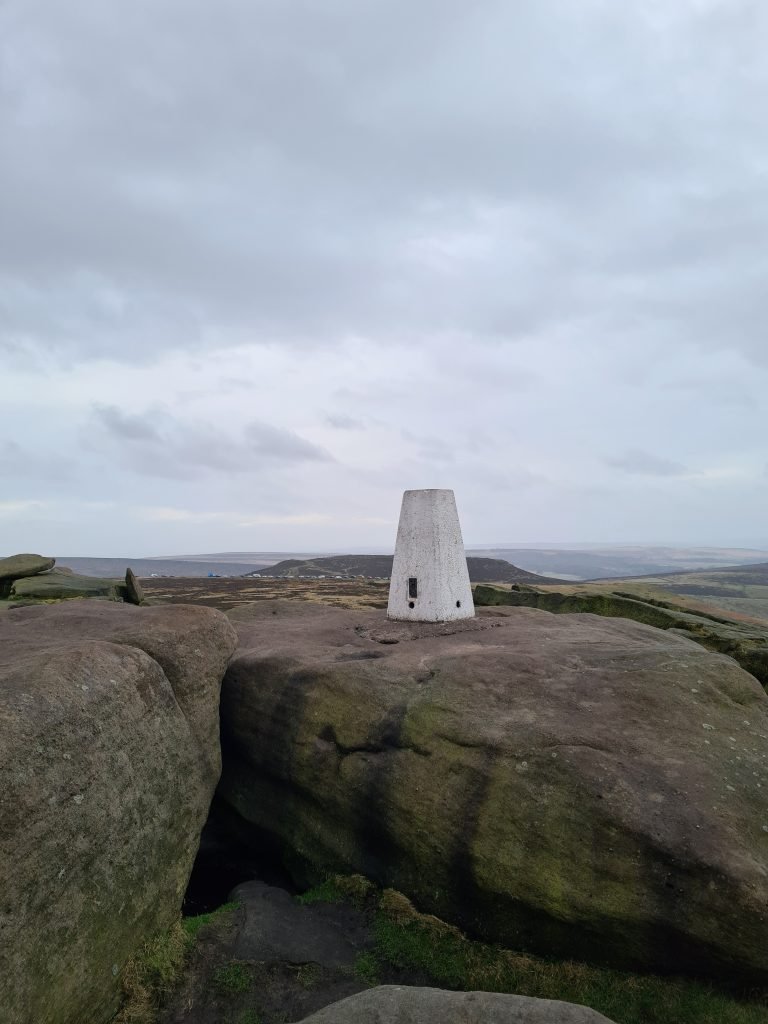 After White Path Moss trig point (also known as Stanage Edge trig point) we headed down the hillside towards Higger Tor. We passed through a field of friendly cows on the way.
Higger Tor was so busy with people having picnics, people having wild camped over night and people who were climbing on the rocks there. We didn't hang around long – we headed to the summit, took a quick snap and then headed back down. It was really muddy in places, but has some amazing views over the Burbage Brook valley and towards Carl Wark, the location of an iron age hill fort.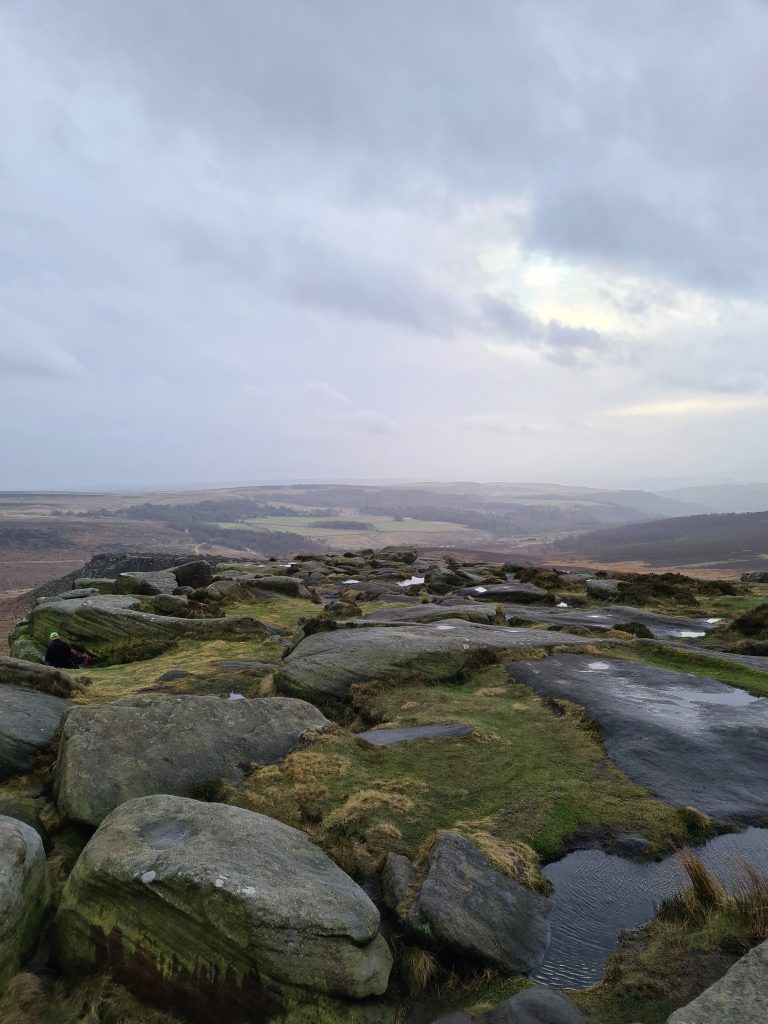 After dodging the crowds on Higger Tor, we headed back to the car park along the road, past some other car parks and a toilet block.
This was a great walk to do to tick off some more Ethels and trig points, see some spectacular Peak District scenery and be out and about in the fresh air. This Stanage Edge circular walk takes in some beautiful views of the Peak District and is a great walk to do with kids.
Parking for Stanage Edge: Dennis Knoll Car Park, Hope Valley S32 1BQ – free of charge
Facilities: There are some toilets available at Hollin Bank Plantation Car Park nearby, S32 1BR – this is a coins only pay and display car park. There are no cafes so if you fancy a picnic, take your own food.
Walk Time: 2-3 hours
Difficulty: ▲▲
Distance: 7 miles
Trig Points Bagged: High Neb, White Path Moss (Stanage Edge)
Peak District Peaks Bagged: High Neb, Stanage Pole, Higger Tor
Peak District Ethels Bagged: High Neb, Stanage Pole, White Path Moss, Higger Tor
Stanage Edge Circular Route Map: (click the image to download the gpx file for your device)
Why not try this Scenic Bamford Edge and Stanage Edge walk or Redmires to Stanage Edge Walk (With Spooky House)?