Bakewell to Lees Moor with Calton Pastures and Noton Barn Trig Point
Looking for walks from Bakewell? Last weekend we headed to beautiful Bakewell to bag two trig points (Calton Pastures and Noton Barn) and a Peak District peak of Lees Moor. This circular walk is just short of 14km long and takes in woodland and beautiful Derbyshire countryside before heading back into Bakewell.
Last weekend was a big weekend in our house. We adopted a new kitten from Cats Protection (#adoptdontshop)! This walk was the first time we left her alone while we were out. She is 4 months old, so we were fine to leave her with plenty of food, water and things to do. I expected to get home to find the Christmas tree toppled over but I think she must have spent the time napping, much to my relief! Getting back for Wren also means we didn't have chance to have a pub lunch, but there are plenty of pubs in Bakewell to choose if you wanted to make this into a Peak District walk with a pub stop.
Our walk starts in Bakewell and heads out towards the Monsal Trail, passing over the Bakewell Golf Course before heading into the woods for a wander up towards Calton Pastures trig point. This was the only real climb on the walk and is short but uneven underfoot.
The trig point itself is a short detour from the main path and is set against the wall at the top of the field. It's very well camouflaged, making it hard to spot on a soggy day until you're almost on top of it (especially if your eyesight isn't great, like mine!). The Trigs Revival Man needs to add this to his To Do list!
From Calton Pastures trig point we headed across the farmland and into the pine tree plantation of Manners Wood. This was a lovely place to be, so quiet and peaceful. The log piles were amazing!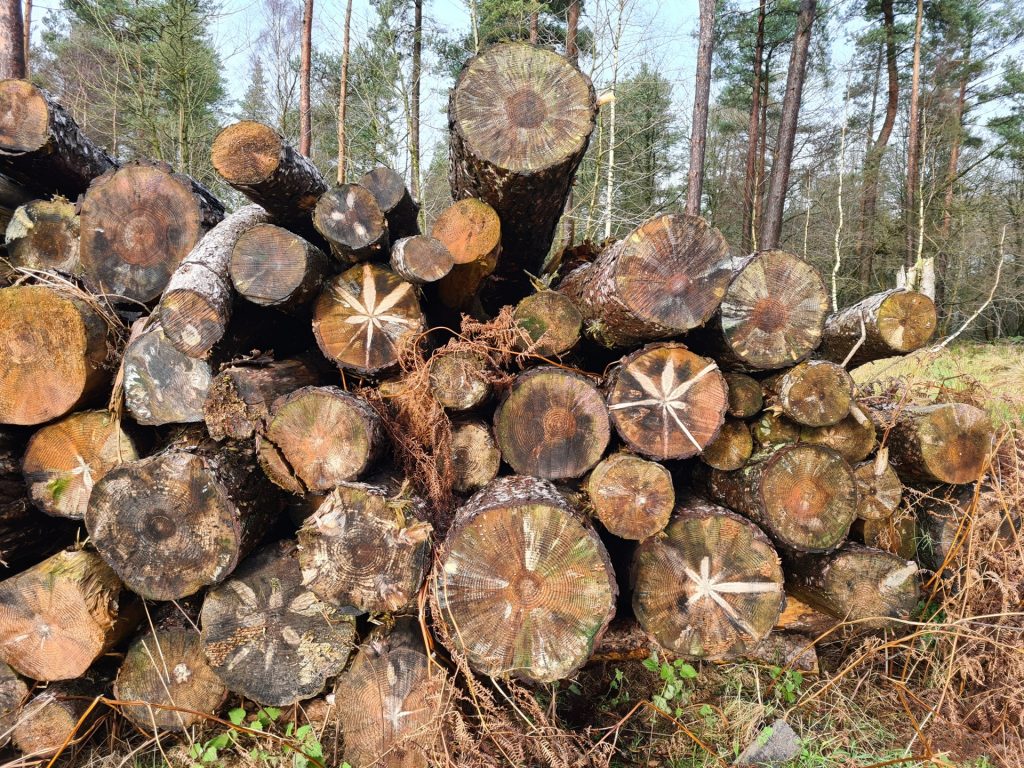 The summit of Lees Moor is hidden in the plantation and there is nothing to mark it, so you'll have to use your GPS to make sure you reach the correct point!
After a wander round the plantation we headed out through some ancient woodland, full of gnarly old trees and lots of birdsong, something which was definitely lacking in the plantation.
We passed the River Wye where it ran alongside Haddon Road. There had been so much rain recently the river had burst its banks and flooded parts of the woodland.
Our route originally was going to cross Haddon Road and then go up the hill to the trig point at Noton Barn. Unfortunately the gate was closed and locked, so we had to detour along Haddon Road then up a public footpath onto Portway. Noton Barn trig point is in a field just at the side of the road but this is private land (I've since found out – oops!). There is a footpath running along the other side of the wall and you can probably reach it from there if you had to tap it.
Trig points in the bag, we set off back down into Bakewell to grab a quick sandwich and head home to check on Wren. I think she had enjoyed the peace and quiet as we're at home all day, every day usually!
Here's the route info for this Bakewell circular walk – click the map to download the route map.
Parking: Bakewell Market Place car park DE45 1HA
Facilities: There are plenty of facilities in Bakewell including pubs, cafes, shops and toilets.
Walk Time: 4 hours with regular rest stops for Hols
Difficulty: ▲▲
Distance: 8.5 miles (14km)
Trig Points Bagged: Calton Pastures, Noton Barn
Peak District Peaks Bagged: Lees Moor
Peak District Ethels Bagged: Lees Moor
Route Map:
This is a lovely walk from Bakewell to Lees Moor and, given more time, we would have enjoyed exploring around Bakewell too. It does mean we have an excuse to revisit Bakewell though!