Back Tor and Lost Lad Circular Walk
Here's another trig point circular walk for you! This walk takes in Back Tor trig point and the Peak District peak of Lost Lad and is a pleasant walk over moorland of just under 10km. Exploring Derwent Edge, you'll see fabulous millstone grit deposits and beautiful moorland views. You'll also bag two Peak District Ethels!
Back Tor trig point is situated approx 538m above sea level and is high on Derwent Edge, a rocky outcrop high above Ladybower Reservoir. The trig point marks the summit of Back Tor and is set in and amongst a millstone grit deposit which makes for a fun clamber about. The cairn and toposcope marking the summit of Lost Lad are a short distance away.
The name Lost Lad apparently comes from a legend about a shepherd boy who got lost in a blizzard and and died. His body was found by a passerby the following spring along with the words "Lost Lad" on a nearby stone.  Whilst we were on this walk the weather changed really quickly, and it is easy to see how you could become lost up here. There were still snow drifts on the ground as well, despite the majority having vanished elsewhere. It is a bleak place, but incredibly beautiful.
Our Back Tor trig point walk starts out from The Strines Inn and heads down the roadside through the woods. Over the bridge in the bottom of the woods, there is a gateway leading off up Foulstone Road. This track leads to a farm building but also runs to a footpath crossroads.
At the crossroads, turn right to head north toward Back Tor trig point. There is a paved stone path which takes you there, and the trig point will suddenly appear on top of the rocks as you get closer. It's a bit of a clamber to get to the actual trig point, but once you're there there are amazing views over the Dark Peak. It was a bit too windy for me to attempt to climb the trig point today!
From the summit of Back Tor you can just see across to Lost Lad. The path is paved with natural stone but is still boggy in places where the stones have come unset.
It's a gentle climb up to the Lost Lad summit, where there is a stone cairn and a toposcope showing the names of the fells and peaks you can see. The mist was really starting to come in when we reached the summit, and looking back we couldn't see Back Tor any more!
We then headed over the moorland of Green Sitches and looped back around to rejoin Foulstone Road before heading back to The Strines Inn for a well earned pub lunch. Luckily they had the fires roaring in the pub as it was a bitterly cold day!
It was icy going in places, but this was a lovely walk to do and if we had time we would have extended it to maybe include Margery Hill trig point. As we were out during school hours we had to make sure we could get back in time (plus I wanted my walk to finish with a pub lunch!).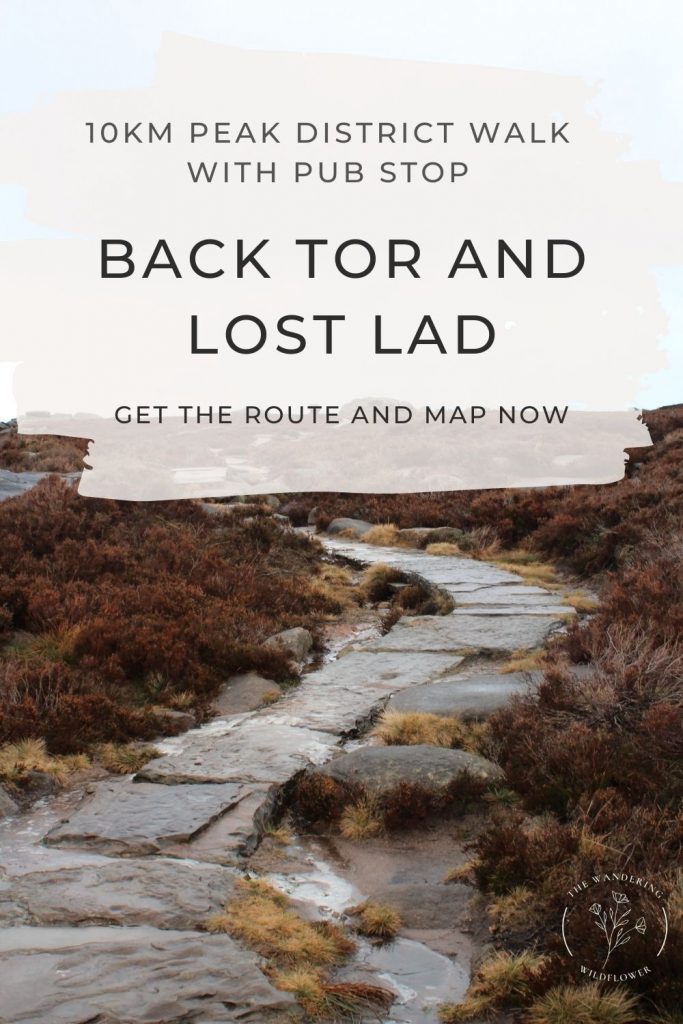 Here's the route for this Peak District walk with a pub:
Parking: The Strines Inn S6 6JE. Parking is for customers only but we checked with staff before we set out for our walk that it would be OK for us to park there and have lunch after.
Facilities: The Strines Inn
Walk Time: 2 hours 30 min
Difficulty: ▲▲
Distance: 6 miles (10km) approximately
Trig Points Bagged: Back Tor
Peak District Peaks Bagged: Back Tor, Lost Lad
Peak District Ethels Bagged: Back Tor, Lost Lad
Route Map:
For more Peak District walking routes or Peak District Ethels walks check out the blog posts below.
You might also like Lost Lad and Back Tor with Abbey Brook or for a more challenging walk try Derwent Reservoirs Circular (Dambusters Challenge Walk).