Buchaille Etive Beag Walk
This Buchaille Etive Beag walk is just over 5 miles and involves a steep climb up to the twin summits of Stob Coire Raineach and Stob Dubh. With spectacular views on a clear day down both Glen Coe and Glen Etive, as well as over to Ben Nevis, this is a great walk which bags 2 of the "easiest" Munros in Glencoe.
If you've driven through Glen Coe ever, you'll have driven past Buchaille Etive Beag but might not have noticed it as it tends to be overshadowed by the more dominating Buchaille Etive Mor. This is actually two summits (so you can bag two Munros!), Stob Coire Raineach and Stob Dubh. Stob Coire Raineach is 925m above sea level and Stob Dobh is 958m, and both have spectacular views over the surrounding area. The area was formed by the eruption of a super volcano over 10,000 years ago, which has left dramatic landscapes wherever you look!
This is definitely a great hike, well worth doing if you're looking for the best walks in Glencoe.
Whilst these are some of the easier Munros, and we took Hols up with us (who's 10), please be sure to check the weather before you go.
You can check the weather for Buchaille Etive Beag here:
These are mountains, which are rocky in places, and you'll be a long way from help if you needed it. There are no paths in places and it's a bit of a ridge walk.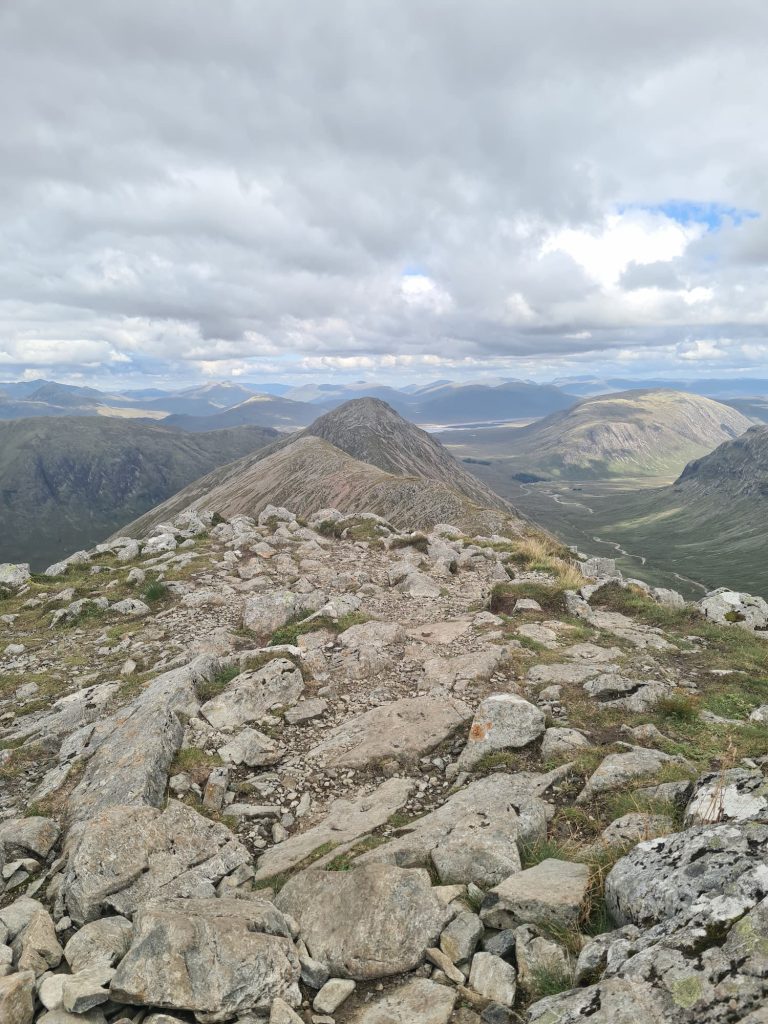 Buchaille Etive Beag Walk
This walk starts in the small car park just off the A82, just across from the beehive cairn. The path itself is relatively easy to follow in good weather, with it being a clear stone path with some steps in places leading up to the bealach between Stob Coire Raineach and Stob Dubh. This makes a great place to stop off for a breather as it's quite a slog up from the car park!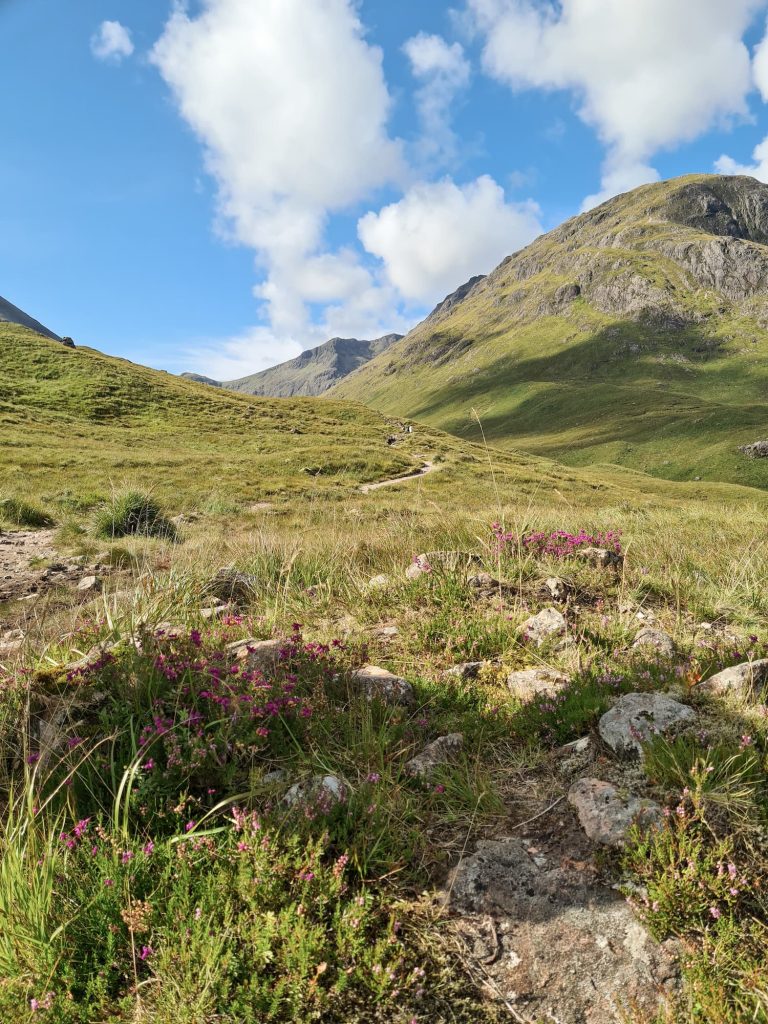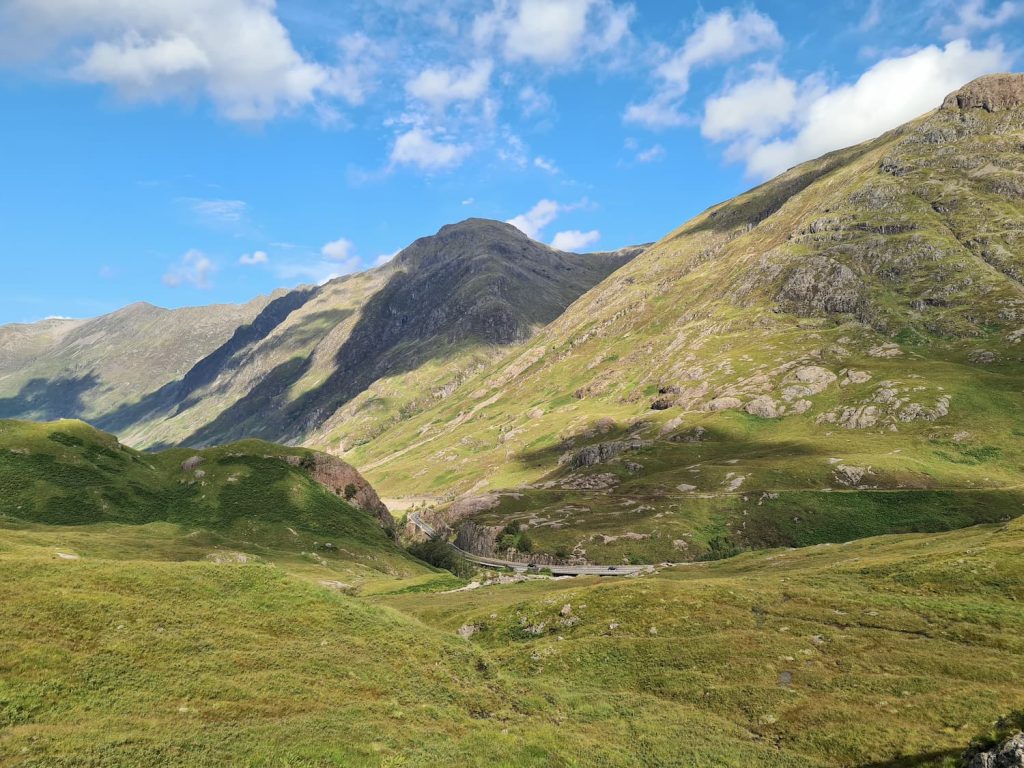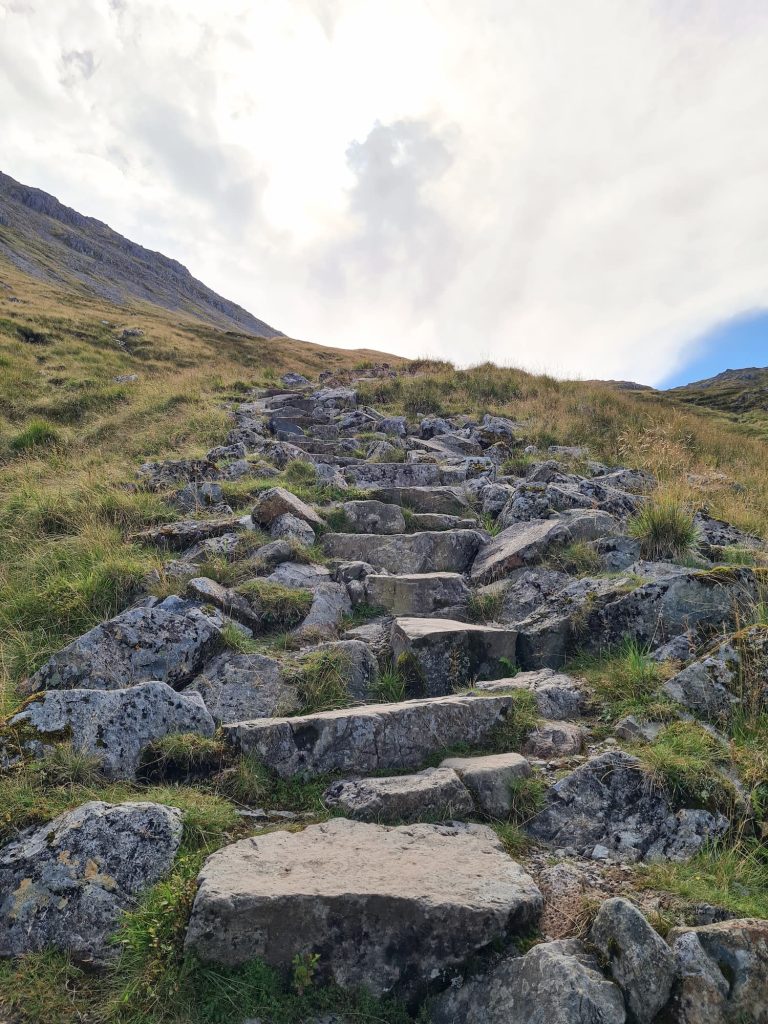 From here, we headed left and climbed up onto Stob Coire Raineach first of all. This is quite straight forward although the path is faint in places, especially in the rocky sections near the top. From the summit there are views for days over to Blackwater Reservoir and the surrounding peaks.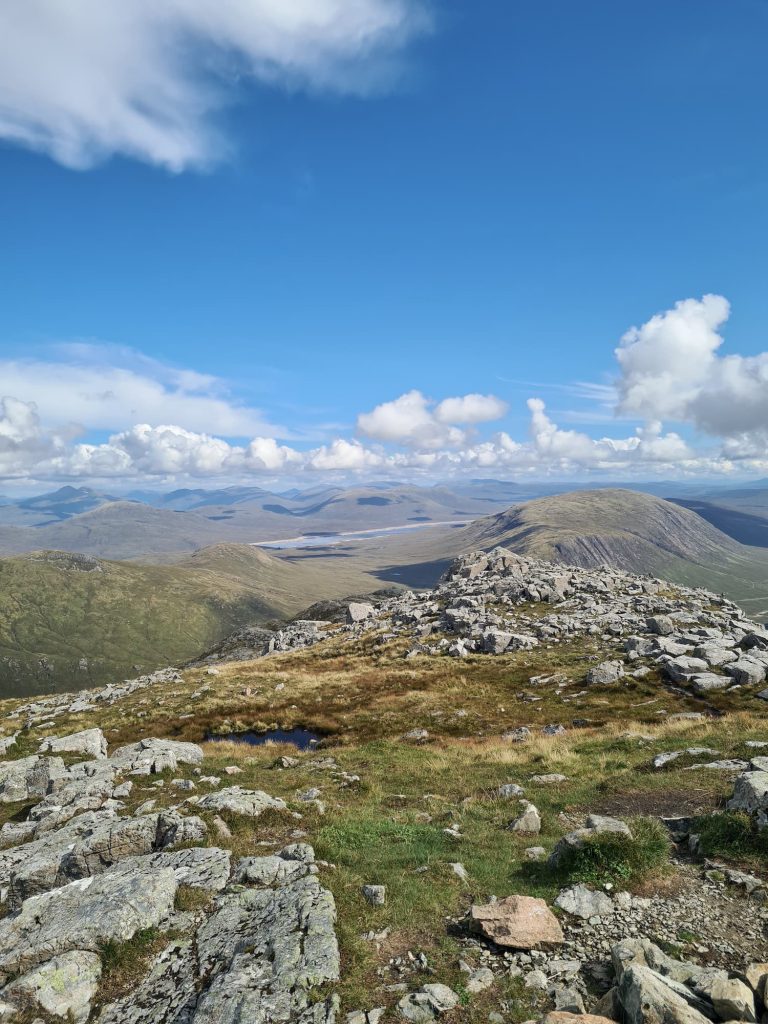 We left the summit and retraced our steps as best we could down the mountain back to the bealach and then followed the ridge north-west to the summit of Stob Dubh. This is bit of a ridge walk, but it's not as challenging as something like Striding Edge. We were lucky in that it wasn't too windy though – it might be a very different story on a windy day! I didn't much like being so exposed, so I couldn't wait to get onto wider ground.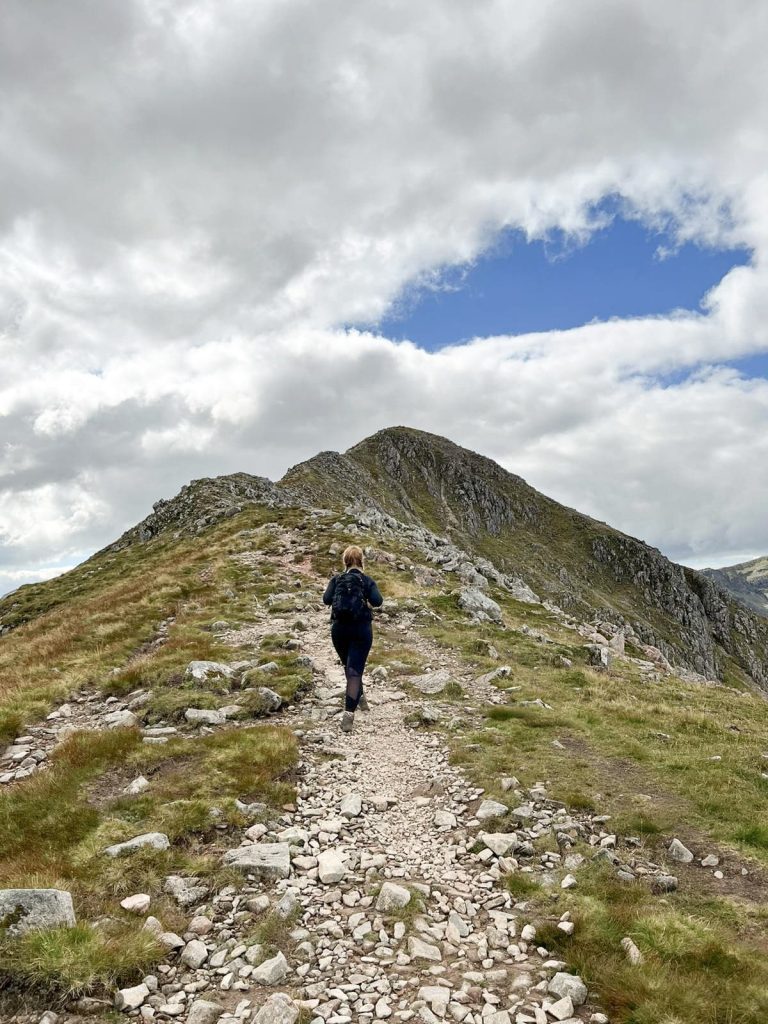 From the summit of Stob Dubh we headed back to the bealach again and then back down the mountain, following the path we came up originally.
This was a great walk, which felt like a challenge at times (especially as I'm not a fan of heights or exposure and I'm even worse when I have Hols with me) but it gave me a lot of confidence to tackle things such as Helvellyn. It's worth it for the two Munros we bagged, and the incredible views – there's nothing quite like those Scottish views.
Buchaille Etive Beag Walk Route Information
Parking: There is a car park across from the beehive cairn on the A82 in Glen Coe (Ballachulish PH49 4HX) (You can open the map here)
Facilities: None
Walk Time: 4-5 hours but allow more time for exploring
Difficulty: ▲▲▲ (steep climb, rocky and ridge walk in places)
Distance: 5.1 miles (8.2km)
Trig Points Bagged: None
Munros Bagged:  Stob Coire Raineach, Stob Dubh
Buchaille Etive Beag Walk Map:
Is Buchaille Etive Beag Two Munros?
Yes! Buchaille Etive Beag is made up of two summits, Stob Coire Raineach (925m above sea level) and Stob Dobh (958m). These summits are also Marilyns, meaning they have a prominence of 150m or more. 
How Long Does it Take to Climb Buchaille Etive Beag?
This walk took us just under 5 hours with a lunch break at the top. Allow 3-4 hours at least.