Ben Nevis Hike
We went to the Isle of Skye earlier in the year to hide away while I turned 40 – eek – and had planned a day trip to tackle the big Ben Nevis hike while we were there. Unfortunately in April there was too much snow on the tops, and we only tackle big mountains in the right conditions – hiking Ben Nevis with kids is hard enough, let alone in treacherous conditions!
We booked a week in Fort William in August, staying in a lodge at the Linnhe Lochside Holiday Park, and planned the Ben Nevis hike for the best day weather-wise. I use Mountain Forecast to check the Ben Nevis weather at the summit as it's very different to that at ground level and conditions can change quickly up there.
Ben Nevis is the highest mountain in the UK, being 1345m above sea level. It's a beast! It's also a former volcano, and used to be some 2-3km higher than it is now. It's distinctive shape is that of a caldera, which was made when part of the side of the volcano collapsed. I do love a bit of geology!
This is our Ben Nevis route – to be fair, it's the same as most other people's routes who tackle the Ben Nevis pony track up!  This was the last of the National 3 Peaks for us to climb as a family – challenge completed!
We started out at the Glen Nevis Visitor Centre car park where there is a shop and toilets. From here we crossed over the bridge over the River Nevis, then headed up (and up and up!) the Pony Track or the Mountain Track, depending on what you want to call it, to the Ben Nevis summit, crossing a stile and admiring the views up Glen Nevis (you might also like Steall Falls – A Waterfall Walk in Glen Nevis.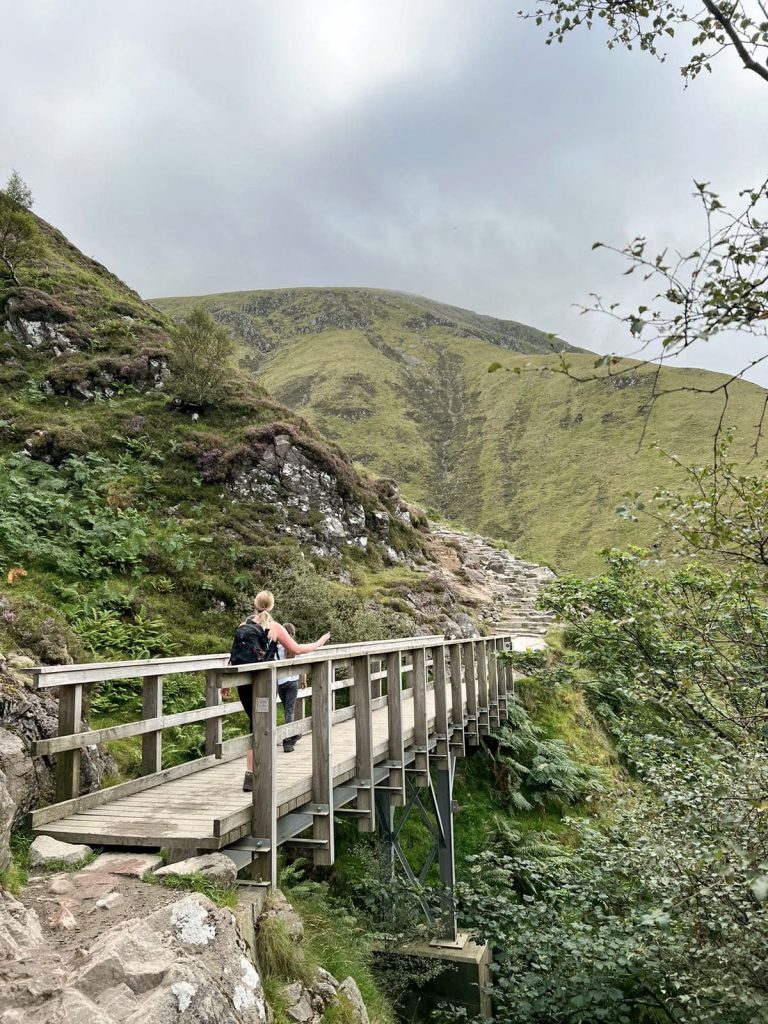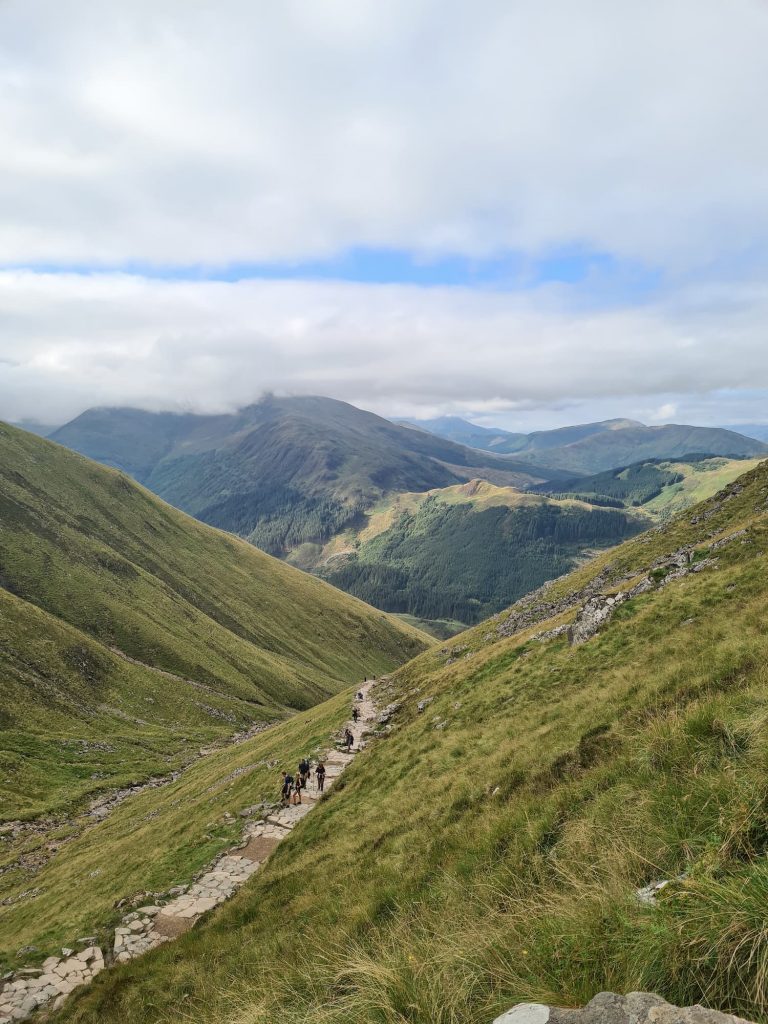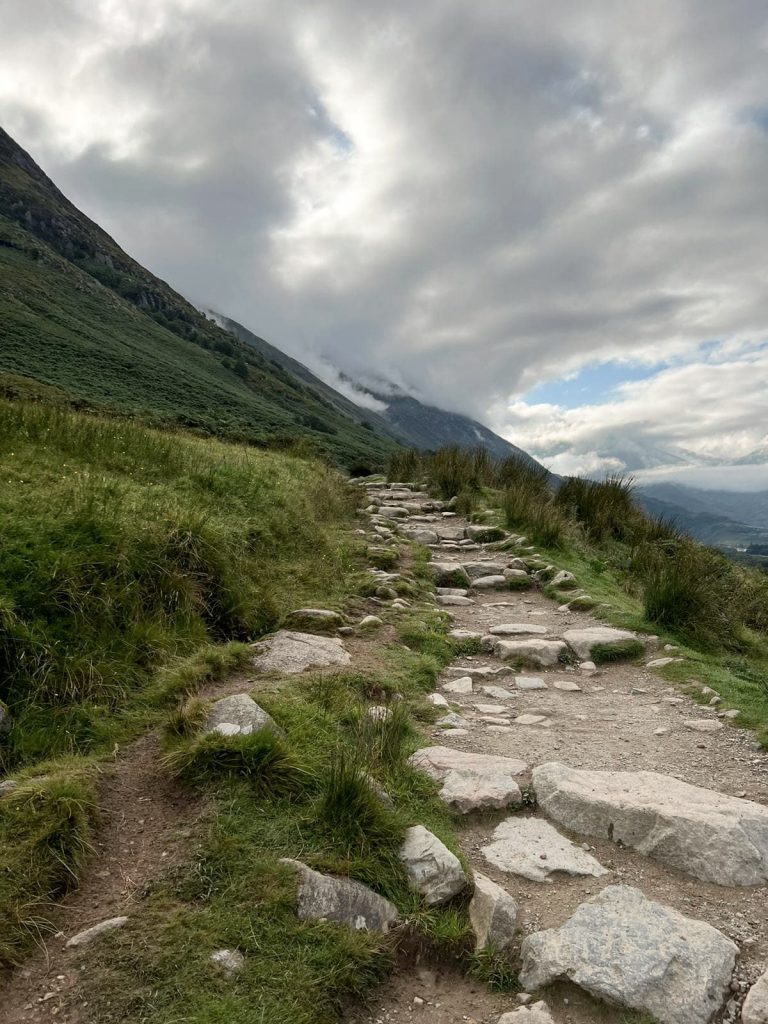 The path itself is pretty straight forward for the most part, being either steps or gravel screes. To the summit and back is around 9.8 miles and we just did this as an out and back.
There is a loch partway up which a lot of people mistakenly refer to as the Halfway Loch – sadly it isn't halfway up! Lochan Meall an t-Suidhe is at about 2/5 of the way up, but is a brief respite in the steep climb to the top. The path almost feels level here! The path doesn't go all the way to the loch but it is a short detour if you fancy a nosy.
There is a waterfall at Red Burn which is around halfway up, and then the path becomes a series of switchbacks which get smaller and smaller as you near the top.
On a clear day the path is really easy to see, but in bad weather or mist it would be very easy to go near the edge and there is a very big drop down Gardyloo Gully near to the summit. There is a row of cairns to the right of the path near the southern edge of the summit plateau.
Ben Nevis used to be the site of an observatory and weather station, and even a hotel! There are just the remains of the observatory there now, and the tower has been repurposed into a survival shelter. There is a trig point and a toposcope there too. We were really lucky with the weather and had blue skies and sunshine, but this is really rare – in fact, for the remaining 6 days of our Fort William trip Ben Nevis had a constant hat of cloud on.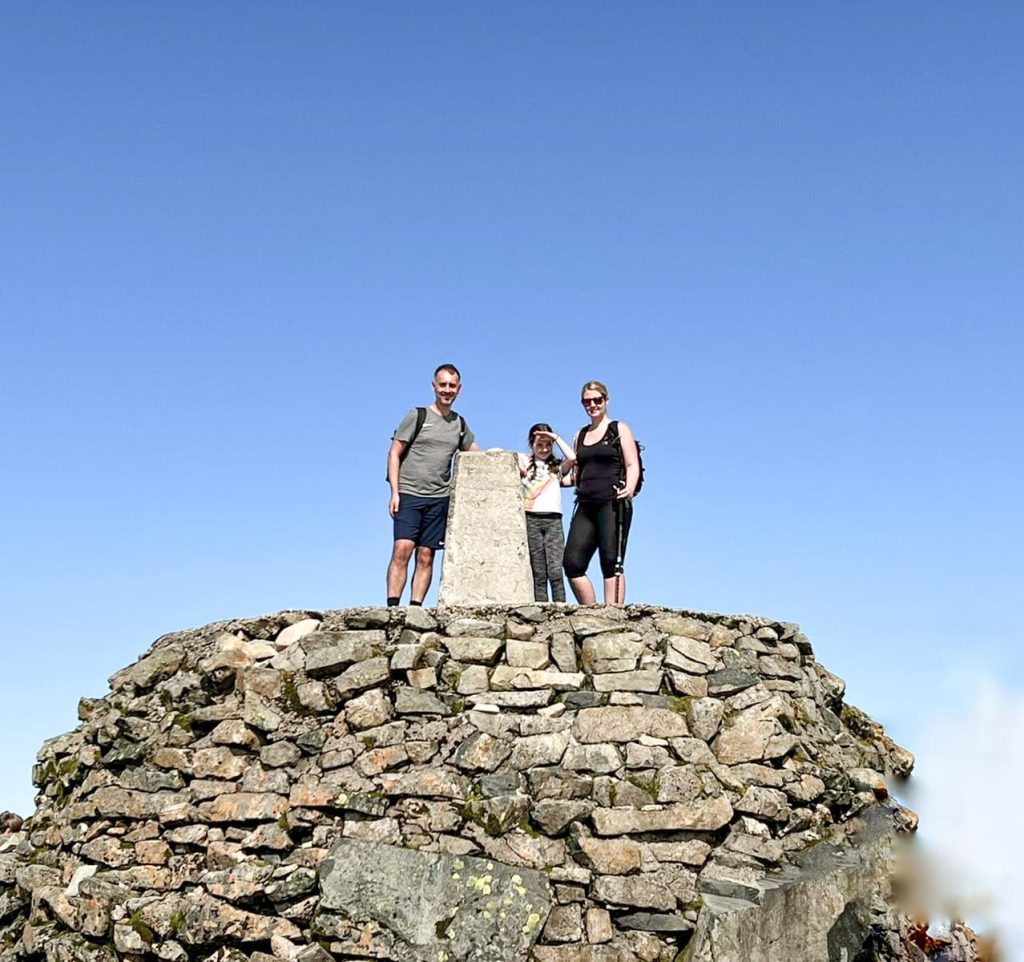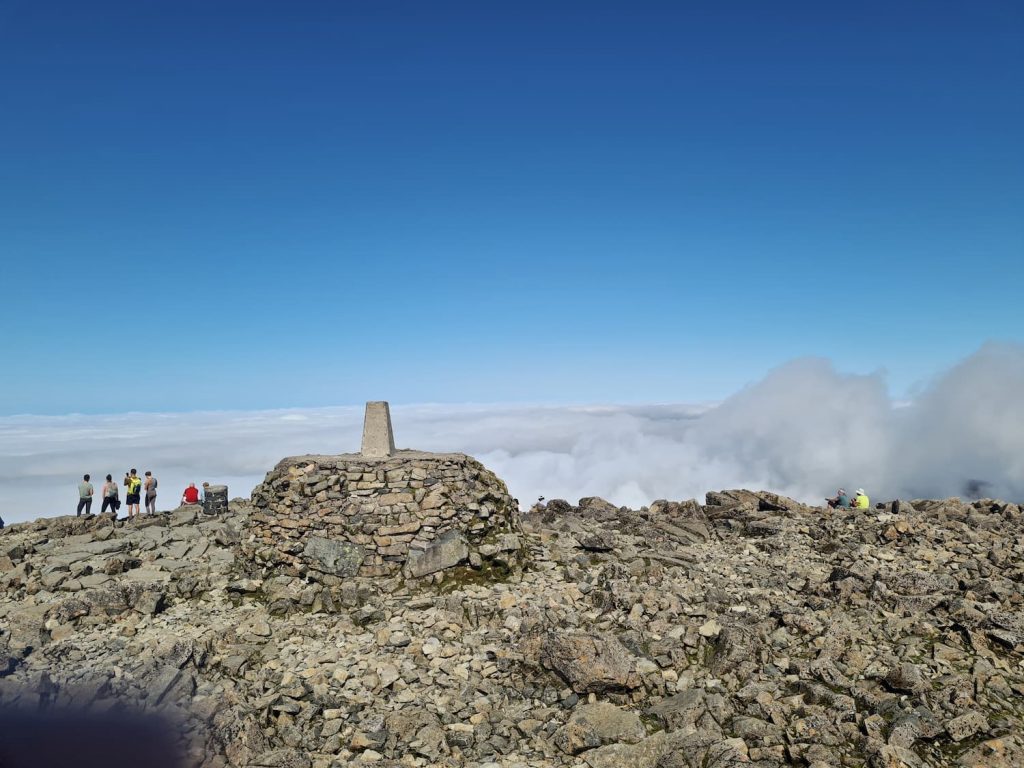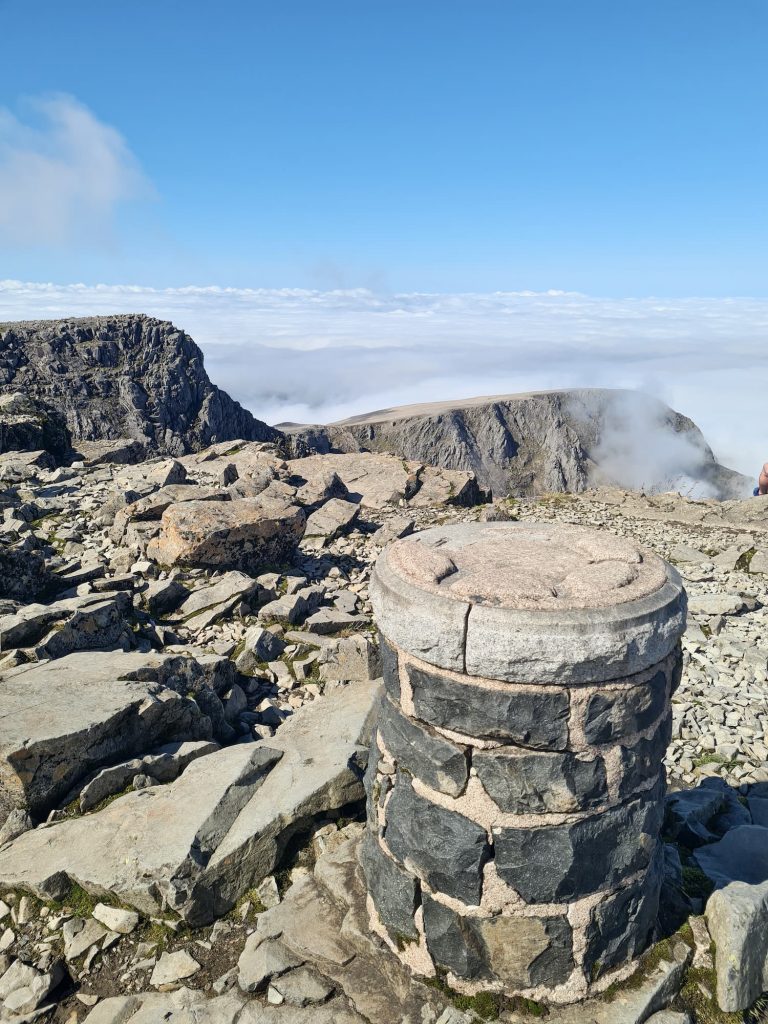 After we'd found a couple of geocaches on the summit, we headed back down. We just followed the path back down, the way we had come up! Surprisingly it didn't take us quite as long to get down as it did to get up, but the paths are tough on the knees. I walk a lot but the next day my calves were really sore and I couldn't even stand on tiptoe.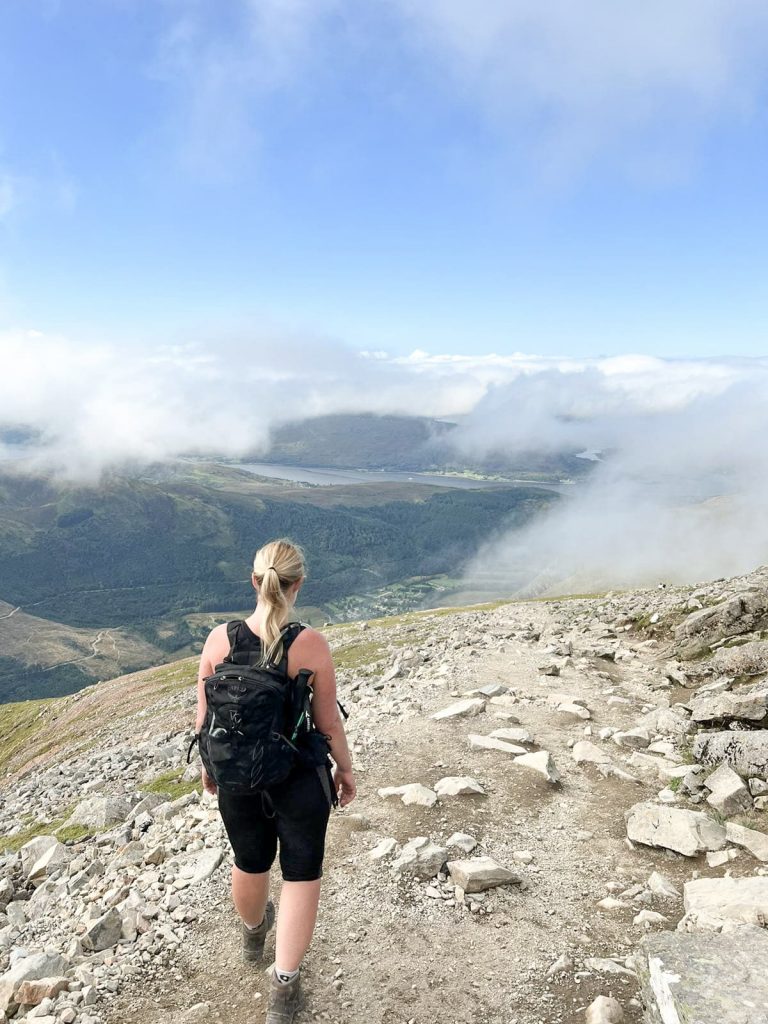 There is a pub near the base, the Ben Nevis Inn, where you can get a beer and some food afterwards.
This was the last of the National 3 Peaks that Holly has done with us this year (we did Scafell Pike Route and Snowdon earlier in the summer). It was definitely the toughest of the 3, but only because of the long old slog to the top. It seems never ending, especially when you're 10!
Ben Nevis Weather
Always check the weather before you go. I use Mountain Forecast to check the weather forecast at the summit as it can differ dramatically from that at ground level.
Yes! As long as your child is used to walking long distances, and you go fully prepared for any weather, you should be fine. It is a very tough walk though, and you need to be patient and sympathetic when hiking mountains like this with kids. Take plenty of snacks, sing songs, play games – whatever keeps their mind off the relentless hike! We walk a lot with Holly, and we've gradually built up to mountains like this. I always check the weather and we won't climb if the weather isn't right. There's no point making a tough situation even worse with bad weather!
Is it Easy to Navigate on Ben Nevis?
Whilst the Mountain Track or Pony Track is very easy to see in good weather, this won't be the case in bad weather. Be sure you take a map and compass, and know how to use them, as there are deaths on Ben Nevis every year. Please don't underestimate this mountain!
Accommodation Near Ben Nevis
We stayed in a lodge at
Linnhe Lochside Holidays
and I would definitely recommend it. I booked through
Booking.com
, and you can find more details or different accommodation on their site.
Ben Nevis Hike Route Info:
Parking: Glen Nevis Visitor Centre, Glen Nevis Road, Fort William PH33 6PF
Facilities: Public toilets and cafe/shop at the car park
Walk Time: 6-7 hours depending on speed and fitness
Difficulty: ▲▲▲
Distance: 9.81 miles (15.8 km)
Ben Nevis Hike Routes Map:
You might also like:
or if you're heading to Skye and want some Isle of Skye walks, check out:
Hiking The Quiraing and Meall Na Suiramach Trig Point