Helvellyn via Striding Edge
One of the must-do Lake District hikes has to be Helvellyn via Striding Edge. It's been on our to-do list for some time now, and this past weekend we managed to head up to Glenridding and get the walk done.
The summit of Helvellyn is 950m above sea level and is marked by the second highest trig point in the UK (the highest is Scafell Pike). There are amazing views down over Red Tarn (and in all directions on a clear day). Helvellyn has two ridges, Striding Edge and Swirral Edge, which surround Red Tarn.
This Helvellyn walk has sat on our list for a while because of how tricky Striding Edge is. Whilst it's only a Grade 1 scramble, the levels of exposure make this a challenge. We needed to wait for a day when the weather was perfect with low winds (and when we didn't have other plans!), especially as we took Holly with us.
Our walk started at Helvellyn Base Camp at Glenridding Common. We set off past the Gillside Campsite and followed the path over Little Cove. It's a very steep climb up, with the path being made up of steps and gravel/scree parts. We had a detour to the summit of Birkhouse Moor, which is marked by a cairn and has amazing views down over Ullswater.
From Birkhouse Moor we rejoined the main path and had a quick lunch stop at Hole-in-the-Wall. After lunch with a view of Helvellyn and Red Tarn, we set off over Low Spying How and came to the start of one of the most famous Lake District scrambles, Striding Edge.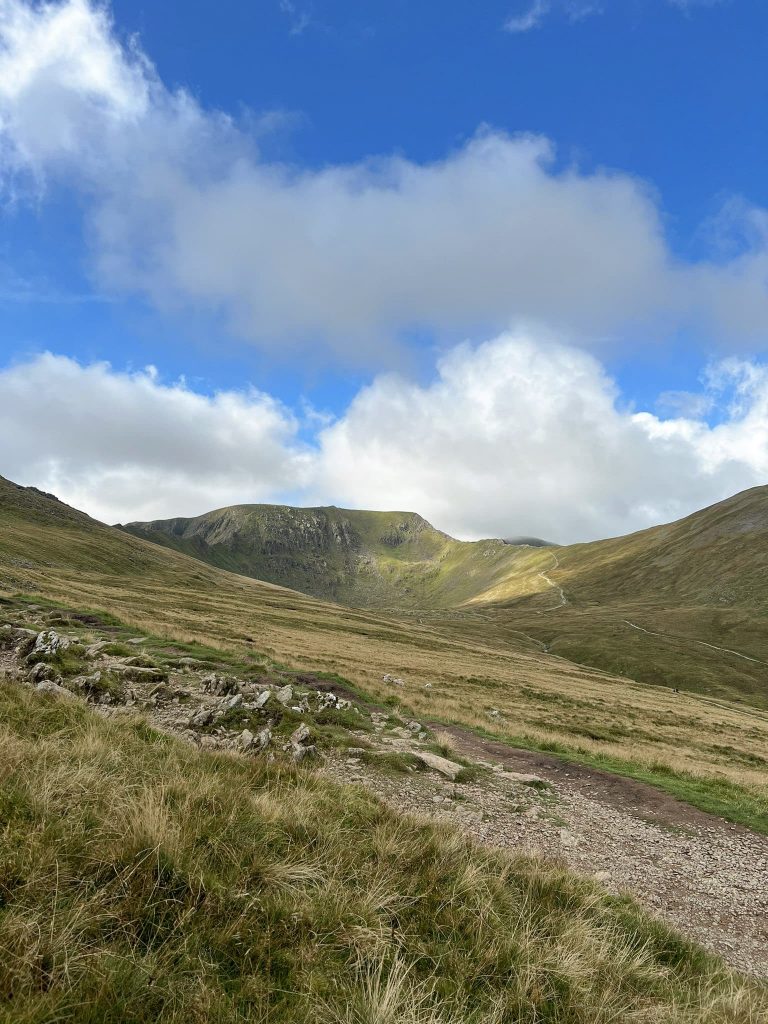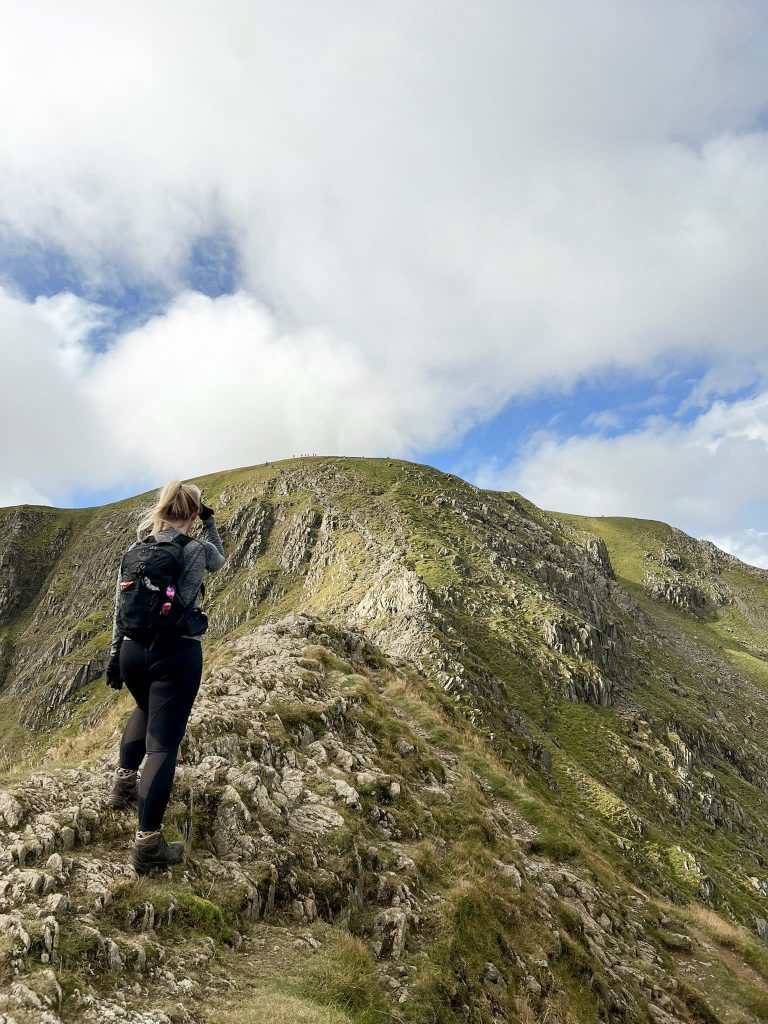 Striding Edge has a bit of a reputation for being dangerous in poor conditions, and it's definitely something that you shouldn't underestimate. Whilst it's a Grade 1 scramble, it is very exposed and narrow, and can be really busy in good weather. There are sections where you have to climb down and the terrain is rough. There are plenty of sections where you have to climb using your hands – it's not a simple wander along. After you have crossed the main ridge there is a steep climb up onto Helvellyn itself.
There is a path which runs at a slightly lower level so if you find the ridge too challenging or it's too windy, you can drop down to the path and still head up to Helvellyn this way. You'll still have the climb up onto the summit itself but you'll avoid the ridge walk.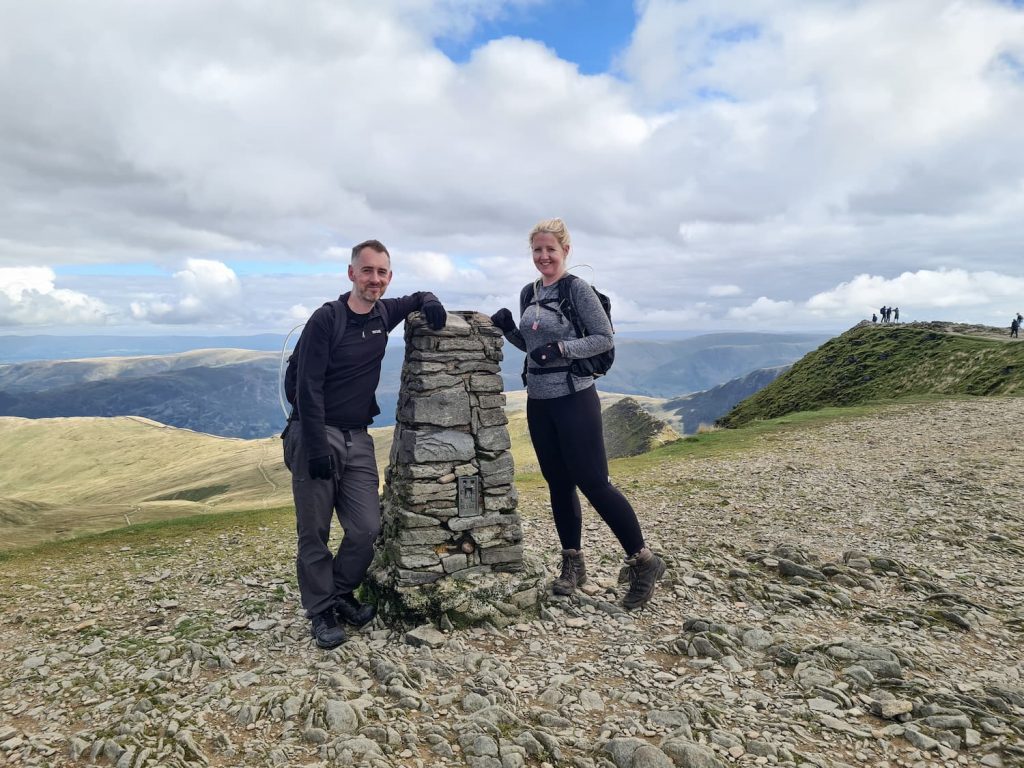 Adjoining Helvellyn is another ridge, Swirral Edge. This is shorter than Striding Edge but is again very narrow and exposed. It's another Grade 1 scramble where you have to use your hands, and there are sharp drops down either side.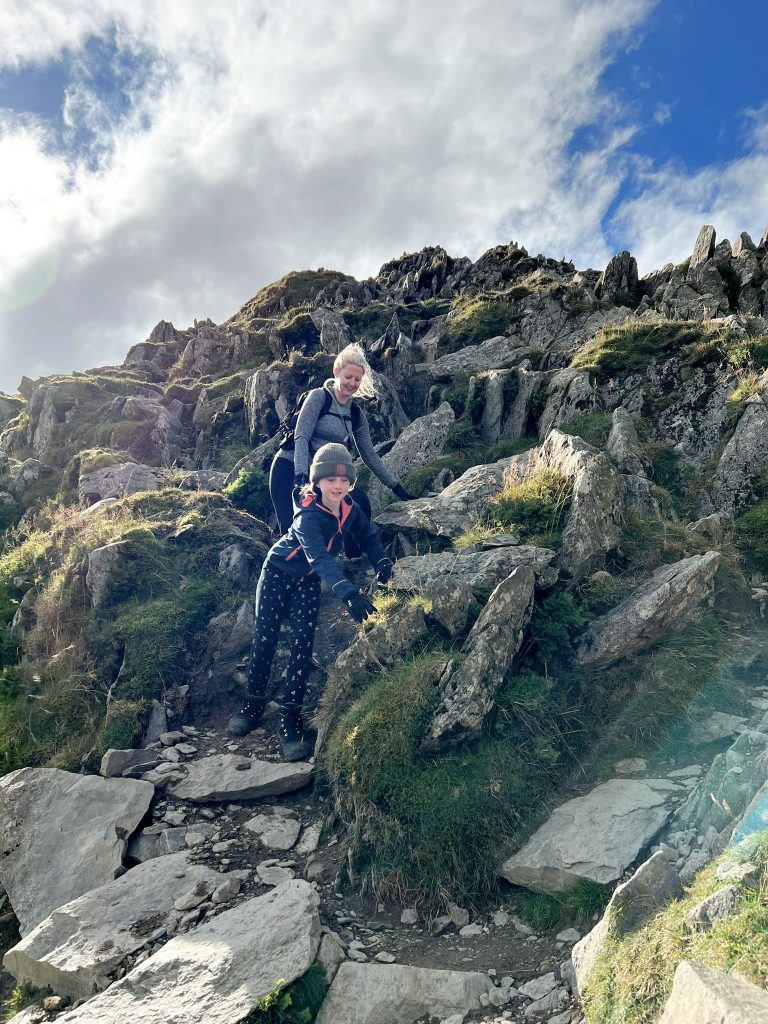 When we'd scrambled down Swirral Edge, we headed back down the path back towards Hole-in-the-Wall and crossed the stile before following the path back down Grisedale Brow.
We took a detour which went past Lanty's Tarn – when we visited, the path was blocked by fallen trees caused by Storm Arwen so we had to do a lot of climbing under and over trees!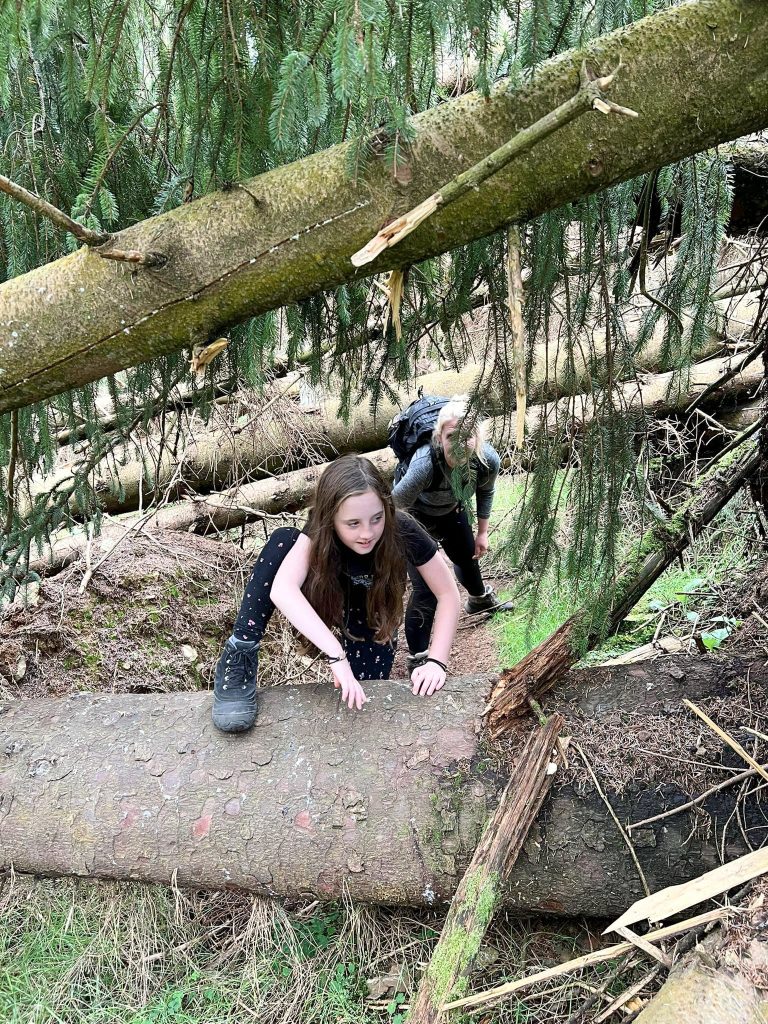 We soon picked up the main path again and headed back down through the woods into Glenridding, and to The Travellers Rest pub for a late lunch. The Travellers Rest pub is the nearest pub to Helvellyn and does get quite busy at times.
This Helvellyn via Striding Edge walk was one I really enjoyed and we'll definitely be back to walk some of the other Wainwrights nearby including Catstycam and Nethermost Pike.
Helvellyn Weather
Always check the weather before you go. I use Mountain Forecast to check the weather forecast at the summit as it can differ dramatically from that at ground level. When we set off it was 13 degrees at ground level but dropped to a chilly -1 degrees on Striding Edge. Always check the wind levels as well – this is not a walk to do in high winds!
Is Helvellyn Difficult to Climb?
It really depends – it's a mountain and therefore not to be underestimated, but whether it's difficult depends on your own fitness and stamina, as well as the weather on the day. I walk a lot and had a sore leg from the descent of Helvellyn due to the relentless steep descent, but someone fitter than me may find it easier. It's also hard to say whether Striding Edge is hard – I was really nervous as I'm not good with heights but once I was on and scrambling across, I was absolutely fine. When we did Buchaille Etive Beag I was really scared by the ridge so expected the same this time! There was one lady who was really scared though and a few people with dogs who were scared and had to drop down to the lower path. It's all down to how well you deal with heights and exposure!
Helvellyn via Striding Edge Route Info:
Helvellyn Car Park: Glenridding Common (£8 for the day)
Facilities: Public toilets and cafe at the car park
Walk Time: 6-7 hours depending on speed and fitness
Difficulty: ▲▲▲
Distance: 7.9 miles (12.7 km)
Wainwrights Bagged: Birkhouse Moor, Helvellyn
Helvellyn Route Map:
You might also like:
Fairfield Horseshoe Hiking Route