Mam Tor and Rushup Edge Circular Walk
This Mam Tor and Rushup Edge circular walk takes in 5 Peak District Ethels and is a brilliant way to spend a day in the Peak District. At just over 8 miles this is a challenging walk, starting from Mam Tor then heading along Rushup Edge to Lords Seat, to Gautries Hill, Eldon Hill and Slitherstone Hill before returning to the car park at Mam Tor.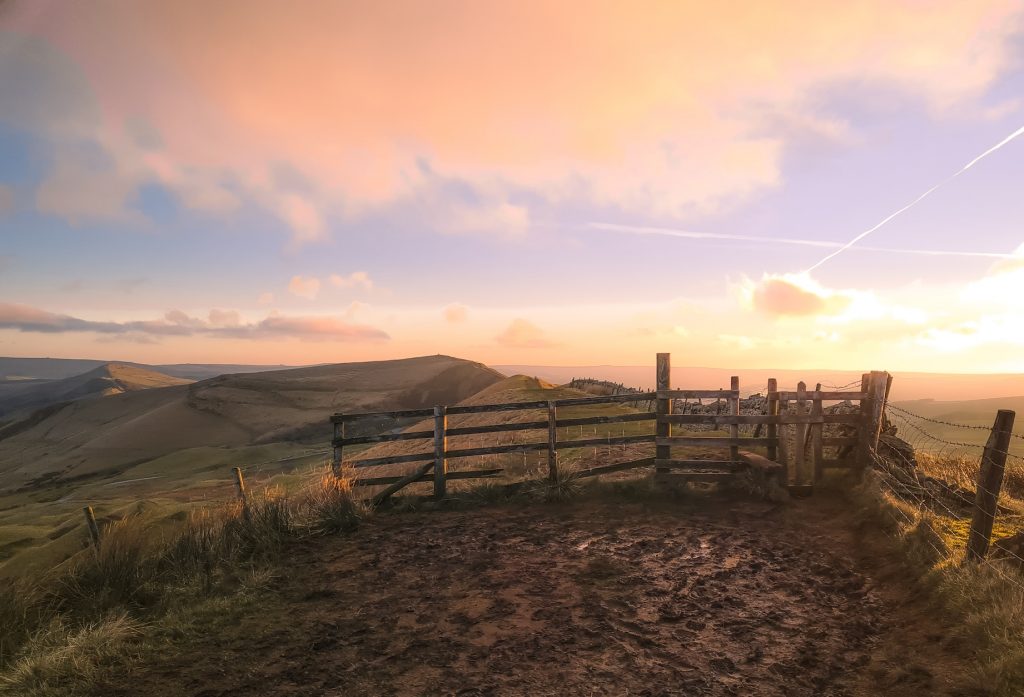 If you are looking for a walking route that takes in Mam Tor and Rushup Edge, this circular walk is for you! We try to pack in as many Peak District Ethels as we can in a walk as it means we get to see more of the beautiful Peak District. This walk takes in a quick nip up Mam Tor for the sunrise, a walk along Rushup Edge to Lord's Seat, Gautries Hill, Eldon Hill and Slitherstone Hill. Gautries Hill and Slitherstone Hill are both private land, so there is no access to the summit for these Ethels, but we go for a "near enough is good enough" approach. It's not always easy to find out who owns the land and if they're a busy farmer the last thing they'll want is to be pestered by some walkers!
Mam Tor is world famous now as one of the best walks in the Peak District and is a fabulous place to watch the sunrise. At 524m above sea level it's a decent height, but is really easily accessible with a car park at the base of it. In fact, it only took us 10 minutes to get to the summit (which is good as we were late setting off and we were heading there for a Mam Tor sunrise!). It was really busy with people heading up for the sunrise so get there early if you want a good view. Here's a map for a short walk up Mam Tor.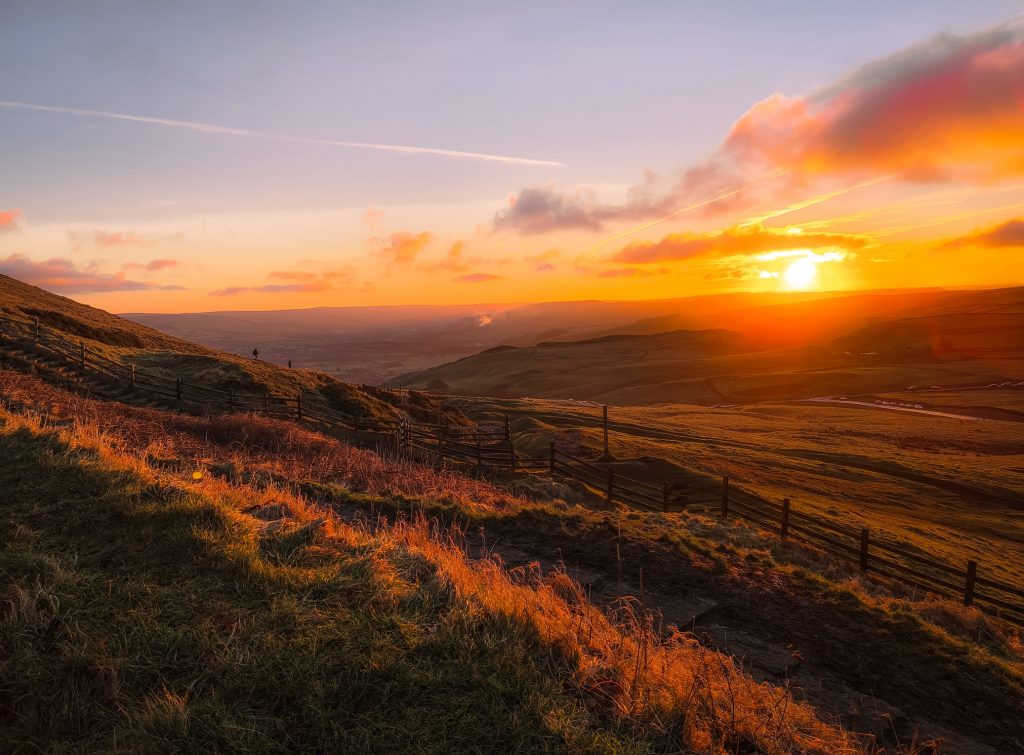 Car parking is at the National Trust car park at the bottom of Mam Tor. It's a pay by phone car park. Please park considerately and don't park on the grass verges – traffic wardens have been issuing tickets to badly parked cars! Don't block access for emergency vehicles, and wild camping is not permitted in the Peak District due to the risk of fires and BBQs damaging the moorland.
After we'd watched the sunrise on Mam Tor, we headed back the way we had come to the car park to drop off some things in the car. This is where my route map starts – I didn't think you'd want a route where we set off then nipped back to the car then set off again!
From the car park you head up the hill through the woods, as though you're going to climb Mam Tor, but before you get to the wooden gate to Mam Tor you turn back on yourself and head up through another gate to the left. This will take you up onto Rushup Edge, which has amazing views down over Edale. I don't know why everyone goes to Mam Tor for a sunrise – the sunrise at Rushup Edge is just as beautiful and has way less people.
The path is really easy to follow along Rushup Edge and the summit is known as Lord's Seat. There isn't anything marking the summit apart from a mound which has been fenced off in the past (maybe a burial cairn?) but the views are amazing back over Mam Tor and The Great Ridge.
From Rushup Edge we followed the path south-east until it joined with Chapel Gate, a rough stone lane leading down to Sheffield Road. Follow the path alongside Sheffield Road for a short distance and then cross where the Pennine Bridleway signs are to head down Rushup Lane.
Rushup Lane will eventually take you to the base of Gautries Hill, a privately owned hill of some 410m above sea level. There is another footpath to the south side of Gautries Hill which will take you to within 200m of the summit but the summit is off limits, being a Bronze Age burial barrow and scheduled monument. This footpath is accessed from Sparrowpit. We turned left along the road a short distance then headed down Perrydale.
We followed the road past a load of sheep who were following a man with a carrier bag. I thought he was the farmer but it turns out the sheep just like his bag!
There is a public footpath heading over some fields that will pop you out on a farm track below Eldon Hill. Head up the track and follow the wall around the left hand edge of the field. You'll eventually come to Eldon Hole, a 55m deep pot hole. It's fenced off thankfully!
Head up the hill to the summit of Eldon Hill, where you'll find a cairn and amazing views on a clear day over to Mam Tor. Eldon Hill stands 470m above sea level and was the site of a huge limestone quarry to the north and north-east flanks. There is another Bronze Age burial mound close to the summit.
Heading east and down the hill, you'll pass across the fields (taking care near the quarry edges as there are some drops!). You'll follow the Pennine Bridleway out onto the lane and then head over a stile into the field next to Slitherstone Hill.  Slitherstone Hill is another privately owned Ethel with a summit of 477m and the nearest we could get to the summit was the stone stile. Be careful – this stile is really slippery when covered with mud and I fell down it. Thankfully I wasn't hurt but take care!
After I'd picked myself up we headed back across the fields to the car park at the bottom of Mam Tor.
We drove down Winnats Pass into Castleton and parked in the Peak Hotel car park before having a pub lunch at The Castle pub. Happy days!
This was a lovely walk in a quieter part of the Peak District, and it was nice to get away from the crowds on Mam Tor!
Parking: National Trust Mam Tor car park S33 8WA. It's a pay by phone which cost us £4 for the day.
Facilities: There are no facilities in the car park, but there is sometimes a coffee van or ice cream van.
Walk Time: 2-3 hours depending on your speed and fitness
Difficulty: ▲▲
Distance: 8.5 miles (14km)
Trig Points Bagged: Mam Tor
Peak District Peaks Bagged: Mam Tor, Lord's Seat, Slitherstone Hill, Eldon Hill, Gautries Hill
Peak District Ethels Bagged: Mam Tor, Lord's Seat, Slitherstone Hill, Eldon Hill, Gautries Hill
Mam Tor and Rushup Edge Circular Walk Route Map: (click the image to download the gpx file for your device). This doesn't include the Mam Tor short walk but this was a straight up and down Mam Tor.