Mini Edale Skyline Circular Walk
This walk is a mini Edale Skyline circular walk, being a shorter version of the 20 mile walking challenge that is the Edale Skyline. At 17 miles, this walk takes in 4 Peak District Ethels (Lord's Seat, Brown Knoll, Lose Hill and Mam Tor) as well as 3 Peak District trig points (Brown Knoll, Edale Moor and Mam Tor). You could also add in Grindslow Knoll as a slight detour to make it a 5 Ethels walk.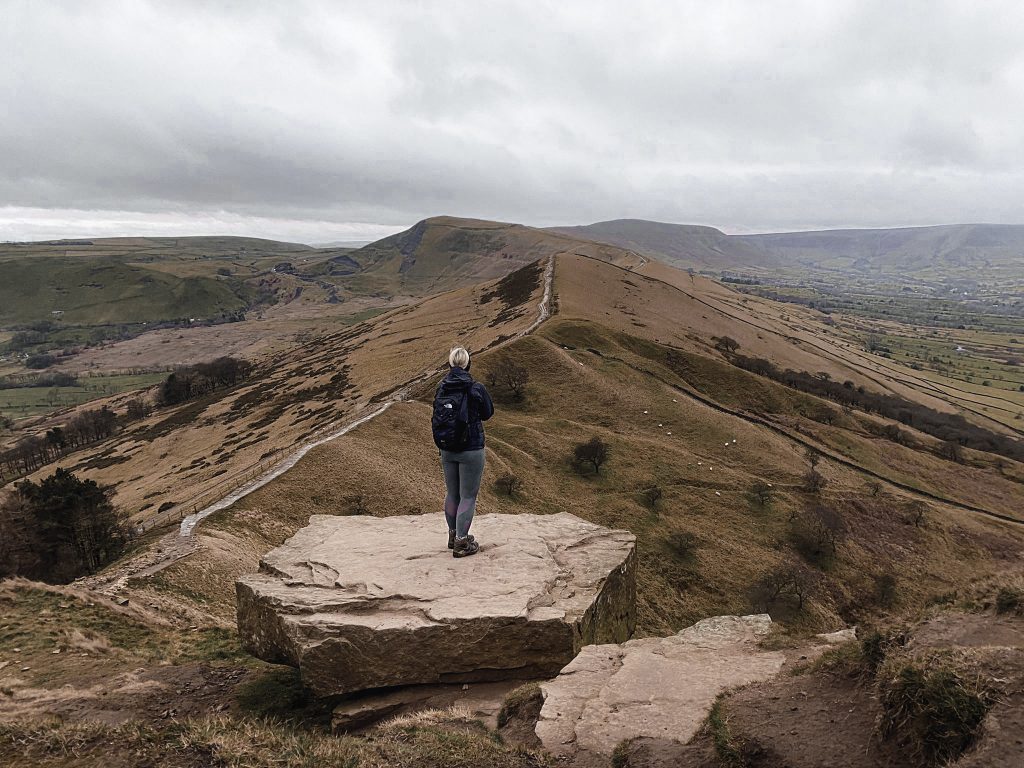 As part of my training for the Yorkshire 3 Peaks challenge I need to get in some longer walks. Mr R put together this mini Edale Skyline circular walk, taking us up over some of the peaks surrounding the Edale Valley. This walk is a slightly truncated version of the Edale Skyline proper, which is 20+ miles and starts from Edale. I'm hoping to do that bigger walk in March sometime all being well. This is a great walk from Edale, but we started in the Mam Tor car park to save ourselves an extra hill climb!
Our mini Edale Skyline circular walk starts in The National Trust Mam Tor car park and heads out up Rushup Edge, past the Lord's Seat summit. The views from here down into the Vale of Edale are beautiful, and if you look back along the ridge you have great views of Mam Tor and The Great Ridge.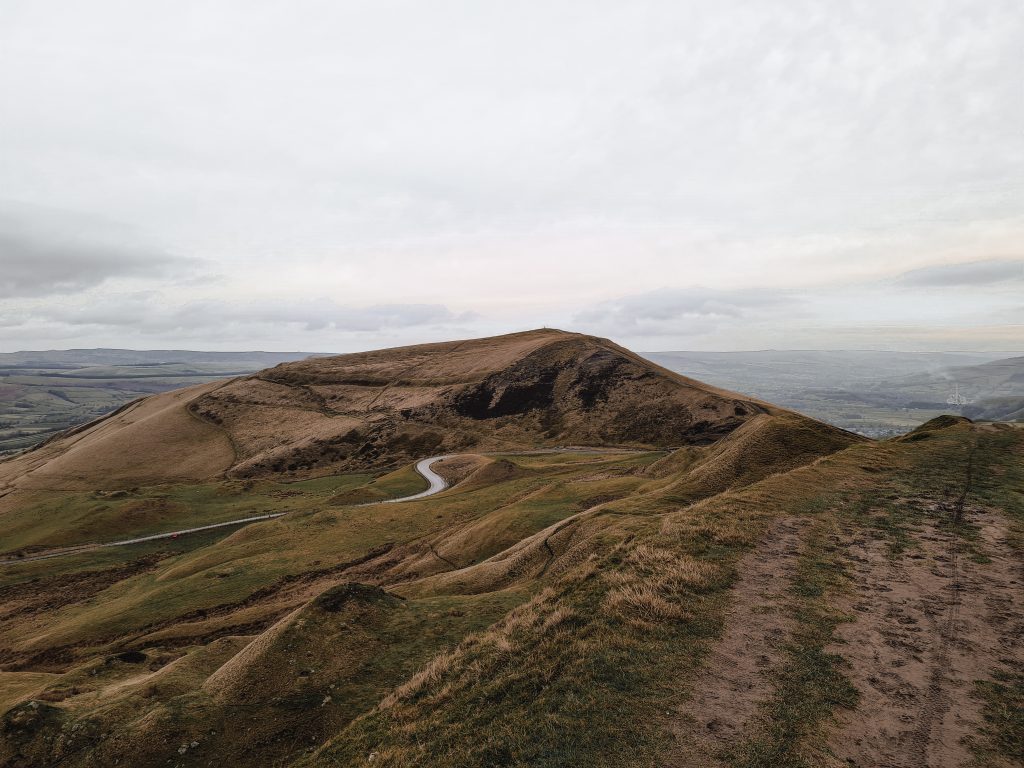 The path is easy to follow, albeit muddy in places, until you come to a fork in the road – we took the right hand fork, with the ventilation shafts for the railway in the distance. The paved path makes the going really easy here.
We followed the meandering path over the moorland for a while until we come to Brown Knoll, where there's a trig point on its very own patio area. After we had taken the usual photos, we continued along the path towards Edale Head. Brown Knoll is a moorland peak at 569m above sea level and it has amazing views down the Edale valley and over to Mount Famine, South Head and Chinley Churn.
The path takes you partway up Kinder Low (but thankfully not all the way to the top!) and follows the contour of the hill towards Noe Stool. This is a really cool rock formation which reminded me of the Jawa Sandcrawler from Star Wars!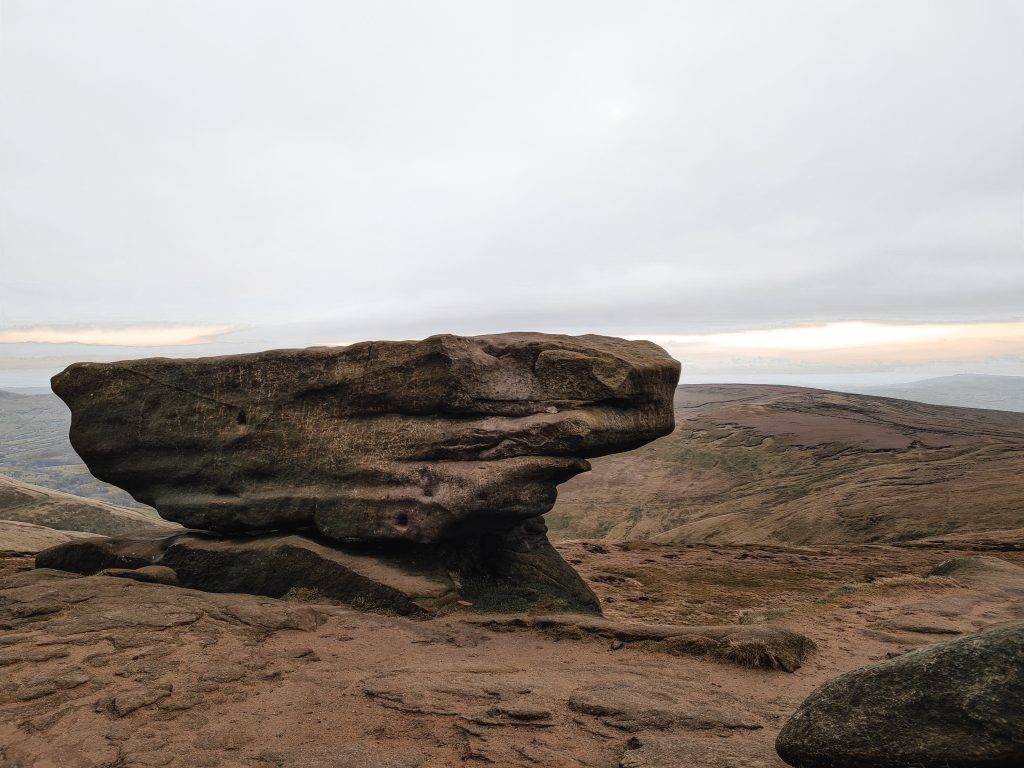 The route then takes you to Pym Chair, a huge gritstone rock formation on the Edale Moor. It's a great place for a clamber about, as is Crowden Tower, which is next up on the path. You can get to Crowden Tower from Edale village up the Crowden Brook path, as an alternative to this long route. It's one of the more popular walks from Edale and it was the busiest part of our walk (the weather kept people away at Mam Tor!).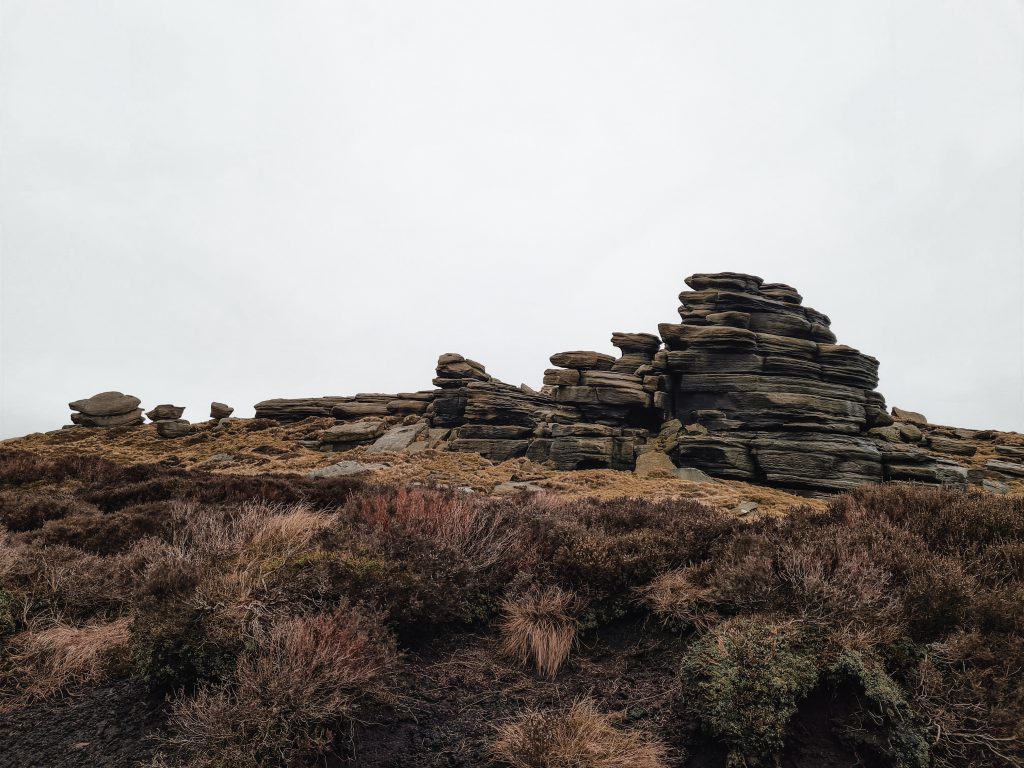 Heading along the path you'll pass by Grindslow Knoll. This walk doesn't take you to the summit but it's a short distance away (less than 1km) if you want to add in a bonus Ethel. We skirted around Grindslow Knoll to the summit of Grinds Brook, where there are some lovely waterfalls. There is a bit of a drop down before you get to one of the waterfalls, so take care when walking here.
Following the edge of the moor around Grinds Brook, we passed along Upper Tor where there are yet more unusual gritstone formations and fabulous views over to Grindslow Knoll. You can also see Grindsbrook Clough and the place where you scramble up – it looks steeper from this side of the valley!
This blog may contain affiliate links through which, at no additional cost to you, I may earn a small commission. I only recommend products I would use myself and all opinions expressed here are my own. Read full privacy policy here.
We carried on, following the path, until we got to Nether Tor and where the path turns to the south towards Ringing Roger. We passed over a stream at the top of Golden Clough and headed north-east. Here we detoured off the main path and headed towards the Edale Moor trig point. There is no proper path to the trig point from this direction, and it's very wet, boggy moorland so you need to be sure to have waterproof footwear (like my Scarpa Terra GTX walking boots) and don't attempt it in bad weather. The mist and fog can close in quickly up here and it's easy to lose your way. During the time it took for us to leave Grinds Brook to get to here the mist was creeping in, and the summit of Grindslow Knoll was hidden from view within 5 minutes.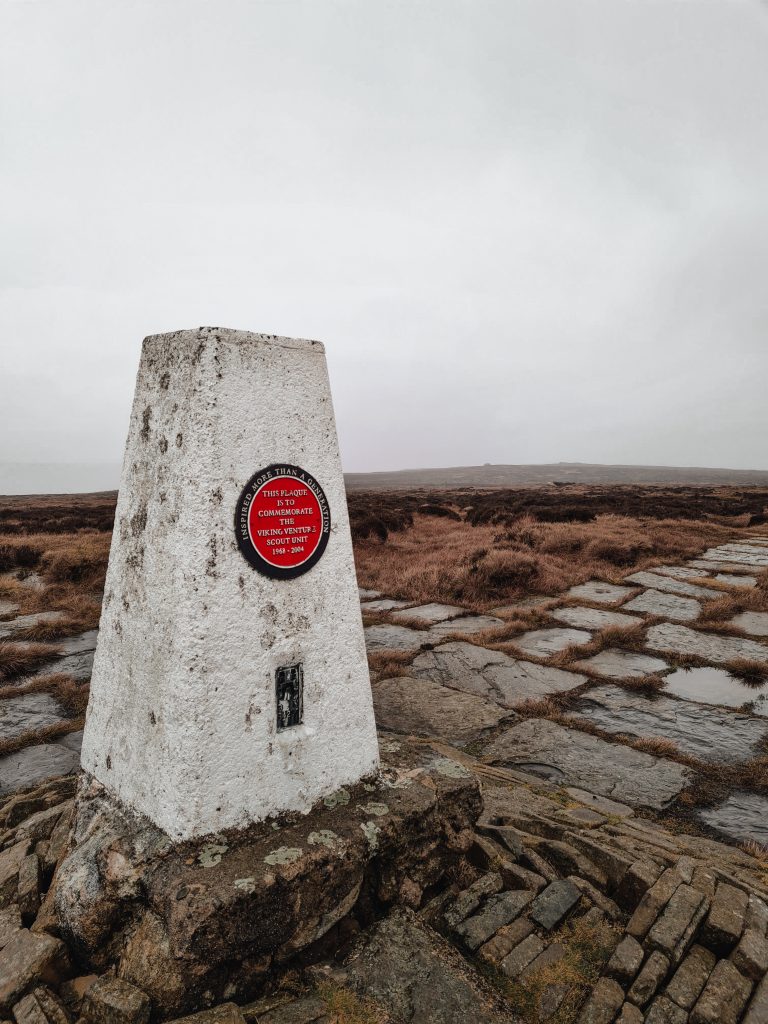 After we'd reached the trig point at Edale Moor (590m above sea level and with it's own huge patio area!) we headed back to the main path, following the line of a fence to find our way. Back on the path, we headed on until we passed the fords to the south-east of Madwoman's Stones. Sadly we didn't pay these a visit but headed on a faint path through the heather down Crookstone Hill.
Coming off Crookstone Hill we came to a gatepost with Hope Cross marked on it and followed this path down through the fields. This brings you to the route of a Roman Road, which we followed the course of. This felt like a really long part of the walk as the road seemed to go on forever.
We passed over the railway line then over Townhead Bridge, which is a pretty stone bridge over the River Noe. After the bridge there are some farm buildings and a road called Towngate, which we followed to head north-west. The road takes you along past Losehill End and then through a gate onto Lose Hill. There is a steep slog up to the top of Lose Hill from here as you climb from 260m to 476m. The first part of the climb can be muddy, but when you get two thirds of the way up there's a stile then a paved path/steps to make it a bit easier. It's very rewarding, getting to the topographical marker on the summit!
The path then follows the route of The Great Ridge along Back Tor, to Hollins Cross and up the final climb to Mam Tor. The paved paths on Mam Tor are really slippery, so take care when walking on them. After the Mam Tor trig point, you head down the other side of Mam Tor, back to the car park for a well earned rest!
There was no pub stop for us today, but if you wanted a pub stop you could head down Winnats Pass to Castleton or down into Edale where there are some lovely pubs including the Olde Nags Head.
This is a lovely Peak District walk to do as a warm up to the actual Edale Skyline Challenge from Hope or bigger walks like the Yorkshire 3 Peaks Challenge. If you try this mini Edale Skyline circular walk, I'd love to know!
Pin this image to save for later:

Here's the route for this mini Edale skyline walk:
Parking: National Trust Mam Tor car park S33 8WA. It's a pay by phone which cost us £5 for the day.
Facilities: There are no facilities in the car park, but there is sometimes a coffee van or ice cream van.
Walk Time: 7-8 hours
Difficulty: ▲▲▲
Terrain: Road, paved paths and very boggy moorland near Edale Moor trig point
Distance: 17 miles (27.6km) approximately
Trig Points Bagged: Brown Knoll, Edale Moor and Mam Tor
Peak District Peaks Bagged: Lord's Seat, Brown Knoll, Lose Hill, Mam Tor
Peak District Ethels Bagged: Lord's Seat, Brown Knoll, Lose Hill, Mam Tor
Route Map: click on the map to download the gpx file to use on your device or GPS app
For more walks from Edale, check out Edale to Grindslow Knoll Circular Walk and for more Mam Tor walks why not try Mam Tor and Rushup Edge Circular Walk, Mam Tor Short Walk or Castleton, Mam Tor and The Great Ridge Walk. Happy walking!