Bamford Edge – A Short Walk with Stunning Views
Bamford Edge is one of the best places in the Peak District for a sunset. With incredible far reaching views over Ladybower Reservoir, Win Hill and most of The Great Ridge, it's easy to see why it's one of the best Peak District walks. This is a short Bamford Edge walk, being less than 2 miles.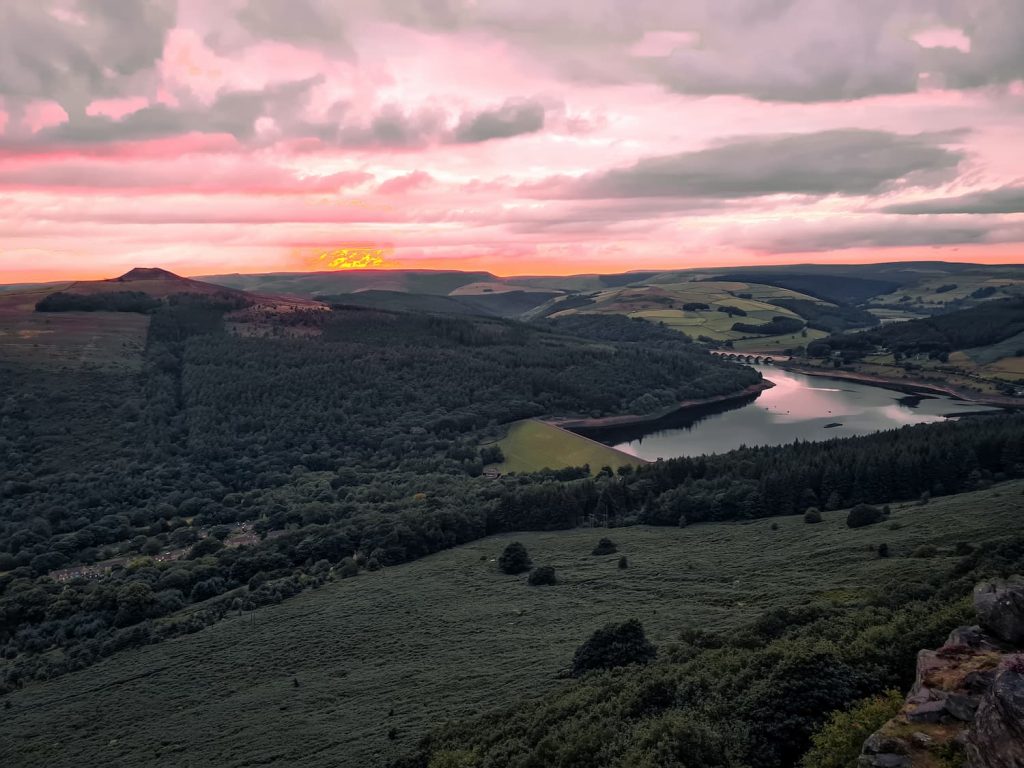 We had a rare child-free evening, so we got all dressed up (in our hiking gear) and headed for the hills. Oh how times have changed! We decided to head to Bamford Edge as I thought there would be a chance of a beautiful sunset. Initially we couldn't decide between here and Burbage Moor, because Joel wanted to bag the Ox Stones trig point, but I'm glad we settled on Bamford Edge.
We parked in a small lay-by just after the pine tree plantation on New Road and climbed the stile onto Bamford Moor. There is a relatively short, steep climb up onto Bamford Edge itself but once you're up there it's relatively flat. There are lots of rock formations along the Edge itself, and as you walk further along the views open up down onto Ladybower Reservoir.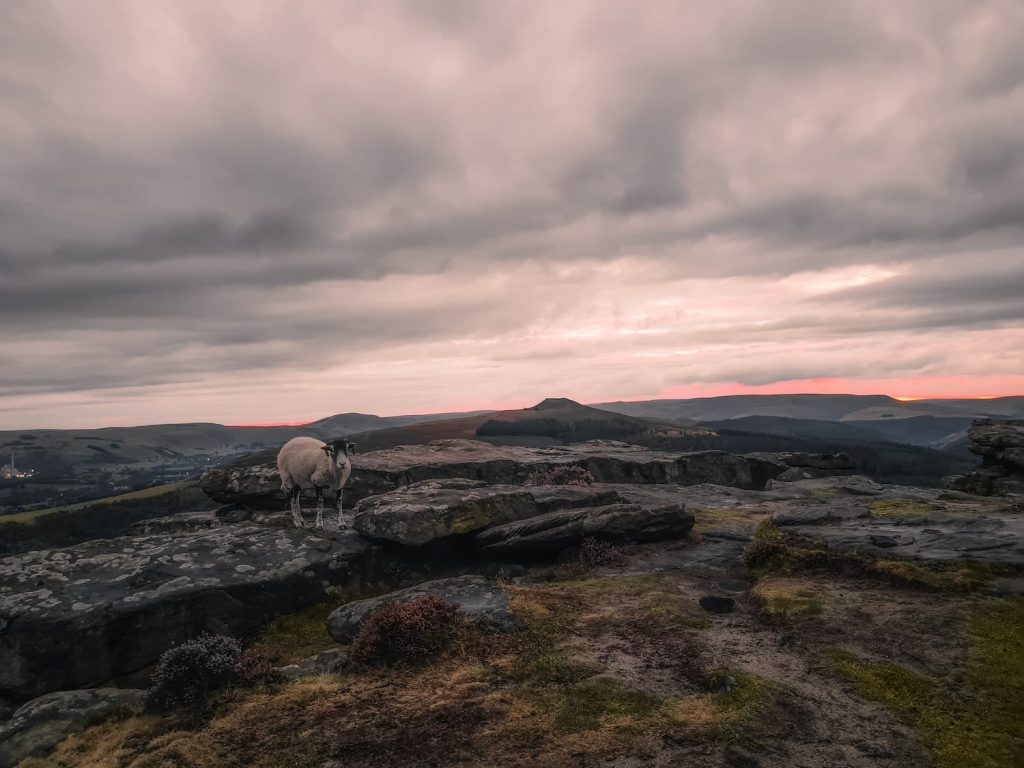 We dropped so lucky with this sunset – when we arrived there were a few groups of people, hogging the best spots. It then started to rain and everyone left, so we had the place to ourselves other than some sheep. The rain stopped and the sky started to change, and it was just a magical sunset.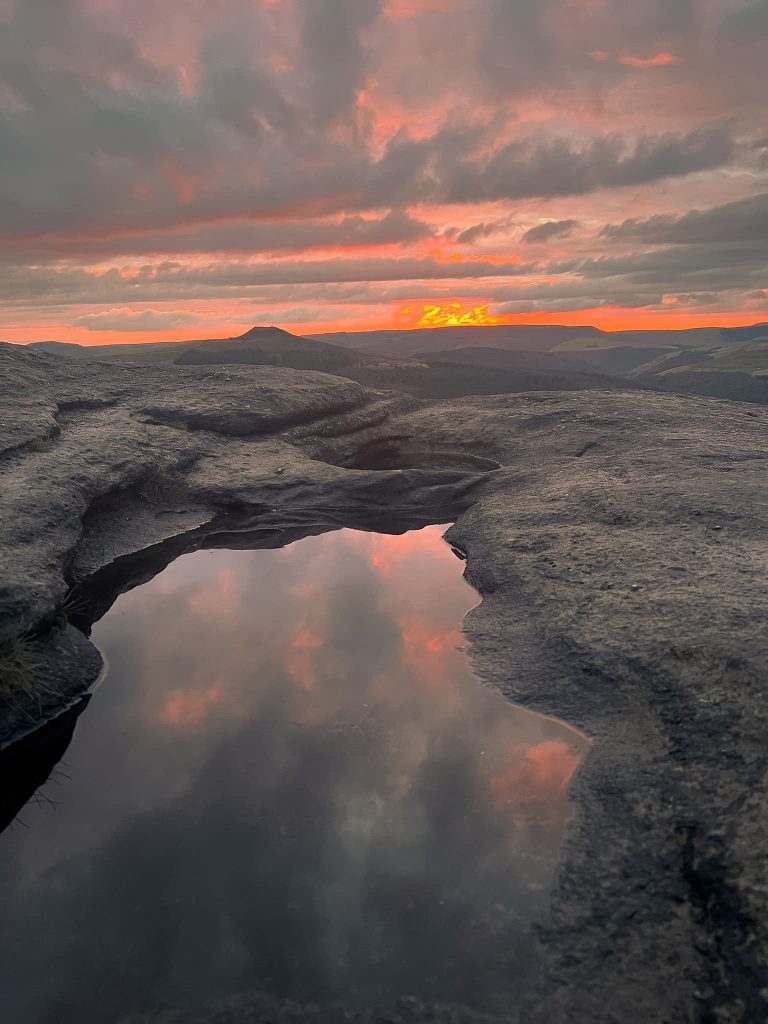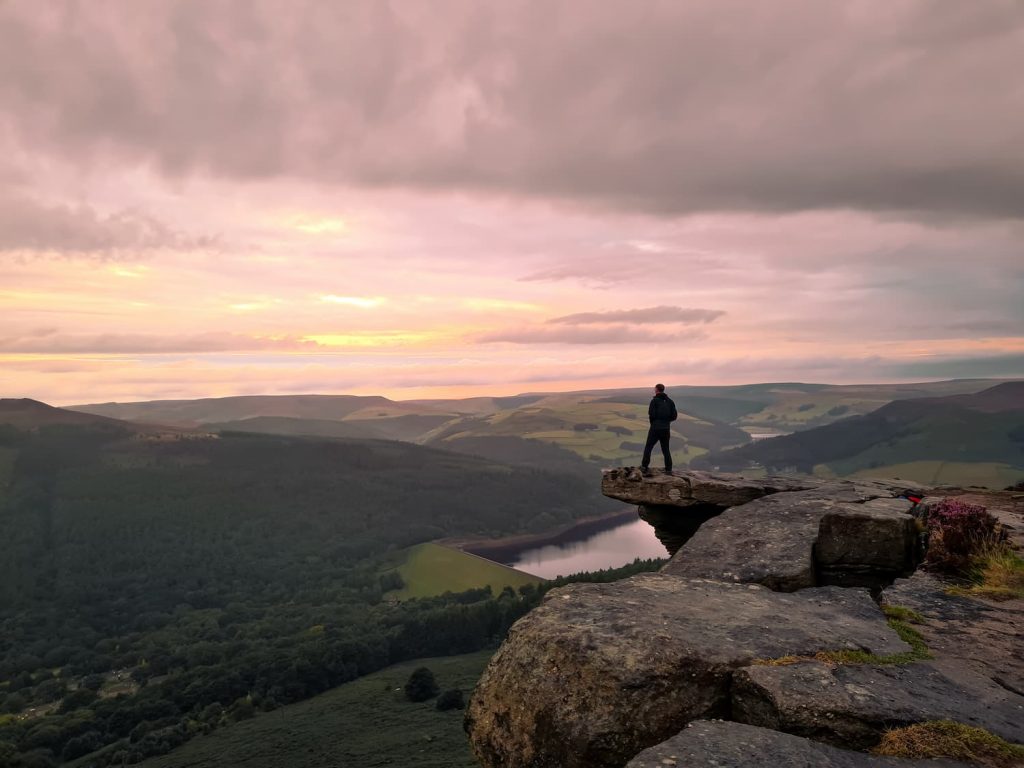 After the sunset we headed back the way we'd come over Bamford Moor back to the car, then drove home for a takeaway curry.
7 Tips for Spotting a Sunset
Check what time the sun is going to set – you can use a weather app or good old Google.
Pick a day when it's forecast to be dry the next day – the old saying "red sky at night, shepherd's delight" is usually true!
Get to the sunset spot about half an hour before the sun sets.
Persevere – if the weather turns, stick it out for as long as you can. I'd have been kicking myself if we'd have left when it was raining last night!
Take a picnic – this is especially important if you have take the kids with you.
Unless you're a pro photographer, use your phone camera to take photos. This is probably just a tip for me actually – I've lost track of the amount of times I've taken my DSLR out and tried to get sunset pics, only to have the ones on my phone look a million times better!
Take a head torch for the walk back, especially if the location is quite remote or over 30 minutes away. The moors get very dark.
Bamford Edge is a great place for a sunset, as is Higger Tor and Derwent Edge.
Parking for Bamford Edge: A lay-by just after the pine tree plantation on New Road, Bamford
Facilities: None
Walk Time: 1-2 hours
Difficulty: ▲▲ (there's one steep climb)
Distance: 1.8 miles (2.9km)
Trig Points Bagged: None
Peak District Peaks Bagged: None
Peak District Ethels Bagged: None
Bamford Edge Walk Route Map: Click on the map to download the GPX file from Komoot.
For a longer walk, why not try this Scenic Bamford Edge and Stanage Edge walk?