5 Epic Peak District Scramble Walks
Looking for some epic Peak District scramble walks? Why not try one of these?
Peak District scrambles may not be as big and bad as some of the ones in Snowdonia or the Lake District, but they're still a fun way to explore some of the beautiful Peak District. They often take you to places away from the crowds and let you explore off the beaten path.
Here are 5 epic Peak District scramble walks you might like to try.
To get the maps for these Peak District scrambles, click each photo or the walk name.
A 4 mile Grade 1 scramble up Grindsbrook Clough onto Grindslow Knoll. Starting in Edale, this walk will take you through the beautiful Grindsbrook Valley before you start to climb over boulders and up mini waterfalls onto Grindslow Knoll. At 601m above sea level, Grindslow Knoll is one of the highest peaks in the Peak District and has amazing views over Edale, to Mam Tor and The Great Ridge and over to the Kinder Scout plateau.
This Grade 1 scramble walk starts on the much quieter, northern side of Kinder Scout and involves a steep scramble up Nether Red Clough. Once on Kinder Scout, the walk heads along The Edge to The Edge trig point then along to Kinder Downfall. You'll then head back down Fair Brook, another Grade 1 scramble and home to a beautiful series of waterfalls and natural pools, so if you are looking for a quieter way up Kinder Scout, or a Kinder Scout waterfall walk, this is the walk for you.
This Grade 1 scramble up Ashton Clough will take you from the A57 Snake Pass away from the crowds. At just under 6 miles, this walk also includes another Grade 1 scramble up Dowstones Clough onto Higher Shelf Stones.  This walk explores some of the quieter parts of the Peak District as well as one of the other Peak District plane crash sites, the Dakota C47, and also bags the Higher Shelf Stones trig point. The B29 Super Fortress plane crash site near Bleaklow is nearby if you fancy a small detour.
This walk from Edale takes in the Grade 1 scramble up Ringing Roger on Kinder Scout before heading along the ridge of Upper Tor and Nether Tor, before scrambling back down Grindsbrook Clough. At 4.7 miles this walk is great for adventurous kids who like to scramble! If you visit in late summer, the heather on Kinder Scout should be blooming and it is just beautiful. There are amazing views from the top of Ringing Roger over Edale, Mam Tor and The Great Ridge.
This Grade 1 scramble heads up the beautiful Crowden Clough, starting in Barber Booth, and heads onto Kinder Scout. It then heads over the plateau to Kinder Downfall, Kinder Low trig point and back down Jacob's Ladder to Edale. There are some challenging navigational sections on this walk but the scramble up Crowden Clough is a really lovely one to do. This is a 7.8 mile (13km) walk with the scramble up Crowden Clough making for a fun way to get to the top of Kinder Scout!
I know this post is meant to be 5 epic Peak District scrambles, but the grade 2 Wildboar Clough scramble is definitely another epic one so I had to include it. It's more challenging than the other scrambles mentioned here, so is definitely one for the more capable, but it's worth the challenging climb. The walk is just over 5 miles long but is packed with waterfalls and pools as you scramble back down Torside Clough, so there are two scrambles in one walk!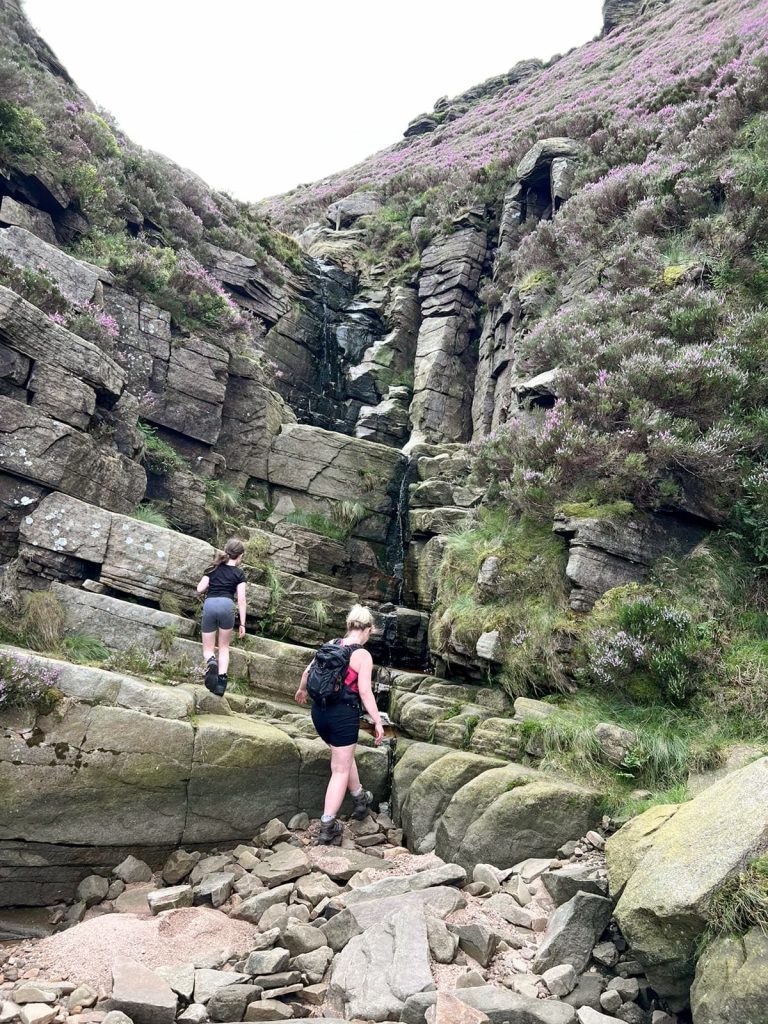 Is scrambling safe for kids?
Like pretty much any activity outdoors, there are risks. Our daughter is 10 and has done these scrambles with us. We started off with the easier ones and worked up to Wildboar Clough, but we know what she's capable of. We walk a lot as a family so we know what we can do. If you want to take your kids, be sure you know their limits.