Birchen Edge Walk
This Birchen Edge walk is a short walk in the Peak District, perfect for kids as there is lots to explore! At under 2 miles, this is an easy family friendly hike.
This walk is a nice easy walk for kids to do, and a great way to explore some of the Peak District in the school holidays.
We started from Birchen Edge car park and followed the footpath through the woods. There are two ways to get up to Birchen Edge itself – a shorter, steep way which we went or a longer gentler way (which is the way we came back). After a short scramble up to the top of the hill, the path levels out and is much easier going.
On Birchen Edge itself there is Nelson's Monument, a gritstone obelisk erected in 1910 by a Baslow local in honour of Admiral Nelson. There are also the Three Ships rocks across from Nelson's Monument, which are huge gritstone boulders with the names of three of Nelson's ships carved into them: Victory, Defiance and Royal Soverin (which is spelled incorrectly!). There are other smaller rocks which are fab for the kids to scramble about on.
Just a note about safety – I'm sure you're all very sensible, but climb on the rocks at your own risk. Don't blame me if you fall off.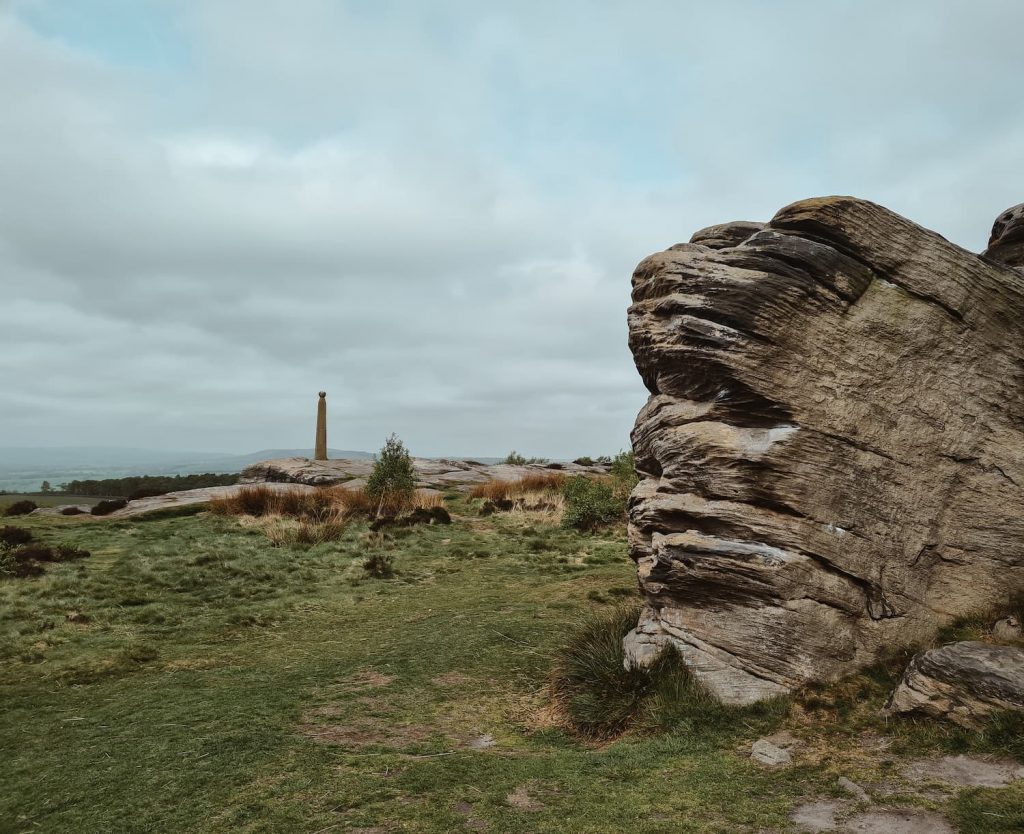 After we'd explored the Three Ships and Nelson's Monument, we headed off in search of the Birchen Edge trig point a short distance away. This has amazing views over the surrounding moorland.
We headed down the hill via the path next to the trig point, and walked back through the woods to the car park. There were a few groups of rock climbers climbing Birchen Edge from the woods.
We went for lunch at The Robin Hood at Baslow, which is a lovely pub just next to the car park. When we were there, kids under 8 ate free and Holly loved her meal (despite her being 10 and not getting it for free any more!). They have a good kids menu, and lots of seating. It's also a dog friendly pub near Chatsworth House, which is another area we need to explore.
Birchen Edge Parking:
Parking: Birchen Edge car park DE45 1PU
Facilities: There is The Robin Hood pub next to the car park with facilities for patrons only.
Walk Time: 1-2 hours depending on how long you want to explore
Difficulty: ▲ (one steep climb)
Distance: less than 2 miles
Trig Points Bagged: Birchen Edge
Peak District Peaks Bagged: Birchen Edge
Peak District Ethels Bagged: None
Birchen Edge Walk Route Map:
The blog has many more Peak District walks with kids for you to check out as well, including 10 Easy Peak District Walks With Kids (Under 10km) and you can read tips on hiking with kids too!