Riding Wood and Ramsden Reservoir Circular Walk
This is a gorgeous autumn walk in the very north of the Peak District. There isn't much of an incline (if any) and this Riding Wood and Ramsden Reservoir walk is nice and gentle, perfect to enjoy the changing seasons. This 3 mile walk is great if you're short on time or just fancy an easy walk in the Peak District.
The walk starts from the free car park next to Ramsden Reservoir and follows the track round past Riding Wood Reservoir (and the location of the former Ramsden Hotel, part of the lost village of Ramsden – there is only a water trough left now to show there was any habitation at all). On the dam wall there are stunning views down the valley over Ramsden Reservoir and up the valley to the Snailsden beehive cairn. The walk then winds it's way through the woodland along Kiln Bent Road, which is rough and muddy in places.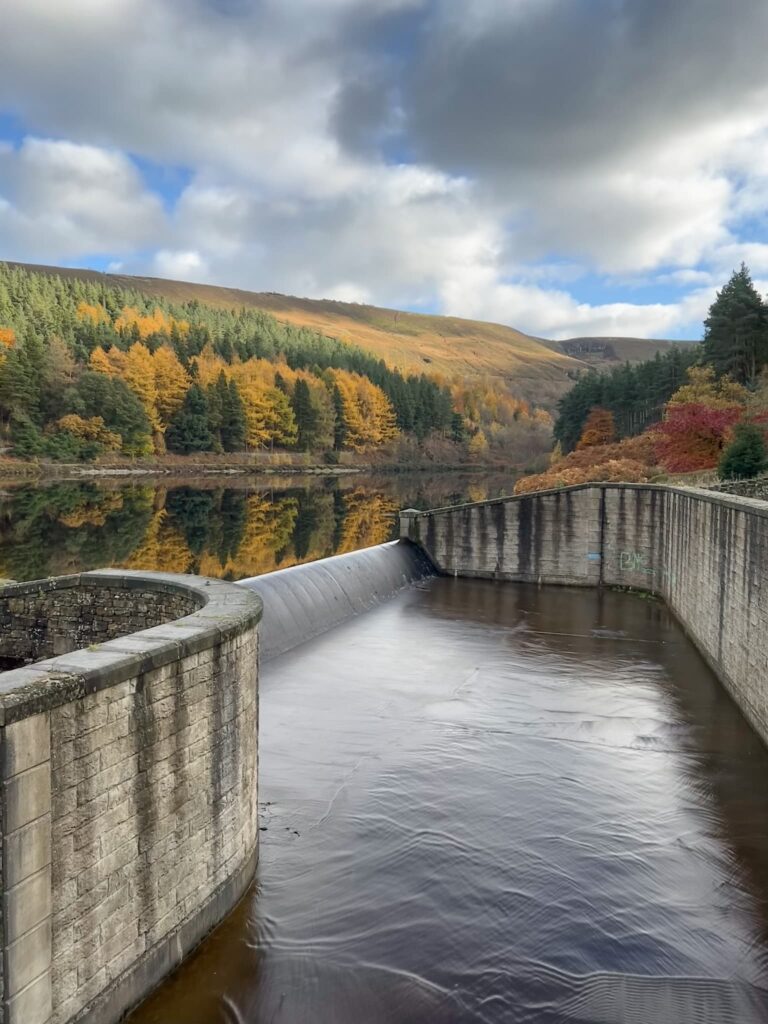 After passing Yateholme Reservoir, which is the angular reservoir you can see from Woodhead Road if driving up to Holme Moss, the route follows the track for a short while before arriving at a footpath sign and a stile leading to a path over the fields. The fields are very muddy in places, and there are sedges/reeds growing where the wettest parts are. We skirted round as much as we could as one of us didn't have proper waterproof boots on (ahem, Joel) but there is a path through the middle of it all (it's quite wet though).
We climbed over the stile at the edge of the field and turned left into the woods, following the path a short distance to it's junction with the main path and then we turned right to head to Ramsden Reservoir dam. There is a very muddy patch here! We crossed the dam and then climbed the steps back to the road, and then turned right back to the car park.
This was a lovely gentle walk, perfect if you're new to walking or getting back to it after an injury. It's a lovely walk to do in autumn as well – the colours of the larch trees are amazing, and there are usually lots of fly agaric fungi in the woods on Netherley Brow.
Parking: There is a small free car park on Brownhill Lane, Holmbridge, Holmfirth HD9 2QW W3W:///rumbles.curly.cuddled
Facilities: There are no toilets. There are a couple of picnic benches in the car park.
Walk Time: 2 hours
Difficulty: ▲
Distance: 3 miles (4.75km)
Trig Points Bagged: None
Peak District Peaks Bagged: None
Peak District Ethels Bagged: None
For more walks nearby, why not try:
Ramsden Reservoir to Hade Edge Circular
Brownhill & Ramsden Reservoir Circular Walk 
Cooks Study Hill and Snailsden Pike End