21 Short Walks in the Peak District
If you need a short walk in the Peak District, maybe for a day when it's raining or you're short on time, check out this round up of our favourite short walks in the Peak District. These walks are great for ticking off those Peak District Ethels as most of them are only a short walk away from the parking area. This post has 21 quick and easy Ethels for you to get, giving you a head start on the challenge!
If you are short on time, or want to bag lots of Ethels in a day without a big walk in between, these are the walks for you. All of these walks are under 3 miles in total so are also great Peak District walks for kids. Here are the routes and maps for these Peak District short walks now.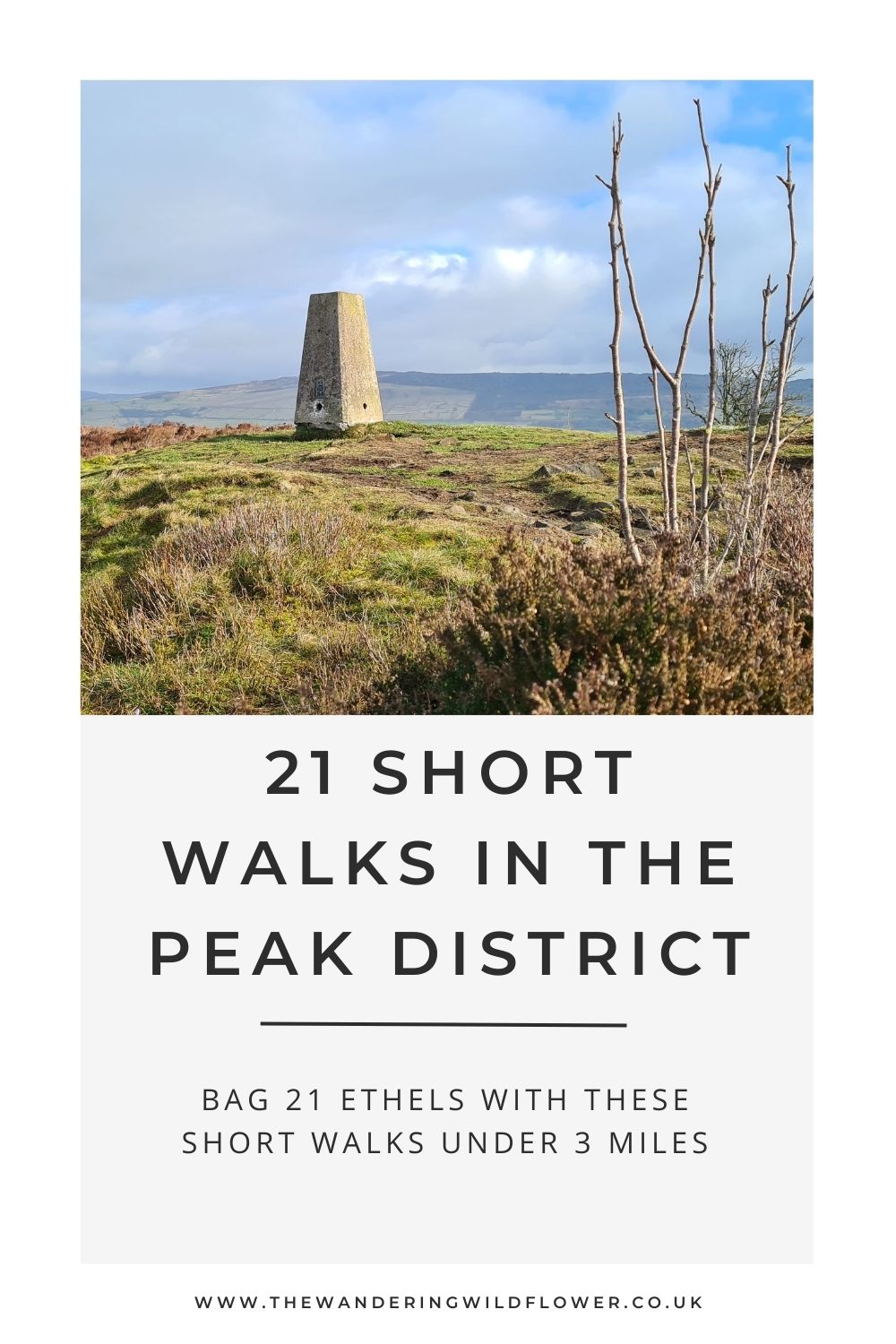 Higger Tor
Higger Tor is a peak in Peak District with a summit of 424m above sea level. From the summit of Higger Tor you can see across to the Iron Age hill fort at Carl Wark as well as across to Burbage Rocks. Higger Tor itself is a beautiful place and great for kids to explore. The climb up to the summit isn't too bad, and at less than a mile round trip this is a perfect short walk (or one for a day when you just want a nice picnic spot). Parking is in a lay-by near the gate to Higger Tor but if there are no spaces you can park at the Upper Burbage Bridge Car Park (S32 1BR) which offers free parking just a short walk away. This is only a small car park with 35-40 spaces so arrive early to grab a space.
Mam Tor
Mam Tor is one of the most famous peaks in the Peak District. It is unbelievably popular with people visiting to watch the sunrise and sunset, or passing by on their way on a longer walk along The Great Ridge. Mam Tor has spectacular views and is well worth a visit, and at less than a mile you can be up to the Mam Tor trig point and down again in no time! Parking is in the National Trust car park. The postcode for the Mam Tor car park is S33 8WA but this covers a large area so look out for the National Trust car park signs. Here's the Mam Tor short walk route:
For longer Mam Tor routes, you can check out this Castleton, Mam Tor and The Great Ridge Walk or Mam Tor and Rushup Edge Circular Walk.
West Nab
West Nab is at the northern end of the Peak District in my favourite part of the Dark Peak. This is actually my nearest trig point and a place I love to go walking. It's a short walk from the parking area and is a lovely place for a picnic tea to watch a Peak District sunset. Parking for West Nab is in a lay-by nearby.
You can extend this walk further down into the Wessenden Valley if you like, but if you just want a short walk to West Nab trig point, here's the route.
Gun
Gun Moor is a moorland peak in Staffordshire. There is a trig point marking the summit, and it's also a Peak District Ethel. There are amazing views from the summit across to Shining Tor, Shutlingsloe and Croker Hill. Parking is in a small lay-by near the entrance to the moor but spaces are very limited and you may need to park further away if there is no space.
Here is the quickest way to get to Gun.
Thorpe Cloud
Thorpe Cloud is a peak just outside the village of Dovedale. At 287m above sea level it's not the largest peak in the Peak District but still has amazing views over the surrounding area. You can also walk into Milldale from here along the famous stepping stones. Parking for Thorpe Cloud is at the Dovedale car park DE6 2AY.
Fin Cop
Fin Cop is a prominent hill in Monsal Dale, and can be accessed from the car park at Monsal Head . There is an iron age hillfort on it's summit which is a scheduled monument and there are spectacular views of the Monsal Head viaduct from here. This is a quick and easy walk through woodland and uses Open Access Land to reach the summit.
Featherbed Top
Featherbed Top is a featureless moorland plateau just off the Snake Pass. This is a short walk but the weather conditions can make this more challenging. You're heading onto open moorland and have to leave the path to get to the actual summit so please be sure to have appropriate navigational equipment and clothing! Parking for Featherbed Top is in a lay-by on the Snake Pass – please be careful where you park as the lay-by can become busy and there have been traffic wardens issuing tickets.
Ramshaw Rocks
Ramshaw Rocks is a magnificent gritstone outcrop near to The Roaches. It has spectacular views over the surrounding landscape and is much quieter than it's nearby cousin The Roaches. If you park on the lane known as Back of the Rocks (taking care not to park selfishly) you can follow the bridleway and reach the summit of Ramshaw Rocks this way.
It's a lovely summit to get as part of a larger walk such as our The Roaches long walk.
Minninglow
Minninglow is a mysterious site in the High Peak area of the Peak District. Within the circular clump of trees lies a Neolithic chambered tomb and two Bronze Age bowl barrows. The chambered tomb is Derbyshire's largest, and this and the barrows are a Scheduled Monument. Access to the site is via a concessionary footpath from the car park at DE4 2PN along the High Peak Trail.
Sir William Hill
Sir William Hill is a really easily accessible Ethel! It's just off the handily named Sir William Hill Road, and parking is in a nearby lay-by. If you have more time available, a visit to the village of Eyam is a must.
Stanton Moor
Stanton Moor is a low gritstone hill between Matlock and Bakewell with a height of 323m. There are more than 70 prehistoric burial mounds on the moor. There is also the Nine Ladies stone circle (a Bronze Age henge) and the Earl Grey Tower (or Reform Tower) if you wanted to explore a bit more. Parking for Stanton Moor is roadside on Birchover Road and very limited. If there is no parking available nearby, head to the small free car park 300 metres down the road across from Birchover Stone. Access to the moor takes you past the Cork Stone, a gritstone outcrop which is great to climb.
Eccles Pike
Eccles Pike is a gritstone hill which is coloured pink near the summit, owned by the National Trust. There is a summit marker and fine views across the surrounding landscape (on a clear day you can see to Manchester). Parking for Eccles Pike is in a small lay-by on Eccles Lane .
Oliver Hill
Oliver Hill is a bit of a bleak summit but on a clear day there are spectacular views! There is a small cairn marking the summit of the hill. We parked in Flash outside the New Inn, but parking here is limited so be mindful of residents and park further afield if you need to.
You can also see a longer walk taking in Oliver Hill, Cheeks Hill and Axe Edge Moor as well as Three Shires Head.
Axe Edge Moor
Axe Edge Moor is a gritstone moor near Buxton, lying between the Cat & Fiddle Road to Macclesfield and Leek Road. There is a trig point at the summit, and the hill has a prominence of 84m. Parking for Axe Edge Moor is in a lay-by on Leek Road.
Cheeks Hill
If you park in the same lay-by on Leek Road, you can also do a short walk to Cheeks Hill which is the highest point in Staffordshire. This underwhelming peak has no summit marker (although there is a sheep fold near the summit).
Corbar Hill
Corbar Hill is a sandstone hill at the south end of Combs Moss in Derbyshire, just outside of Buxton. Access is through Corbar Woods, Buxton's oldest woodland, and the summit is marked by a trig point and a 20ft high oak cross.
Parking for Corbar Hill is on street on Corbar Lane, so please be mindful of residents.
White Path Moss
White Path Moss is situated on Stanage Edge near Hathersage and the summit is marked by a trig point. This is a really popular place with families to come walking as it's so accessible, as well as being a magnet for climbers.
Parking for Stanage Edge is in a lay-by just at the bottom of the hill but spaces are limited so you may need to park further afield. There is a car park near Burbage Rocks.
We did this one as part of a larger walk including High Neb, Stanage Pole, White Path Moss and Higger Tor.
High Wheeldon
At 422m above sea level, High Wheeldon is a dome shaped hill in Derbyshire, giving superb views to Chrome Hill, Parkhouse Hill and the Dove and Manifold Valleys. Near to the summit is Fox Hole Cave where prehistoric remains have bene found. Parking for High Wheeldon is on the road, so please park sensibly and be mindful of traffic wanting to pass. Alternatively you can park in Earl Sterndale a mile or so to the north-east.
Lord's Seat
Lord's Seat on Rushup Edge has amazing views down over the Vale of Edale. It's a much quieter place than it's next door neighbour, Mam Tor, and is a perfect place to watch a sunrise! Parking for Lord's Seat is in the National Trust car park at the bottom of Mam Tor.
Merryton Low
Merryton Low is the site of a Grade II listed trig point which has a plaque commemorating the local Home Guard who died during World War II. At 489m above sea level Merryton Low has fabulous views across to The Roaches, Ramshaw Rocks and Hen Cloud.
Parking for Merryton Low is in a lay-by off Leek Road and it's a short walk to the trig point itself. There is the nearby Blake Mere pool as well.
Grin Low
Grin Low is about a mile from the centre of Buxton and is the site of a Victorian folly known as Solomon's Temple, built in 1896. Parking for Grin Low is about half a mile away at SK17 6UJ.
I hope this round up of 21 quick Ethels walks is useful! For longer routes including day hikes and walks to get multiple Peak District Ethels, check out the Peak District Ethels List which has lots of walks on there.
You might also like this Bamford Edge Walk for a short walk with amazing views.
Other walk collections:
Easy Walks in the Peak District
10 Best Peak District Sunrise Spots
Best Peak District Walks for Boxing Day