Circular Walk from Marsden to Wessenden Head
My obsession with heather continues… Today saw us venture into the Colne Valley to have a circular walk from Marsden to Wessenden Head Reservoir. Well, it's a kind of out-and-back walk but we went out on the high path and came back on the low, making it a circular walk. I've taken about a billion photos so I apologise in advance for the reservoir spam.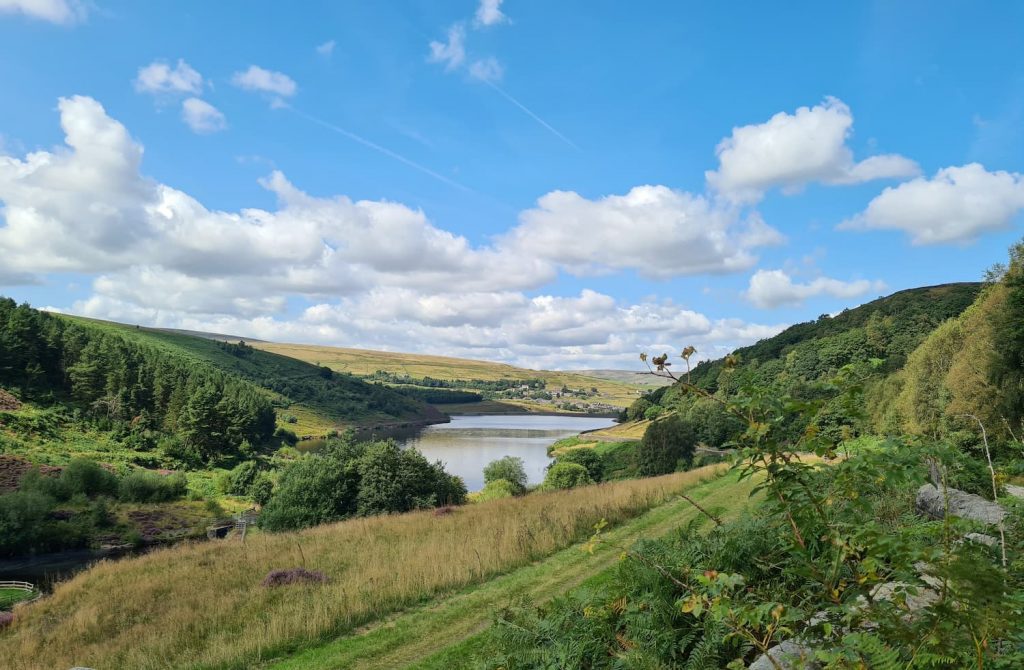 This walk wasn't too challenging and takes you through some spectacular Yorkshire scenery. There are one or two short steep climbs but it's pretty easy going for the remainder. Hols really enjoyed it and we saw an abundance of wildlife (including sheep and lizards).
This blog may contain affiliate links through which, at no additional cost to you, I may earn a small commission. I only recommend products I would use myself and all opinions expressed here are my own. Read full privacy policy here.
We parked near the entrance to Butterley Reservoir on Binn Lane. I foolishly set out with a coat on and no sun cream, not realising how hot it would get!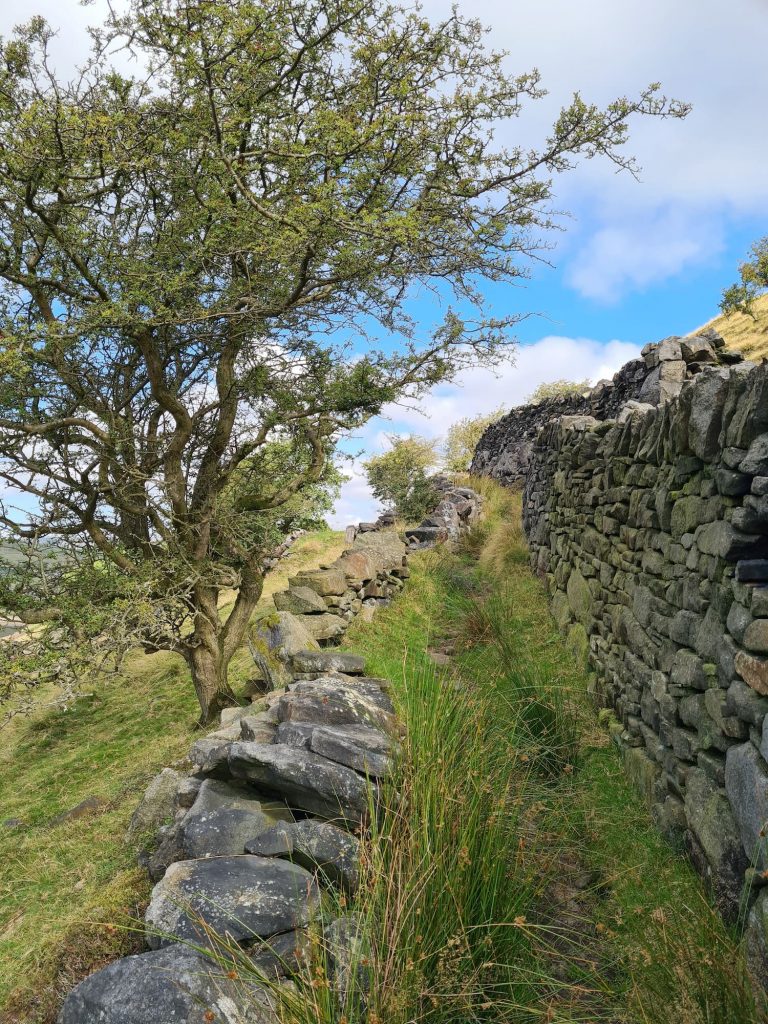 The walk starts out with a nice steady gravelled road. We turned off onto the footpath just before the Still Life sculpture and climbed up the hill, and the view got better and better as we did! This is the main climb of the walk and leads you to Binn Lane.
Following Binn Lane to the right we discovered the gateway to Binn Moor, complete with moors guardians aka sheep. The moorland here looks spectacular with the heather in full bloom. The path forks and we took the lower path which leads to the pretty Rams Clough Bridge. When we had crossed the bridge I nearly came a cropper with a lamb. We must have startled him and he ran towards me, almost taking my legs out from under me!
After the lamb incident we carried on, where the path climbs up a bit and becomes a bit rougher underfoot. If you want a Yorkshire walk with spectacular views, this is the one. You can see Butterley and Blakeley Reservoirs as well as dramatic moorland beyond.
Further along the path the terrain changes and the bracken takes over from the grasses. Here the path takes you past waterfalls and over bridges and gives you views of the beautiful Wessenden Reservoir below. You may also like this Waterfalls at Wessenden walk which takes you around the other side of the reservoirs to the
Further along you come to Wessenden Head Reservoir. From here you can carry on up the hill to the A635 Greenfield Road (just a bit further up from the start of the walk at Harden Moss).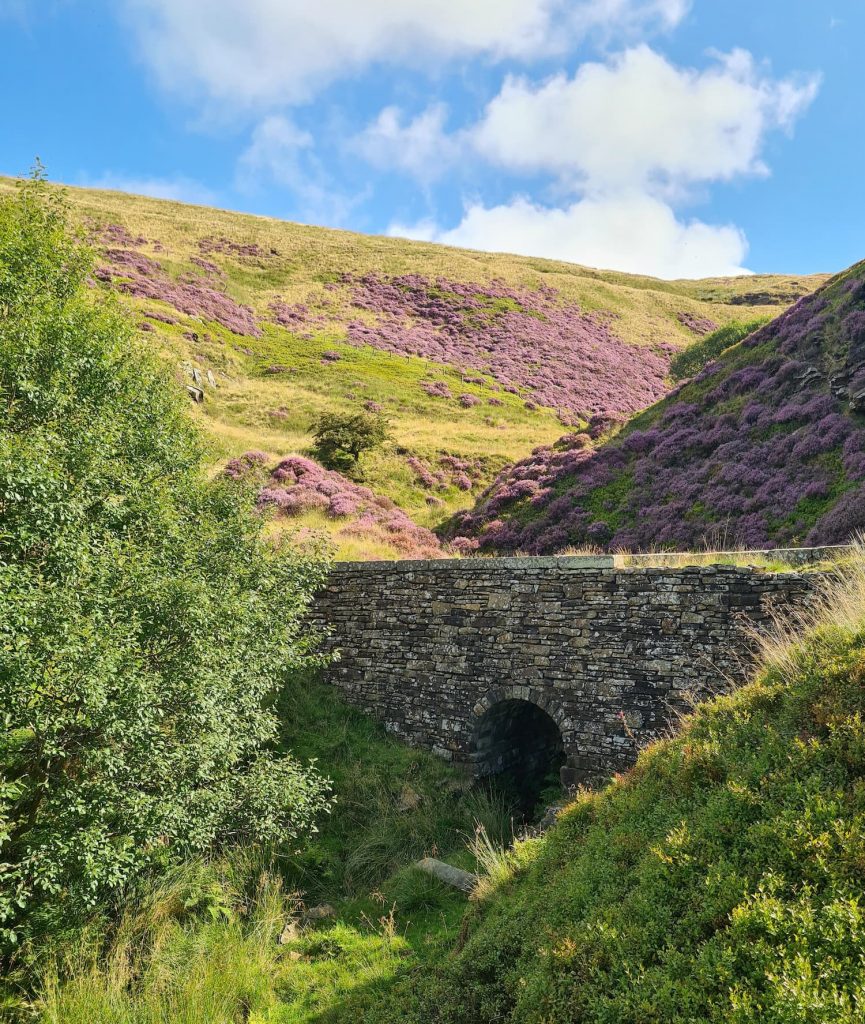 We however turned and headed back towards Marsden but took the lower path which took us nearer to the reservoirs. This was an easier hike back, and it seemed to take no time at all as Hols had a pub lunch in her sights!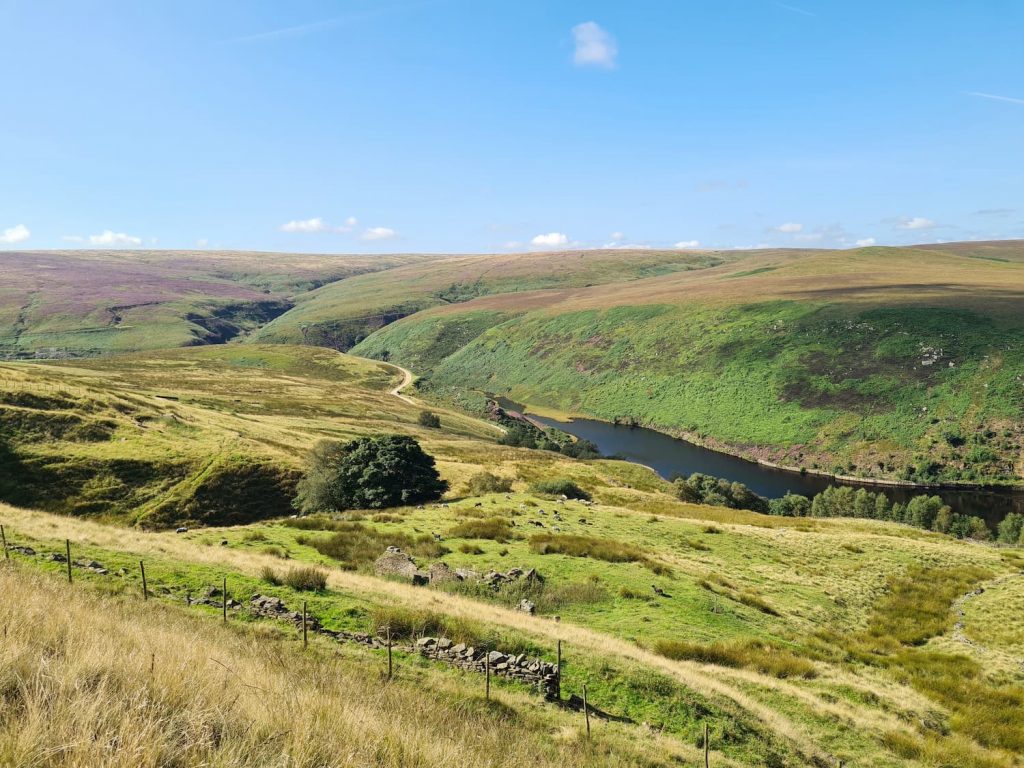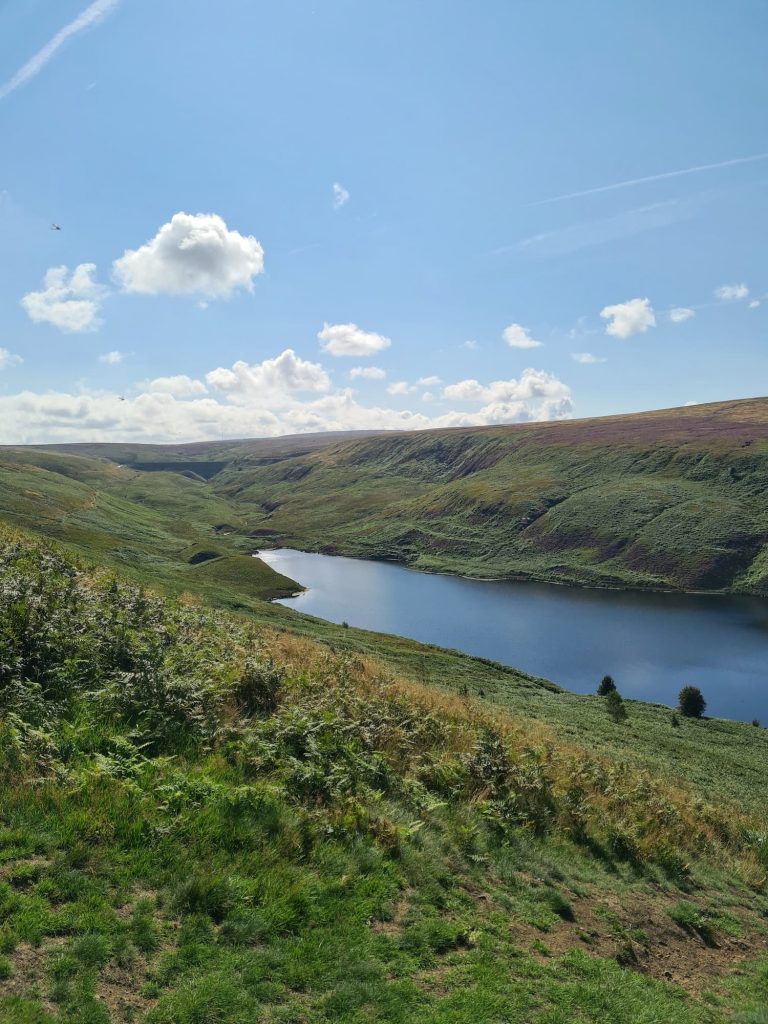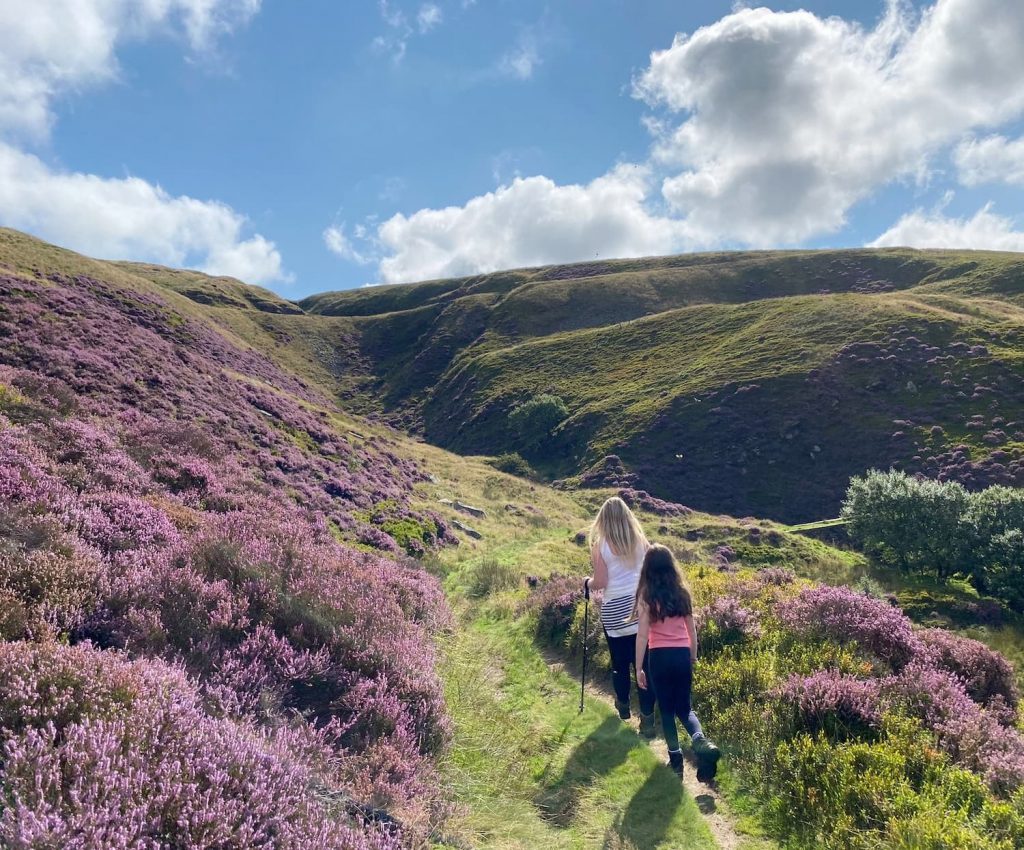 We ended up having a (very) late lunch at Arcade in Marsden. I can definitely recommend the Eggs Benedict with Ham Hock – it was delicious and just the thing after our hike, washed down with a glass of white wine.
Here's the map and route if you'd like to try this circular walk from Marsden to Wessenden Head.
The walk isn't suitable for prams as the terrain is rough, the paths are steep and narrow tracks in places and there are stiles to climb over. You could always miss out the bits where we went off road and stick to the main roads alongside the reservoir if you wanted to make it easier or shorter.
I saw people walking in trainers but I'd always recommend walking boots if possible. The tracks are quite stony in places and there are parts where it's very wet.
There are plenty of spots to have a picnic around the various reservoirs, and Marsden has plenty of cafes and sandwich shops to get a picnic lunch from.
As always, there were plenty of fun geocaches to find en route.
This is a challenging walk for kids due to the distance and some of the terrain but it's well worth it. This circular walk from Marsden to Wessenden Head Reservoir is definitely one we'll do again, and hopefully we'll get weather like we had today (but I'll make sure I wear suncream next time!).
For more walks with kids, check out my Yorkshire Walks page and Lancashire Walks page. Nearly all the walks we do are walks for kids that my daughter has done with us. You can also check out The Wandering Wildflower on Pinterest for more hiking ideas and ideas for walks in Yorkshire.
Thanks for stopping by!