Black Hill Circular Walk, Holmfirth – Yorkshire Walks
This is a challenging Black Hill circular walk, heading over bleak rugged moorland to Soldier's Lump and then returning via the Pennine Way. It's 5.7 miles and good navigational skills are needed.
Back in May the husband and I decided to have a day off together and hit the hills. He likes to go to high places so we headed out on a Black Hill circular walk, starting at the parking spot on Greenfield Road. It was also an opportunity to get started with the Peak District trig bagging challenge! This route is quite challenging in places, so isn't really suitable for small children and you need a decent level of fitness to be able to get over the rough terrain. If you want a challenging circular walk around Holmfirth though, this could be the one for you!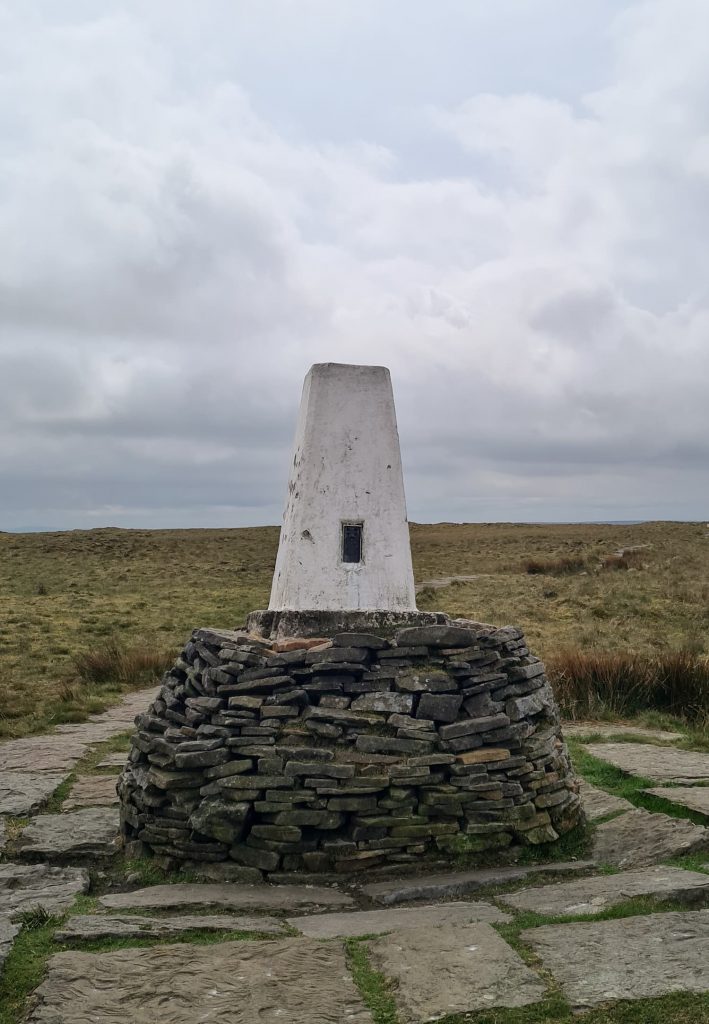 Black Hill is the highest point in West Yorkshire and is part of the Peak District National Park. Surprisingly this used to be the highest point in Cheshire! The summit is at 582m above sea level, marked by a trig point (photo from another walk, read on to find out why!).
This area is one of my favourite parts of the Peak District as it's so quiet compared to the busier spots, like Mam Tor or Kinder Scout. There are many beautiful walks in Holmfirth and we've done a fair few circular walks in the Holme Valley.
This blog may contain affiliate links through which, at no additional cost to you, I may earn a small commission. I only recommend products I would use myself and all opinions expressed here are my own. Read full privacy policy here.
Now, here's where we messed up. We didn't prepare properly, and didn't take the right kit. We had a quick look on the Geocaching app, saw what looked like footpaths and presumed they were proper footpaths. They are not proper footpaths. They're peat bogs. I set out in some nice looking (but not very waterproof) boots, no coat, wearing jeans, no map other than my phone, and only two packets of Haribo (the SMALL ones!) and a packet of crisps between us. This is a walk where you need to be prepared! Wear proper hiking boots (I love my Scarpa walking boots which are amazing for hikes like this), take a proper map as it's easy to become disorientated on the moors and take appropriate clothing as the weather can change really quickly up here. I only realised afterwards how foolish we had been!
Anyways, enough of our stupidity. On to the walk to Black Hill itself!
We parked up in the car park on Greenfield Road A635 and crossed the road. The path is quite easy to follow for about 200m but soon becomes indistinct and you have to use your navigation skills to keep the right direction.
After trekking over the peat bogs for a little while you can soon experience the isolation of Wessenden Head Moor. It is a stunning place, and we saw a barn owl hunting, tons of sheep and even a deer resting. The sense of peace and tranquillity is amazing. If you decide to do this walk, be sure to leave enough time to enjoy the surroundings.
The going is pretty level  (as level as peat bogs with tussocks of grass can be, so not very!) for about a mile and a half before the climb up to Black Hill. There is a little collection of stones at the foot of the ascent so you can have a rest or a picnic if you like, and then it's a bit of a clamber up the side of Black Hill.
The path gets easier as you get closer to the top, which is marked by a trig point. Unfortunately we didn't get a photo of us at the Black Hill trig point as there was a man being filmed singing there and we didn't want to get in his way, but we got a really dodgy selfie with it in the background. Selfies aren't my strong point!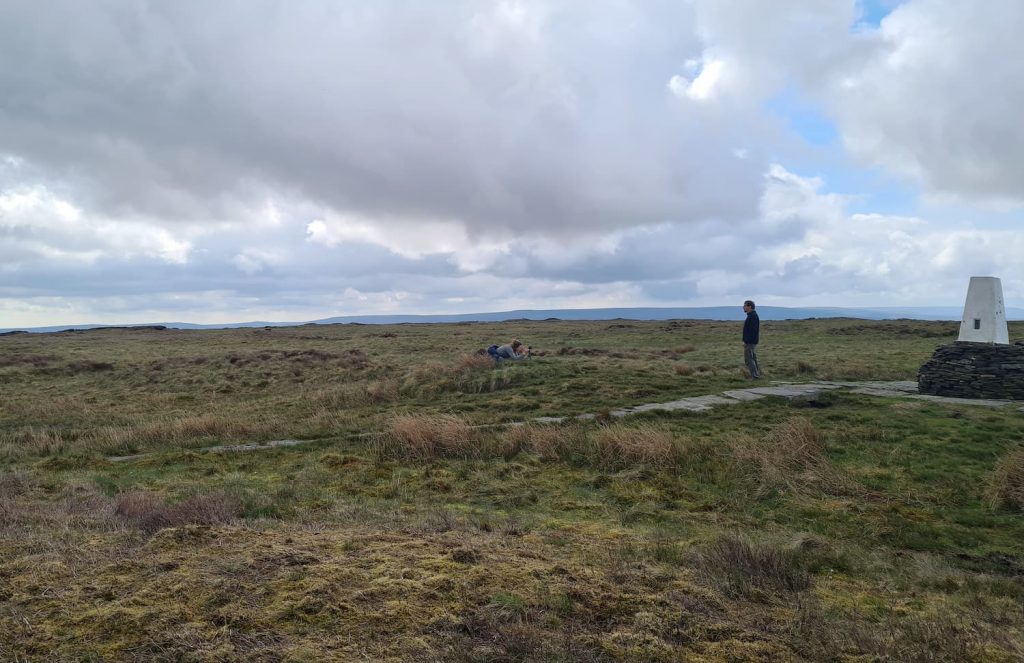 The descent is much easier, primarily thanks to the Pennine Way and it's paved surface! This is what we thought the peat bogs would be like. The Pennine Way made the going much quicker, which was lucky as I thought we'd be really up against it timewise and we had the school run to do! Luckily we made it back to the car with enough time to have a pub lunch at my old favourite The Huntsman – it has featured in a lot of our walks and is a great place for a lunch stop.
This route takes you past the location of the former Wessenden Hotel, also known as the Isle of Skye Inn. You can read more about The Isle of Skye Inn here. This pub was closed in the 1950s and burnt down in the 1960s. There is a layby on the roadside nearby now, and there's sometimes a burger van there if you fancy a pick me up after this walk.
This Black Hill circular walk is quite challenging and not to be undertaken without proper footwear. If you decide to go this route, be sure to be prepared. The Ordnance Survey have some amazing resources at Beginner's Guide to Map Reading which I would recommend.
From where the Pennine Way meets the main road you can head off on some other footpaths such as the one that takes you to Marsden past the four reservoirs of Wessenden Head, Wessenden, Blakeley and Butterley. This is a lovely walk and you can see the route on Circular Walk from Marsden to Wessenden Head. You could also deviate from the Pennine Way and head down to Digley Reservoir.
I've done a few walks to Black Hill as part of my training for the Yorkshire 3 Peaks Challenge, and you might like Holme to Black Hill to Crowden Circular Walk or Holme to Black Hill Circular Walk depending on how far you want to walk.
This route is not suitable for small children or prams, and dogs should be kept under control as there are sheep and other wildlife on the moors. Older children will probably be fine if you watch the weather, and pick a dry day with good visibility, but as always make sure you're prepared.
I wouldn't advise attempting this in winter or after a period of heavy rain as the ground will be even more boggy.
Black Hill Circular Walk Route:
Parking: A635 Greenfield Road
Facilities: None on the walk but The Huntsman Inn is nearby
Walk Time: 2-3 hours
Distance: 6 miles (10km) approximately
Trig Points Bagged: Black Hill
Peak District Peaks Bagged: Black Hill
Peak District Ethels Bagged: Black Hill
Here's the route – click the map to download the gpx file to your device. You can upload the gpx file into OS Maps too:
Despite the challenging nature, it didn't put us off and we've definitely got the hill walking bug now (as well as some proper walking boots!).
Thanks for stopping by the blog! Let me know if you have a go at this Black Hill circular walk.
You can check out more walks in Holmfirth and circular walks around the Holme Valley on the blog.
Why not try
Holme Moss to Black Hill Trig Point
Holme to Black Hill to Crowden Circular Walk
Holme to Black Hill Circular Walk
Black Hill, West Nab and Blackpool Bridge