Ladybower Reservoir Plugholes
Have you seen the dramatic Ladybower Reservoir plugholes? This blog post will show you where they are, so you can see these amazing features for yourself!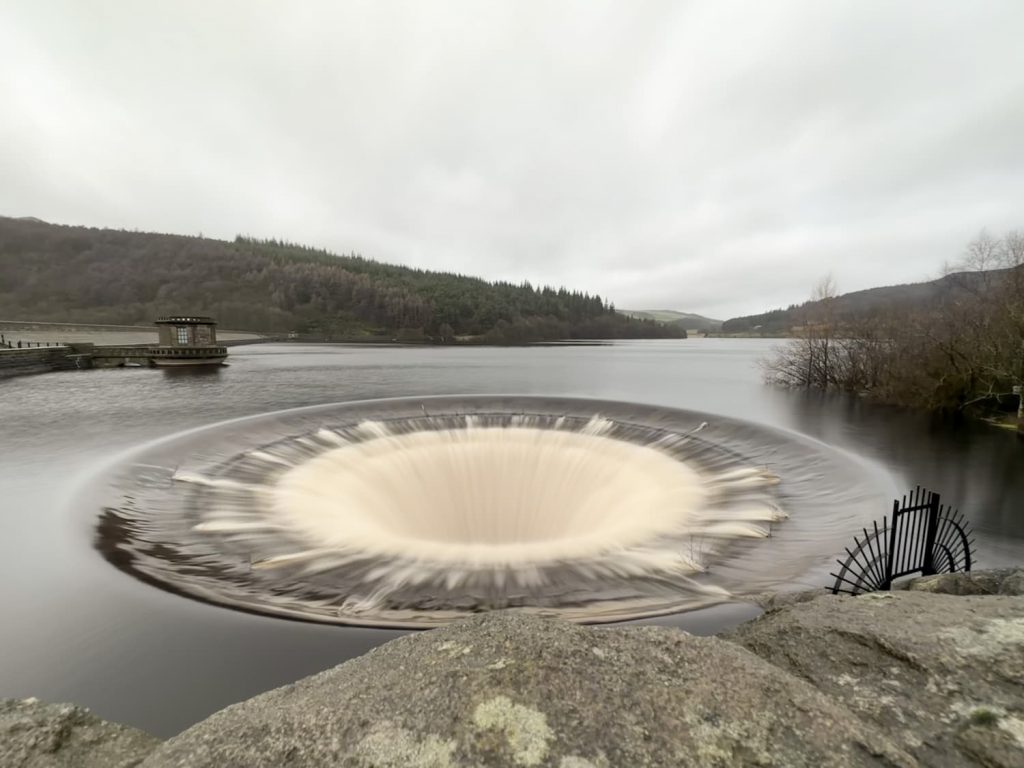 What are the Ladybower plugholes?
The Ladybower Reservoir "plugholes" are actually Bellmouth spillways. These are effectively drains and are a way for the water levels in Ladybower Reservoir to be regulated, with the excess water to flow down through tunnels into the River Derwent. There are two valve houses at the base of the dam to regulate the water flow.
The plug holes are 24m in diameter with a drop of 20m and are really dramatic when the water is flowing through them! The sound is intense and they are mesmerising when the water flows through them – no wonder this is one of the best locations in the Peak District for photographers!
The plugholes tend to overflow when the water levels in the reservoir are high, so Winter and Spring are a great time to visit. As it's a short walk from the parking, this is a great place to try and bag a sunrise or sunset with Bamford Edge in the background (especially in Winter when the sunrise is at a more sociable time!).
Where are the Ladybower Reservoir plugholes?
The plug holes in Ladybower Reservoir are near the Ladybower Dam, near to the Yorkshire Bridge Inn. The plugholes are at the southern end of Ladybower Reservoir, accessed just off the A6103. There is a viewing platform on the roadside and one across the dam wall on the other side.  There is a tall gate which allows access to the dam wall, and you can walk across this to the other plug hole viewing point.
Where to park for the Ladybower plugholes?
If you're lucky you'll be able to park on the roadside near to the Yorkshire Bridge Inn for free. If the spaces are full, you can park in the nearby Heatherdene car park (pay and display) where there are toilets.
You can see these plug holes whilst out for a walk. You might like this Crook Hill and Win Hill Walk via Ladybower Reservoir walk or for more of a challenge why not try this Derwent Reservoirs Circular (Dambusters Challenge Walk). You could also walk up to Bamford Edge from here.
When the plugholes are overflowing it's a good sign that Derwent and Howden Dams are overflowing too. Derwent Dam is easily accessed from Fairholmes Car Park and this Ladybower Reservoir and Derwent Edge walk and Derwent Reservoir and Slippery Stones Walk both pass by.