B29 "Overexposed" Crash Site on Bleaklow – A Guide
Wondering how to get to the B29 Over Exposed plane crash site on Bleaklow? This handy guide will give you the route map and directions, plus top tips for visiting the Bleaklow plane crash site on the moors above Glossop.
Up on the bleak moors above Glossop is the eerie final resting place of the B29 Over Exposed plane which crashed in thick fog in 1948. The B29 plane crash site on Bleaklow walk is a surprisingly popular walk, with many people walking out there to pay their respects and see the well preserved plane wreckage for themselves. The Boeing B-29 Super Fortress plane was on a routine flight from RAF Scampton to American AFB Burtonwood and tragically crashed whilst descending through low cloud on 3 November 1948, killing all 13 crew on board. It is believed the crew "never saw the ground" and died instantly. The wreckage is spread over a large distance across the moors, indicative of the force of the crash.
It's a relatively short walk – this circular walk from Snake Pass is around 3 miles – and doesn't involve any steep climbs. You can add in detours to Bleaklow Head, the Hern Stones, Wain Stones and Higher Shelf Stones with this Bleaklow Circular Walk, or just use this walking route to the B29 crash site.
Whilst this is a relatively short walk, it's easy to get lost in bad weather and conditions can change rapidly. Glossop Mountain Rescue Team have been called out many times over the last few months to rescue people who have got lost so please take care when visiting and don't go if you are not confident navigating. 
How to Get to the B29 Over Exposed Plane Crash Site on Bleaklow
The route starts in the car parking lay-by on Snake Pass and follows the Pennine Way for a distance over the Bleaklow Moors. There are some signs for the plane crash site which you can follow (the little white arrows on black circles) but they don't go all the way to the crash site.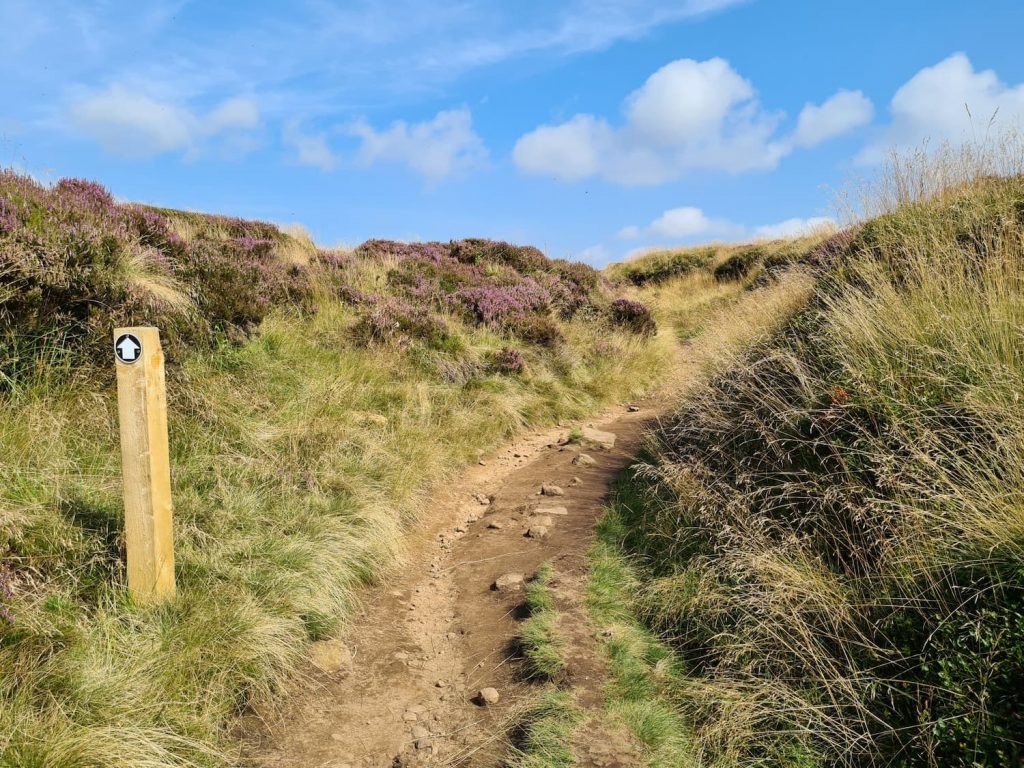 After approximately 1.75km turn left to head north-east and follow the path across the moors to get to the plane crash site. It's about 1km further on, towards Higher Shelf Stones. It just appears all of a sudden as you're walking.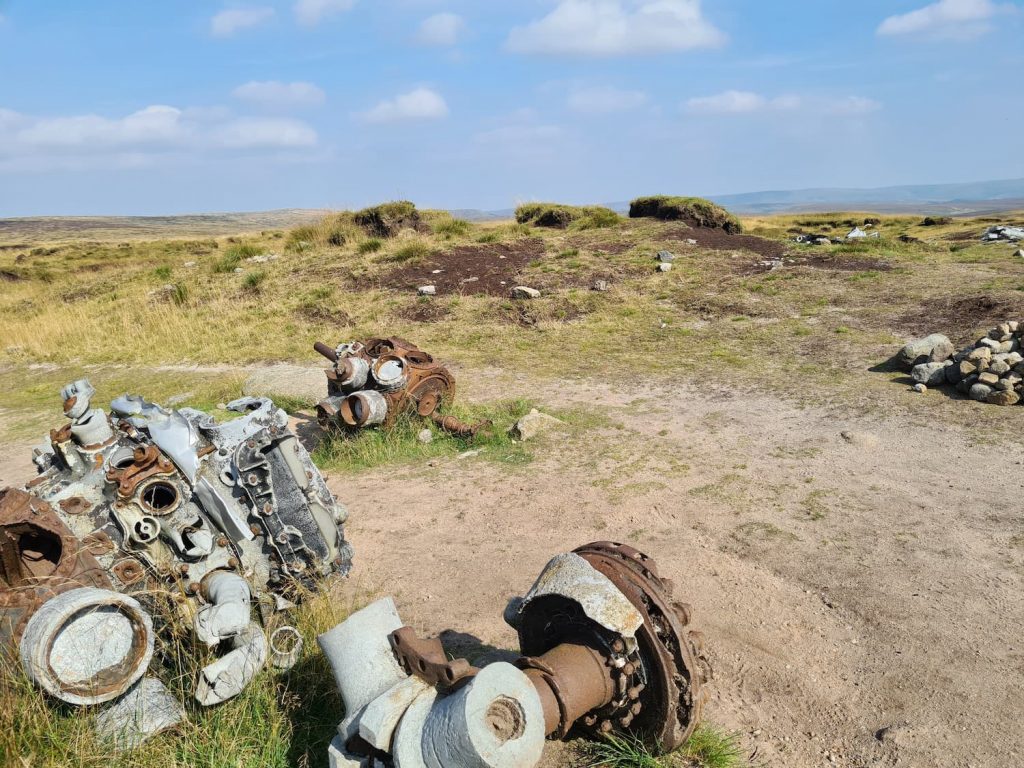 It's a remarkably poignant place to visit and I got quite emotional thinking of the crew who had died that day. There is a touching memorial plaque giving more information about the tragedy.
Here's how to find the Bleaklow Bomber plane crash site:
Difficulty: ▲▲▲
This blog may contain affiliate links through which, at no additional cost to you, I may earn a small commission. I only recommend products I would use myself and all opinions expressed here are my own. Read full privacy policy here. As an Amazon Associate I earn from qualifying purchases. 
Top tips for visiting the B29 Over Exposed plane crash site on Bleaklow:
Park at Snake Pass A57, but be sure to get there early to be able to park in the lay-by. Be careful where you park – there have been cars getting tickets for parking in the wrong places.
Start the walk early and check what time it is going to come dark. Unless you are confident navigating on bleak open moorland at night, this is not somewhere you want to be stuck in the dark!
There are no public toilets or other facilities, so be sure to take everything you need with you. Take all your rubbish home again with you.
This walk is suitable for kids (we took our 9 year old) but be sure you are properly prepared with everything you and they will need. We took plenty of snacks, layers and sun cream as it was a hot day!
The site is very exposed, at over 600m above sea level, so on a hot day take sun cream and plenty of water. There is no shade.
As the site is so exposed, the weather can turn quickly so be sure you wear appropriate footwear and take waterproofs and layers as necessary. This is not one to attempt in trainers or flip flops.
Don't attempt this walk in winter or after periods of heavy rain as the moors are very wet and boggy and it's easy to become lost. Weather conditions change very quickly up here, and it's not uncommon for mist and fog to roll in.
Make sure you are able to navigate. Whilst it was a clear, sunny day when we went on this hike, and the paths were clearly visible, the moors are a very different place in bad weather or poor visibility. Don't go without a map or GPS navigation. Stick to the paths and don't be tempted to go over the moors unless you know what you are doing. Shop for compasses and maps on Amazon:
Remember this is a memorial site, so please behave respectfully. Please don't disturb or remove parts of the wreckage.
Dogs are allowed on the moors but they may need to be on a lead to protect ground nesting birds and other moorland wildlife. Check the signs on the gate off Snake Pass.
Why not add in a detour to the Wain Stones or Hern Stones? These fabulous rock formations are great to explore.
I hope this guide to finding the B29 Over Exposed plane crash site on Bleaklow was useful, and don't forget to check out some more Peak District walks.
You might like more Peak District plane crash walks.