Scafell Pike Route
This Scafell Pike route starts from Wast Water and climbs up Lingmell, then Scafell Pike and along to Scafell before heading back down the fells to the car park. This is a challenging walk – Scafell Pike is the highest mountain in England, with Scafell being the second.
We went camping with some friends and decided to bag another of the National 3 Peaks (we already climbed Snowdon and have plans for Ben Nevis later in the year). This challenging walk also takes in Lingmell and Scafell, and is a lovely day out in the fells. We were a group made up of three 40-somethings and two 10 year olds.
Starting from the car park at Wasdale, we headed along the track and over the bridge to start the ascent of Lingmell. This is pretty much a steep climb right from the start! There are plenty of excuses for a rest though as the view over Wastwater is amazing. It was a good thing we took in the view – as soon as we hit the cloud layer, that was all we saw for the rest of the walk! Yet another Lake District walk with amazing views!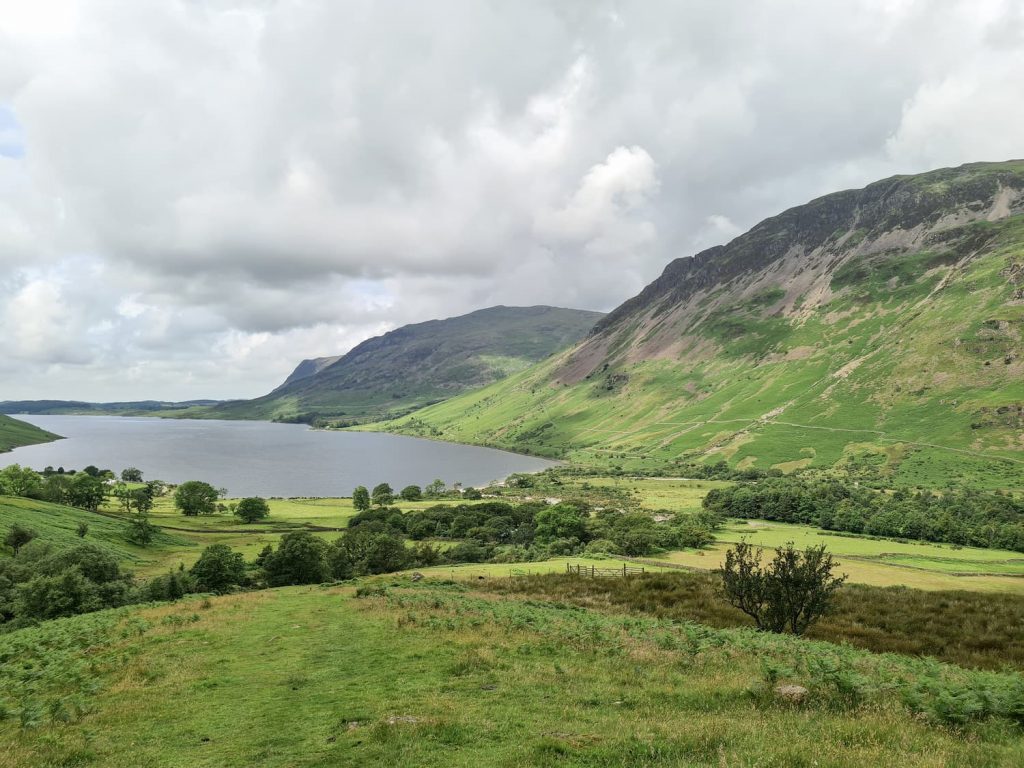 The climb up Lingmell gets slightly more gradual as you reach the top, and it becomes more rocky near the summit, which is marked by a cairn.
From Lingmell we headed south-east towards the summit of Scafell Pike. This is very rocky underfoot but there is a faint path to follow. The path soon joins the main route, and you'll know when you get nearer to the summit as it will start getting really busy. We barely saw anyone up until the point we joined the main path!
At the Scafell Pike summit there is a trig point and a WW1 memorial, which is higher than the trig point. At one point, Hols and her friend were the highest 10 year olds in England and Wales! They both did amazing to climb Scafell Pike, and we're super proud of them both.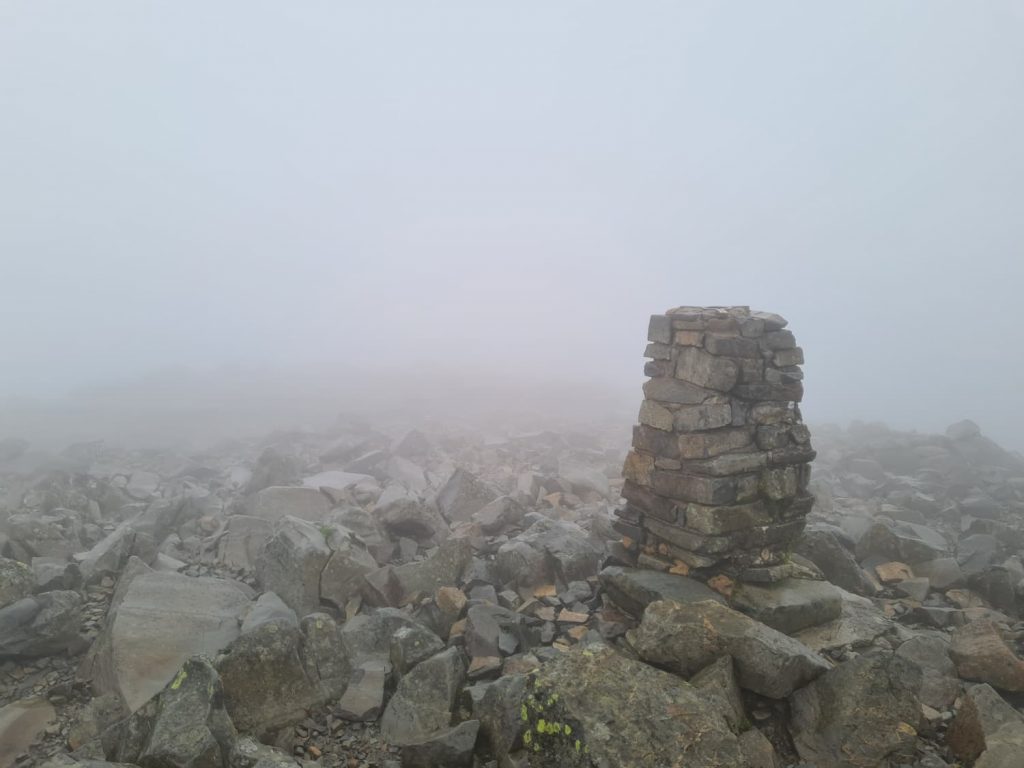 From Scafell Pike we started to descend back down the stony track to Mickledore, past the Mountain Rescue post. Rather than taking two tired 10 year olds up Broad Stand, which is a very challenging ascent of Scafell for anyone but the most experienced scramblers or climbers, we headed down a bit further, past the waterfall and then up past Foxes Tarn. There is still a lot of scrambling to do here, up some rather steep and precarious sections, so this should only be attempted if you are confident with this.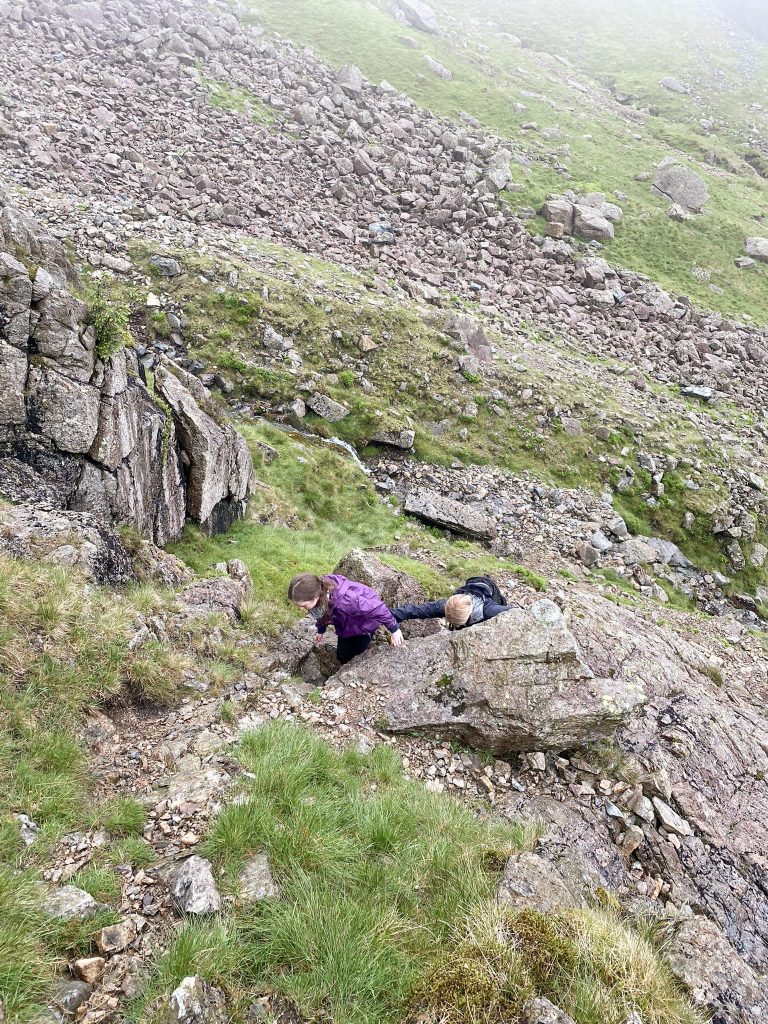 The path will begin to become less steep and you'll soon reach the top of Scafell which is marked by a small cairn.
From here, we headed east then south-east along Green How, and down the hillside. The paths are really stony and rocky and make the going quite hard. This seemed like a never ending descent and if you suffer with knee trouble, I'd recommend using walking poles for this. The paths are very faint, so it's a case of just heading in the general direction or following the route on your device.
Eventually you'll find yourself back on the Old Corpse Road which you can follow back to the car for a well earned rest.
This is a very challenging walk – what it lacks in distance it more than makes up for in height and the up and down nature of it, including scrambling sections. In bad weather this could be quite dangerous so please make sure you are prepared when you go – it's not a walk to do in Crocs or flip flops. The terrain is very rocky in places so be sure to wear decent walking boots.
Scafell Pike Camping
We camped at Fisherground Campsite in Eskdale and would definitely recommend it. Each pitch is pretty big, and they give you a firepit too. There is plenty of space for the kids to play and there is a miniature steam railway that stops right at the camp site. The only downside was the local shop (advertised as being well stocked) wasn't really well stocked so we had to drive 10 miles to the Coop in Seascale for supplies.
Scafell Pike Weather
Always check the weather before you go. I use Mountain Forecast to check the weather forecast at the summit as it can differ dramatically from that at ground level.
Scafell Pike Route Info:
Parking: Wasdale Car Park, CA20 1EX. This is a National Trust car park and is pay and display
Facilities: Public toilets and cafe at the car park
Walk Time: 6-7 hours depending on speed and fitness
Difficulty: ▲▲▲
Distance: 6.6 miles (10.6 km)
Wainwrights Bagged: Lingmell, Scafell Pike and Sca Fell
Scafell Pike Route Map: