Britland Edge Hill and Dead Edge End Walk
Fancy a walk on the moors to Britland Edge Hill and Dead Edge End? This is a there-and-back moorland walk near Holmfirth starting at Holme Moss Car Park. These are two Peak District Ethels and take you to a lesser known part of the Peak District.
This route is part of a walk we planned to do but had to cut short when we found ourselves in the middle of a grouse shoot! We had planned to visit the nearby Ramsden Clough but had to turn back and head back to Holme Moss so as not to get shot at by men in tweed. We did however manage to bag two more for the Peak District Peak Bagging Challenge and another trig point for the Peak District Trig Point Checklist, so it was still worth doing.
In terms of scenery, other than the moorland views there isn't a lot to see up here once you leave the car park. The moorland is pretty bleak and featureless, although the views over towards Bleaklow and down towards Longdendale are beautiful.
This blog may contain affiliate links through which, at no additional cost to you, I may earn a small commission. I only recommend products I would use myself and all opinions expressed here are my own. Read full privacy policy here.
It's a pretty gentle walk, with there being no steep climbs, but it is over peat moorland which can be really wet and boggy, and it definitely was when we went. As with all moorland walks I would only attempt this with the proper equipment and navigational aids. Proper footwear is a must for this walk – don't attempt this in trainers! I love my Scarpa Terra GTX walking boots, which are really comfortable for long hikes, waterproof and give me lots of support and grip when walking on rough ground.
This is a walk from Holme Moss car park which takes you along the fence line towards Britland Edge Hill. This is a Peak District Peak at 523m above sea level, however the summit is a corner fence post and a puddle. Not even a cairn! After a quick search around to make sure we weren't missing something, we headed off towards Dead Edge End.
The route takes you along the line of the fences for most of the walk, which makes it quite easy to navigate.
There is a gentle climb up to Dead Edge End, which is 499m above sea level and lies on the boundary between Yorkshire and Derbyshire. The fence follows the boundary and we approached the trig from Yorkshire – wahoo! The views from the trig are stunning as it looks down over Longdendale Valley and the reservoirs there.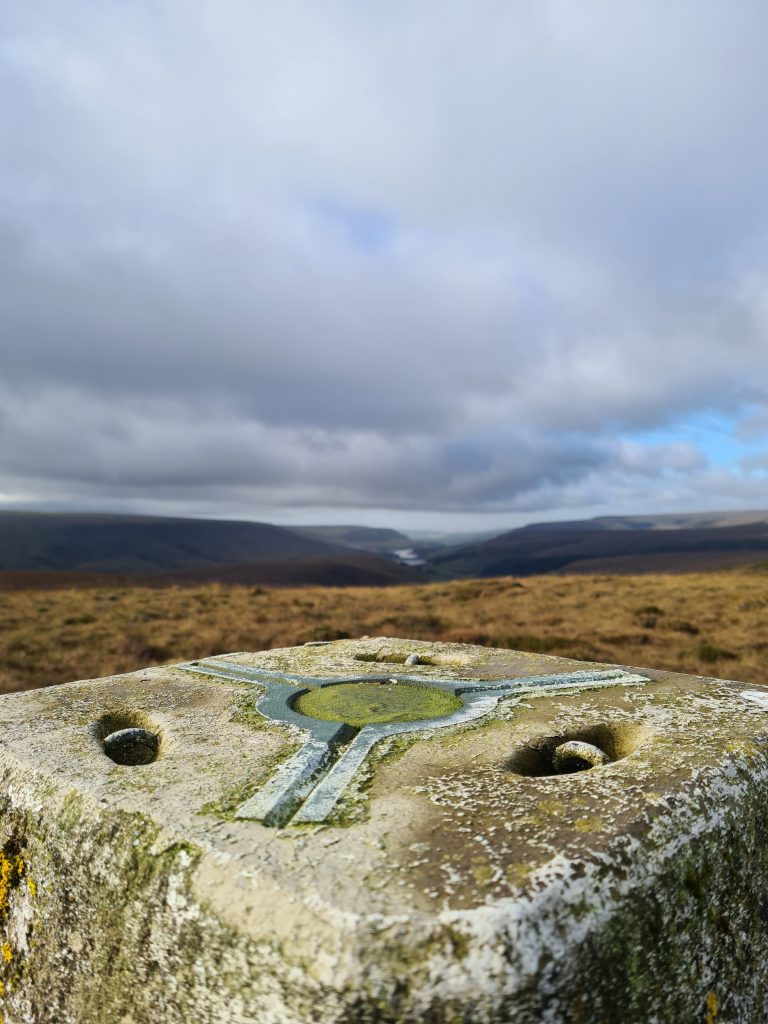 We turned and were going to head back towards Ramsden Clough but ran into a gamekeeper who told us about the grouse shoot. We had to head back via Britland Edge Hill towards Holme Moss to avoid being caught up in the crossfire so will have to save Ramsden Clough for another day. We might actually approach it from Snailsden and Cooks Study Hill as there is a cliff face known as Ramsden Rocks, and I don't want to be approaching that from above!
Parking: the free Holme Moss car park at HD9 2QF.
Facilities: None, although there is sometimes an ice cream van in the car park.
Distance: 5.5 miles over moorland.
Trig Points Bagged: Dead Edge End
Peak District Peaks Bagged: Dead Edge End, Britland Edge Hill
Peak District Ethels Bagged: Dead Edge End, Britland Edge Hill
Our route taking in Britland Edge Hill and Dead Edge End was just under 9km (5.5 miles). You can download the route map gpx file for the walk by clicking on the map image.
You could tie these two Peaks in with some other nearby ones including Snailsden Pike End or Black Hill, if you're feeling energetic! You could also head down into the Crowden Valley (so this would be a good walk from Crowden campsite). There are lots of walks from Holme Moss car park to go on as well.
Peaks bagged, Ethels bagged and trig point checked off – onto the next Peak District walk!