Derwent Edge, Derwent Moors and Boots Folly
This 8.5 mile walk explores the beautiful and wild Derwent Edge and Derwent Moors before heading over to the quirky Boots Folly. With rugged gritstone outcrops and spectacular views over Ladybower Reservoir, this is a walk for summer when the heather is in full bloom.
As this is a grouse moor, there are signs on gates advising dogs are only allowed on public rights of way. These are shown green on the OS Map and unfortunately a lot of this walk doesn't use those green routes so this walk isn't suitable for dogs.
This walk starts from a parking lay-by near Strines Reservoir and involves a section of road walking along Mortimer Road to pick up Foulstone Road, a track leading up onto the moors. We followed the track until we reached the junction with the slabbed path leading to Back Tor, and then turned right to visit the Back Tor trig point. To get to the trig point you have to climb up onto the rocks.
From here we retraced our steps back to the junction then followed the stone slabs along Derwent Edge, passing the famous Cakes of Bread, Dovestone Tor, Salt Cellar and White Tor before reaching the Wheel Stones (or Devil's Coach and Horses).
A short distance after the Wheel Stones is a path junction and we turned left, heading east down past the grouse butts. The path heads across the Derwent Moors and passes through Moscar House before emerging on Mortimer Road. We crossed the road and walked along Sugworth Road to Sugworth Hall, where we followed the footpath running alongside the driveway and out to the fields of Boots Folly.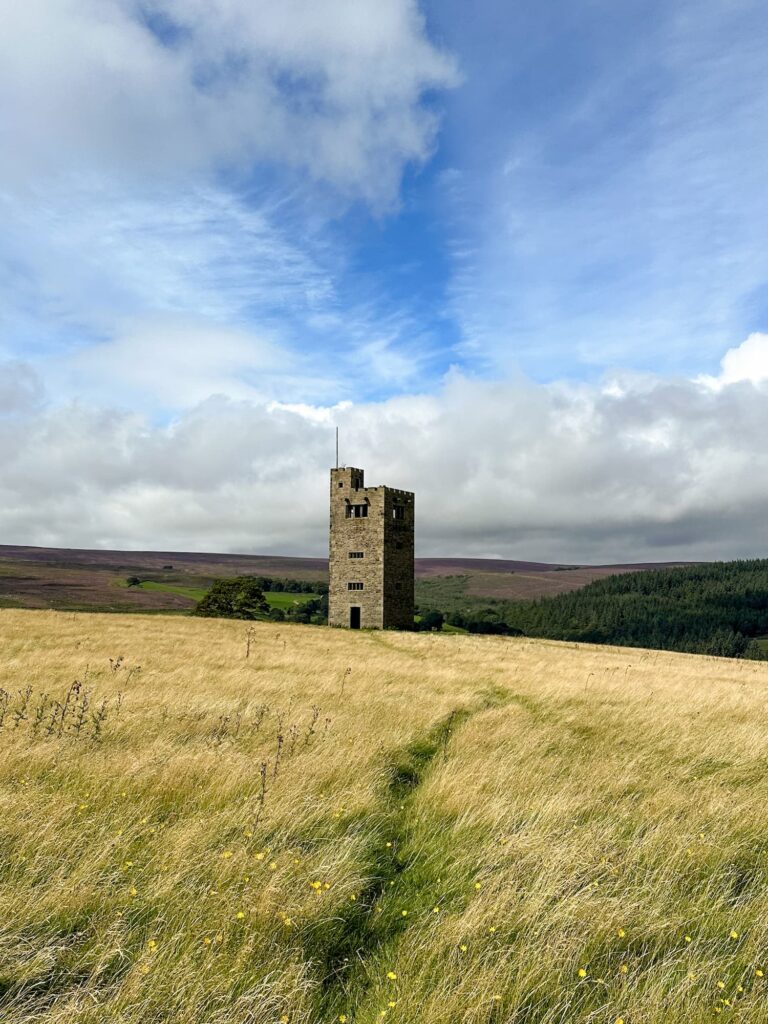 Boots Folly was built in 1927 and was constructed from the leftover stone from nearby Bents House. Noone knows for sure why it was built – it was either a folly commissioned by Charles Boot to give his workers something to do during the Great Depression or a tower to allow him to have a view of the churchyard at High Bradfield where his wife was buried. The tower used to have a wood panelled interior and a spiral staircase but this had to be removed when a cow managed to climb the stairs and get stuck! Nowadays the tower is an empty space (barring the usual fly camping rubbish that seems to be a blight everywhere these days).
From Boots Folly we walked down towards Strines Reservoir, and then back up onto the road where the car was waiting.
Parking: We parked in a lay-by near Strines Reservoir on Mortimer Road. There is space for approximately 6 cars here. W3W:///hurt.torn.foods
Facilities: None
Walk Time: 4-5 hours
Difficulty: ▲▲
Distance: 8.5 miles (13.68km)
Elevation: 1,225ft (373m)
Trig Points Bagged: Back Tor
Peak District Peaks Bagged: Back Tor
Peak District Ethels Bagged: Back Tor