Lose Hill and Win Hill
This 7.8 mile walk starts from Hope and heads up Lose Hill and then Win Hill before returning to Hope. With some steep climbs, this is a challenging walk but the views make it well worth it!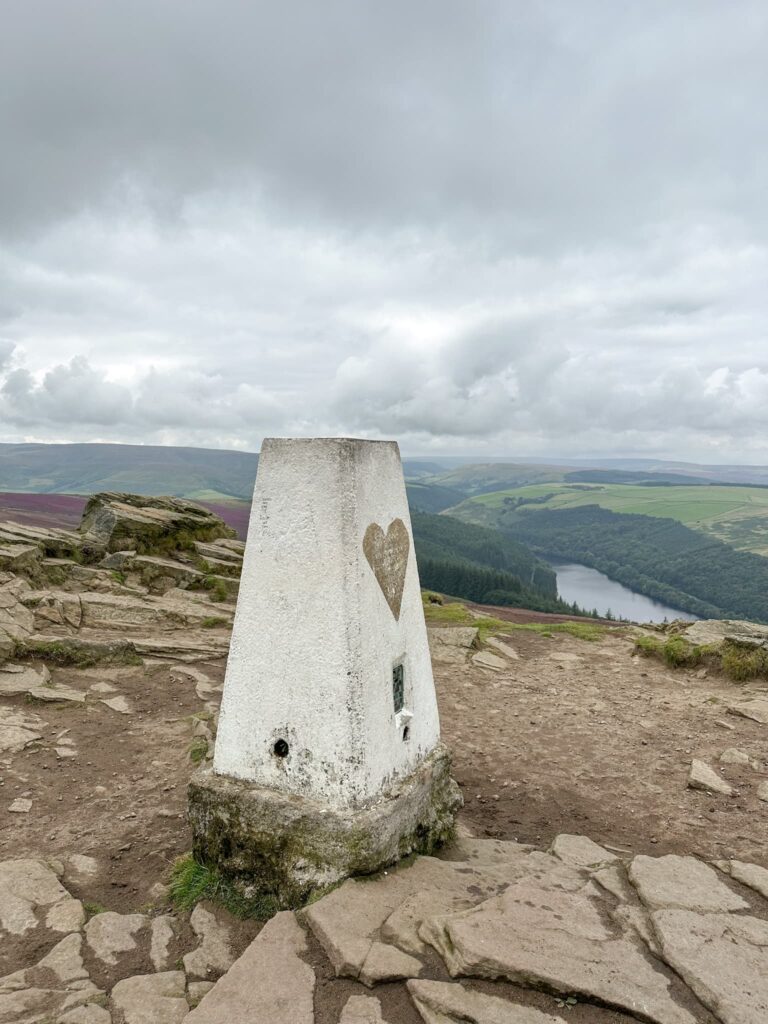 Legend says that Win Hill and Lose Hill get their names from a battle in 626 between Edwin of Northumbria and the King of Wessex. Edwin's army camped on Win Hill, and the Wessex army was on Lose Hill. There was a great battle, during which the Wessex army charged at the fortifications on Win Hill and Edwins army rolled huge stone boulders down on them. The Northumbrians were victorious, and the stones were apparently collected and used as millstones which is why the Peak District uses the millstone as it's symbol. Whether this is true or not remains to be seen – Win Hill could be named for the "whin" or gorse that grows on it's flanks, and Lose Hill could be a corruption of Loose or Laws, indicating a patch of land that was farmed by freeholders. Who knows?!
We parked in Hope and headed north via Eccles Close, over the fields and crossed the railway line using the "bendy bridge". We then passed through a small holding and headed out onto the fields to start to climb Lose Hill.
At Lose Hill there is a toposcope showing the hills you can see on a clear day, and there are great views back along The Great Ridge to Mam Tor. You can also see the Broken Road from here.
We set off back down Lose Hill the way we came and then forked off left to head south-east out onto Lose Hill Lane. We crossed Edale Road and then went over the railway line again, and up Brinks Road. There is a footpath that leads onto the Open Access Moorland which splits into 3 to head up Hope Brink. We took the middle path up but there is a shorter steeper way up the fence line.
At the top of the climb we joined the track that leads up Hope Brink and then Thornhill Brink to Win Hill and it's stunning views down over Ladybower.
After admiring the view for a while, we set off to the south-east down a steep footpath which leads to possibly the highest stile I've ever been over, and into the pretty village of Aston.
We picked up the footpath on Aston Lane which cuts out the road corner, and then reemerged on Aston Lane which we followed to the junction with Station Road in Hope. From here it was a short wander along the road back into Hope and the car.
Parking: We parked in Hope Car Park S33 6SB W3W:///position.caveman.blackbird
Facilities: Toilets in the car park and lots of cafes and shops nearby including a Spar just across the road from the car park.
Walk Time: 3-4 hours
Difficulty: ▲▲ – very steep climbs up both hills
Distance: 7.8 miles (12.55km)
Elevation: 1900ft (579m)
Trig Points Bagged: Win Hill
Peak District Peaks Bagged: Win Hill, Lose Hill
Peak District Ethels Bagged: Win Hill, Lose Hill
For more Win Hill walks you might like:
Ladybower Reservoir Walk With Win Hill
Crook Hill and Win Hill Walk via Ladybower Reservoir