Grin Low and Solomon's Temple Walk from Buxton
One of the most interesting Ethels on the list of Peak District Ethels has to be Grin Low, the site of Solomon's Temple. It's been on our to do list for a while, and we ended up visiting on a snowy day in between Storm Dudley and Storm Eunice. This is our Grin Low and Solomon's Temple walk, a lovely walk from Buxton.
Grin Low Tower or Solomon's Temple, as it's better known, is a small tower situated on the top of Grin Low Hill, with amazing views across the High Peak (from here, on a clear day you can see as far as Kinder Scout and Mam Tor). This is a Victorian folly, built in 1896 to replace an earlier structure built by local farmer Solomon Mycock. The site of Solomon's Temple is also that of an ancient burial mound and there have been several Bronze Age skeletons discovered here, along with Roman artefacts. Grin Low Hill itself is 430m above sea level, although definitely doesn't feel it.
The nearby woods are home to some fabulous woodland trails, with wooden sculptures to find along the way including Charlie the Lime Burner, and you can also visit Poole's Cavern. The woodland was restored between 1820 and 1840 to disguise the site of a former limestone quarry which had scarred the landscape. It's hard to imagine how it would have looked back then, as the woods today are so beautiful!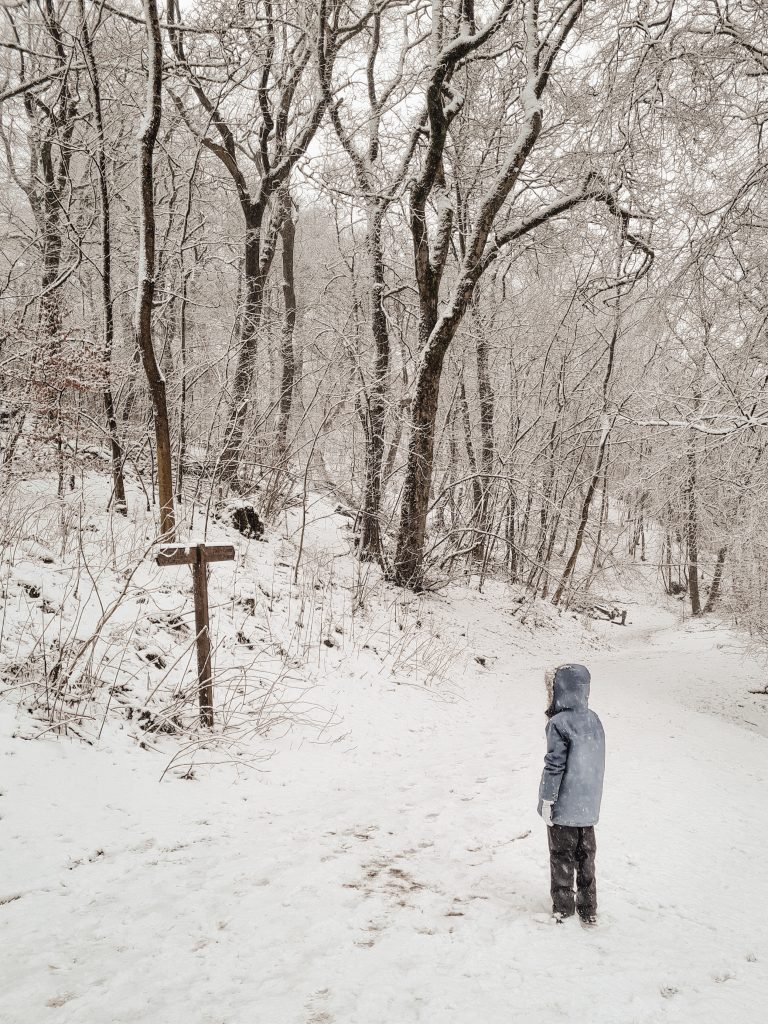 Our walk was due to start in the car park near the Buxton Caravan Site, however it was so snowy and the road into the site hadn't been cleared. We didn't fancy getting the car stranded so headed into the centre of Buxton instead and parked in the Pavilion Gardens car park. There are loos here too, which is very handy after being in the car for a while!
We walked next to the Pavilion Gardens themselves, which are a lovely place to walk with a duck pond and lots of other attractions including a cafe, concert hall, conservatory, miniature train, lake, playgrounds and playing fields. It was a bit cold and wet when we went so we didn't hang around to explore.
Our walk took us through some playing fields then into the woods below Grin Low. The path was easy to follow, even in the snow! You essentially head up the hill, and when you get to the top you're at Grin Low Hill!
Solomon's Temple itself is a lovely folly, and you can go inside and up onto a viewing platform where on a clear day you can see for miles. Unfortunately when we went all we could see was a load of snow, but it still looked really pretty.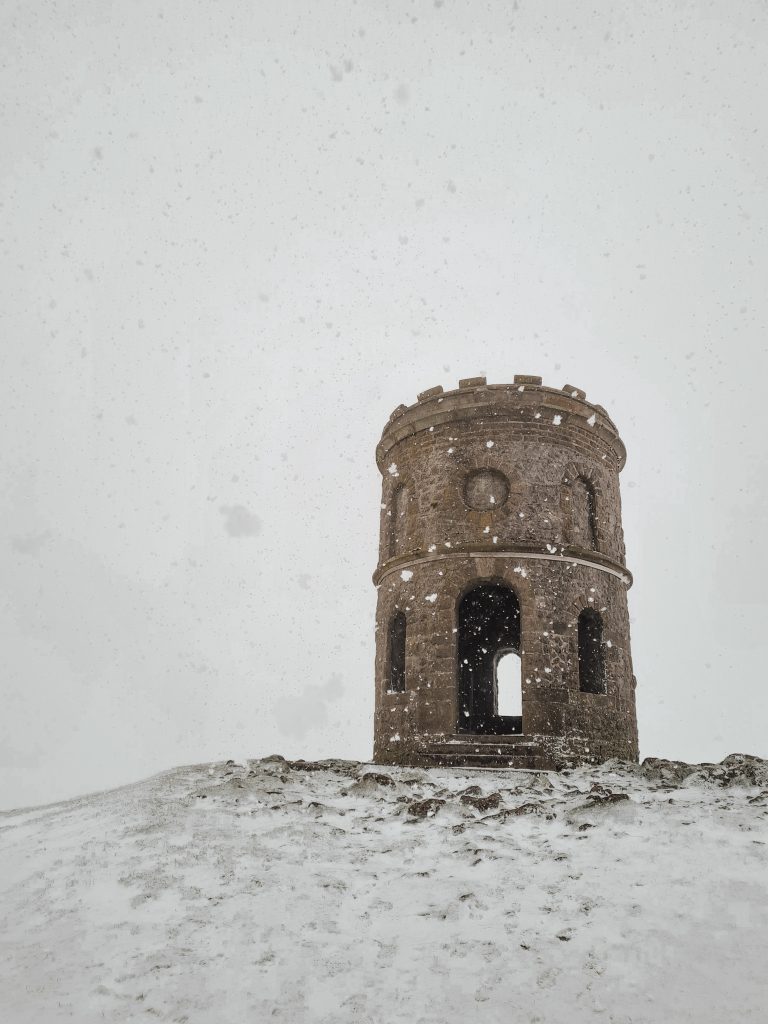 After we'd had a quick snack of Haribo (for Hols), we set off back through the woods and followed one of the woodland trails. They were lovely in the snow, but we were all getting rather cold and wet by this point. It turns out my waterproof trousers aren't that waterproof, and I was drenched!
We then walked back into the centre of Buxton, back to the car, and drove to The Railway Inn in Buxton for some lunch. I probably wouldn't go back to The Railway as we had quite a surly waiter and the food was average. Holly loved her kids meal though. There are plenty of other pubs in Buxton to explore.
We'll definitely go back to for another walk in Buxton on a better day! I had plans to explore the town as I love historical places like this, and we were also going to head out to Burbage Edge to bag that Ethel but the weather had other ideas.
For the quickest way to get to Grin Low, check out the map on 21 Short Walks in the Peak District.
Route Information for this Solomon's Temple Walk
Parking: The Pavilion Gardens Car Park, Buxton SK17 9AR
Facilities: There are toilets in the car park.
Walk Time: 1-2 hours depending on how long you spend exploring
Difficulty: ▲
Distance: 4.2km (2.6 miles)
Trig Points Bagged: None
Peak District Peaks Bagged: Grin Low
Peak District Ethels Bagged: Grin Low
Grin Low and Solomon's Temple Walk from Buxton Route Map: (click the image to download the gpx file for your device)