How to Find The Trinnacle at Dove Stones
The Trinnacle is a bit of an Instagram hero – there are so many photos of it, with the beautiful view in the background. It's not the easiest of things to find though, with it being a challenging hike up, so here's how to find The Trinnacle at Dovestone Reservoir (also known as the Trinnacle Trail).
The Trinnacle is an enormous rock formation separated from the main hillside on the moors above Greenfield Reservoir, near to Dovestone Reservoir. It's a stack of three gritstone pillars, high above the reservoirs and giving spectacular views down to the valley below. The Trinnacle has become really popular with climbers and photographers alike recently, having been featured heavily on social media. Here's how to get to The Trinnacle.
Please take care – there is no proper path up to The Trinnacle and you have to scramble over boulders and along steep muddy paths. Last year, 25% of all call outs for Oldham Mountain Rescue team involved people being lost or hurt in or around Birchen Clough. Please make sure you're adequately prepared! 
We parked at Binn Green car park and walked along the edge of Yeoman Hey Reservoir. At the embankment for Greenfield Reservoir we crossed the bridge and climbed up the embankment. There is a narrow path leading alongside Greenfield Reservoir, although there is an easier path on the other side which I've shown on the map below.
The path takes you through the winding valley following the brook. There are lots of pools and waterfalls here, making it a lovely place to walk. You'll be able to see The Trinnacle from the valley bottom if you look up to the right towards Raven Stones.
You'll come to a bridge over the weir at the base of Birchen Clough, and here's where the scramble begins. You have to follow the Clough up, climbing over the rocks and dodging the many waterfalls. It's great fun but definitely a challenge! The rocks are slippery and the water coming down can make the going very tough. Be sure you have the right footwear on – this is not a walk for trainers or flip flops.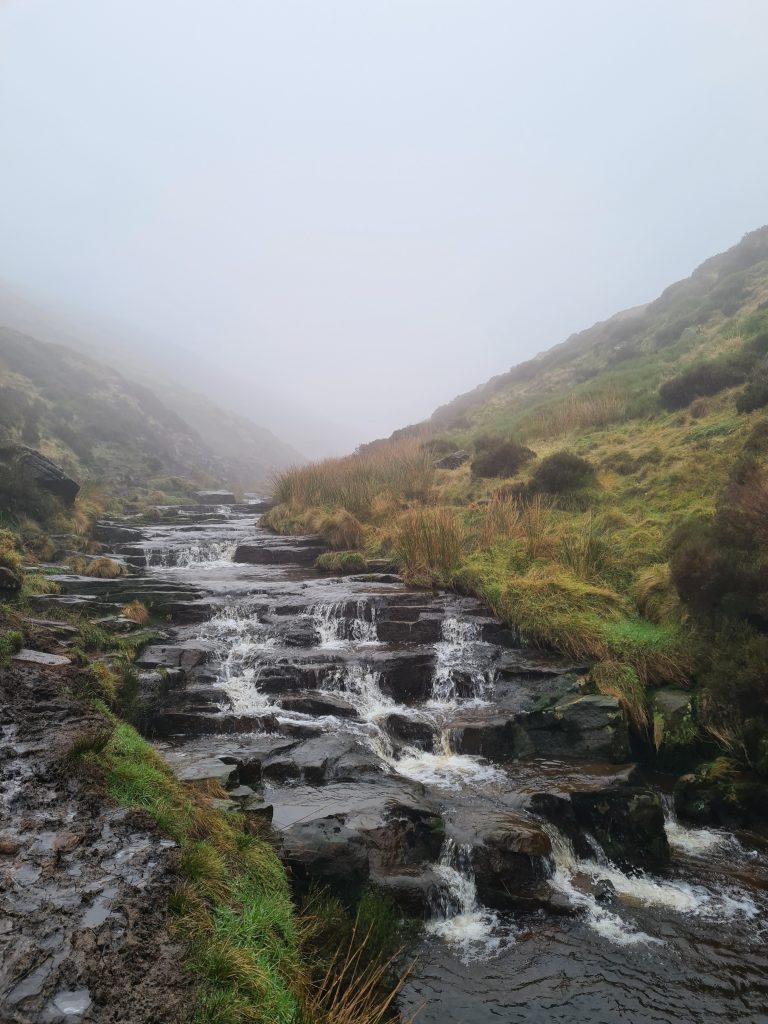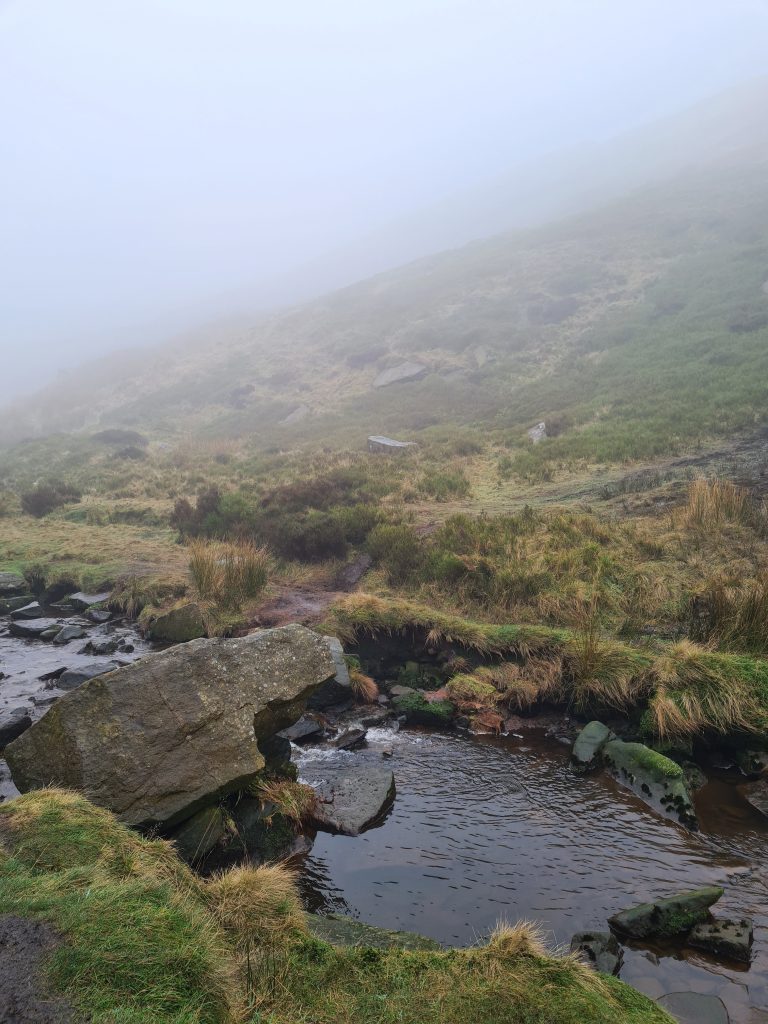 Birchen Clough starts off quite steep and rocky, but eventually levels out, and you'll come to a ford with stepping stones to cross over. Cross over here and climb up the side of the moor. The path is quite faint and climbs steeply. You'll start to see some rock formations and The Trinnacle is one of these – it's really obvious when you get there!
When we went previously we had really misty weather and no views at all!
There is a way down to the base of The Trinnacle itself, if you go carefully, and some people like to climb up onto the top of it. When we went it was really windy, icy and visibility was really poor so we didn't even attempt it. In February 2021 Oldham Mountain Rescue had to be called out to rescue a walker who had fallen from The Trinnacle in bad weather and I didn't fancy that being us. There is an Instagram post from Oldham MRT about two ladies who fell from The Trinnacle two days after our visit. Climb up at your own risk – it's not worth risking your life for an Instagram photo and think of those volunteers who will have to come help you if you fall. 
We visited The Trinnacle as part of a longer walk which included Ashway Moss, Ashway Cross and more of the amazing rock formations high on the hills above Dovestone Reservoir. I'll add that route on as a walk when I get chance as it was a lovely 14km walk.
For this route, you can either go back the way you came or extend this walk into a longer route around the edge of Ashway Moss. The hillside gives amazing views on a clear day over Dove Stone Reservoir and the valley.
How to Find The Trinnacle:
Parking: Binn Green Car Park OL3 7NN
Facilities: There are toilets at the Dove Stone Reservoir car park but nothing on this route.
Walk Time: 2-3 hours depending on your speed and fitness
Difficulty: ▲▲▲
Distance: 7.65km
Trig Points Bagged: None
Peak District Peaks Bagged: None
Peak District Ethels Bagged: None
The Trinnacle Walk Route Map: (click the image to download the gpx file for your device)
Now we know how to find The Trinnacle at Dovestones, I'll be sure to return when the weather is better so I can see the amazing views for myself! I won't be climbing up though. For more walks around Dovestone Reservoir, check out Dovestone Reservoir to Alphin Pike Circular Walk, Dovestone Circular Walk or Aldermans Hill to Broadstone Hill Trig Point Walk.