Aldermans Hill to Broadstone Hill Trig Point Walk
Looking for walks on Saddleworth Moor? This walk from Binn Green car park climbs up on the moors above Saddleworth, giving amazing views across Dove Stone Reservoir and the Peak District moors. Taking in various amazing rock formations over Aldermans Hill, Dick Hill and Broadstone Hill, as well as the war memorial, this walk also takes you to Broadstone Hill trig point. This is a great alternative walk to a Dovestone Reservoir circular if you are looking for a walk near Dove Stone.
This walk starts from Binn Green car park. Crossing the main A635, the path climbs up the steep side of Aldermans Hill. The views from Aldermans Brow are amazing over towards Indians Head, the Chew Valley, Yeoman Hey Reservir and Dove Stone Reservoir so the climb is definitely worth it.
At the top of the hill you can spot the war memorial in the distance and the Pots and Pans Stone. Our path turns off across the moors over Dick Hill, which has a summit of 453m above sea level and Sugar Loaf at 450m high.
Following the path over Shaw Rocks, you'll head to the ridge above Rocher Brow. There are fabulous views down to Uppermill and Dobcross. This part of the walk undulates gently, with no steep climbs, as it follows the plateau of the hill.
Heading north, the path will lead you to Broadstone Hill trig point. It's set on a rocky outcrop and has amazing views over to Pule Hill, Swellands Reservoir and Black Moss Reservoir.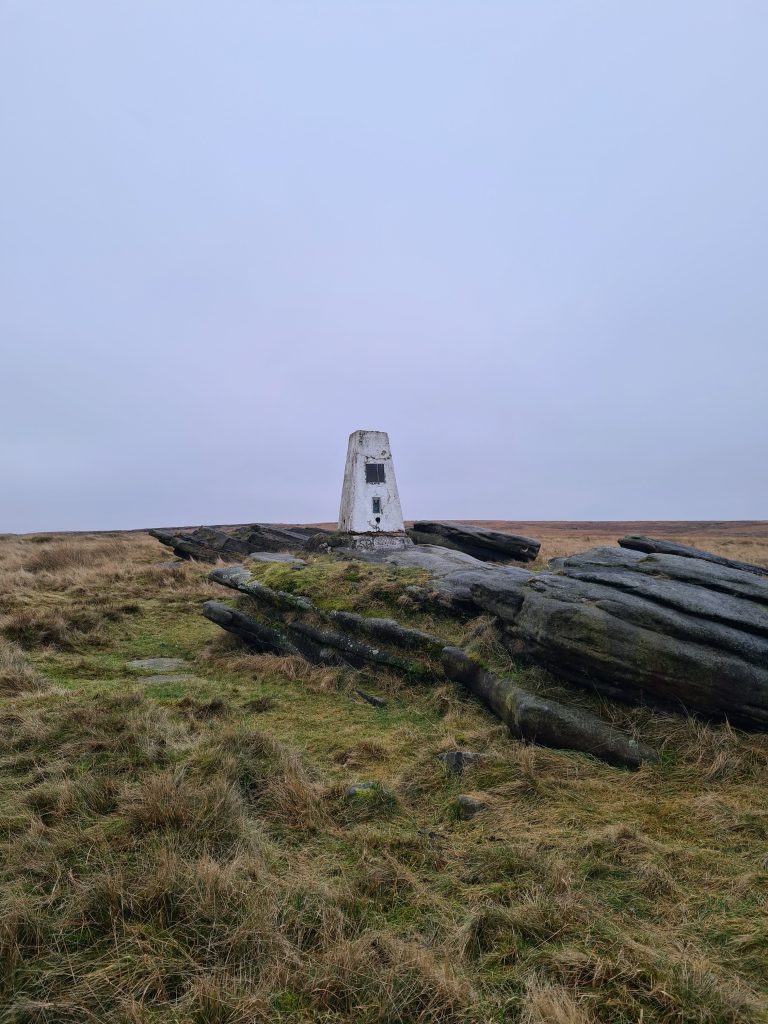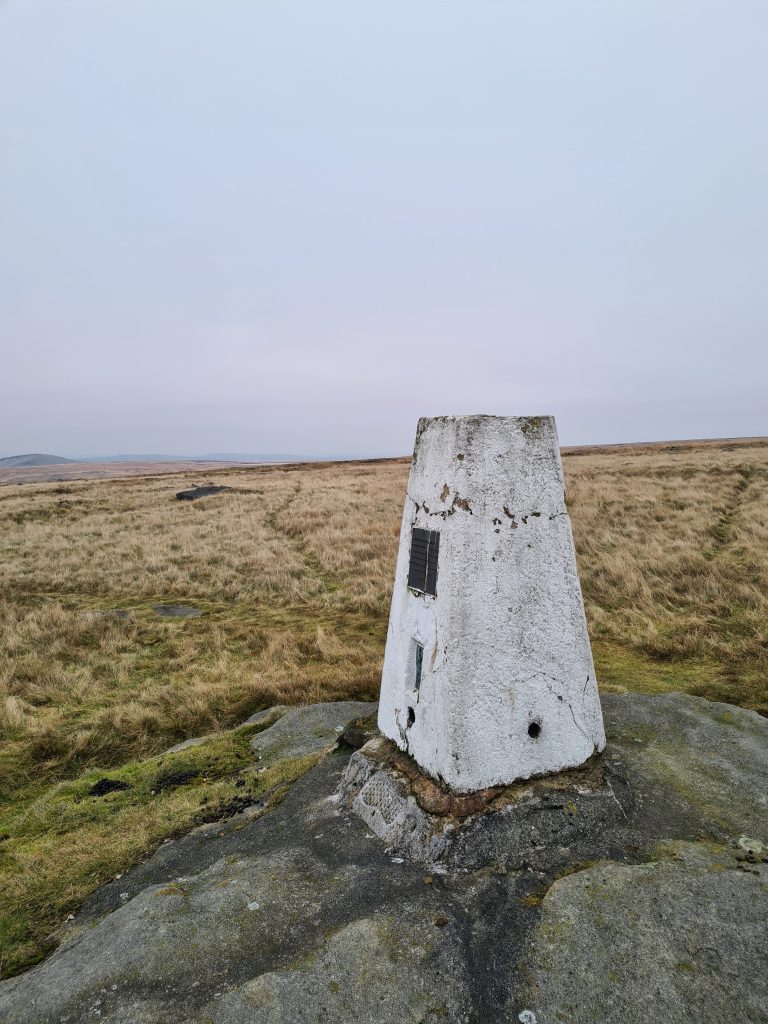 Once we'd explored Broadstone Hill trig point and taken all our photos, we headed off back towards Dick Hill. At Sugar Loaf, we took the path towards the war memorial and the Pots and Pans Memorial.
After a quick stop off at the Oven Stone (perfect for a clamber about on, by the way!) we took the path to the huge war memorial – it's way bigger than it looks in this photo! The views from here over the surrounding towns are incredible on a clear day.
We then took the Oldham Way back down the hill. This turns into a farm track which leads back out onto the A635 and back to the car park.
Sadly there is no nearby pub so we headed to The Huntsman Inn in Holmfirth for some delicious pub grub.
Here's the route for this Peak District walk:
Parking: Binn Green car park on the A635.
Facilities: There are composting toilets in the car park but these were closed when we went. There are toilets in the nearby Dove Stone Reservoir car park.
Terrain: Moorland – appropriate footwear advised.
Walk Time: 2 hours
Difficulty: ▲▲▲
Distance: 5.3 miles approximately
Trig Points Bagged: Saddleworth (Broadstone Hill)
Peak District Peaks Bagged: None
Peak District Ethels Bagged: None
Route Map (click to download the gpx file to your device):
This walk around Saddleworth moor has amazing views and is a great place for kids to explore. Holly loved exploring and climbing on all the different rock formations, which are apparently the remains of an almighty fight between two giants, Alder and Alphin (of Alphin's Pike fame). They fell out over a water nymph who lived in a nearby stream – it's always the way, isn't it?
For more walks around Saddleworth, or walks from Dove Stone Reservoir, you might like Dovestone Reservoir to Alphin Pike Circular or Dovestone Circular Walk.
Don't forget to follow The Wandering Wildflower on Instagram for more Peak District walks for kids.