Castleton, Mam Tor and The Great Ridge Walk
This Castleton, Mam Tor and The Great Ridge walk also takes you to Lose Hill and back into Castleton. It's a circular Peak District walk with a pub and is also really family friendly. Here's the route for this Mam Tor walk!
See this blog post for a Mam Tor short walk.
Mam Tor Peak District
Mam Tor or the Mother Hill is a peak in the Peak District that stands 517m above sea level. Known as the Mother Hill because its landslides cause there to be lots of baby peaks nearby, it's also known as The Shivering Mountain, again because of the number of landslides that have taken place over the years. These landslides were responsible for the famous Broken Road which is the former A625. This was a road which was damaged repeatedly over the years and has since been abandoned to nature. It makes for quite an apocalyptic scene!
We set out to park in the National Trust car park however we couldn't find it despite the satnav guiding us to the postcode. We were due to meet friends there and as luck would have it they couldn't find it either, and were on the same road as us so we decided to park there in and amongst the wild campers and campervans. This turned out to be a great starting point for our Mam Tor walk, as it was at the bottom of the Broken Road.
After walking over the Broken Road we headed up the hill past Blue John Cavern. The route is really well signposted and there was a steady stream of people walking up Mam Tor so it would be really hard to get lost. There is a steep paved path up the side of Mam Tor but it's a relatively short climb. There are amazing views down over the valley on the way up.
After queueing at the trig point for the obligatory photo we set off along The Great Ridge to the next peak. Well, it's not so much a peak as a meeting of paths at Hollins Cross. There is a marker, and from here there are many other paths going off in every direction.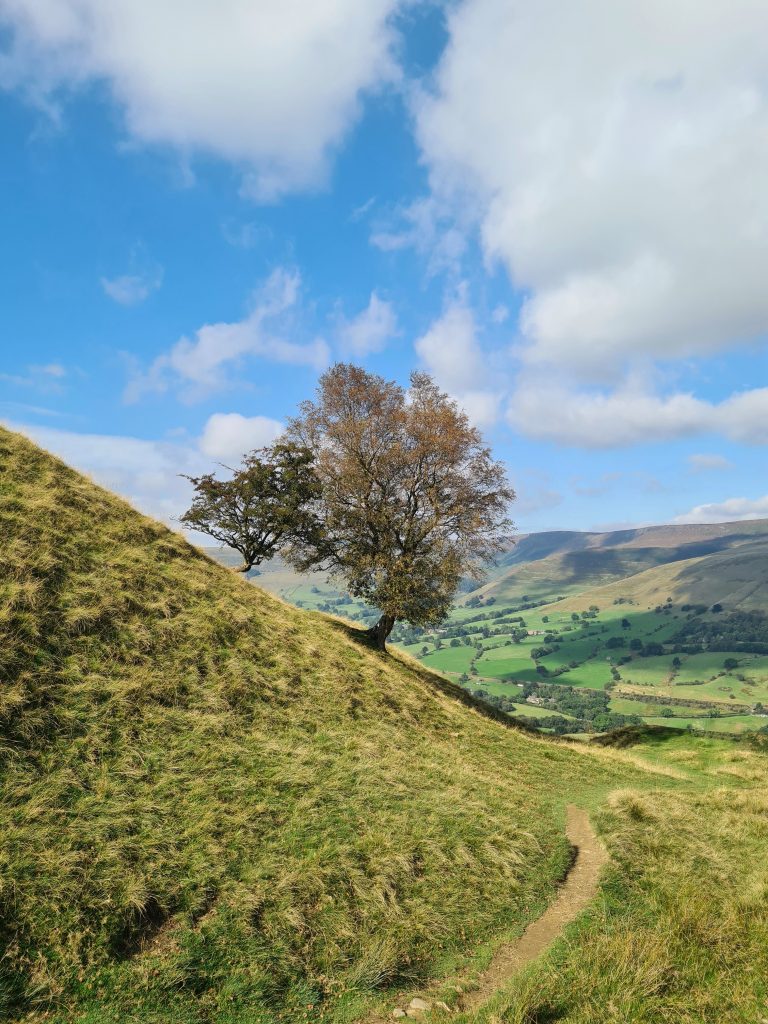 We followed The Great Ridge across to Lose Hill for another short steep climb. Lose Hill is another Peak District peak which stands at 476m above sea level. At the top of Lose Hill are loads of mini cairns which people have built. Unfortunately it was way too busy for me to take a photo of the cairns as there were people all over, but they look good. There's also a very Instagrammable boulder you can stand on and take a picture looking back towards Mam Tor but again there were so many people on it I couldn't be bothered queuing for it. Update! I got on The Boulder when we did the mini Edale Skyline walk!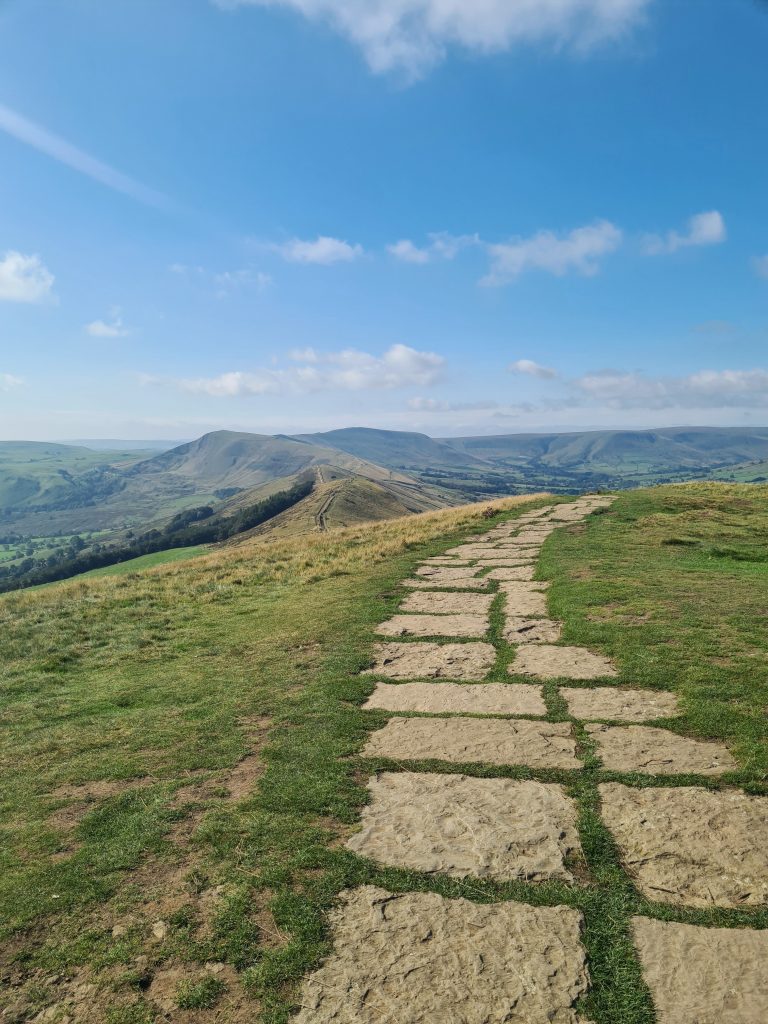 Our route then heads down the hill through farmland towards the pretty village of Castleton. We had booked in lunch at 1pm at the Castle Inn but were late (we did ring and let them know we were running late).
We had a lovely lunch then went to have a look around the intriguingly named The Devil's Arse cave. It looked impressive from the outside but I was loathed to pay £16 each to go into a cave – I hate caves.
We then set off from Castleton back to where we had parked the cars.
All in all this circular walk was 11.4km and was nicely broken up by the pub lunch. It meant that Hols and her friend had chance for a rest and an ice cream refuel before tackling the last part back to the car.
Here's the route for this Mam Tor – Castleton Walk:
Parking: On street at the bottom of Mam Tor. Alternatively you can park in the National Trust car park S33 8WA.
Facilities: There are pubs in Castleton
Walk Time: 2-3 hours
Distance: 7 miles (11km) approximately
Trig Points Bagged: Mam Tor
Peak District Peaks Bagged: Mam Tor, Lose Hill
Peak District Ethels Bagged: Mam Tor, Lose Hill
Here's the route we took:
If you decide to go on this Castleton, Mam Tor and The Great Ridge walk I'd pick a day that wasn't as busy as when we went! We had blue skies and lovely weather so should have gone early or on another day to avoid the crowds. It does get really busy with people watching the Mam Tor sunrise as well.
How long is the Mam Tor walk?
This Mam Tor circular walk was 11.4km but you could just climb Mam Tor and go back down again, which apparently takes just 15 minutes. There are many different routes you can take to climb Mam Tor and many different lengths of walk you can do.
Is Mam Tor kid friendly?
Yes, Mam Tor is kid friendly. The paths are paved and relatively easy for little legs to climb up. It is steep however.
How long does it take to climb Mam Tor?
It took us roughly 45 minutes to get from the cars, over the Broken Road and up to the summit of Mam Tor. I think there was only one snack stop on the way, plus a bin run to Blue John Cavern, so it would probably have taken around 35 minutes. It's a relatively easy Peak District walk.
You can park nearer in Mam Nick Car Park and just do part of this Mam Tor walk, just climbing Mam Tor up and down again. This wouldn't take long at all, and is probably the reason Mam Tor is so popular! It's a great place to watch sunrises in the Peak District.
Mam Tor is one of those rare beasts in the Peak District – a hill which has a trig point, is an Ethel and is a peak! Wahoo! It features on the Peak Bagging challenge list, the List of Peak District Ethels and the Trig Bagging Checklist so I'm very happy.
There are some lovely walks in Castleton, and the village itself is well worth a trip out.
You might also like: Lose Hill and Win Hill