Pule Hill Circular Walk
This Pule Hill circular walk is full of amazing rock formations, reservoirs and beautiful moorland. At just over 10km this walk only has a couple of steep climbs and is gentle for most of the way (plus finishes in a pub, as always!). Here's our Pule Hill walking route, taking in Pule Hill Quarry and the amazing hidden Pule Arch before venturing over the moorland to Swellands and Black Moss Reservoirs. It's a scenic walk on the Marsden Moor estate that you'll definitely want to add to your To Do list!
Pule Hill has been on the horizon of many a walk we've done, such as the Wessenden Head Circular. It's a hill which stands 437m above sea level and offers amazing views of the surrounding area. Apparently Pule Hill was the site of Bronze Age burials, with urns discovered there now being in Tolson Museum, Huddersfield. It's such an iconic shape which dominates the area.
Our walk starts in a lay-by on the A62 where there is plenty of parking. Climbing over the stile you can see the huge round brick chimneys which provide ventilation for the railway running underneath. You can sometimes see smoke or steam coming out of them! There are sheep on the hillside so be sure to keep your dog under control if you have one, although at times they escape out onto the road!
We headed up the hillside to Pule Hill Quarry, which is a fabulous place to explore and a favourite with rock climbers. The quarry is disused but you can see the remains of the loading area from where they would have transported stone down the hillside. The quarry is also the location of the Stanza Stone, part of a trail of poetry related stones.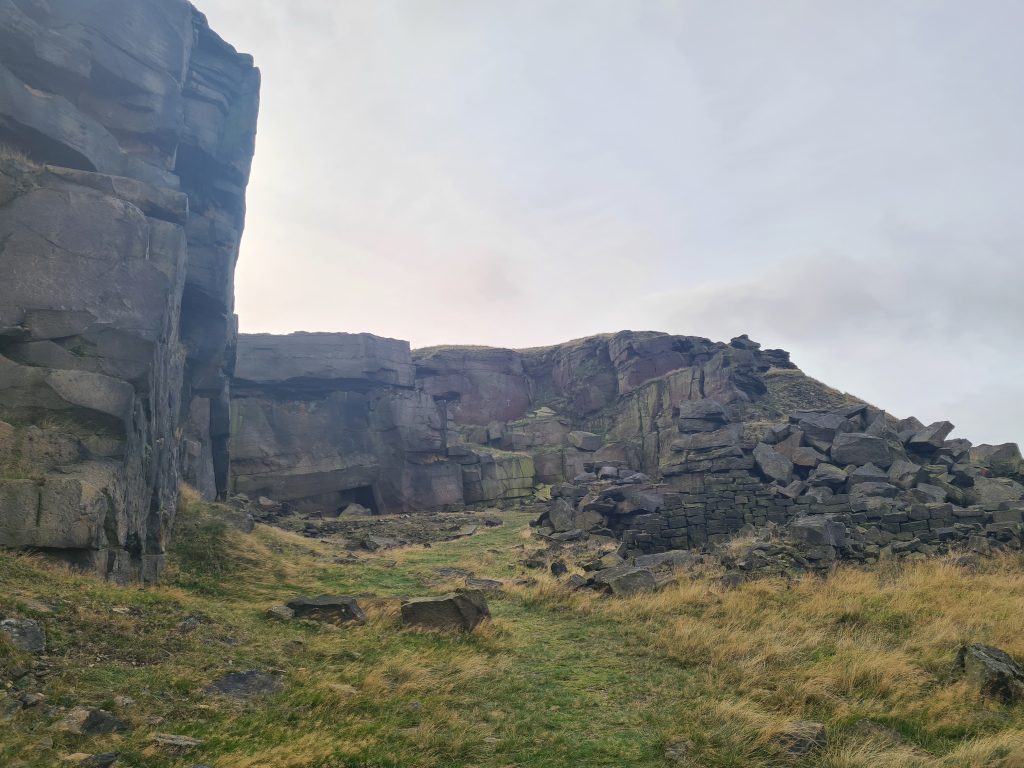 There is a secret archway, not visible from ground level and accessed from above which offers amazing views over the nearby Redbrook Reservoir. Take care when dropping down to the archway!
After we had wandered about the quarry we headed up onto the top of the hill and visited the war memorial which overlooks the village of Marsden. We were chatting to some veterans who were there to maintain the cross, and they were telling us all about the toilet habits of soldiers. Lovely.
After that delightful chat we set off across the top of Pule Hill, effectively walking from one end of it to the other. Here we passed the Marsden Heritage Trail marker then headed down the hill.
There is another quarry here, but we didn't really explore.
This blog may contain affiliate links through which, at no additional cost to you, I may earn a small commission. I only recommend products I would use myself and all opinions expressed here are my own. Read full privacy policy here.
Across the road, you head down into a little dip and passing over a small stream before heading out onto open moorland. This is peat moorland and can be really boggy in bad weather so be sure to wear waterproof boots (I love my Scarpa walking boots and would always recommend them).
The path takes you first to Swellands Reservoir, where there is the ruin of Swellands Cottage. You then pass Black Moss Reservoir, built to supply the Huddersfield Narrow Canal in 1806, before heading back towards Pule Hill.
When you reach Pule Hill you can either go up and over it again or walk around the base, back to the layby where you started from. We chose the latter! We then drove back into Marsden and headed to the Riverhead Brewery Tap for a wine or two (for me, and a shandy for Mr R).
This Pule Hill circular walk is a lovely gentle stroll and even though it's 10km long it doesn't feel it. The walk passes through stunning moorland scenery and the addition of Pule Quarry adds extra interest.
Here's our Pule Hill circular walk route:
Let me know in the comments if you are going to do this walk, and come follow me on Instagram for more Marsden walks and Peak District walks.