Middle Black Clough Waterfall and Bleaklow Stones
At just under 7 miles, this Peak District walk heads up onto Bleaklow Stones via Middle Black Clough, passing by two Peak District plane crash sites along the way.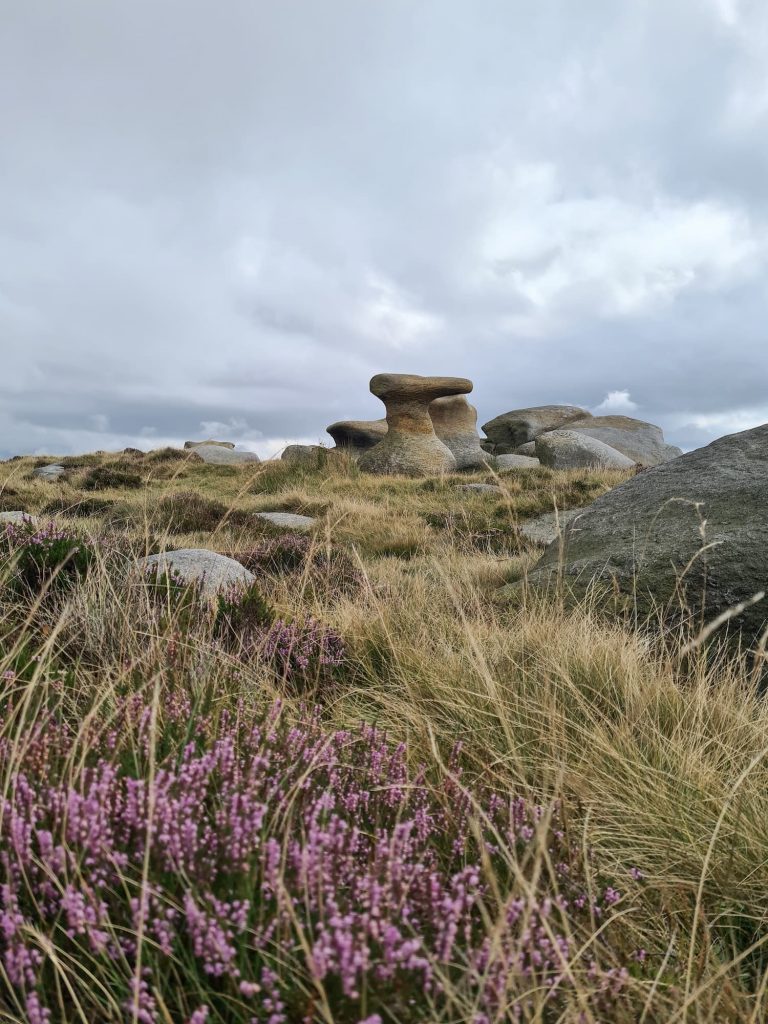 This scenic Bleaklow walk starts out at the car park for the Longdendale Trail (which is part of the Trans Pennine Trail) just off the main road. The terrain is rough going, to say the least! There are huge potholes but luckily we drive an old car so aren't bothered about driving too carefully over them – especially as we didn't realise how deep one of them was when we drove over it! Eek!
After parking up, we followed the track downhill and climbed over the stile. We followed the River Etherow as it winds it's way back upstream until we reached the ford (which we had to wade across last time we went!). Thankfully this time the water was a lot lower but I'd brought our water shoes just in case! Middle Black Clough is (surprisingly enough) the middle of 3 cloughs flowing from Bleaklow down into the River Etherow. It's become a bit of a famous Peak District waterfall.
To get to Middle Black Clough waterfall isn't that easy. You have to scramble over rocks and fallen trees and climb down a steep banking – the terrain isn't suitable for everyone unfortunately. We followed the Clough until it met Near Black Clough (coming in from the right hand side) and then picked our way across by a very shallow waterfall to be on the left hand bank of the Clough. We then clambered over the rocks, heading upstream until we reached the waterfall.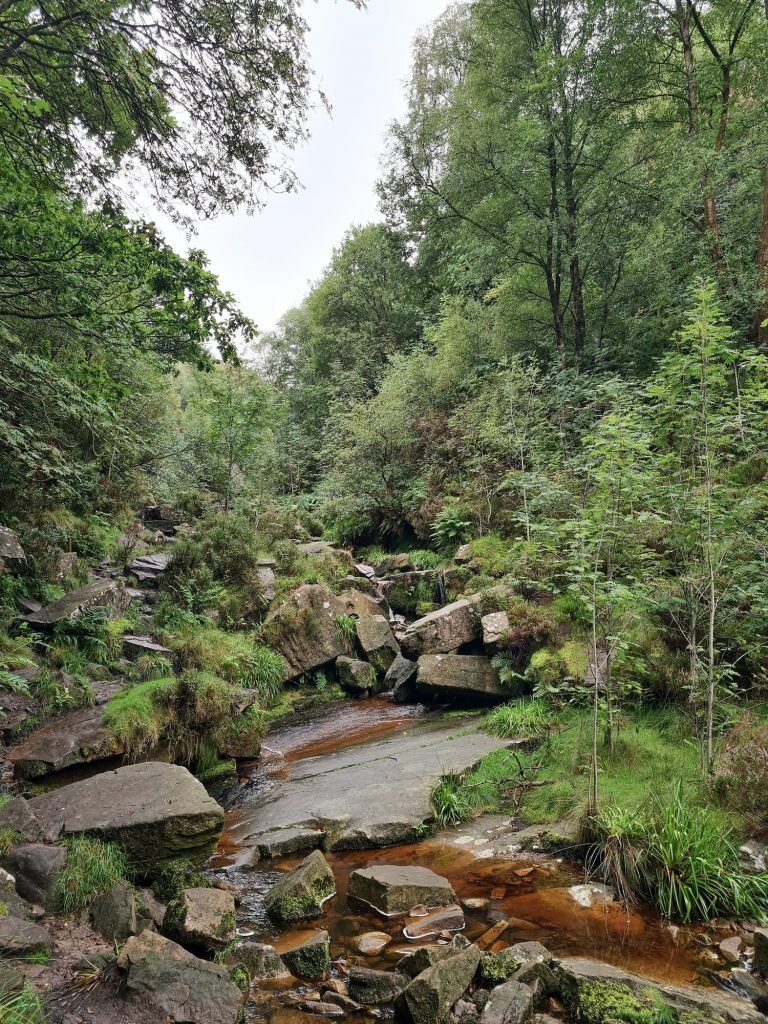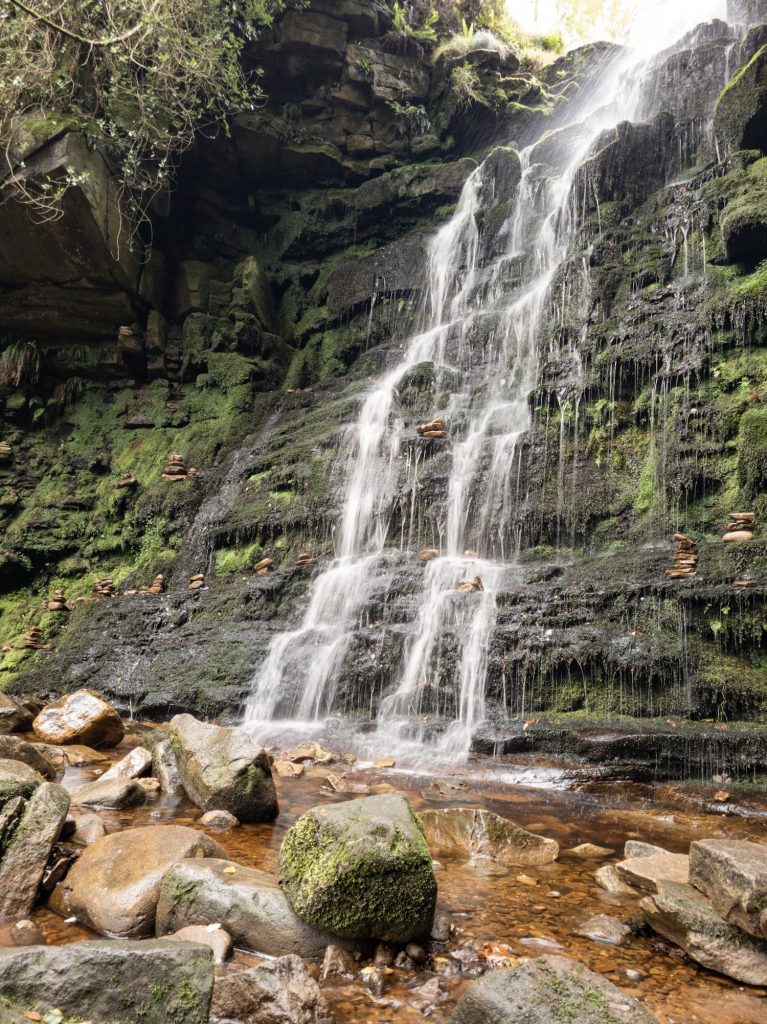 You could just visit Middle Black Clough Waterfall, but we had more exploring to do.
After we'd had a look about, we retraced our steps back downstream until we reached the point where there is a track heading up the hillside through the woods. We climbed up, turned left at the top and followed the footpath up onto Bleaklow.
As we were heading to find one of the plane crash sites on Bleaklow, our route heads south-east across Near Black Clough and involves a good old yomp over the heather moorland. We quickly found the Botha W5103 plane crash site where you can see the remains of a Blackburn Botha Mk 1 w5103 which crashed into the moorland on 10 December 1941. It is thought the pilot was attempting to fly above the cloud which covered the hills. He appears to have descended thinking that he had cleared the hills but a head wind may have slowed his progress. The aircraft struck the moorland and the aircraft was destroyed.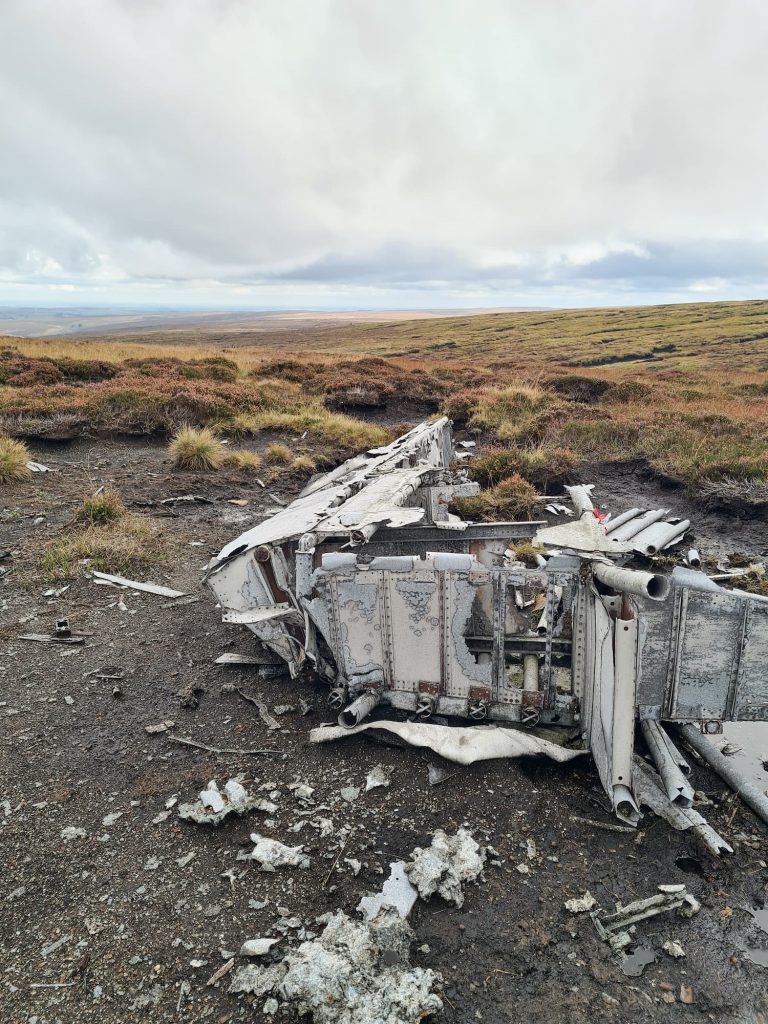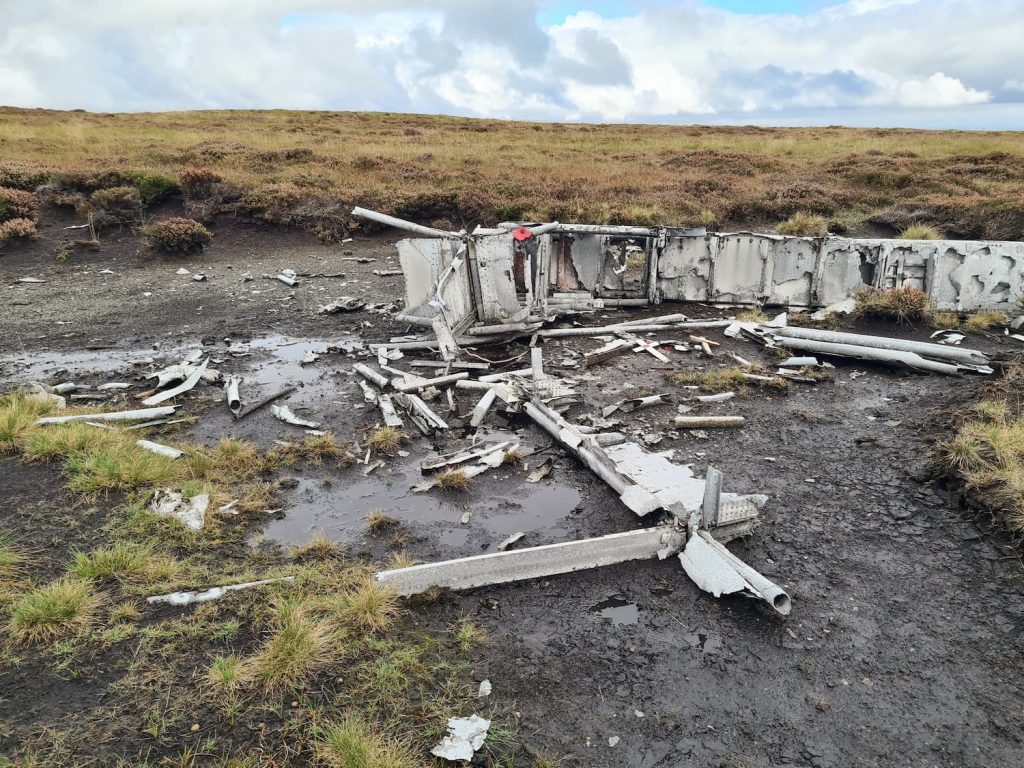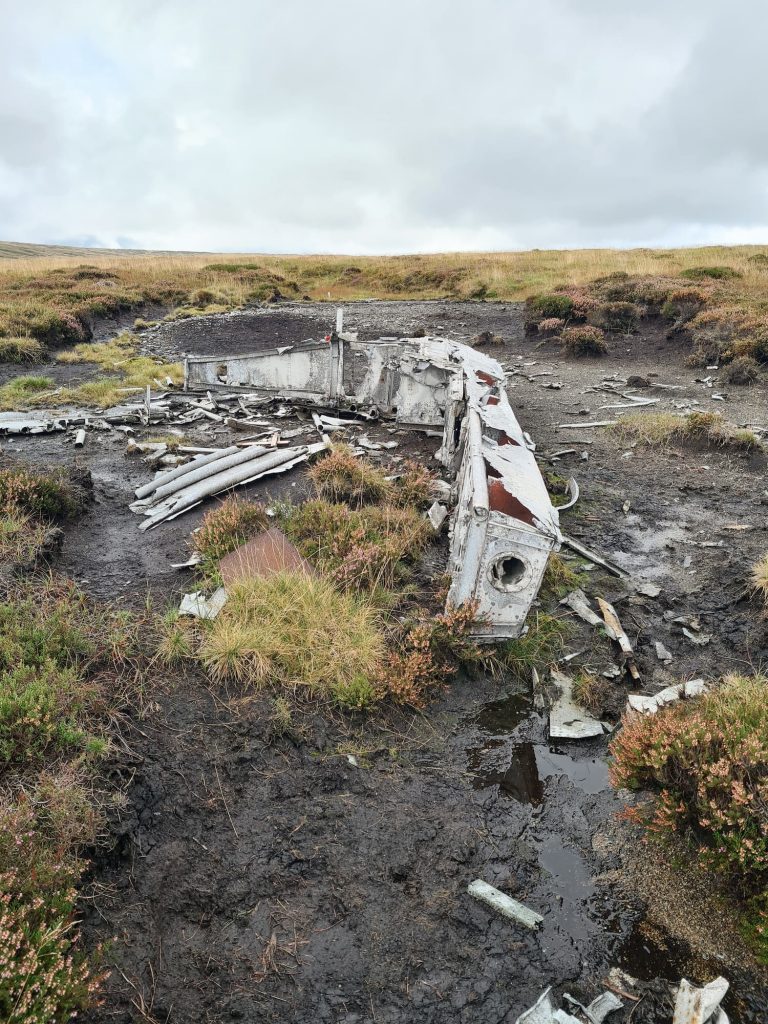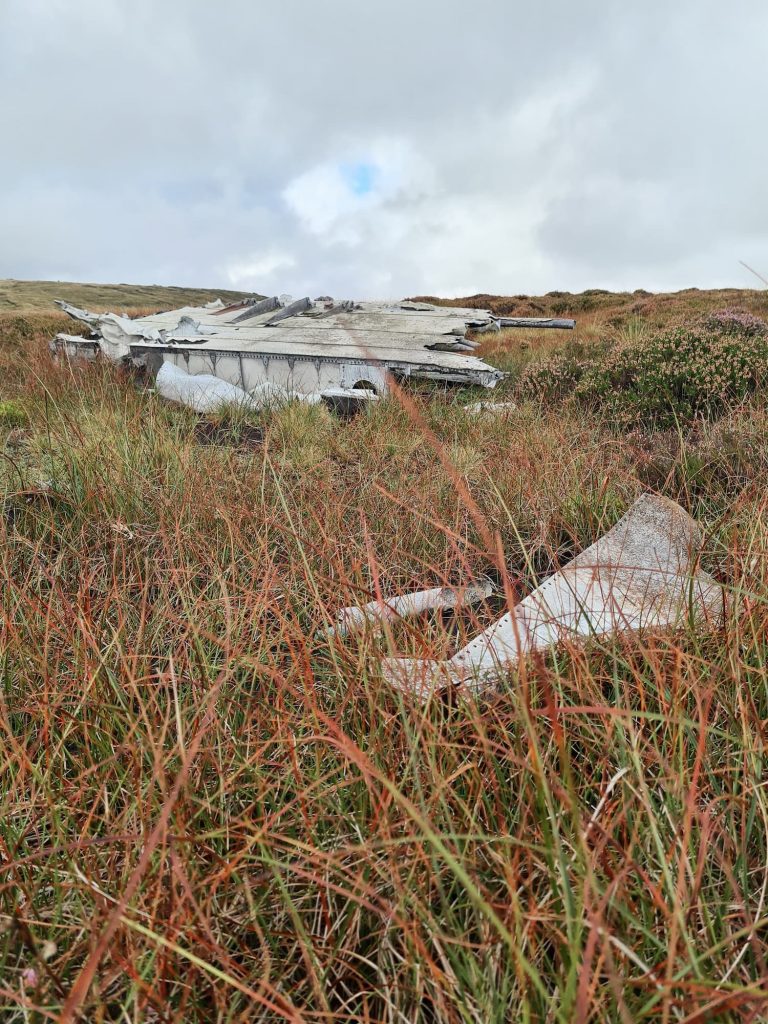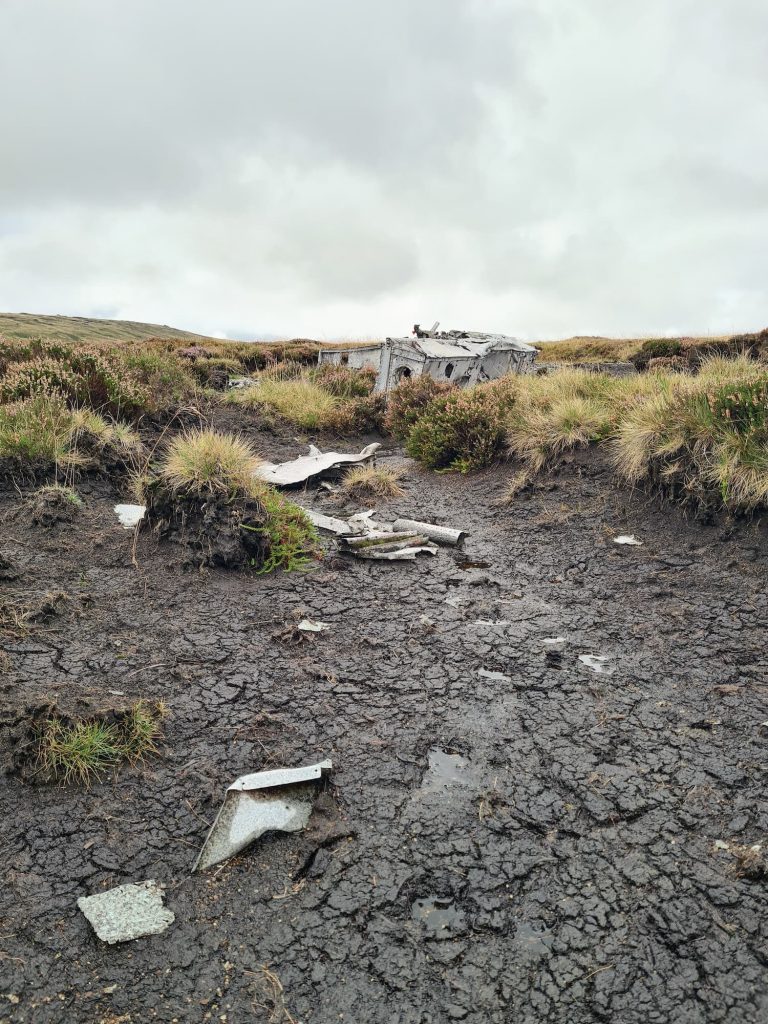 From this plane crash site on Bleaklow we headed roughly south-west for about half a mile until we reached the slightly site of the wreck of a Boulton Paul Defiant MK1 fighter plane which crashed into the moorlands on 29 August 1941. The pilot and his passenger were both killed but the plane wreck wasn't discovered until 23 September. The reason for the flight is unknown, and the plane had been flying vastly off its expected course. The wreckage has been moved into a pile with some small memorial crosses placed on.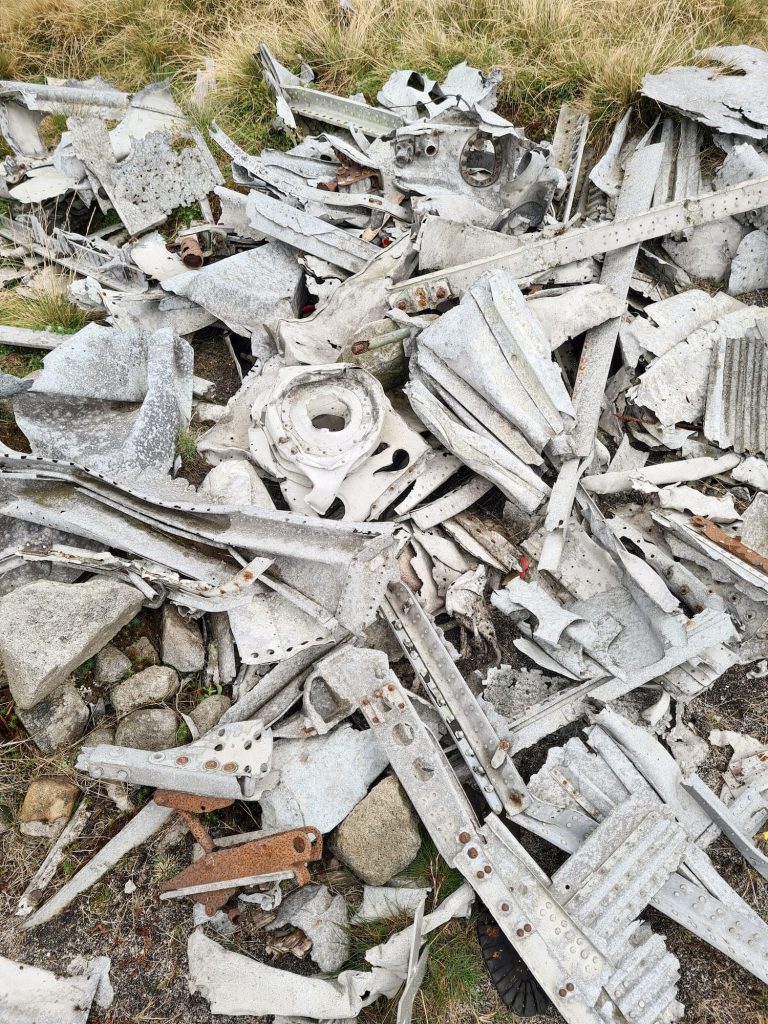 Tragedies like this just show how misty and hard to navigate it can be on these moors.
This plane wreck is near Near Bleaklow Stones, so we had a clamber on these before heading over to Bleaklow Stones – I do love The Anvil (or The Ironing Board as Joel renamed it!).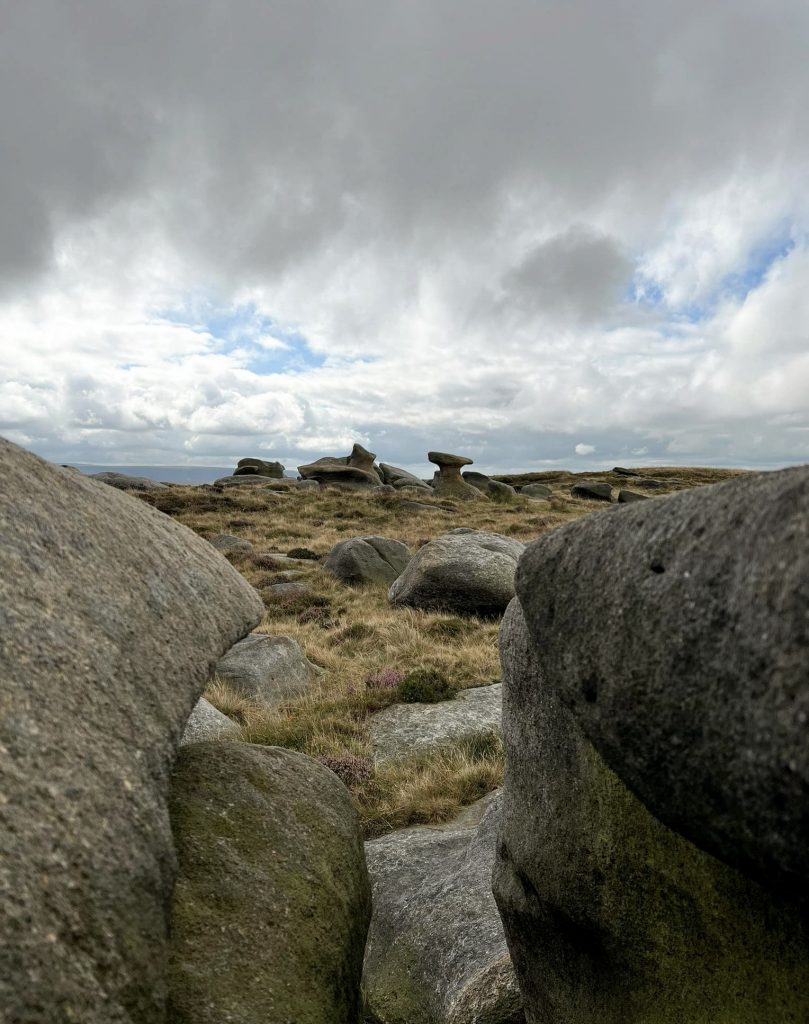 From Bleaklow Stones we picked up the rough path following the wooden stakes which runs along Far Black Clough, picking up the estate track and heading back over the ford and to the car.
This is a tough moorland walk in rough terrain so if you head out on this walk, be sure to be prepared and be able to navigate in poor conditions as the weather can change quickly on Bleaklow, and it's not called BLEAKlow for nothing!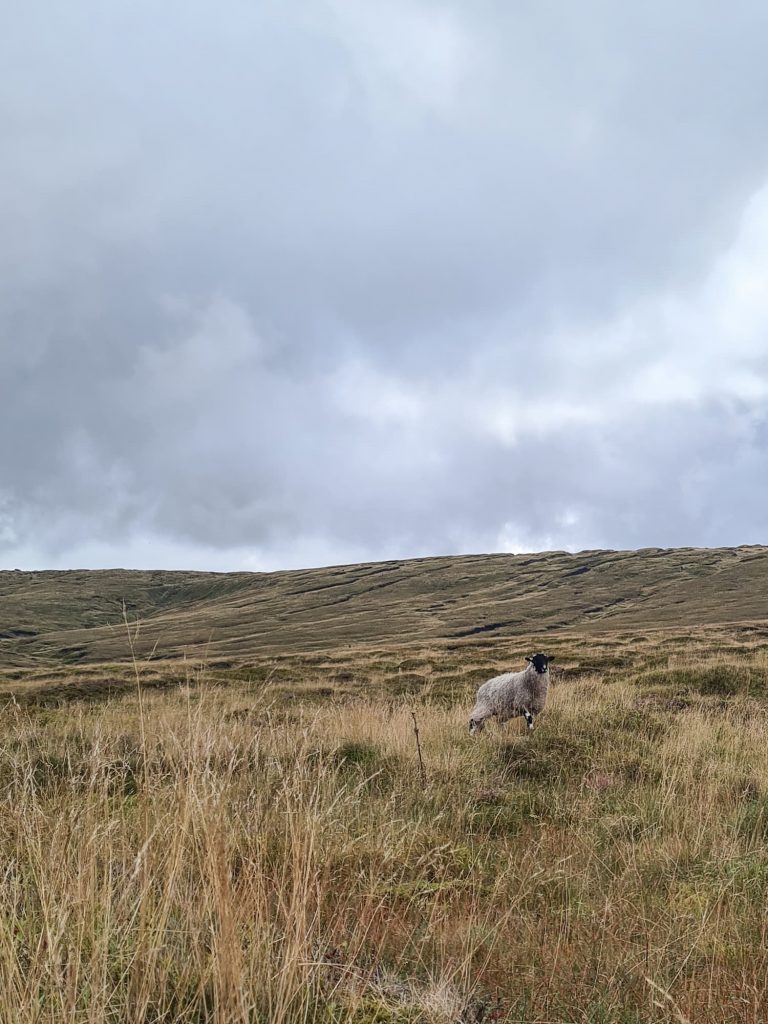 This was one of my favourite Bleaklow walks as we only saw one other person out on the moors. Absolute bliss!
As per usual with our walks, we headed to the pub – this time it was The Boshaw Trout on our way back home and it was delish.
Can I just have a mini rant about litter? When we arrived in the car park it was full of litter, including bin bags someone had dumped, old nappies, the remnants of a party including paper plates blowing around and plastic water bottles. There was rubbish pretty much all the way up the route to the waterfall, and plastic bottles in the waterfall itself. If you visit here from Manchester, this water ends up in your water supply – it flows into the River Etherow, which then flows into Torside Reservoir, which provides water to households in Salford and Manchester. Leaving rubbish in the waterfall or on the river bank is like leaving rubbish in your water.  It's not hard to take your rubbish home with you! If you bring water bottles that are full, it's even easier to take water bottles that are empty home again. or carry them until you find a bin. I can't understand why people would visit somewhere so beautiful and ruin it by leaving their rubbish behind. What do they think will happen to it?
What makes this worse is that I had a message on Instagram from someone who had spent a few hours 4 weeks earlier walking the route to where the Cloughs meet, and she had collected 4 bin liners full of rubbish. DISGUSTING.
Parking: One of the lay-bys on the A628 or in the Trans Pennine Trail car park just off the main road (SK13 1JE).
Facilities: None – PLEASE TAKE ALL YOUR RUBBISH HOME
Walk Time: 4-5 hours
Difficulty: ▲▲▲
Distance: 7 miles (11.2km)
Trig Points Bagged: None
Peak District Peaks Bagged: None
Peak District Ethels Bagged: None (but you could add in a quick trip to Bleaklow Head)
Route Map: Click on the map to head to Komoot and download the GPX file
For more Bleaklow walks, why not try:
Alport Moor and Bleaklow Walking Route
Bleaklow to Higher Shelf Stones Circular Hike
Shining Clough Scramble to Bleaklow
You might also like Peak District Plane Crashes