Shining Clough Scramble to Bleaklow
If you're looking for a fun Bleaklow route, this could be the one for you! It involves a Grade 2 scramble up Shining Clough and heads off over open moorland to find the air crash site of the Wellington R1011 which crashed in 1943. We then had a wander to Near Black Clough before returning to the car.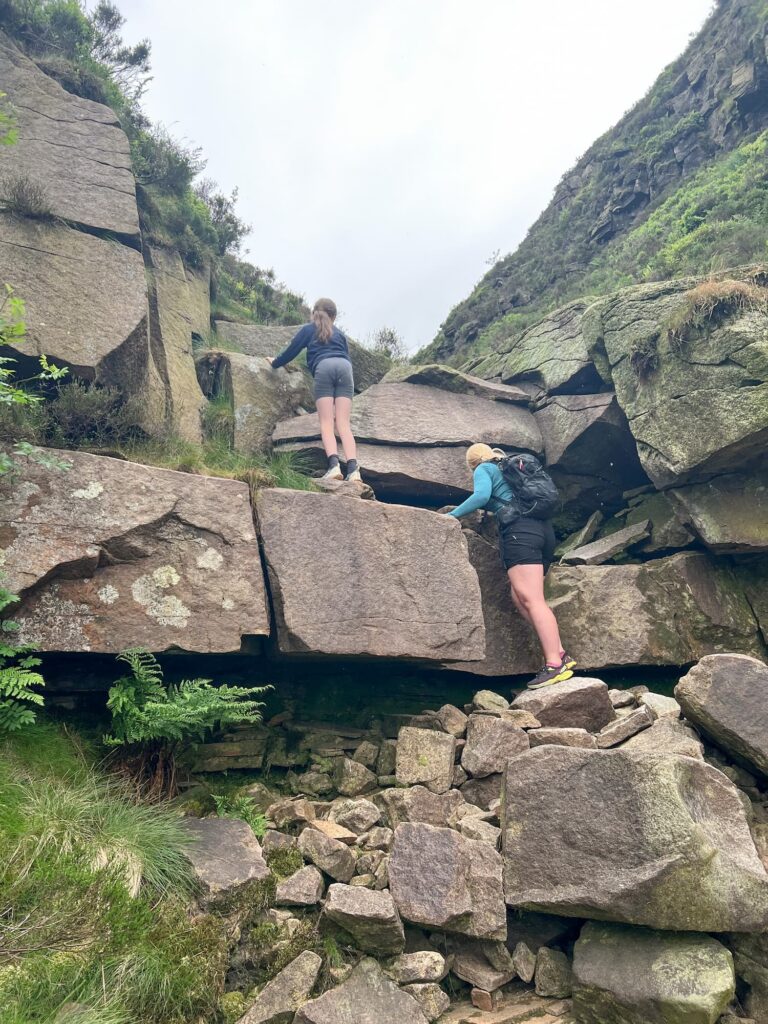 This walk involves LOTS of off path sections over open moorland where it's all too easy to get lost, and a very hands on scramble up Shining Clough. Only attempt this if you're confident navigating, and make sure you dress for Bleaklow! The weather can turn quickly up here, and it's not called BLEAKlow for nothing.
We had planned to start our walk from the car park next to the old railway cottages at Crowden but there was a half marathon race taking part, so we had to park at the Woodhead Tunnels end and walk back along the Longdendale Trail. The trail is very easy going, being a former railway line, and we soon arrived at the cottages. Here there is a gate and track leading to The Lodge. We walked on the track until we came to a gate for The Lodge, and then took the footpath onto the Open Access Land.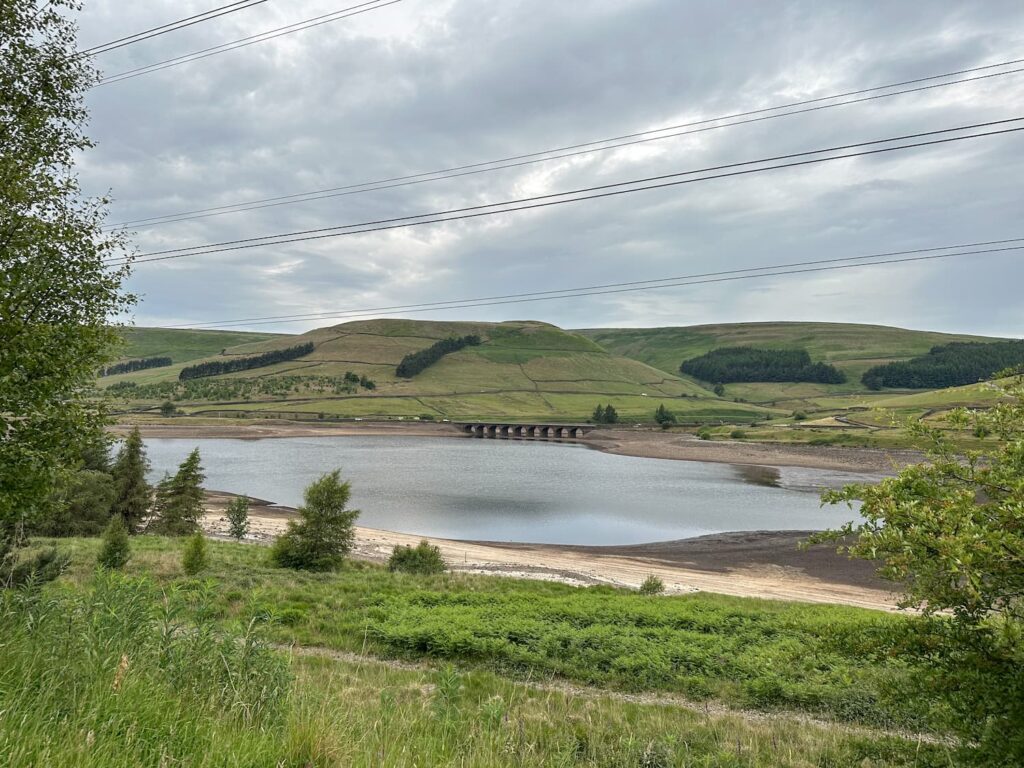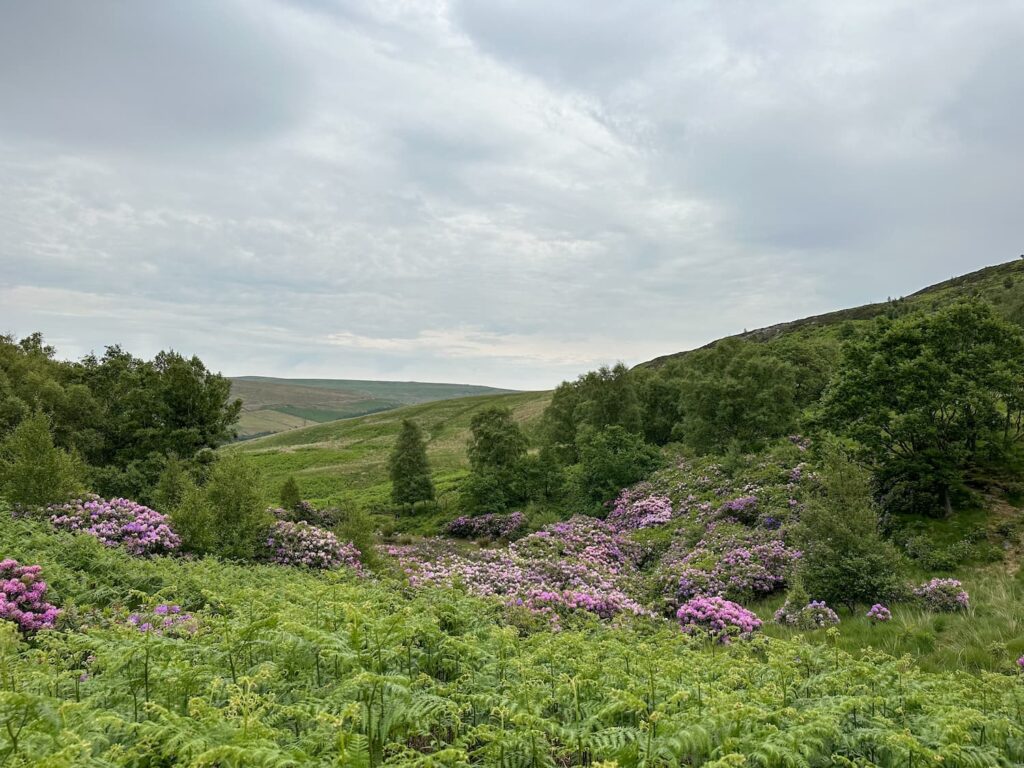 We followed a faint path which runs along the side of a fence, passing a lovely pond surrounded by rhododendrons. We went through the metal gate, and sticking to the right hand side of the woodland fence, we headed up the hillside. The fence line dog-legs to the left and there is a steep clamber down into the stream bed of Shining Clough.
Shining Clough is a Grade 2 scramble. It's also one where you can't really get scrambling straight away as there is a large overhang in the bottom section. We climbed up the eastern side of the clough, where there is a very faint path. This is very steep and can be slippery when it's dry. Once you're over the overhang part, you can drop into the streambed proper and start to scramble up. It was very dry when we did this scramble and there was barely any water flowing down.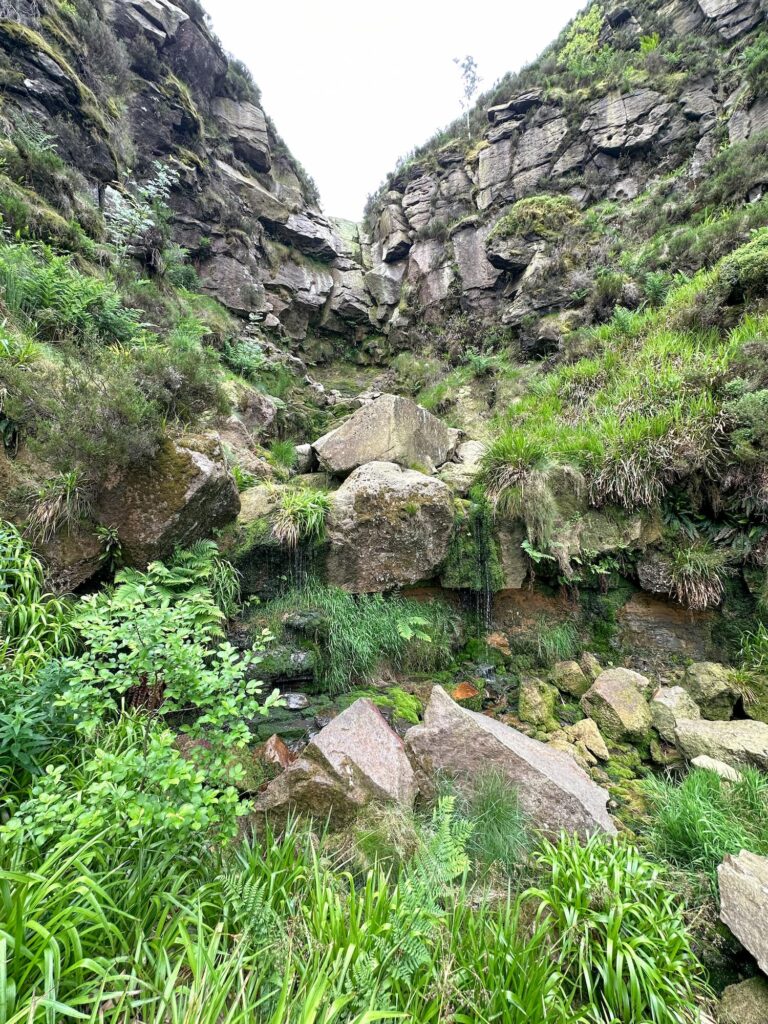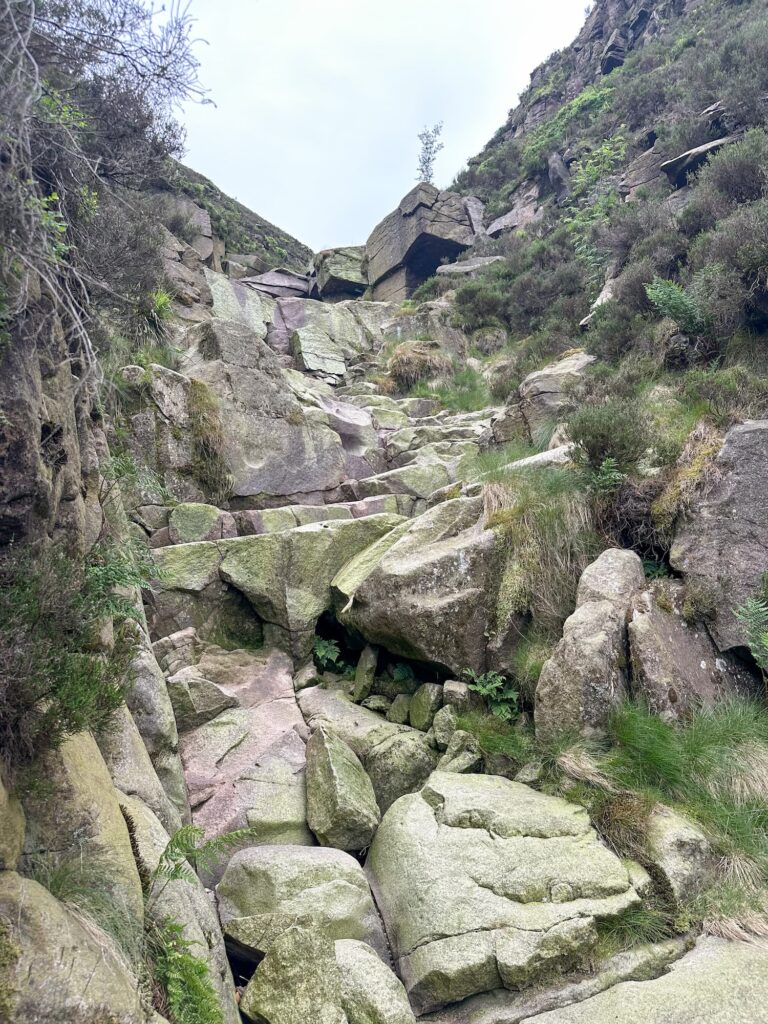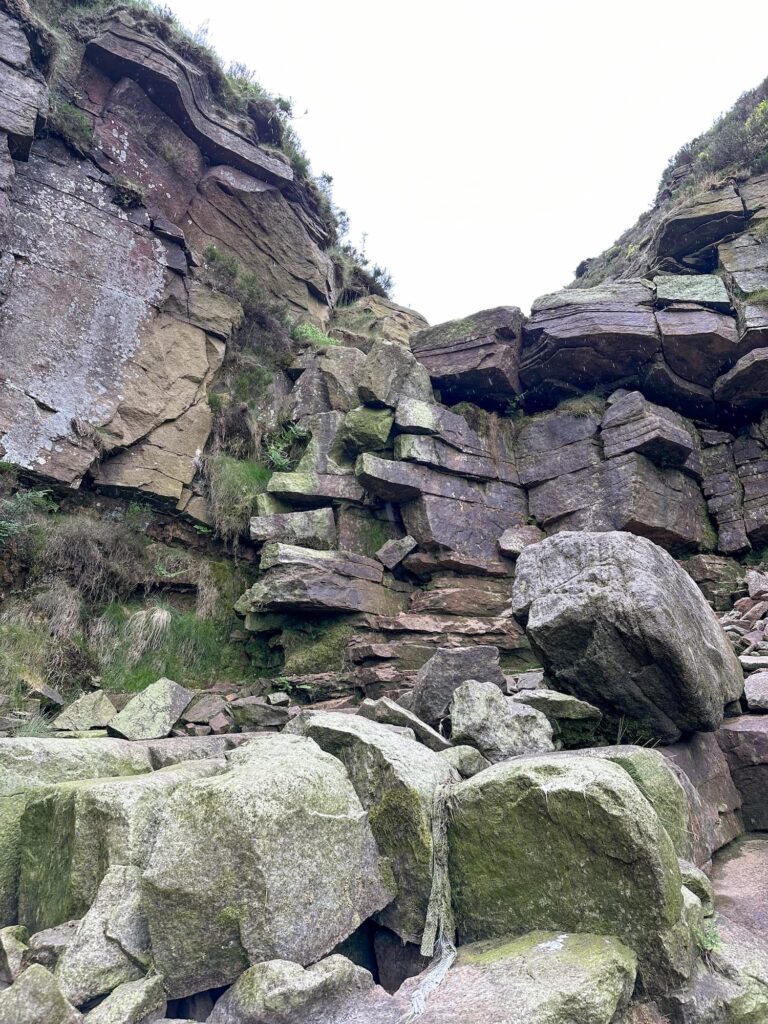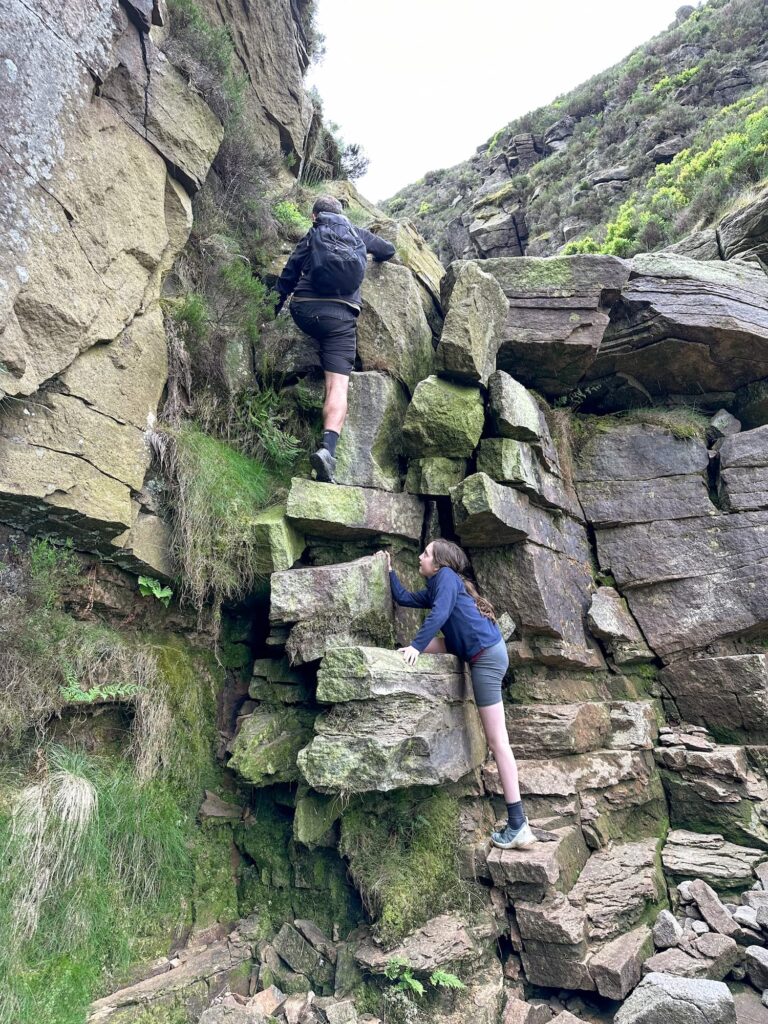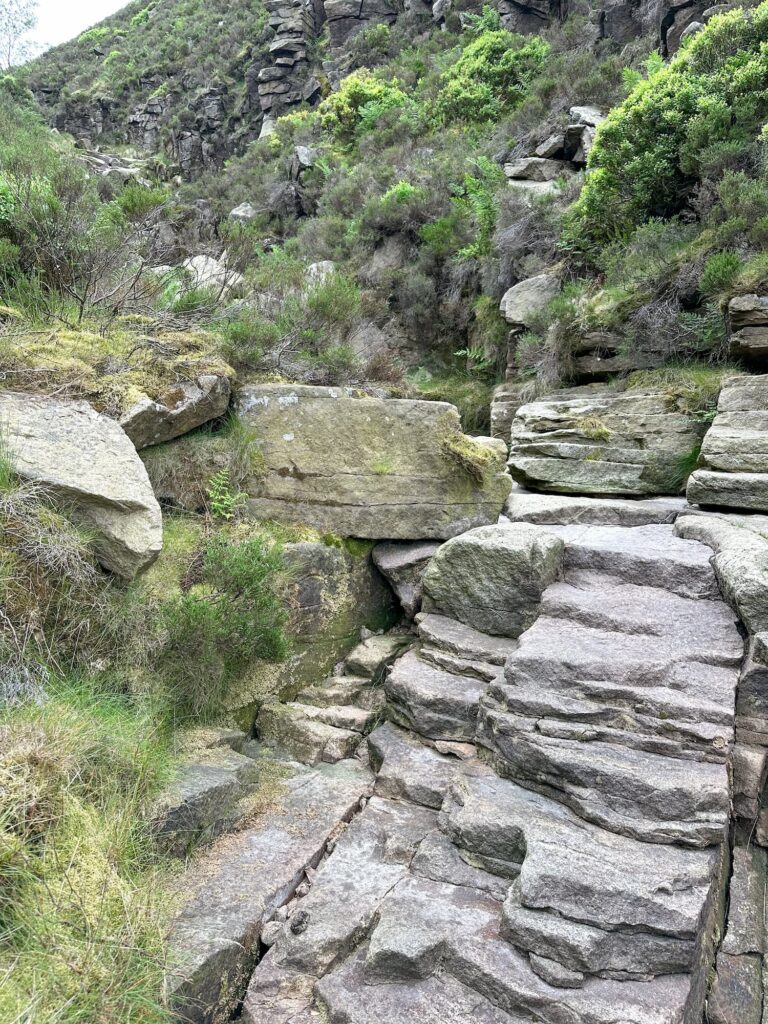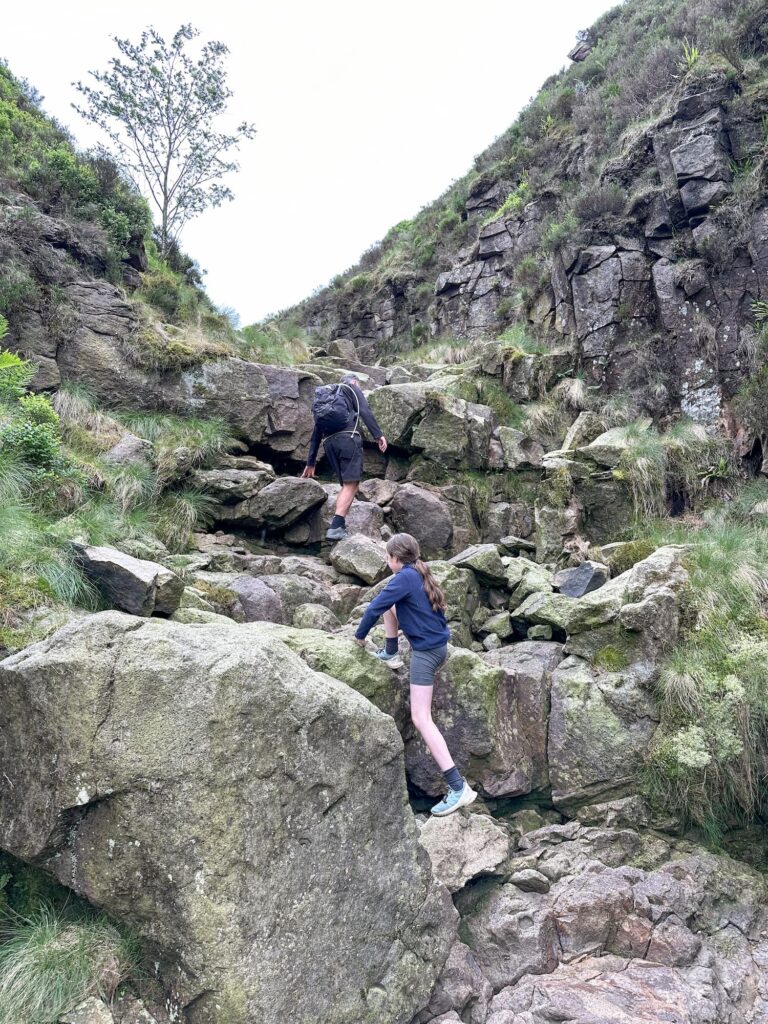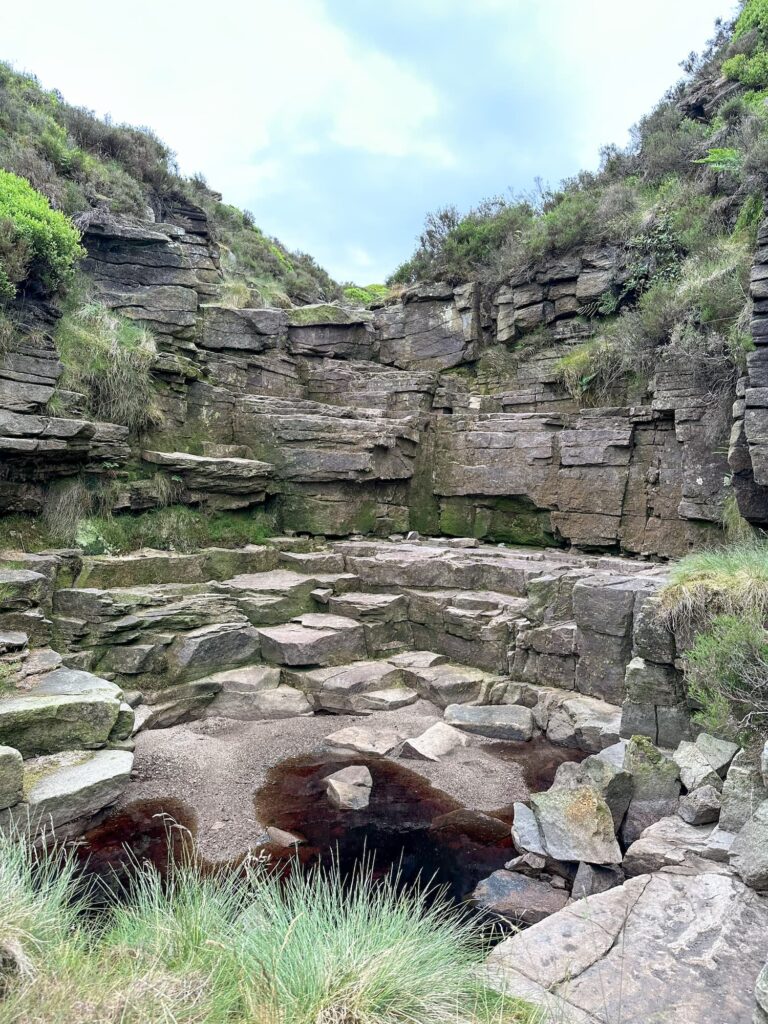 Once near the top of the Clough we picked up a path running north-east to Dowstone Rocks and followed this round the hill to Stable Clough and the grouse butts. Watch out for the holes in the peat! We then set off east along the open moorlands, sticking to the 500 contour as best we could whilst weaving in and out of the deep peat groughs in search of the Wellington R1011 crash site on Birchen Bank Moss.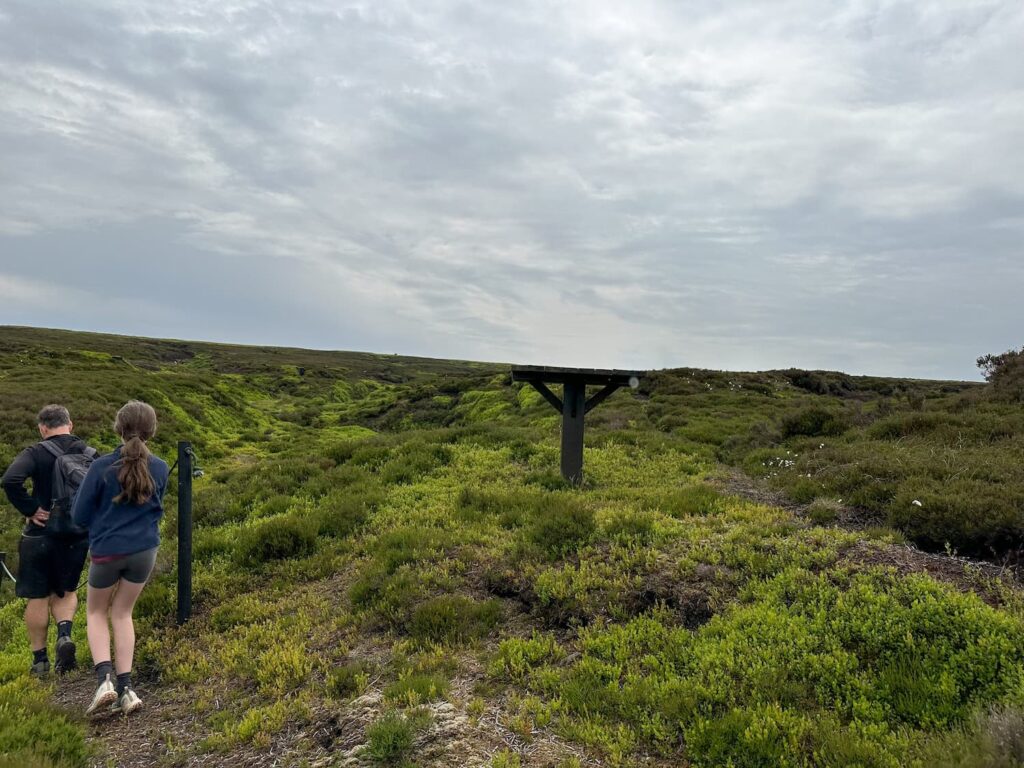 Wellington R1011 crash site grid reference: SK 10544 98580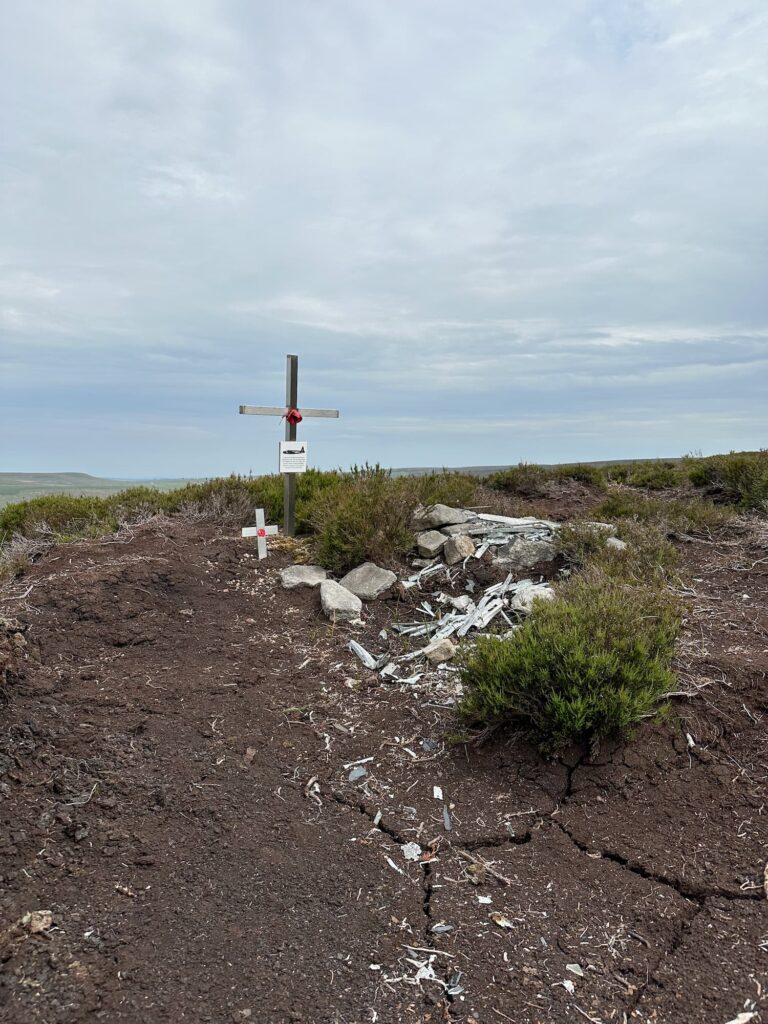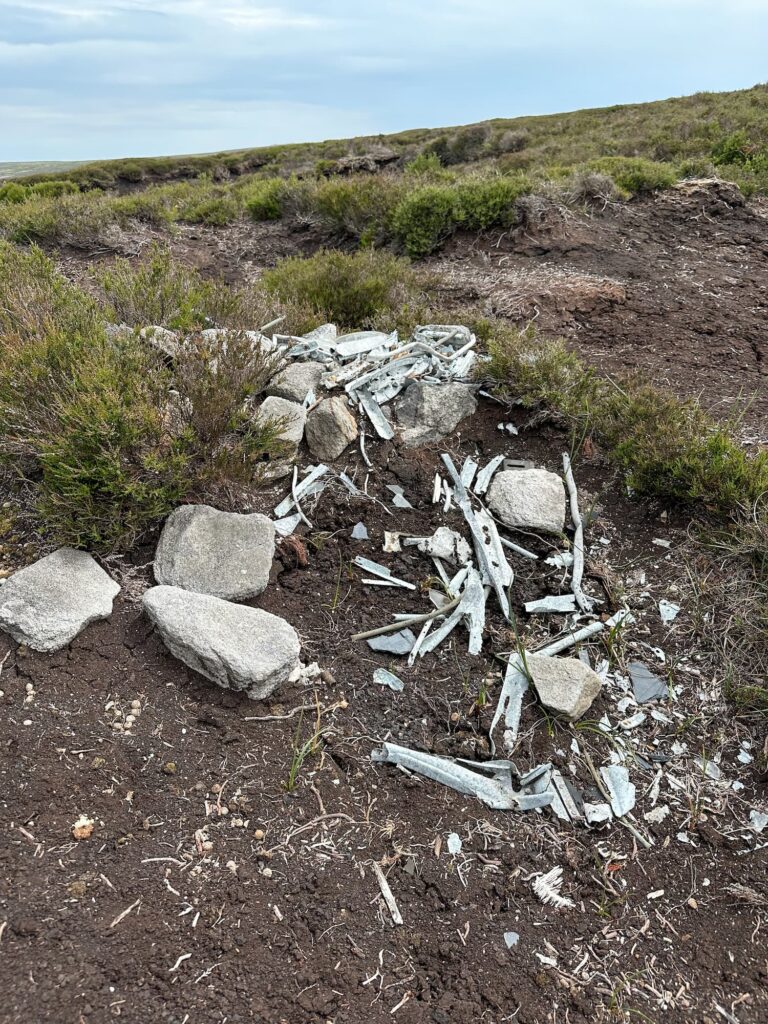 The Wellington was part of a group of similar planes on a training mission when it crashed into Birchen Bank Moss in poor visibility, killing 3 crewmen. Just 30 minutes after this crash another of the planes in the group crashed near Stoke.
From the plane crash site we continued east to the path running down Near Black Clough. This path runs north-east down the hillside into the woods. We decided to have a look for one of the best waterfalls in the Peak District (which gets significantly less visits than it's neighbour Middle Black Clough Waterfall) and followed the clough up to the south-west, scrambling over rocks and trees along the way. It was very muddy in sections, even after the prolonged dry spell we've had recently, so I can only imagine how boggy it gets in Autumn or Winter…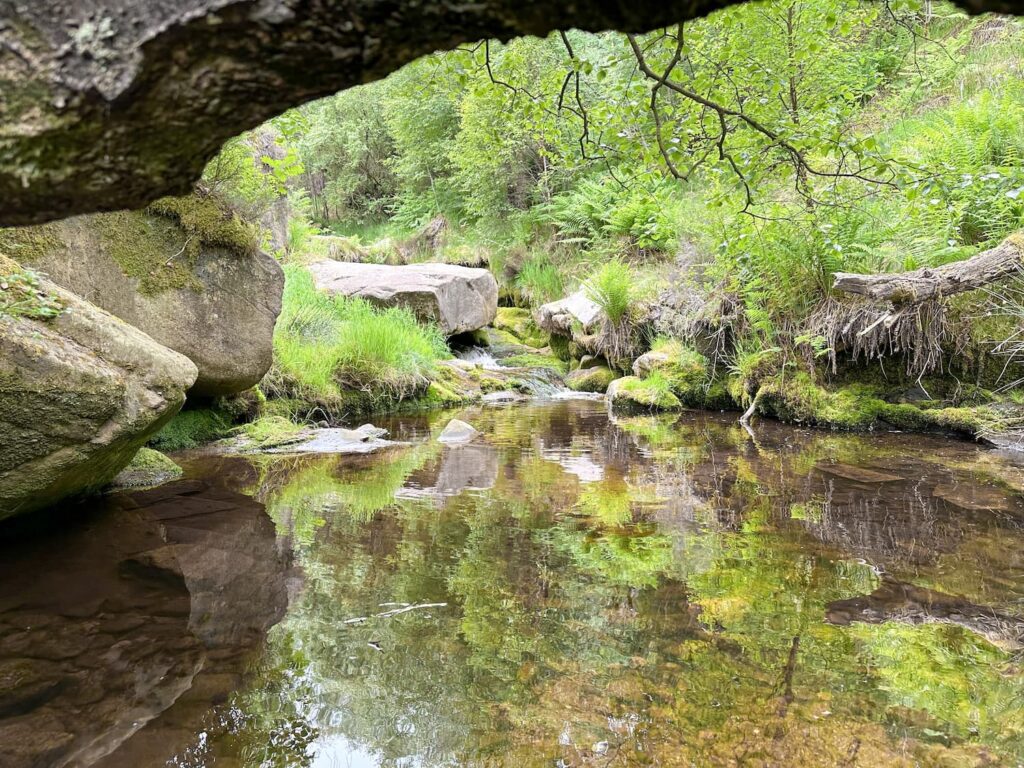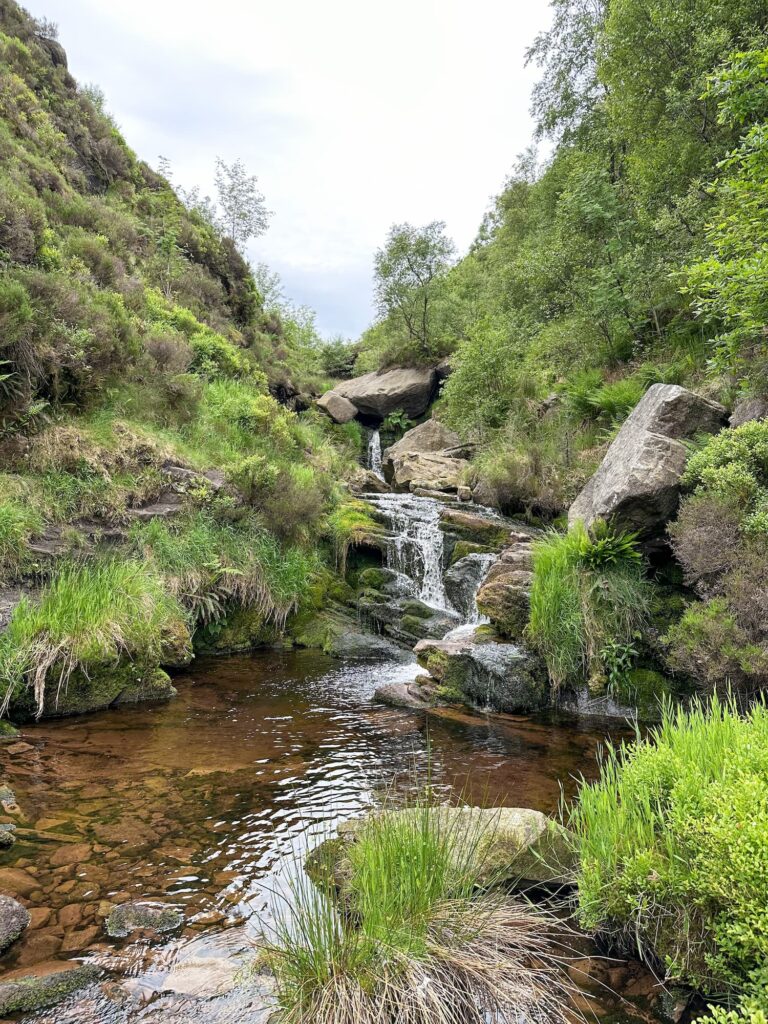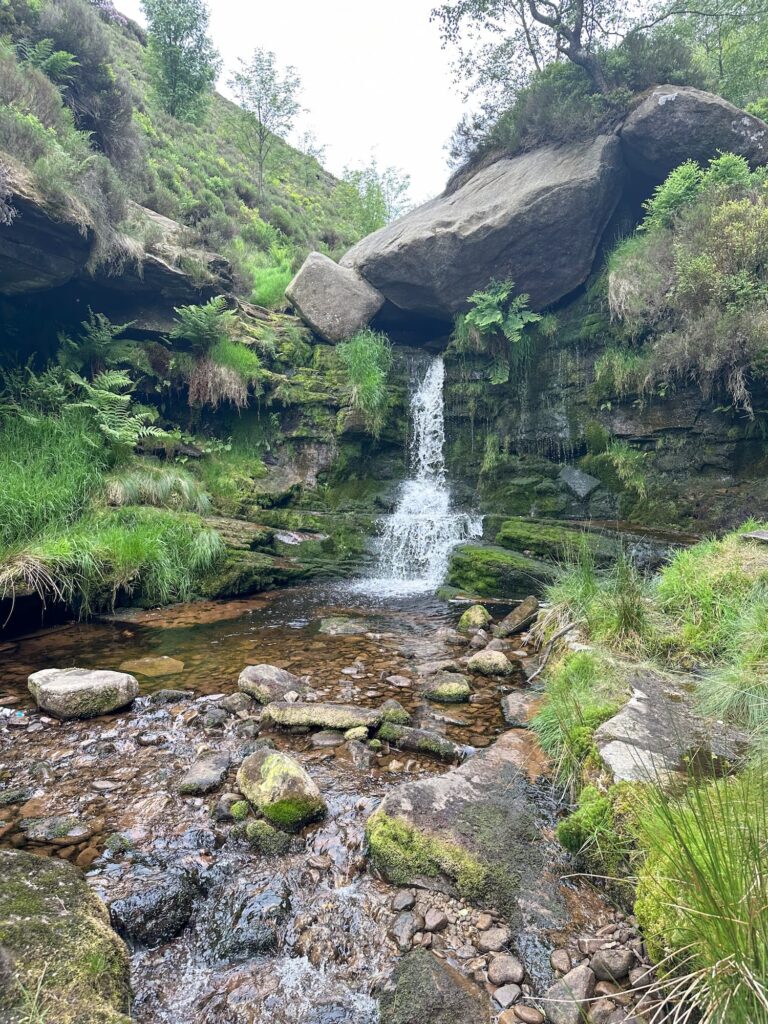 Even in this lesser visited Clough there was a ton of rubbish. I can't stress this enough: PLEASE TAKE YOUR LITTER HOME AND DON'T RUIN THESE BEAUTIFUL PLACES. Also, this water runs into the reservoirs that feed Manchester's water supply, so if you're leaving dirty nappies and the like, these will end up in that water. Lovely.
Waterfall found (much to Holly's annoyance – she was ready for home when we were on the track down!), we retraced our steps to where Near Black Clough meets Middle Black Clough and followed MBC down to where it meets the River Etherow. We then walked alongside this back to the car.
This was a great scramble, and another cracking route up onto Bleaklow. It was so peaceful, and we saw some lovely moorland hares.
Parking: Woodhead Tunnels Car Park, off A628 | What3Words:https://w3w.co/initiated.gravel.highlighted 
Facilities: There are no facilities
Walk Time: 4-5 hours
Difficulty: ▲▲▲
Distance: 7 miles (11.3km)
Trig Points Bagged: None
Peak District Peaks Bagged: None
Peak District Ethels Bagged: None
Shining Clough Scramble Map:
Some other scrambles onto Bleaklow:
Higher Shelf Stones via Ashton Clough Scramble
and you might like this Old Glossop to Bleaklow Head and Cock Hill Circular walk.
Some other Plane Crash Walks:
Middle Black Clough Waterfall and Bleaklow Stones
B29 "Overexposed" Crash Site on Bleaklow; A Guide
Tintwistle Seven Falls and Plane Crash Sites
Black Hill via Crowden Little Brook
USAAF B24-H Liberator Crash Site on Twizle Head Moss, Holmfirth