Minninglow Walk and Stanton Moor via High Peak Trail
This Peak District walk takes in 
Minninglow, Bonsall Moor, Stanton Moor and Harthill Moor and is a challenging 17.7 miles. This is a great walk if you are taking part in the Peak District Ethels challenge, and also bags the Stanton Moor trig point and takes you as near as you can get to the Harthill Moor, Slipper Low, Blake Low and Bonsall Moor trig points. 
Our walk took us along part of the High Peak Trail (we covered a bit more of this in our Harboro Rocks walk) to Minninglow, which is a limestone hill near Parwich. It's 372m above sea level and has a ring of trees crowning the summit, which features a Neolithic chambered tomb and two Bronze Age bowl barrows. The hill itself can be seen from miles away and is a really prominent feature on the landscape. It's also a really atmospheric place – although it might have been because we went on a really misty day!
You could make this Minninglow walk a bit shorter and not add on the other peaks we went to.
We started at the High Peak Trail car park in Parwich and followed the Trail for approximately 1.25 miles before following a concessionary path up to the summit of Minninglow. There is a wooden gate to pass through which makes you feel like you're entering a magical place!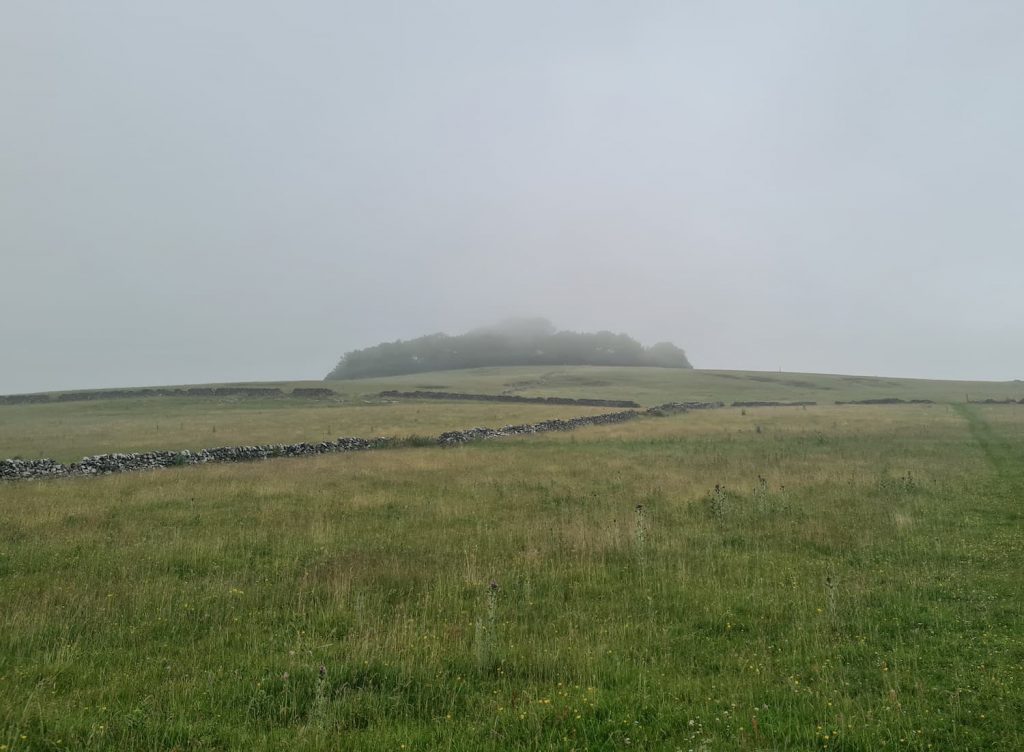 From here we passed over the summit and down through the field to the track. We followed the track for a short distance, past the site of the Slipper Low trig point (which is in a privately owned field).
We walked along New Lane, which becomes Brassington Lane and then turned right onto Mill Lane. Passing through Grangemill, we followed Grange Dale to the north-east. This soon becomes Tophill Lane. At the crossroads with Whitelow Lane and Green Lane, we took a left onto a rough track. We passed a mere, where we stopped and had some lunch, then headed back onto the lane to find the footpath to lead into the fields.
You'll see on the map below our route gets a bit windy now. The paths are impossible to see, and we got as close as we could to the Bonsall Moor trig point. Bonsall Moor is a farmland hilltop of 367m above sea level. The trig point here is on private land so we couldn't access it.
Once we had found the stile in the hedgerow, we headed over the fields towards Bonsallmoor Lane.
Our walk took us through the pretty village of Winster, which has a beautiful old market hall and lots of pretty cottages. There was also a field of hand reared lambs who were super friendly!
From here we walked over the fields to Barn Farm Campsite and Bunk Barn. Passing through the camp site, there is a footpath which leads onto Lees Road. Just across Lees Road is a footpath which takes you onto Stanton Moor itself.
Stanton Moor is a popular destination for walkers and is easily accessible from the surrounding lanes. At 323m above sea level it's one of the smaller peaks in the Peak District but is a very beautiful place to explore. We passed the Stanton Moor trig point and the Cork Stone, which is a gritstone lump. Some clever folk in the 19th Century added in some metal handles to help people climb to the top. We had a go – it was fine climbing up but getting back down felt a whole other matter!
From Stanton Moor we headed back onto Birchover Road and through the village of Birchover. We walked along a lane with views of the Hermits Cave and then followed the footpaths past Robin Hood's Stride and Rowtor Rocks. We didn't have a lot of time to explore Rowtor Rocks but it is an amazing place with lots of things to see in the caves – it's a great place to take the kids.
We then headed to our last Ethel peak of the day, Harthill Moor. This is a bit of a disappointing one as you can't get near the summit, as it's private, and can't even see the trig point from the footpath. There's a wall with barbed wire blocking your way.
From Harthill Moor we set off back towards Elton, had a detour past the Blake Low trig point (with a clear sign on the gate saying no unauthorised access) then followed the country lanes back to the car park.
This was a great walk to bag some Ethels and Peak District trig points, even if we couldn't get close to most of them! With 4 Ethels and 4 trig points (only one you can access) it would have been a bumper haul.
Here's the route map for this Stanton Moor walk.
Parking: Minninglow Car Park DE4 2PN
Facilities: None
Walk Time: 6-7 hours depending on speed and fitness
Difficulty: ▲▲▲
Distance: 17.7 miles (28.5km)
Trig Points Bagged: Stanton Moor (accessible), Blakelow Hill, Harthill Moor (Hopping Top), Elton Common (Blake Low), Slipper Low (private)
Peak District Peaks Bagged: Stanton Moor, Minninglow, Bonsall Moor, Harthill Moor, Slipper Low, Blake Low
Peak District Ethels Bagged: Stanton Moor, Bonsall Moor, Harthill Moor, Minninglow
Minninglow Walk Map:
Click on the map to access Komoot and download the GPX
A quick note about the trig points and summits – we only go to the ones which are publicly accessible. If they are on private land, we get as near as we can without trespassing. You can always find out who the landowner is and ask permission but please don't just go trespassing – farmers work hard enough without having to deal with all this. Some landowners are reluctant to allow access because of people letting dogs off the lead, or climbing over walls, so please be respectful.