Pen yr Ole Wen to Carnedd Llewelyn
This Pen yr Ole Wen walk to Carnedd Llewelyn starts from Ogwen Cottage and includes Carnedd Dafydd too. This 11 mile walk in the Carneddau takes in some spectacular Snowdonia scenery, and isn't as busy as some parts of the valley can get. There is the infamous Pen yr Ole Wen scramble to tackle too!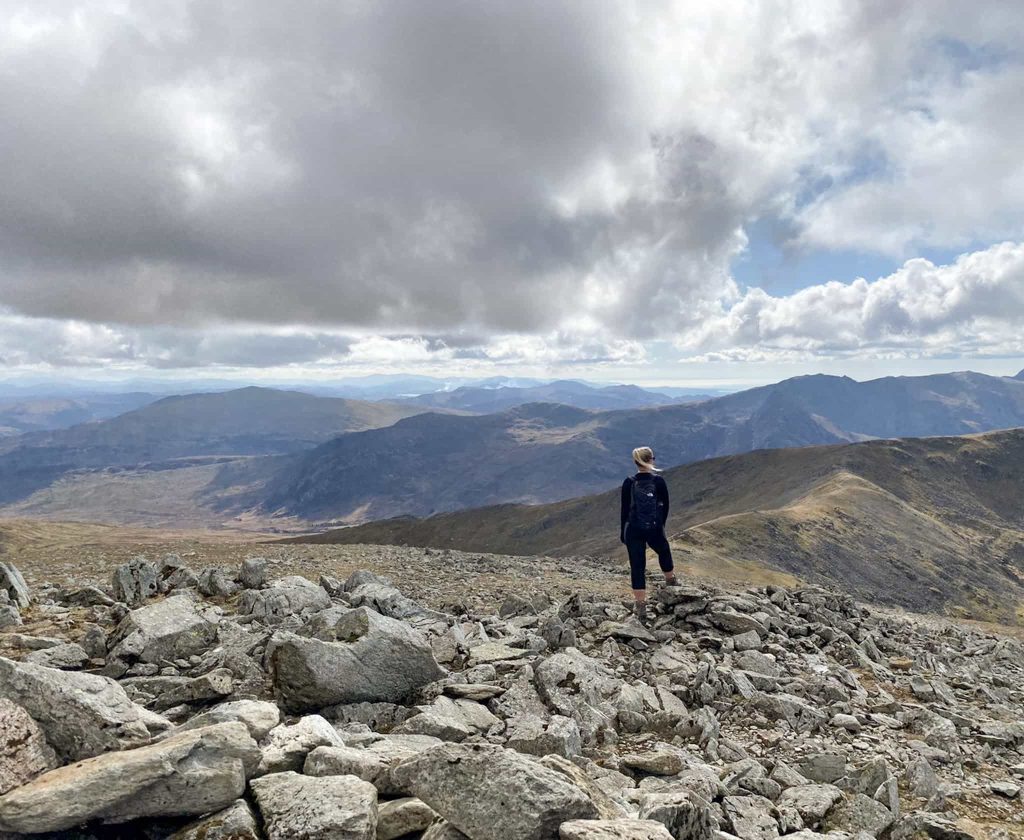 Pen yr Ole Wen Walk
Pen yr Ole Wen is a mountain in Snowdonia (Eryri), North Wales which stands at 978m high. It's the 7th highest mountain in Wales and is the southern most peak of the Carneddau, which also includes Carnedd Dafydd and Carnedd Llewelyn. This Pen yr Ole Wen walk takes in those two mountains as well, with Carnedd Dafydd being 1044m high and Carnedd Llewelyn being 1064m high (and the 2nd highest peak in Wales), bagging 3 of the Welsh 3000s (which, by the way, are fast becoming my husband's latest obsession. He's got plans to get them all now). It's a lovely circular walk with spectacular scenery.
Our walk starts in the pay and display car park at near Ogwen Cottage on the A5. There are parking lay-bys on the A5 but the Visitors Centre has a snack kiosk and loos, so we usually park there. We walked along the road past Llyn Ogwen to the Youth Hostel at Idwal Cottage and then followed the route of Tal-y-Llyn Ogwen for about a mile up the hillside.
The path isn't clear, but you just follow the path of the Afon Lloer up, enjoying all the waterfalls as you go, passing over the stile and turning west to start the climb just before the stream joins the Ffynnon Lloer.
There are spectacular views of Tryfan from here, and you can see Snowdon itself on a clear day!
Pen yr Ole Wen Scramble
The path up the ridge is rocky and challenging in places and there is a section of scrambling to contend with. Holly LOVED this! We helped her if she needed, but she's 9 and very determined to do things herself, so needed little assistance.
Once we reached where the path levelled out a little, we had a break for some lunch and then set off to the summit of Pen yr Ole Wen, marked by a cairn which is more horizontal than vertical!
From Pen yr Ole Wen summit, we continued west to pick up the path of the Cambrian Way which we then followed north-east to Carnedd Fach, marked by a large cairn, and then onto Carnedd Dafydd. The path can be quite hard to spot and the going is quite rocky, so it's a case of picking your way as best you can. The summit of Carnedd Dafydd is marked by a stone cairn and some wind shelters, and has amazing views over to Carnedd Llewelyn and on a clear day the ridge walk you're about to do!
The path takes you round past Cefn Ysgolion Duon and Bwlch Cyfryw-Drum, which sadly I have no idea how to pronounce, but give you amazing views down over Afon Llafar and the valley below. We also saw some wild Carneddau ponies grazing on the slopes of Foel Ganol, but sadly they were too far away for us to see clearly.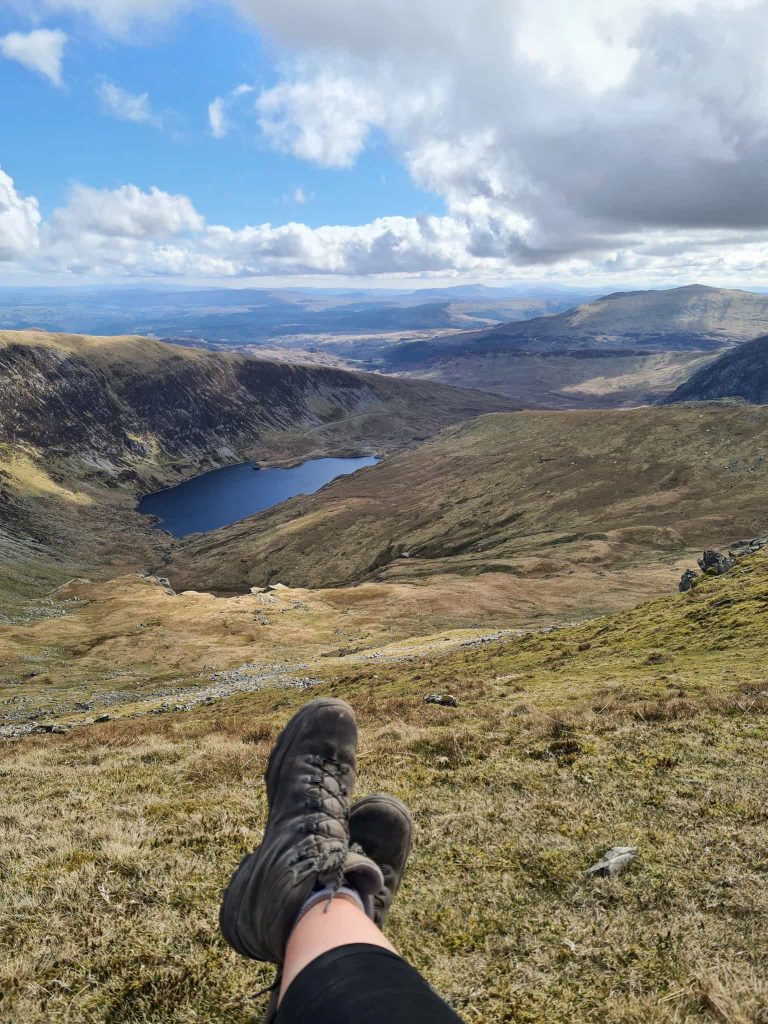 Carrying on, we climbed up the hillside to the summit of Carnedd Llewelyn. Again, there is a cairn and a wind shelter here.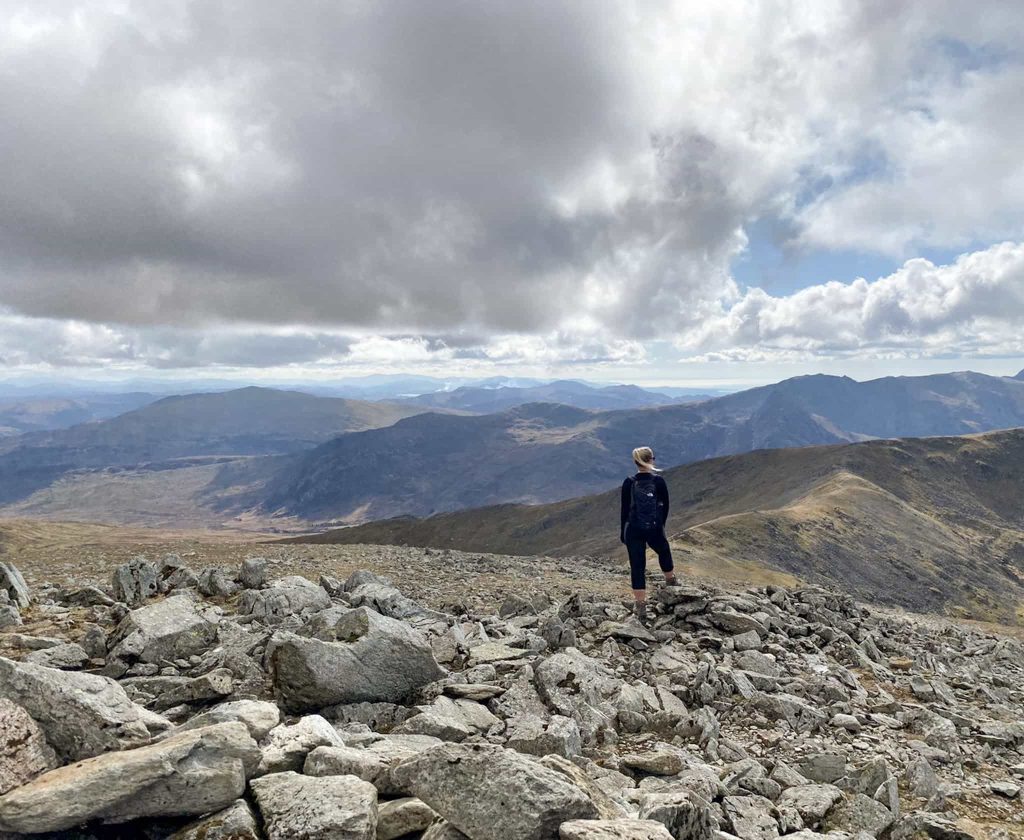 Our route took us down the steep scramble section at Craig yr Ysfa, where care needs to be taken as some sections are very steep, and there is one part which is very tricky. Again, Holly loved this – I can't get her to go to a climbing wall, but she'll scramble on mountains all day long!
The path drops down the hillside towards Ffynnon Llugwy Reservoir, which we followed for what seemed like an eternity back to the road. I'd done the Yorkshire 3 Peaks Challenge 2 days before so my legs were a bit heavy at the start of this walk!
We walked back along the A5 to the car park, and were really lucky to be the last people to be served from the cafe kiosk! I'd definitely earned an almond slice so was very grateful we could get one.
Hiking Pen yr Ole Wen and the High Carneddau
Parking: Car park at Ogwen Cottage on the A5.
Facilities: There are public toilets in the Ogwen Cottage visitors centre, as well as a kiosk cafe selling hot drinks and snacks.
Walk Time: 7 hours including a quick sandwich stop on Pen yr Ole Wen
Summits: Pen yr Ole Wen, Carnedd Cafydd, Carnedd Llewelyn
Difficulty: ▲▲▲
Distance: 11.6 miles (18.6km)
Pen yr Ole Wen Walking Route:
Hiking with Kids
This is a fabulous walk to do with adventurous kids in Snowdonia. It's quieter than a lot of the honeypot destinations like Snowdon itself, yet you can have an amazing day scrambling and climbing mountains. If you do take kids, be sure to check the weather and be confident in your navigation skills. Some of the paths are faint in places and it is all too easy to come off the summit in the wrong place.
This blog may contain affiliate links through which, at no additional cost to you, I may earn a small commission. I only recommend products I would use myself and all opinions expressed here are my own. As an Amazon Associate I earn from qualifying purchases. Read full privacy policy here.
Day Hike Kit List
I would recommend the following:
sturdy walking boots – the route is very rocky in places, with scrambles up Pen yr Ole Wen and down Craig yr Ysfa. Sturdy boots will help support your feet. I love my Scarpa Terra GTX walking boots and would definitely recommend them.
suitable walking clothes – don't wear jeans for this. If they get wet, they'll take forever to dry and be really heavy to walk in. I wore hiking leggings to allow freedom of movement.
rucksack – you'll need your hands free for some scrambles. I use an Osprey Tempest 20 and love it for day hikes.
layers – the weather at the top of each peak is very different to that at ground level! Take layers so you can add them at the top and take them off on the climbs up (if you're like me).
waterproofs – it's Wales, so it rains a lot here. It would be a miserable walk if you had wet clothes! I took my Rab Downpour Eco jacket and waterproof trousers.
plenty of healthy snacks and a lunch if you want a picnic on the top.
plenty of water – I use a Water To Go water filter bottle so I could top my water up from various streams along the route, which is just as well as we went through a lot of water.
first aid kit – just in case
walking poles – the route is quite tough on the knees, so if your knees get sore bring your poles. I have the Catbells poles from Harrier Trail Running which are lightweight and fold up really small.
sun cream – you're very exposed and will be out all day.
OL17 OS map and compass – whilst gps devices are great and the route is easy to follow on a clear day, it is still a good idea to bring a paper map and compass (or have someone in your group who has, and who knows how to use them)
mobile phone – in case of emergency and for taking photos if you are lucky enough to get the views!
portable power bank for phone – just in case! Don't forget your charger wire too.
For more walks in the Ogwen Valley, check out Y Garn Via The Devil's Kitchen. You might also like Cadair Idris.