Y Garn Via The Devil's Kitchen
In a break from our usual Peak District walks, here's a walk we did in the beautiful Ogwen Valley, Snowdonia! We climbed Y Garn via the Devil's Kitchen. This is our route for the Y Garn walk, which we did with our little girl.
We have a goal to climb the National 3 Peaks (separately, not as the Challenge) with Hols this year. As practice for our upcoming adventures it seemed only right to get a bit of mountain practice in. We're very used to hillwalking but climbing mountains is a very different challenge. So far Hols has tackled Coniston Old Man and Cat Bells, Maiden Moor and High Spy but they are still some way off the height and climb of Ben Nevis!
We had originally planned to climb Pen Yr Ole Wen but Y Garn seemed a bit easier for a first ascent. I checked and double checked the weather forecast (Mountain Forecast is a great site for this) and we couldn't have picked a better day. We got up at 5.30am and headed off to the beautiful Ogwen Valley for the day. I've obviously seen loads of pictures on Instagram of this place, but I don't think any actually did it justice. It's an absolutely stunning part of the world!
Our Y Garn walk starts at the Ogwen Snack Bar where there is a car park, toilets and cafe kiosk thing selling delicious pasties – perfect for that after climb snack.
There's a waterfall just behind the cafe/visitors centre with a bridge to cross to get into the nature reserve and Llyn Idwal. The lake itself is beautiful and surrounded by towering mountains, including Tryfan, Glyder Fach and Y Garn.
We walked up and around the south-east side of Llyn Idwal and then followed the path up through Devil's Kitchen, an area named after a rock chasm where there's a waterfall. Apparently steam can be seen sometimes coming from this chasm, hence the name! The Devil wasn't cooking anything up when we went unfortunately.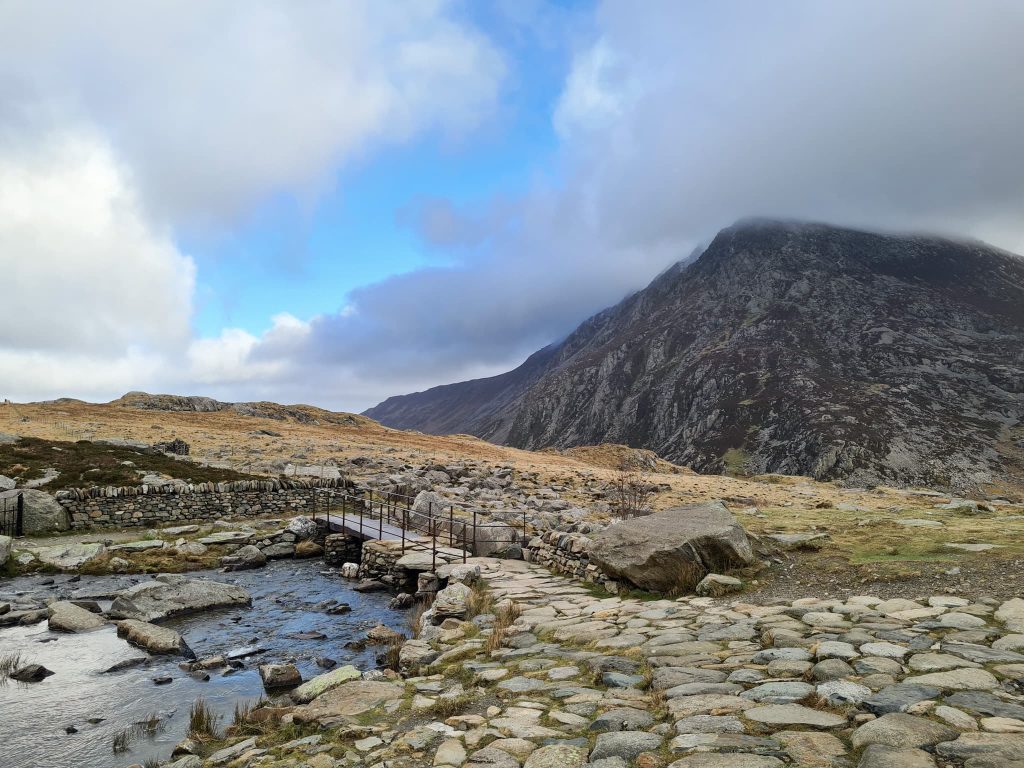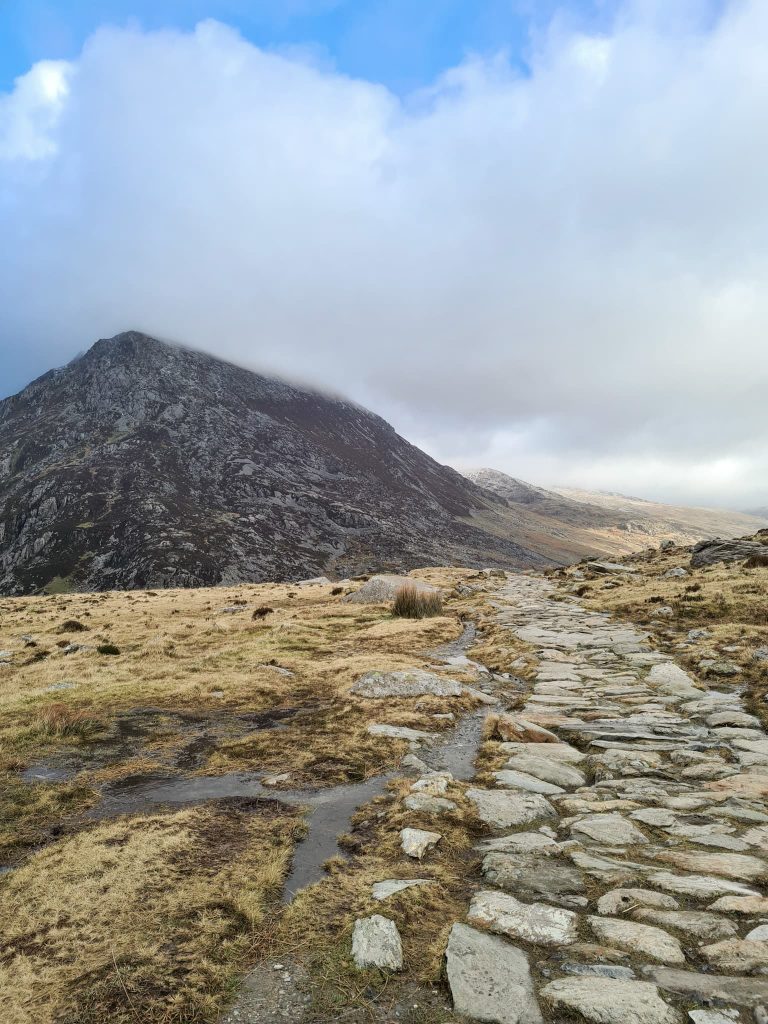 The Devil's Kitchen route up Y Garn is a rocky scramble which can be tough going in places, especially for young kids like Hols, but we took plenty of rest stops and climbed at her pace.
We climbed up, passing the stile which is such an Insta-photo cliche but has amazing views back to Pen Yr Ole Wen and the Carneddau, then found ourselves at Llyn Y Cwn. It was way too cold for a swim though! There was a halo of mist hanging over the tops of the nearby mountains (Glyder Fawr looked especially icy so we didn't tackle it).
It's about 1km of climbing to the summit of Y Garn, which was covered in a light dusting of snow when we got there. There was also a cornice of snow on the north east face of the mountain which we hadn't expected – it was covering the path back down to Llyn Clyd, which made the going quite tricky. We took our time, using three points of contact at all times, and clambered our way down.
Climbing down the mountain was probably harder than climbing up! My knees were a bit achy for a day or so afterwards.
The descent gives you amazing views over to the mighty Tryfan and down Llyn Ogwen. We took a little detour into Tin Can Alley, which is a spectacular chasm near the start of the walk.
This was Holly's highest mountain to date, at 947m above sea level. I think next on the list is Yr Wydffa (Snowdon), but we need to wait for the right conditions before we take her up another mountain. We've tentatively booked Ben Nevis in April but will only be attempting that up the tourist trail and if the conditions and weather are perfect. If not, we'll be looking at some nearby mountains and will have to try another time.
Tackling mountains with kids means you have to be a bit more cautious and take things slower, but I'm so proud of Holly (who's nearly 10).
Here's the route for this Y Garn via The Devil's Kitchen walk – I'd definitely recommend it.
Parking:  Ogwen Valley Cafe and Visitors Centre Car Park LL57 3LZ
Facilities: Toilets and snack bar at the cafe
Terrain: Rough stone paths, boulder fields and rocky mountain terrain
Walk Time: 3-4 hours. We stopped a lot and had a picnic lunch, so we were out 5 hours.
Distance: 4.5miles (7km) approximately
Route Map:
It is a mountain, so be sure to go prepared. As a bare minimum I would recommend:
Wear appropriate footwear – this is not a flip flops walk! I recommend my Scarpa Terra GTX boots and Holly's The North Face Chilkat walking boots for kids. We did actually see someone wearing Crocs near the bottom – I hope they were just wandering round Llyn Idwal, although there is never a reason to wear Crocs.
Take plenty of food and water. I use a Water To Go bottle which has a water filter and I can fill up while I'm out and about. There's something very special about drinking waterfall water!
Have the right Snowdonia map and compass (and know how to use them)
Take extra warm layers for the summit – conditions at the top are very different to those at the bottom.
We're hoping to do more Snowdonia walks soon – we've got Pen Yr Ole Wen on the list, the Glyders and of course the big one – Yr Wydffa/Snowdon. Can't wait!
You might also like Cadair Idris – this is a great hike!