South Nab Trig Point and Windleden Reservoirs
This is a circular hike taking in the trig point at South Nab and Windleden Reservoirs, both Upper Windleden and Lower Windleden. It's a great walk for kids as it's not challenging but does use Open Access moorland so be sure to check the rules on dogs before taking your furry friends along as there are ground nesting birds and livestock on the moors. At 6km, this is a lovely family friendly moorland walk in the Peak District.
Upper and Lower Windleden Reservoirs are much less busy than their neighbour Winscar Reservoir, presumably because there are no paths around so they're much harder going. Still, they're definitely worth a visit and my thanks go to Geocache user MeltedIceberg for once again introducing us this beautiful location.
The trig point at South Nab is 460.9m above sea level and is one of the easier ones to access – see sneaky tip later on!
We started from the Trans Pennine Trail car park at Dunford Bridge and set off up the hill. The first part of the walk is uphill but on roads, so the going is pretty easy.
This blog may contain affiliate links through which, at no additional cost to you, I may earn a small commission. I only recommend products I would use myself and all opinions expressed here are my own. Read full privacy policy here.
You'll come to a public bridleway sign on the left hand side of the road, which puts you onto the moorland. Although this is Open Access land, there is a visible path you can follow. It was a bit muddy when we went so I'd recommend proper hiking boots or wellies for little ones.
The path takes you down across Brown's Clough and back up the other side of the valley. Hols found this a bit tough but with plenty of rest stops (and Haribo) she managed it.
There's a bit of a trek across moorland until you get to the trig point itself. From here there are amazing views over 3 reservoirs (I think Winscar, Upper Windleden and Lower Windleden) and scenic views over the moorland.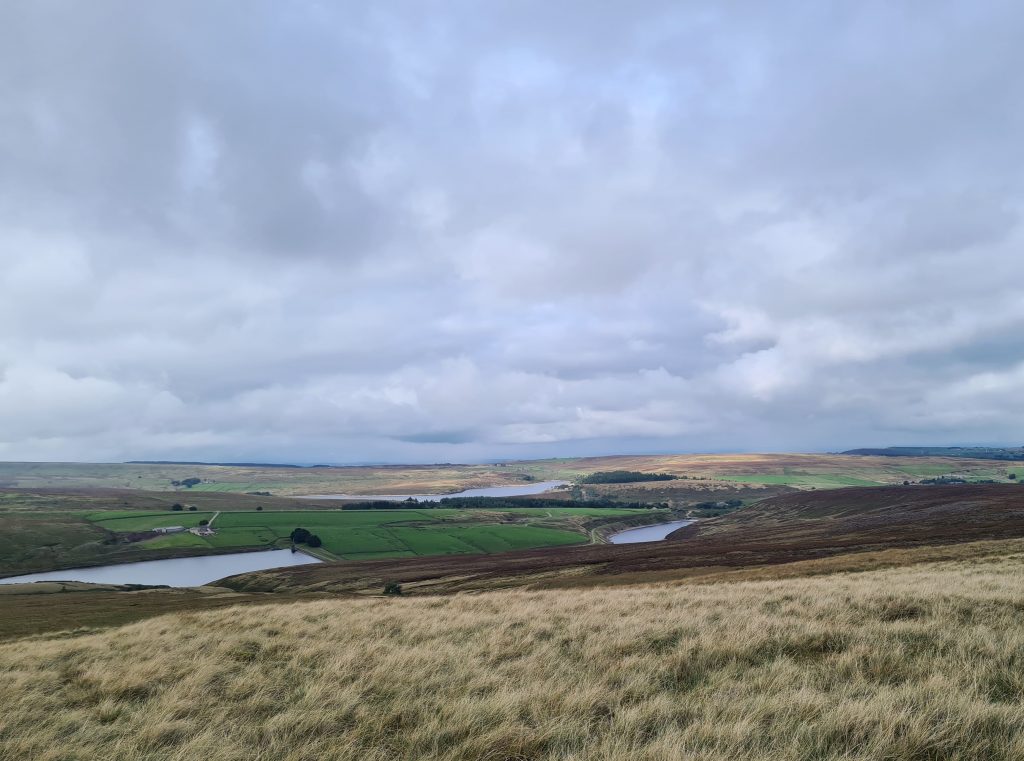 From the trig point we headed across the moors towards Upper Windleden Reservoir, keeping to the right hand side of Glead Nest Clough. There is a rough path of sorts to follow between the heather.
Lower Windleden Reservoir is next to pass, and this is where we came a cropper. Mr R fell in a manmade trench hidden in the heather near to the reservoir dam. He was OK, but fell in up to his waist and was bruised. Be sure to take care here, especially if the heather and bracken are thick. We also ended up walking across the reservoir embankment but there is no right of way across there and we were technically trespassing. Sorry Yorkshire Water!
We should have followed Clough Beck down to the road or footpath. You can see on the map below (when enlarged) the tan/mushroom colour, which is the Open Access land, and the lighter beige colour which is Yorkshire Water owned land. Don't go on there! I can't change the blooming map though! Rather than turning left back to A after the reservoir, we should have gone straight on.
As a side note, if you did just want to bag this South Nab trig point you could park on the main A628 road in one of the lay-bys there and walk a short distance to the trig. I always like to have a little wander if I can though!
This was the first of our recent Peak District walks that has felt autumnal. The heather was all dead (although I bet it looked stunning in August so I'll be revisiting then if I can) and the grass was long and blonde.
As there was no pub at Dunford Bridge we drove to the Boshaw Trout at Hade Edge and had a lovely few too many wines (me) and a pub tea.
I hope you try this South Nab and Windleden Reservoirs walk, not just for the trig point at South Nab but also for the moorland views. You can see our Trig Bagging list and Peak Bagging list for ideas for more walks in the Peak District.