Vango Spectre 600 XL Tent Review
Vango Spectre 600 XL review
We recently had our last trip in our beloved Vango Vista 800 – she leaked like a sieve on our Lake District trip and as we have no space to put her up and rewaterproof her, we gifted her to someone who could. We had to buy a new tent, so after a bit of a search about we settled on the Vango Spectre 600 XL.
The Vango Spectre 600 XL is a no-nonsense 6-person poled tunnel tent. It's an exclusive to Leisure Outlet, and comes in a very fetching light grey colour (presumably that's where it gets its name from!). The tent is made from Vango's Sentinel Active Fabric, which is strong and fully waterproof. The tent has a built in groundsheet and there is a separate groundsheet for the porch too, meaning you're fully enclosed.
The tent is 620cm x 380cm with a headroom of 210cm.
The tent itself has 3 "zones", being the bedroom pods, the living area and an enclosed porch. The bedroom pods are very generous and there is the option to have 3 bedrooms, 2 bedrooms or 1 big bedroom area as there is a divider which you can remove. The bedrooms are Nightfall Bedrooms, meaning that you won't be waking as soon as the sun comes up. We found that we slept in 'til after 7.30am most mornings, which is something we'd never do at home.
There is a velcro attachment around the bedroom pods, presumably for some fairy lights?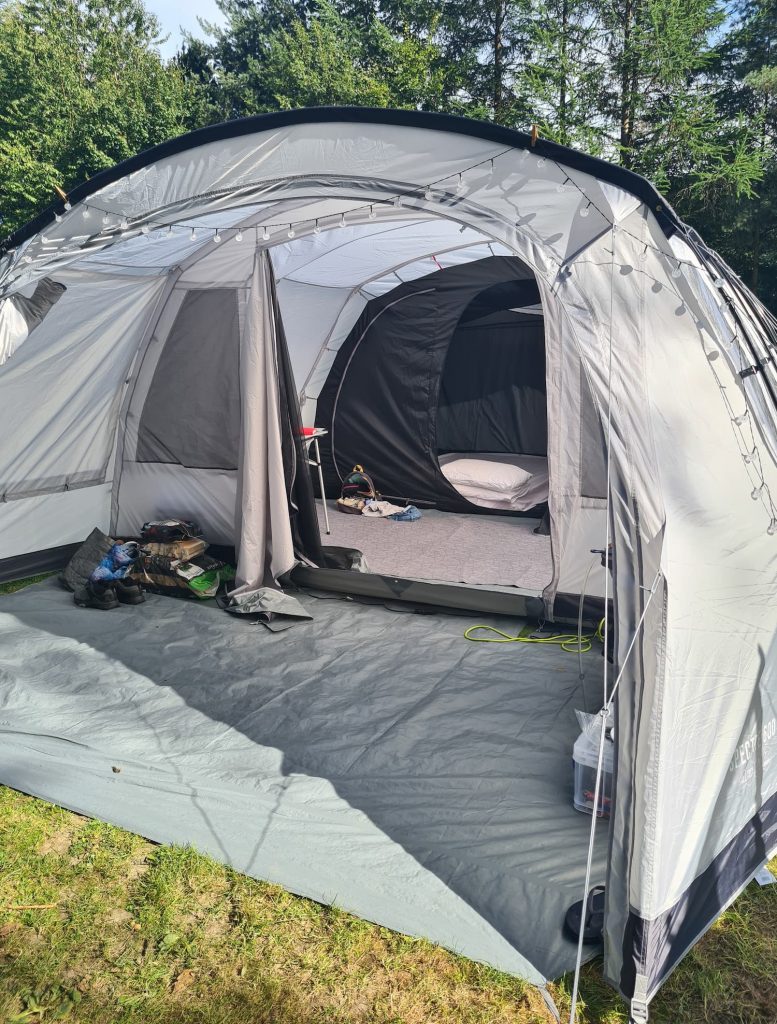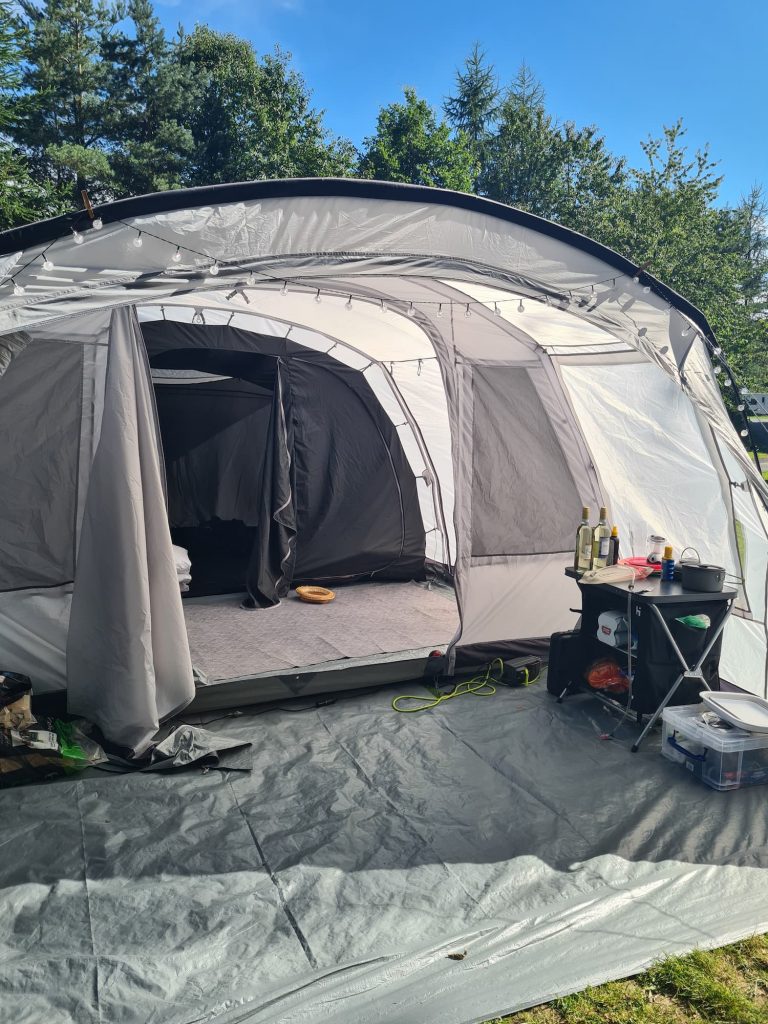 The living area has lots of headroom, and has a side door for easy access. The main living area is 200cm x 380cm with windows to each side. There is a mesh door and proper door to the enclosed porch area, which is great for when the weather is wet.
The porch has Diamond Clear view windows and toggled privacy curtains which can be rolled up and toggled away when not in use.
We've had the tent set up a couple of different ways now, using it on our trip to Edale and our trip to Dolgellau recently. When the weather was poor in Edale, we had the kitchen bits in the middle living section and had our table and chairs in the porch – we still cooked outside though, don't worry! When the weather was better in Dolgellau we had the kitchen in the porch and the table and chairs outside, leaving us with tons of living space inside.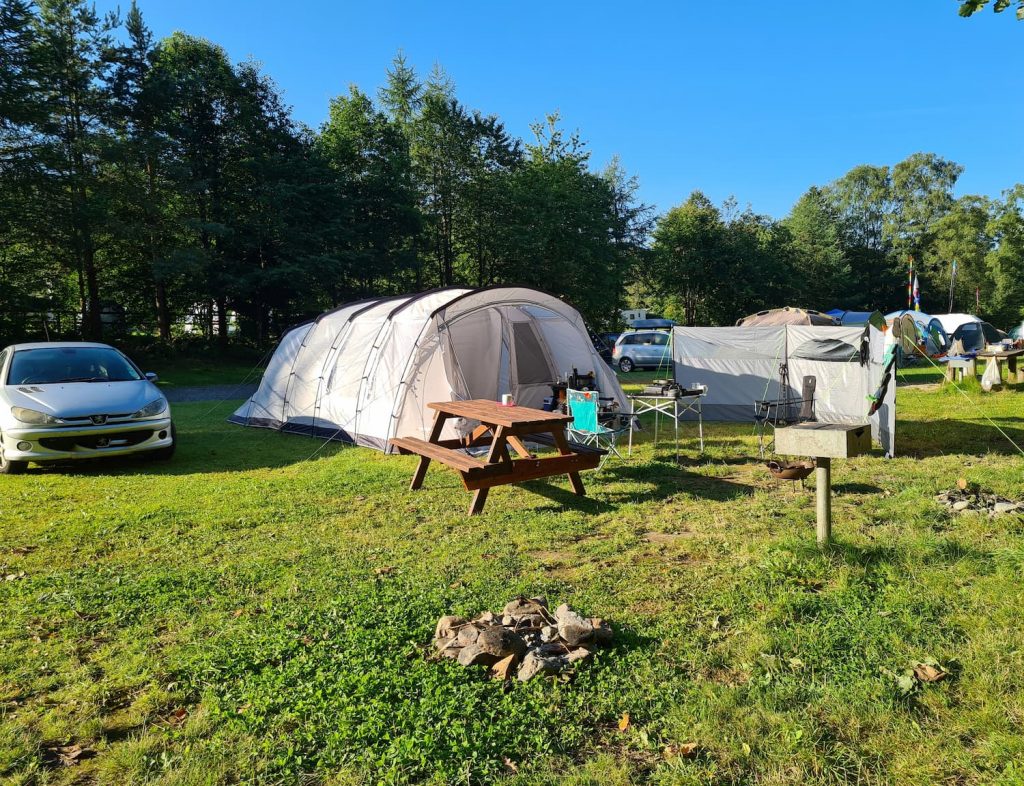 This blog may contain affiliate links through which, at no additional cost to you, I may earn a small commission. I only recommend products I would use myself and all opinions expressed here are my own. As an Amazon Associate I earn from qualifying purchases. Read full privacy policy here.
We travel pretty light as we only have a Peugeot 206 and I like to bring a Vango Shangri-La Sim (which takes up too much space, according to Joel) and all my bedding and pillows from home. I'm a nightmare to camp with.  The Spectre 600 XL comes in a 27.5kg bag measuring 80 x 42 x 44cm, which incidentally is really generous and makes the tent easy to pack away.
Also, has anyone said anything to Vango about their tent packing? Our old tent used to have to be rolled into half, then thirds, then crammed into a bag with no wiggle room at all. The Spectre is folded in half, then half again and rolled up to fit in the bag with plenty of space to spare. Thanks Vango!
I wholeheartedly recommend the Shangri-la, by the way. It's the only thing I've been able to sleep on that doesn't give me a horrible backache!
We bought the Vango Spectre 600 XL from Leisure Outlet as part of a bundle with the tent footprint and a carpet. We use the carpet under the bedroom pod and have a Vango Universal Carpet for the living area. It doesn't quite fit, but it works well.
My only teeny tiny issue with the tent is the poles. There are 5 poles. Three of them are the same length, which are for the front 3 sections working backwards from the porch. There is another smaller black pole and a smaller pole with a grey section which goes in the back section, which is marked by a grey tab. I wish Vango had marked the smaller black pole as they have done the pole for the back section – the black poles all look the same length and we ended up putting the small pole in the wrong place the first time we put it up. We've since marked this with some Gorilla tape to avoid the same mistake!
Other than the tent poles trying to make us look like idiots, I'm really pleased with the Vango Spectre 600 XL. We have plenty of space and the tent is easy to put up.
Accessories for the Vango Spectre 600 XL
We use a Eurohike Windbreak as it matches almost perfectly – it works great as long as you have it in a slight C shape. There is also an Outwell Universal Extension available which I saw on another tent at Dolgellau – this tent is plenty big enough for us as it is, but it's an option to consider if you needed more space. It might not be an exact fit but I think it's as near as you can get.
I hope this helps anyone looking to buy a new tent and considering the Vango Spectre 600 XL – it's a great tent and we're really pleased with it.