What to Take in a Camping Pod plus Free Camping Checklist!
Have you booked a stay in a camping pod and are wondering what to take? Here's an essential guide to what to take in a camping pod and a free printable camping pod checklist!

Camping in a camping pod is the best of both worlds – the seclusion and relaxation of camping but without the ballache of having to put up a tent. They're warm, come with electric hook up and are really modern. What's not to love? They're perfect for a weekend away when time is tight and you just want to pitch up and get relaxing. A major plus with a camping pod is curtains – anyone who has ever camped with small children will know the "joy" of them waking at first light, which in the height of summer can be early. Very early. Camping pods stay darker for longer so you can get a decent amount of sleep (fingers crossed!).
It can however be confusing knowing what to pack for your camping pod stay though, so here's a "What to Pack for a Camping Pod" list.
This blog may contain affiliate links through which, at no additional cost to you, I may earn a small commission. I only recommend products I would use myself and all opinions expressed here are my own. Read full privacy policy here.
First of all, have a read through all the bumf that you'll have received with your camping pod booking. It should tell you what facilities and equipment are included in your pod. If it doesn't, have a read on the website where you booked the pod, as again it should list what comes with the pod. The ones we have stayed in previously came with a double bed platform with a (very) firm mattress, a table and chairs, heater, electricity and the all important dustpan and brush set but double check what is included with yours. Yurts, bell tents and other such glamping sites may have different facilities included so check what comes with yours.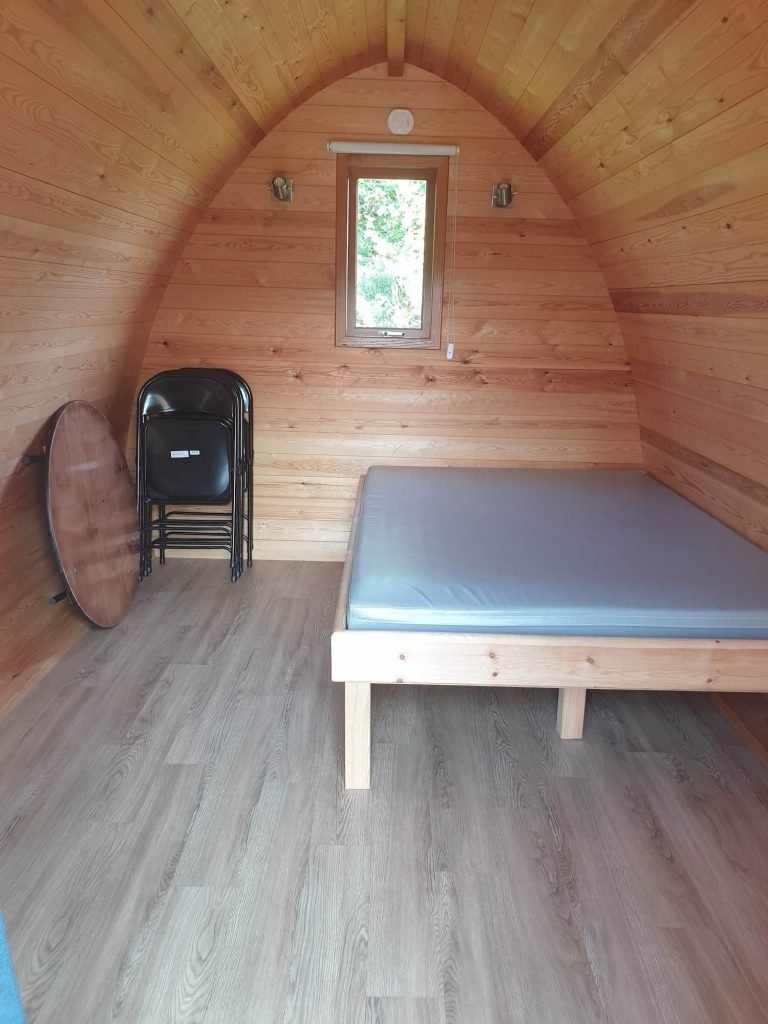 What to pack for glamping in a pod
Bedding – I always bring my bedding from home in vacuum bags. I'm a wuss and can't get on with sleeping bags, so I take two pillows and my quilt. I like my home comforts!
SIMs – as the mattress is firm to the point of being solid, I recommend an air bed or SIM to save your back! For our last trip I took our OEX Traverse Self Inflating Mats and used these for us on top of the bed base. Mr R had his usual camp bed and Hols and I shared the double bed base with bedding from home. Even though the SIMs are thin I slept really well.
Extra bed – as the pod sleeps 4 but only comes with a double bed, you'll need some airbeds or camp beds for the other people to sleep on (unless they're sleeping in the car!).
Cooking and eating equipment – We take a single camping stove powered by Camping Gaz and kettle for our morning coffees, and have a picnic hamper filled with camping cups, bowls, plates, knives and forks, chopping board, anti bac and kitchen roll etc. This camp kitchen has been all over with us! We also take a George Foreman grill to cook on as it's much easier than faffing around with a BBQ.
Washing up bowl and washing up liquid.
Electrical extension cable – this will mean you can plug more things in at once, such as your George Foreman and the cool box.
Refillable water bottle – you'll need this for your coffee in the morning.
Cool box – Most pods have an electricity supply so you can plug in a cool box and keep food cool. You can also use cooking equipment such as a George Foreman grill or hot plate if you don't want to have a BBQ every night.
Camping table – this is always a bone of contention between Mr R and me. I like to take a small table to set up a kitchen area inside the pod as 99% of the time it's raining outside. We do holiday in the UK, after all! I can organise a kitchen space so everything is off the floor and tidy. He thinks we don't need to bring a table and it's just taking up space in the car! He is, of course, wrong. If we go again in a pod I'm going to take our camping cupboard unit to store food and drink and use as a work surface, like we do when camping in a tent.
Suitcase or clothes storage – there is space under the bed usually, big enough for storing your clothes. There's no space for a wardrobe though, so we tend to just live out of the suitcase.
Clothes – be sure to bring enough clothes! You'll need things for a night time, slippers or thick socks in case it comes cold on an evening (although the pods are quite warm and have a heater and, if you have enough wine, you won't need them). If you are heading out hiking make sure you bring your kit.
Top tip! Hotel shower caps make great receptacles for muddy boots and keep them neat and tidy.
Food and drink – don't forget the tea and coffee (and wine)!
Length of washing line and pegs – You'll need somewhere to dry your towels and wet things when it rains, so we sometimes rig up a washing line across the pod from the hooks on the wall to the window handle. It helps keep things dry.
Phone chargers and power banks.
Torches – as the pods don't have any facilities, a torch is advisable for those late night loo trips.
Kids games and activities – we get Hols to pack a bag with her favourite things which usually includes a notebook, Uno and some books which she inevitably never looks at.
Here's a printable Camping pod packing list so you can print it out and tick things off as you go!
I hope this list of what to take in a camping pod is helpful, and if I've missed anything off please let me know below!
You might also like 6 Top Tips for Camping without Electricity and Glamping in Northumberland at Dark Sky Glamping