Eco Camping in North Wales – Wild Cherry Camping
A few weeks ago I had a spare weekend and, rather than fester around at home, I decided to book for us to go away. I found Wild Cherry Camping online and thought it seemed the perfect spot for a camping trip. It was our first time eco camping in North Wales – here's how it went!
Wild Cherry Camping is based in Chirk, near Wrexham, which means it's about 2 hours drive from us. Nearly everywhere we go tends to be this far away! The site is set on a smallholding in beautiful countryside. It's a secluded, peaceful site with only 5 pitches, but these pitches are really spread out so you almost feel like you have the place to yourself. We stayed in the Sparrow pitch which is in the Hayfield, adjacent to the Squirrel one. These two pitches can be booked together (which we may look to do in the future with friends!). This is an off grid campsite, so no EHU, and it's tents only – no campervans or caravans. There is a caravan site at the nearby Halton Farm however.
We drove through a neighbouring field to unload the car and made a new friend in the form of Philip the Pheasant! I think Philip has some kind of death wish. He took a bit of a shine to our car and liked to run alongside us as we drove, but then every so often he would randomly dive towards the front tyres, forcing us to stop before we ran him over! I'm pleased to say that Philip was still alive when we left and did not end up as roadkill under our wheels!
Each pitch comes with it's own shelter area (which I didn't realise when booking, so I made Mr R pack the car with unnecessary camping tables and chairs. He totally didn't mind and didn't remind me of it every five minutes. Honest). The shelter had a picnic bench and little fairy lights that came on as the sun set. There is also a fire pit, meaning you can have a real fire! We hired the camp site cooking set as well for £15 for the duration of our stay, and this came with a tripod, a grill pan and a kettle. I managed to make pizzas on the grill pan on our last night, which was very appreciated by Hols.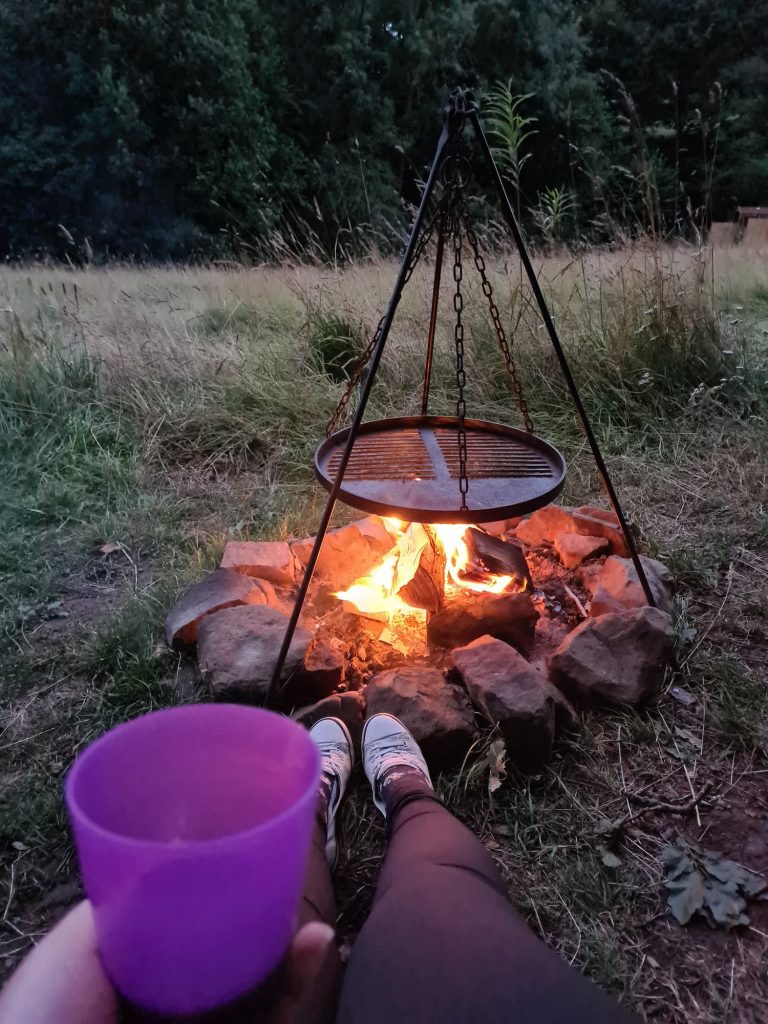 Our pitch was lovely and big (even for our Vango Vista 800 beast of a tent), and at the top of the hill so we had a lovely view onto the woodland. Every pitch has a private composting toilet and there is a communal shower block for each field. The showers were a bit hit and miss, but that's a small price to pay for being able to camp in such a beautiful spot, and I always struggle to work showers while we're away so it might have been me rather than them!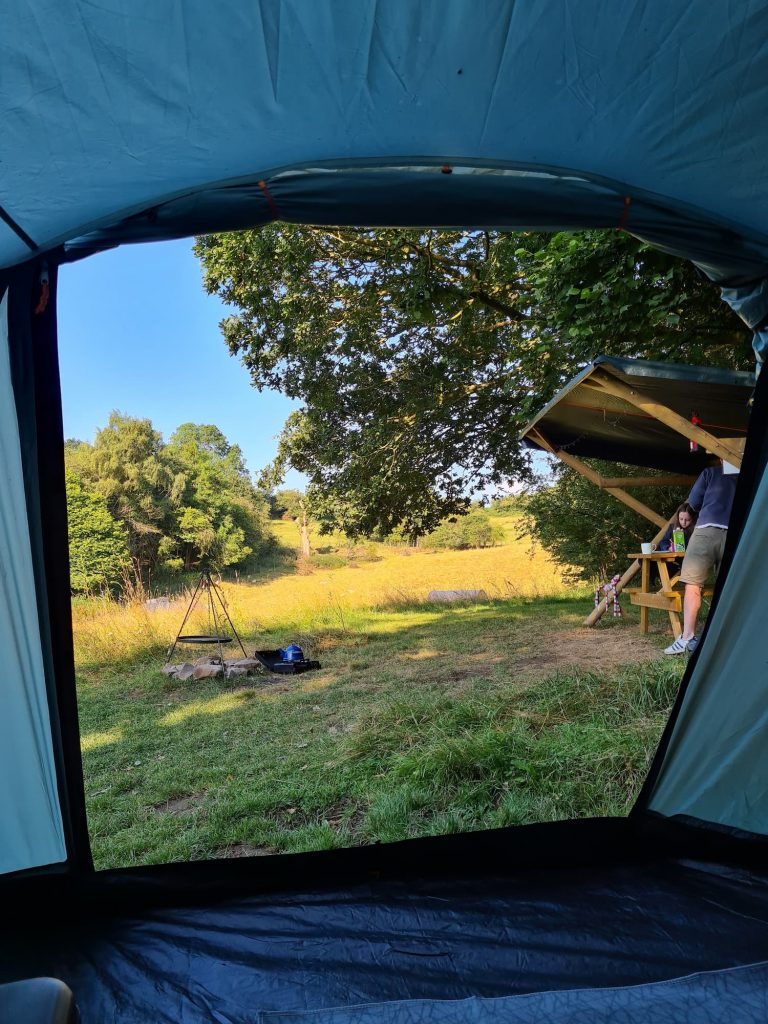 The campsite has a small honesty shop which sells firewood, local produce, milk and eggs. It doesn't sell wine though, as we found to our cost! The nearest shops are in Chirk, approximately 3 miles from the campsite. There is also a McDonalds quite nearby in case you get really stuck.
Things to Do Near Wild Cherry Camping
There is plenty of beautiful countryside around the campsite to explore. In the nearby area you can visit:
Chirk Castle – a National Trust property
Chirk Acqueduct
Ty Mawr Country Park
Whittington Castle
Park Hall The Countryside Experience
We, however, did none of the above! We took a trip to Conwy for some lunch and headed to Conwy Morfa beach to try and avoid the crowds. This was a right waste of time though as it rained and there were loads of jellyfish washed up on the beach which freaked Hols out and she wouldn't go any further. We headed back to the campsite though and spent some time exploring around the smallholding. The woodland is a perfect place to let the kids be a bit feral but this is unsupervised and unmanaged. The hayfield has plenty of space for fun and games too.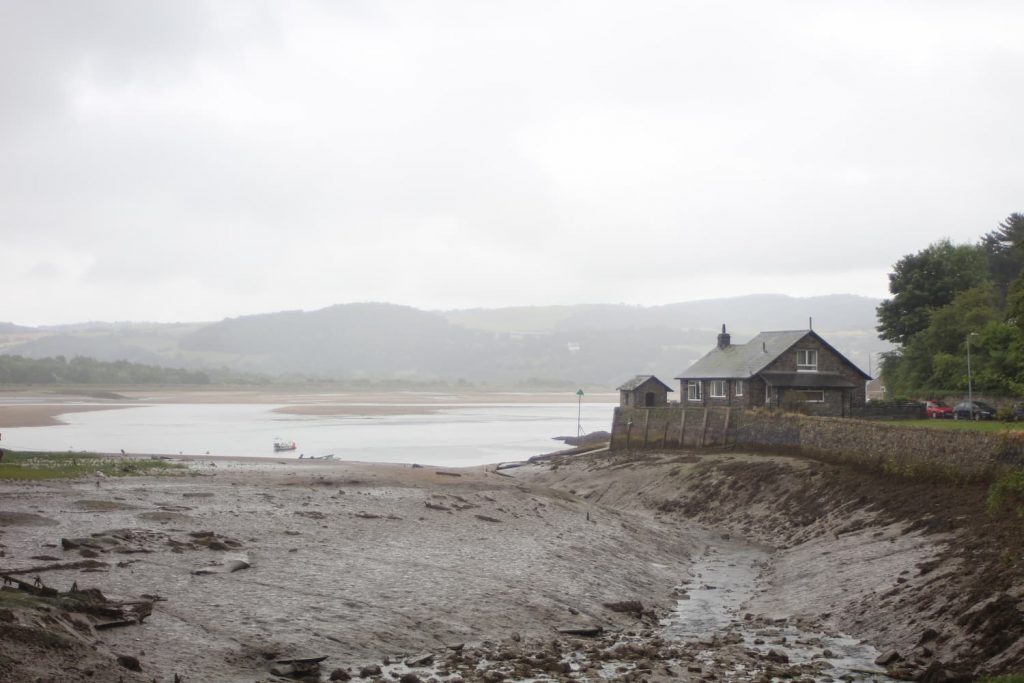 There are a few geocaches nearby too, if you're a fan of geocaching like me.
If you are looking for an eco friendly campsite in Wales, Wild Cherry Camping definitely fits the bill and I can't wait to book for us to go again. I was wary of eco camping in North Wales, but I needn't have been – it's great!