6 Top Tips for Camping without Electricity
Is the thought of camping without electricity giving you the fear? Don't worry! Here are my 6 top tips for camping without electric hook up.
Read on for some camping without electricity hacks!
Camping without electricity can be a challenge but it's easier than you think. With a bit of planning and forethought, you'll be fine. Here are some tips for camping without an electric hook up.
Get a head torch and battery powered or solar powered lights for inside the tent. We also use them outside the tent so we can see where the guy ropes are in the night – no one wants to trip over guy ropes on their way to the loo!
Take a gas stove for cooking and boiling the kettle, and if the campsite allows fires take food you can cook on the campfire. Things like chilli and jacket potatoes cooked in the fire are always good, but there are so many things you can cook on a camp fire. I wrapped pizza in foil and cooked that in the fire last time, as well as warming up pre-cooked chips! If you plan your meals before you go you'll have an idea of what you'll be able to cook and what you can prepare in advance. I have a Pinterest board full of camping recipes which should inspire you.
A cool box can keep food fresh for a good couple of days if used properly. You can freeze meals beforehand and as they cool down, they keep the box cold. Using ice packs can keep things cool as well. Some campsites also have communal fridges and freezers you can use to store your food in or refreeze your ice packs so check beforehand. Alternatively, UHT milk doesn't need to be kept in a fridge and you can eat meals that don't need to be stored in a fridge or freezer. We ate croissants for breakfast and had lunch while out and about. If your campsite has local takeaways that deliver you don't even need to cook!
If you can't be without your phones and iPads a power bank is a great way to be able to charge them up. We have this solar powered Kilponen power bank which is great for charging our devices. The only downside is it takes a while to charge up, so we charge it up before we go. We also have in car chargers for phones so we can charge them while out and about.
To stay warm and cosy, take lots of layers. Use hot water bottles in your sleeping bags or quilts (if you're like me and don't get on with sleeping bags!). Using foil insulation roll under your sleeping area can help to keep you warm, as can being raised off the ground on a camp bed. We have carpets inside the tent to keep extra heat in as well.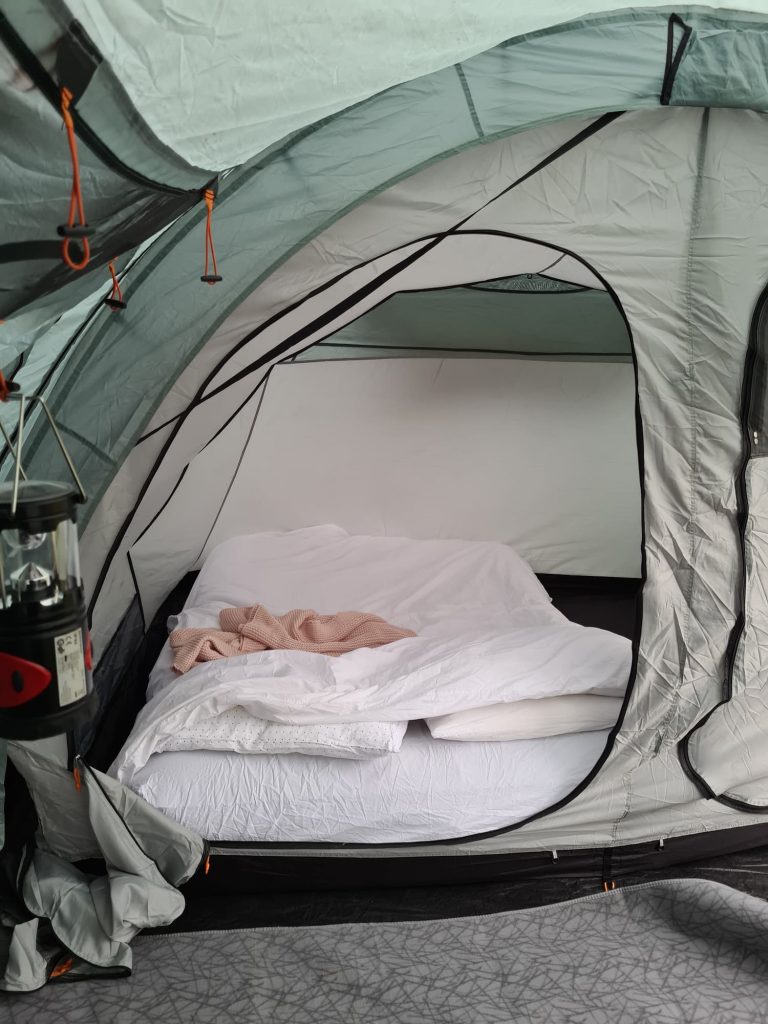 We use vacuum bags when camping as I'm a big softie and like my home comforts. I have two pillows and a king-size quilt! If you use vacuum bags while camping (and if you don't, you should!) you can still use them without an electric pump. Either just squeeze all the air out of them by sitting on them, rolling them up and squeezing them or use your manual pump on deflate to suck the air out. You can even get vacuum bag kits that come with a pump.
If you use air beds, even ones with built in pumps can usually be inflated with a manual pump. Alternatively, consider taking a self inflating mattress to sleep on instead. It inflates itself, as the name suggests, and they're much comfier than air beds in my opinion.
Camping without electricity often means the campsites are smaller and quieter, which is a bonus for me as I prefer a peaceful site. One of my favourites is in Wales you can read about our stay at Wild Cherry Camping here.
Camping without an electric hook up isn't as easy but is still fun! Do you have any other tips?
For more camping tips, check out What to Take in a Camping Pod plus Free Camping Checklist!