Wild Swimming in the Peak District
The Peak District is full of amazing countryside, walks and waterfalls, but is also becoming more and more popular with wild swimmers. I'm a recent convert to wild swimming – very recent (as in this summer!) – but there is nothing nicer than having a dip on a hot day.
Here are 8 of the best wild swimming spots in the Peak District.
As always, you swim totally at your own risk. 
Three Shires Head, River Dane
This is a really popular place for wild swimming, like REALLY popular. On a hot summers day there can be hoardes of people here! We visited on a bleak, misty day in Autumn and there were still 5 or 6 groups of people there, but no-one swimming that day.
Three Shires Head is where the counties of Derbyshire, Staffordshire and Cheshire meet and is home to two quaint old packhorse bridges and numerous pools and waterfalls.
For a longer walk including a visit to Three Shires Head, check out Axe Edge Trig Point and Three Shires Head Walk.
Slippery Stones, Derwent Valley
This again is a very popular place to wild swim in the Peak District. We visited on a sunny Sunday in the school holidays however and had the place almost to ourselves! Most of the other people were having a picnic or stop off by the packhorse bridge but a little wander further upstream reveals a lovely pool deep enough to swim in.
You might like this Derwent Reservoir and Slippery Stones Walk
Blake Mere, near Leek
Apparently there's a mermaid living in this small pool – I don't know if the rumours are true though as there seems to be a mythical something living in all of these kind of pools! This pool is quite near Ramshaw Rocks and the Blake Mere trig point is on the other side of the road.
River Bradford, Youlgreave
We've not ventured here yet but this is apparently a great place for an outdoor swim. She Gets Around has written a lovely blog post about wild swimming in Youlgreave which you can check out.
Mermaid's Pool, Kinder Scout
This pool is said to be home to a mermaid and is a popular place for people to swim when climbing Kinder Scout. You can just see the Mermaid's Pool to the right of this image. We visited the Mermaid's Pool in summer and because it's a stagnant pool it was a bit stinky and muddy round the edges. There are probably better places to swim! We visited on this longer Red Brook Scramble to Kinder Scout walk.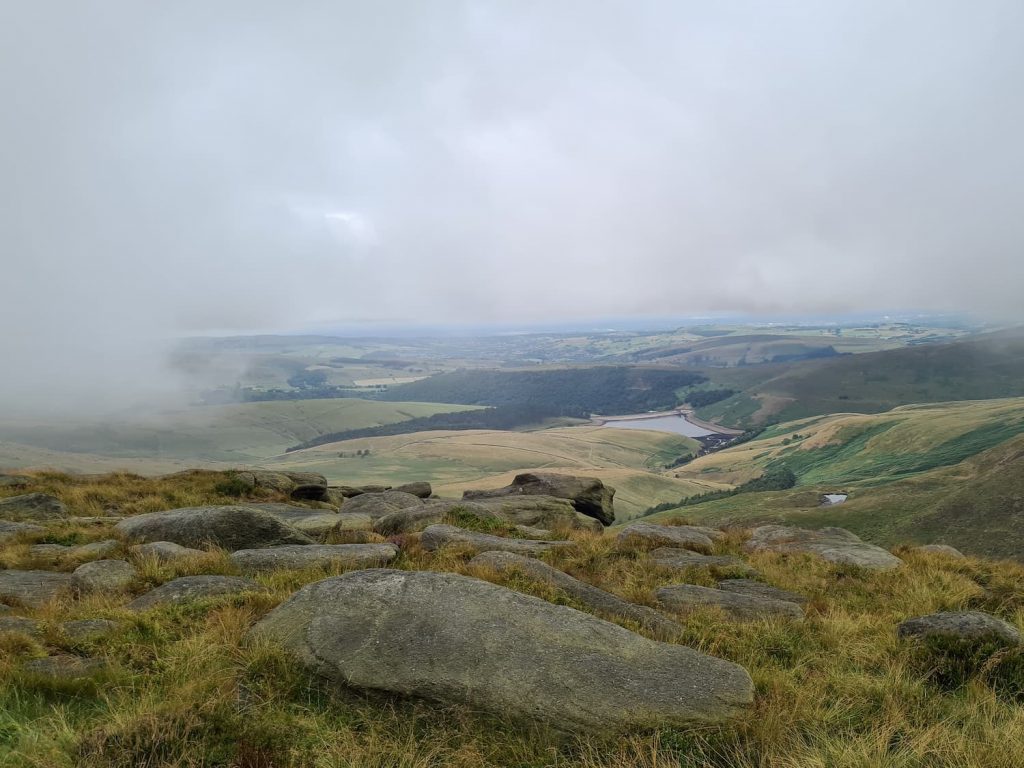 Fair Brook, Kinder Scout
Fair Brook is home to a series of waterfalls and small pools. They have different depths and sizes, and I don't think any are Olympic sized but it's a lovely place for a cool down after a tough walk on Kinder Scout. We came down Fair Brook after scrambling up Nether Red Brook  but it's a great scramble up Fair Brook.
Crowden Clough
This is more a dip than a full on swim! There is a lovely waterfall with a small plunge pool just off the path between Barber Booth and the start of the climb up Crowden Clough.
River Etherow, Glossop
On the way to Middle Black Clough waterfall you will pass this river. There are some pools deep enough for a dip before you reach the point where the ford crosses the river. Middle Black Clough itself doesn't have a deep enough pool for a swim.
Here's a map with the locations of these wild swimming spots on.
Please remember to take all your rubbish home with you – we've walked to Middle Black Clough before and found all kinds of rubbish including fireworks, clothes and a swimmers towel. #leavenotrace. The more popular a place gets, the more it gets ruined by litter.
There are many other secret spots for a swim in the Peak District. Some of these are lovely and quiet and I'd like them to stay like that so haven't included them on here, sorry! Sometimes exploring off the beaten trail has its rewards.
You might also like to check out this blog post about amazing Peak District Waterfalls as there are some with pools you can dip in too.