Edale to Ringing Roger Scramble
This walk from Edale takes in the scramble up Ringing Roger on Kinder Scout before heading along the ridge of Upper Tor and Nether Tor, before scrambling back down Grindsbrook Clough. At 4.7 miles this walk is great for adventurous kids who like to scramble.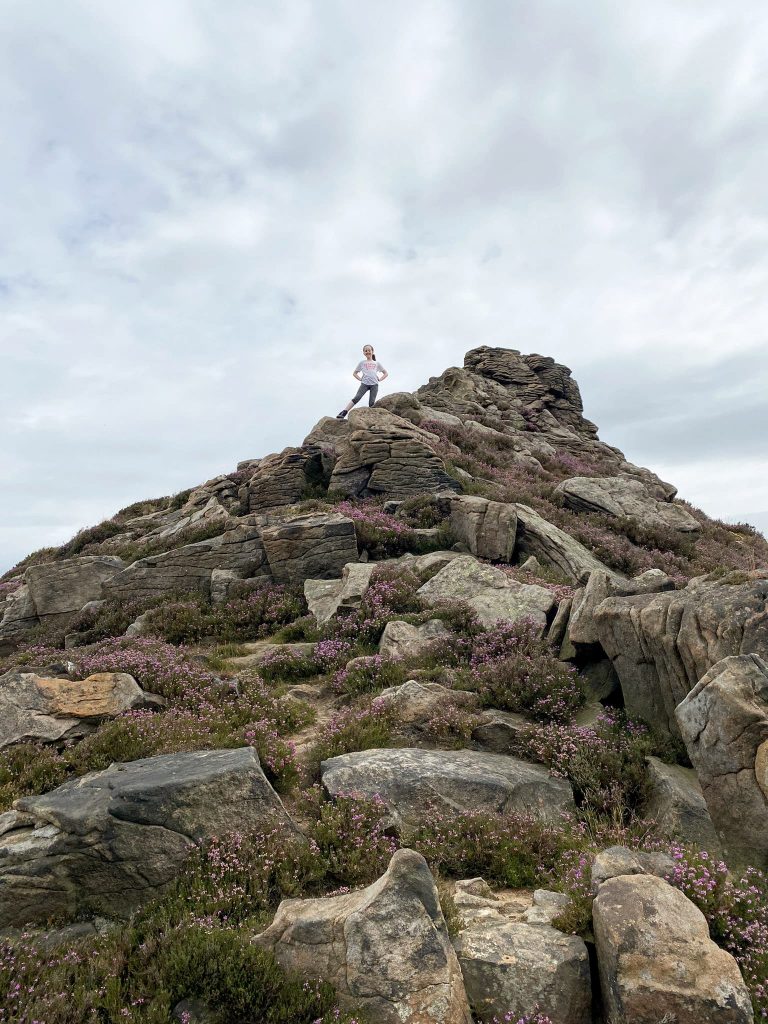 Parts of this Edale to Ringing Roger walk are more challenging, as it involves some scramble sections which can be slippery in wet weather, and the descent down Grindsbrook Clough is quite tough on the knees (if you're old like me).
We camped at Newfold Valley campsite in Edale to test out our new tent, the Vango Spectre 600. It's a great tent but I won't be going back to the campsite – it claims to be a quiet site with a zero tolerance policy on noise, but with nobody policing this it's anything but quiet! Kids running about and screaming at 11pm, our neighbours coming back from the pub, blowing up airbeds and sitting about round the campfire shouting to each other at 12.30am – I don't think I've had such a bad night's sleep camping for ages. It's a shame because the site itself is great – the staff are helpful, the facilities are OK – it's just the other campers! Anyways.
We started our walk from outside the Old Nags Head pub, which is also the start of the Pennine Way. We headed along Mary's Lane and then down into the woods, over the bridge and into the fields beyond. There are great views of The Nab from here.
The path forks near a little barn building, and we headed right up the hillside up Ringing Roger. If you don't fancy this Grade I scramble, you can follow the paths around the rock formations which will take you up to the top.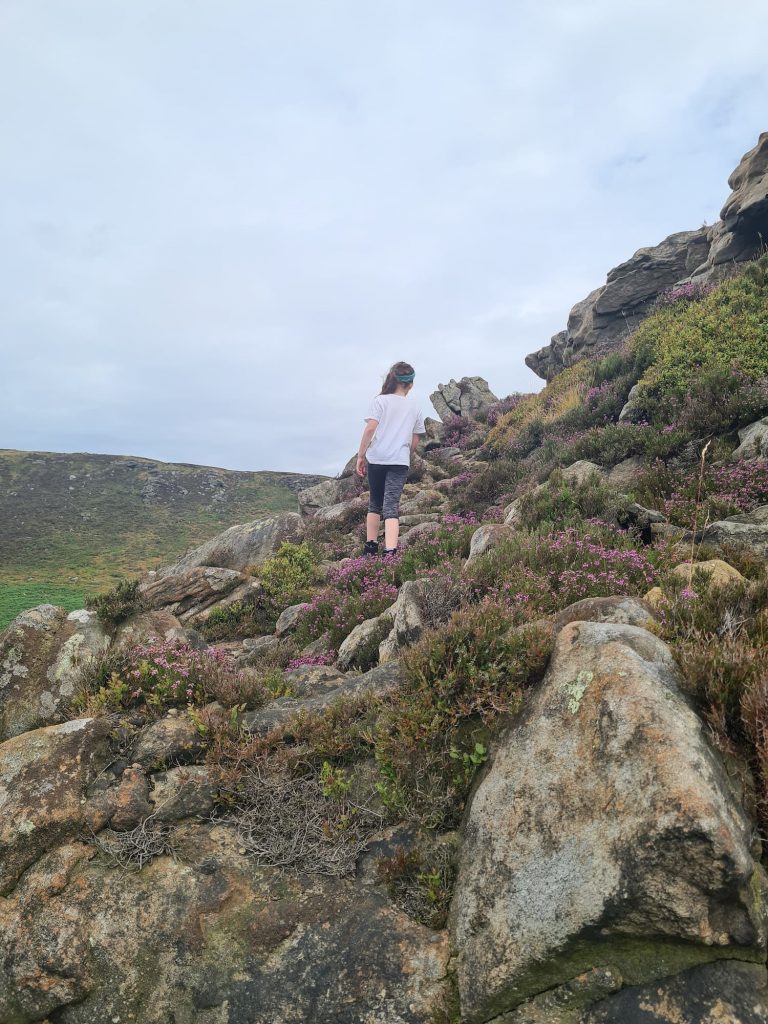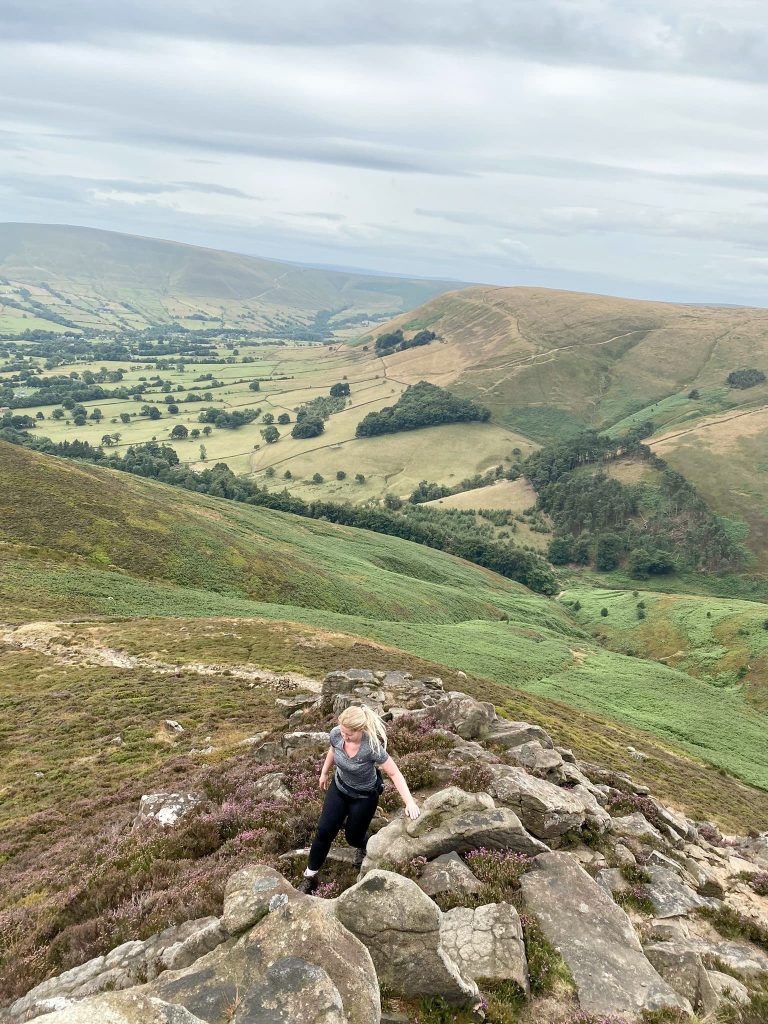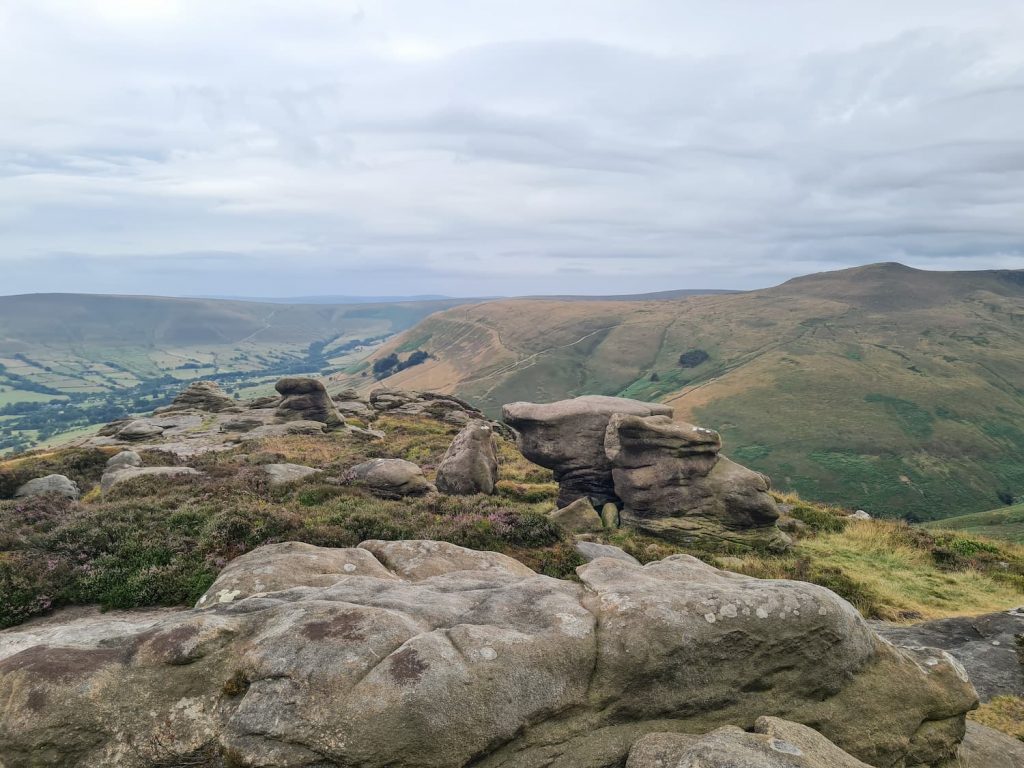 We scrambled up onto the plateau and had an explore on the rocks there, and then headed off north-west towards Nether Tor. The path runs along the edge of the ridge and there are amazing views back down over Edale from here, and over to Mam Tor, Lose Hill and The Great Ridge.
We followed the path round to Upper Tor, barely seeing anyone as we walked until we got to the top of Grindsbrook Clough. There is a stream bed to cross which in autumn or winter is a lovely waterfall, but in July it was dry. We dropped down into it and scrambled up the waterfall for an extra bonus scramble. You can just follow the path round though.
Here it was really busy with people scrambling up Grindsbrook Clough onto Grindslow Knoll. We had planned to take a detour to the summit of Grindslow Knoll to see the amazing views over Kinder Scout, but the weather had changed for the worse and we were all knackered from rubbish sleep so we headed off back down Grindsbrook Clough, picking our way carefully over the boulders and waterfalls. They are slippery in places.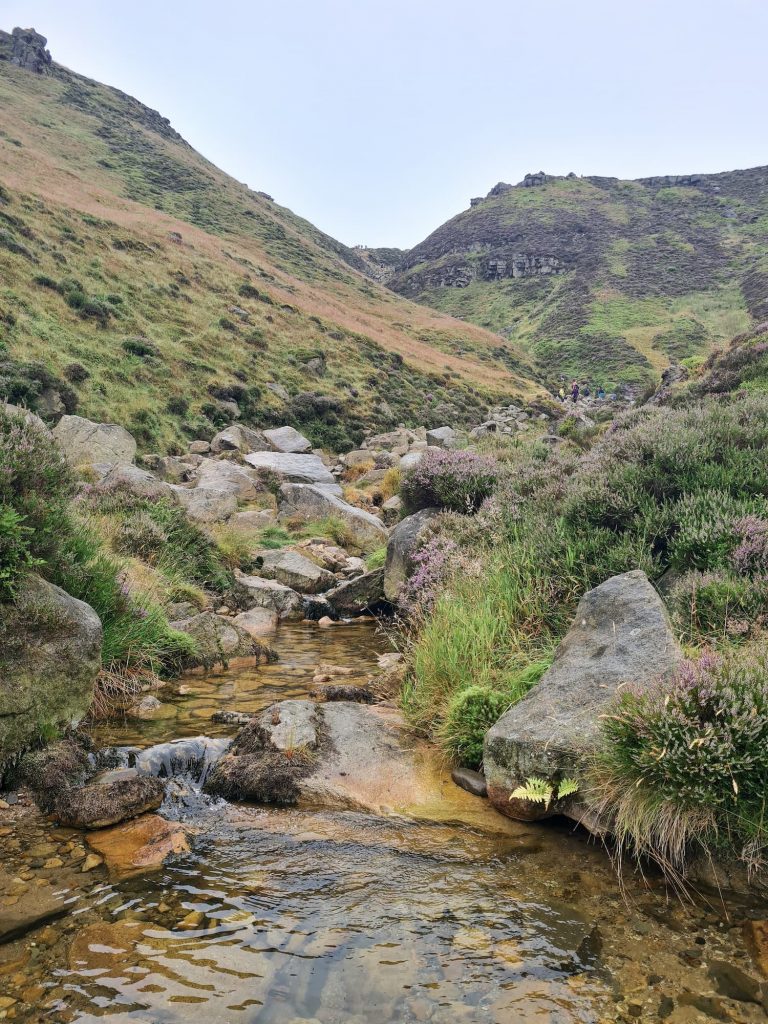 The path levels out as you get nearer to Edale, and we were soon back at The Old Nags Head, having a pint and some lunch.
For more Peak District scrambles, you might like:
Kinder Downfall Walk via Nether Red Brook Scramble
Higher Shelf Stones via Ashton Clough Scramble
How to Find The Trinnacle at Dove Stones
For more walks near Edale, you could try:
Mam Tor and Rushup Edge Circular Walk
Castleton, Mam Tor and The Great Ridge Walk
Mini Edale Skyline Circular Walk.
Here's the route map for this Edale walk and Ringing Roger scramble.
Parking: Edale Car and Coach Park S33 7ZQ
Facilities: There is a cafe and toilets in the car park, and pubs and a village store in the village of Edale.
Walk Time: 1-2 hours depending on speed and fitness
Difficulty: ▲▲▲
Distance: 5.5 miles (8.85 km)
Trig Points Bagged: None
Peak District Peaks Bagged: None (you could extend the walk and head to Grindslow Knoll)
Peak District Ethels Bagged: None (you could extend it and head to Grindslow Knoll)
Ringing Roger Walk Map:
Click on the map to access Komoot and download the GPX