10 Hiking Essentials
Wondering what kit you need for a day hike? Check out this list of 10 hiking essentials and be prepared for your next hike!
When it comes to hiking in places like the Peak District or Lake District it pays to be prepared. Up on the fells and mountains the weather can change suddenly and if you are unprepared it's all too easy to end up in a pickle. Making sure you have all the hiking essentials in place will mean you're ready to hit the hills! Check out this list of 10 hiking essentials now.
This blog may contain affiliate links through which, at no additional cost to you, I may earn a small commission. I only recommend products I would use myself and all opinions expressed here are my own. Read full privacy policy here.
Hiking Boots
It's important to have the correct footwear when it comes to hiking on the hills, and flip flops just aren't it! By wearing proper walking boots you'll ensure your feet stay warm, dry and supported as you tackle rough terrain. Walking boots are waterproof so you can take on mud and streams, but also provide support for your foot and ankle as you walk. I love my Scarpa Terra GTX walking boots, which are really comfortable for long hikes, waterproof and give me lots of support and grip when walking on rough ground.
For kids I'd recommend The North Face Chilkat Lace II hiking boots. Hols has these and loves them! She has the ones apparently designed for boys, but they're black and they're walking boots so they don't need to be gender specific, right? They're really robust, waterproof and have Heatseeker technology meaning they will keep her little feet warm up to -25º although we have no plans to test that particular claim out!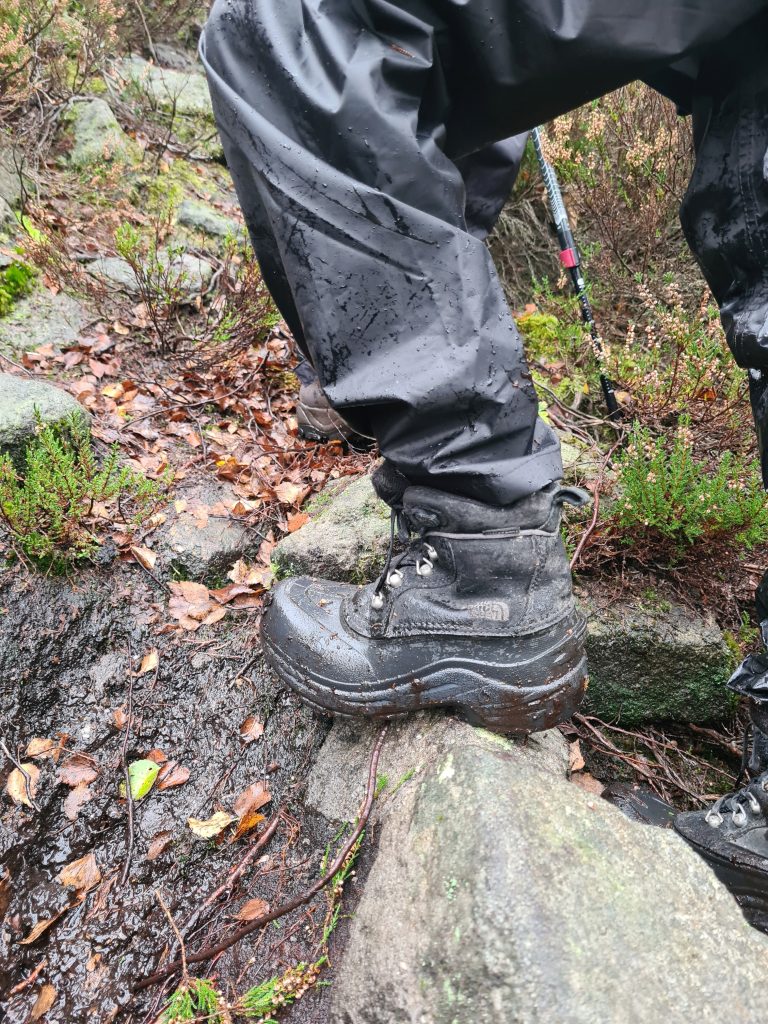 It's important to look after your hiking boots. By drying them, cleaning off any debris and re-sealing them every so often with something like Nikwax you'll prolong the life of your boots and look after your investment (because they're not cheap, are they?!).
Waterproofs
This goes without saying, surely, but if you are planning a hike anywhere in the UK you'll probably need to take waterproofs. It gets WET here! Up on the fells and mountains the weather can be very different from ground level, and can change very quickly. Having waterproofs (and wearing them!) will keep you protected from the elements and stop you getting p*ss wet through. I have a Rab Downpour Eco Waterproof Jacket which I love, as it folds up pretty small, is lightweight and has kept me dry on the wettest hikes. Mr R has a Regatta Highton Stretch Waterproof Jacket which was a bit of an impulse buy on our Coniston Old Man hike but has performed really well in the wet. We tend to layer Hols up with a few warmer layers and a thin waterproof jacket over the top. She likes her Peter Storm packable waterproof jacket (and I do too because it folds up really small in the rucksack!).
We also have basic waterproof trousers to pull on in case the weather gets really bad, similar to these waterproof pants from Peter Storm.
I tend to walk in running or hiking leggings but I also have some Acai Outdoor trousers. These are showerproof, look like jeans, stretchy and so comfortable, even for someone who is a weird shape like me! The stretch is good but I found them to bobble. I also have some hiking leggings which are really great for scrambling as they allow for freedom of movement.
Extra Layers
You should always take extra layers with you on your hikes. Whilst you're hiking up the hills you'll get warm so can take a layer off. When you get to the top or stop to have a cuppa or lunch you'll get cold so it's good to have an extra layer to put on. Choose layers that are lightweight and not too bulky so they fit into your rucksack well. My Rab Cirrus Flex hoodie folds up really small into it's own pocket and has kept me warm on many a hike.
Extra Bonus Tip! Take a change of clothes and leave them in the car, along with a towel. You don't want to drive home for two hours in wet shorts (like poor Mr R had to after our Ingleton to Ingleborough hike).
Snacks
Depending on the length of hike you're planning (and whether you are taking kids with you or not, and need the extra motivation) you'll need to take some snacks and/or a lunch. I have a Pinterest board full of hiking snack ideas but some of our favourites are:
Granola bars
Homemade muesli bars
Fruit eg apples
Biscuits (usually home made, if I have time/can be bothered)
Haribo – I can't tell you how many bags of Haribo we have eaten on our walks!
Nuts/raisin mix
Hiking burns off more calories than you'd think and it's important to keep properly fuelled. Take more snacks than you think you'll need!
Water
You'll always need to take some water with you. Hiking is thirsty work! Water is heavy though so if you can get a water bottle with a filtration system you can fill up from a stream or river on your hike and save carrying the weight of the water. I use a Water-to-Go bottle which has a built in filtration system. It's great because no matter how much water we take, Hols drinks most of it so it's really handy to be able to fill up on the go and not worry about drinking dirty water. We also use a water bladder on longer hikes.
Rucksack
You'll need something to carry all this hiking equipment in, and a good rucksack is essential. I use an Osprey Tempest 20 rucksack for all our day hikes. It's great! It's got a lot of pockets – perfect for separating wet things from dry, or geocaching kit from hiking kit. It can hold a surprising amount of hiking gear too, which is great for when you're hiking with kids and need to carry all their "treasures" home. It's got a pocket for a water bladder too, making it easy to carry your water on a long hike. I use the Osprey Hydraulics 2.5 litre bladder and can't fault it.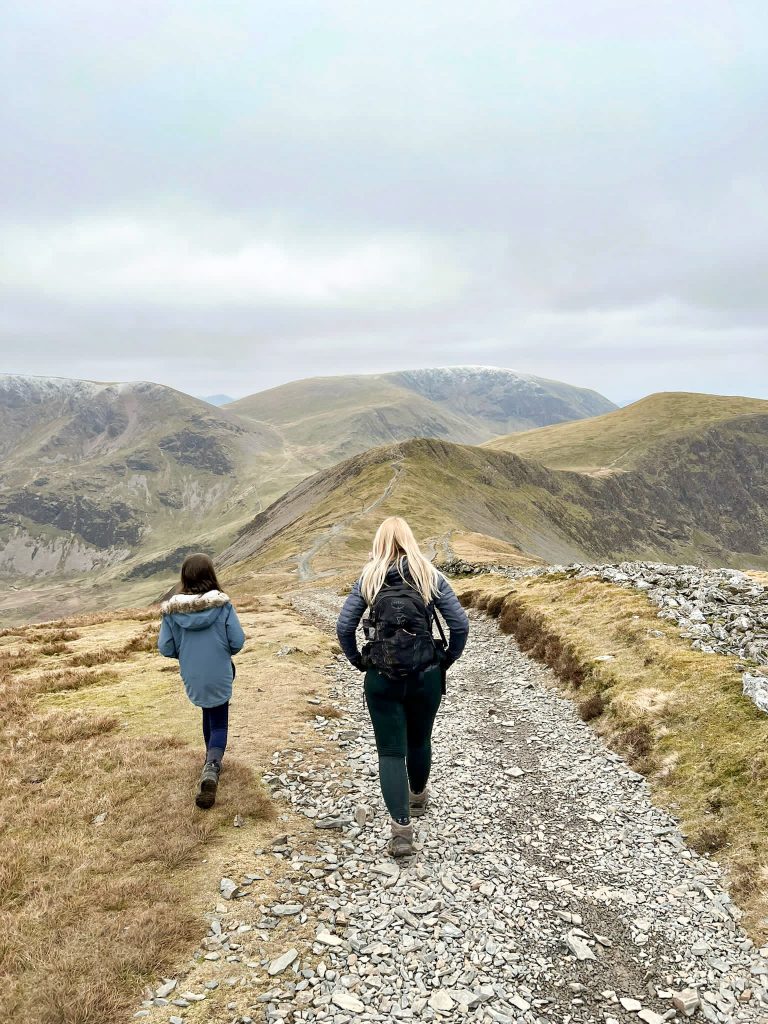 First Aid Kit
You should always pack a first aid kit when you go hiking. This is definitely one of the more important hiking essentials! Your first aid kit should include things like plasters, ibuprofen and bandages as well as a foil blanket to keep you warm.
Navigational Aids
Hiking on the moors can be exhilarating and the sense of peace, tranquillity and isolation is amazing. Moorland can be a pretty bleak, featureless place though, and in bad weather or poor visibility it can be hard to see where the paths are. Be sure to have some form of navigation aid, whether that's the OS Map app on your phone, a GPS device or good old fashioned map and compass. If you rely on your phone be sure you have the ability to access your maps offline as there isn't always a phone signal on the moors or on the mountains.
Power Bank and Cable
This is another essential to make sure you have enough battery life on your phone or GPS device. We use a Juice power bank and it charges my Samsung Galaxy S20 and Mr R's iPhone whatever really well.
Mobile Phone
I've added this as an essential because it is! Whether you have a basic model or all singing, all dancing mobile phone, if you need to contact anyone or the Mountain Rescue team in case of an accident it's essential you have at least one phone in your group. Also, I love to take photos and use my camera phone for taking all the photos on this blog. My DSLR camera got too wet when going up Coniston Old Man but my Samsung Galaxy S20 is really water resistant so can handle the weather!
I hope this list of 10 hiking essentials will leave you feeling prepared for your next hike!