Old Man of Coniston Hike via Low Water and Brim Fell
Last weekend I packed us all up for a trip to the Lake District with the goal of the Old Man of Coniston circular walk. This isn't pestering the elderly – the Old Man of Coniston is the 12th highest peak in England! If you want to climb Coniston Old Man, here are some tips for hiking with kids and our Old Man of Coniston walk route.
As the name suggests the Old Man is situated to the north-east of Coniston Water and is 803m above sea level. This was the highest peak we had climbed and a few days of research beforehand had prewarned us about the steep incline. Obviously we didn't tell Hols how steep it was – ignorance is bliss when you're 9 and it comes to climbing mountains!
We had an eventful start to the weekend. I had booked us into a hotel which I thought was 15 miles from the base of the Old Man. It was 15 miles away, but 15 miles from the peak of the mountain – the start point was actually an hour's drive away. It took us 3 and a half hours to reach this hotel from home (we set off after school on Friday and hit all the rush hour traffic). I was driving, which Mr R hates for some reason. I can't think why!
The Sat Nav took us on the Corney Fell Road, which is a stunning scenic roadway taking you up over the moors. When we first drove this single track road it was so foggy that visibility was less then 10m and the road was littered with sheep and cows! They show no fear of cars and I had to drive on the grass to get past a herd of cows who were blocking our way. That was quite an experience, and meant I left the driving to Mr R for the rest of the trip.
Whilst packing our gear on Saturday morning Mr R suddenly realised he hadn't packed his waterproof coat – quite an essential piece of kit for taking on a Lake District mountain! We had to stop off in Coniston so he could buy a replacement one, so I bought two hoodies and a hat for Hols whilst we were there.
We bought some sandwiches to enjoy at the top of the mountain from Herdwicks cafe in Coniston. Unfortunately these didn't survive the hike up the mountain and were a soggy hammy mess by the time we came to eat them!
We parked in the Coniston Old Man & Coppermines Car Park on Walna Scar Road. Only when we had parked up, paid and walked up the road did we realise there was a closer car park! This car park even had an ice cream van to get a coffee after the walk.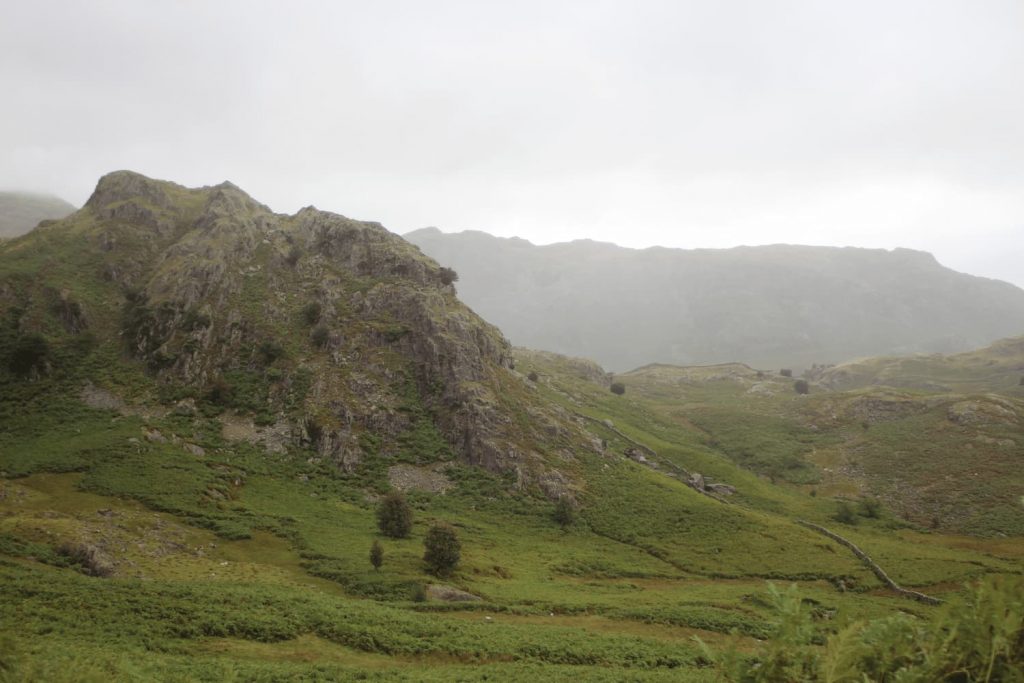 The weather was a bit drizzly and overcast but we had all our waterproof layers so I wasn't too bothered. I wrapped Hols up in a waterproof coat and waterproof trousers. Little did we know how wet we'd get! We took plenty of layers though so we could layer up or down as needed.
The route up to the summit was really busy with other walkers so the path was quite easy to follow. It starts out relatively gently and is a gravel surface but soon becomes rocky and slatey.
We had a detour around the top of a quarry which gave spectacular views over the valley and down to Coniston Water. There was a little waterfall too, which looked really lovely. Unfortunately my camera got water inside it and didn't cope too well with the wet conditions so some of the photos didn't come out.
About a third of the way up the climb there are the ruins of some old slate mines with mining equipment scattered all over the place. There are the remnants of buildings and machinery to have a look at and it's a good excuse for a breather on the climb up the Old Man. According to Coniston Slate these mines have been worked since the 13th Century!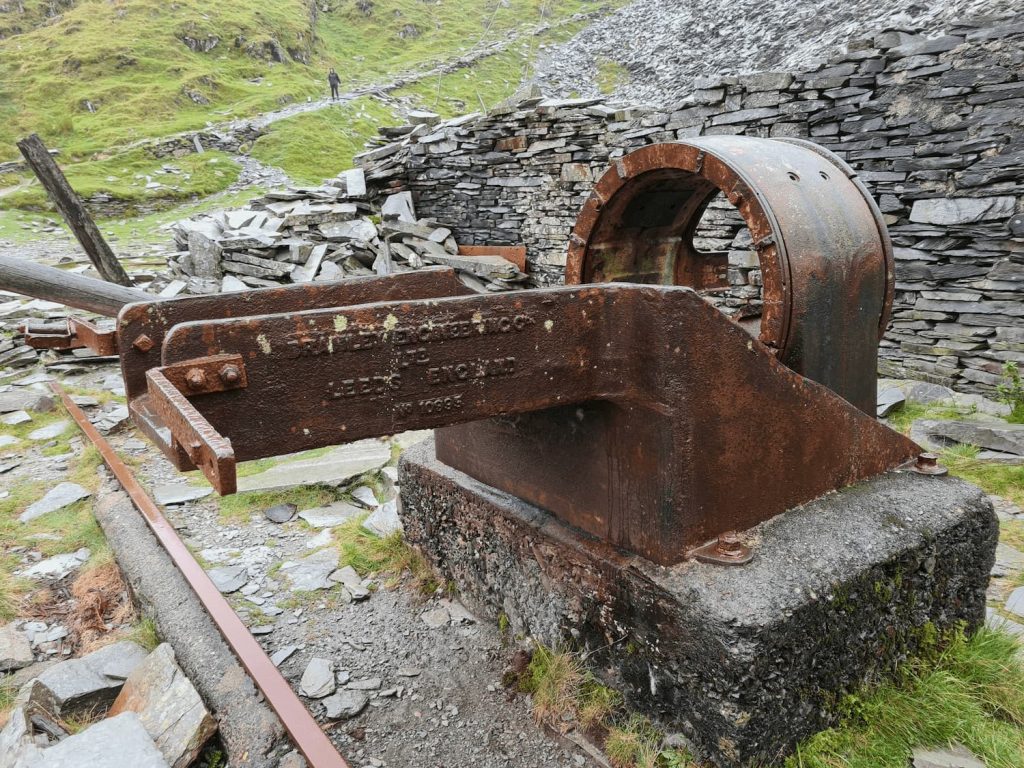 The climb continues up steep rocky tracks to Low Water, which is a beautiful mountain tarn set at the foot of Brim Fell and the Old Man. When we reached here the heavens opened and it rained so bad we might as well have been for a wild swim, like some of the other hikers were doing! I bet on a hot summers day this would be the perfect place to stop off and eat a picnic. Alas, it wasn't when we visited!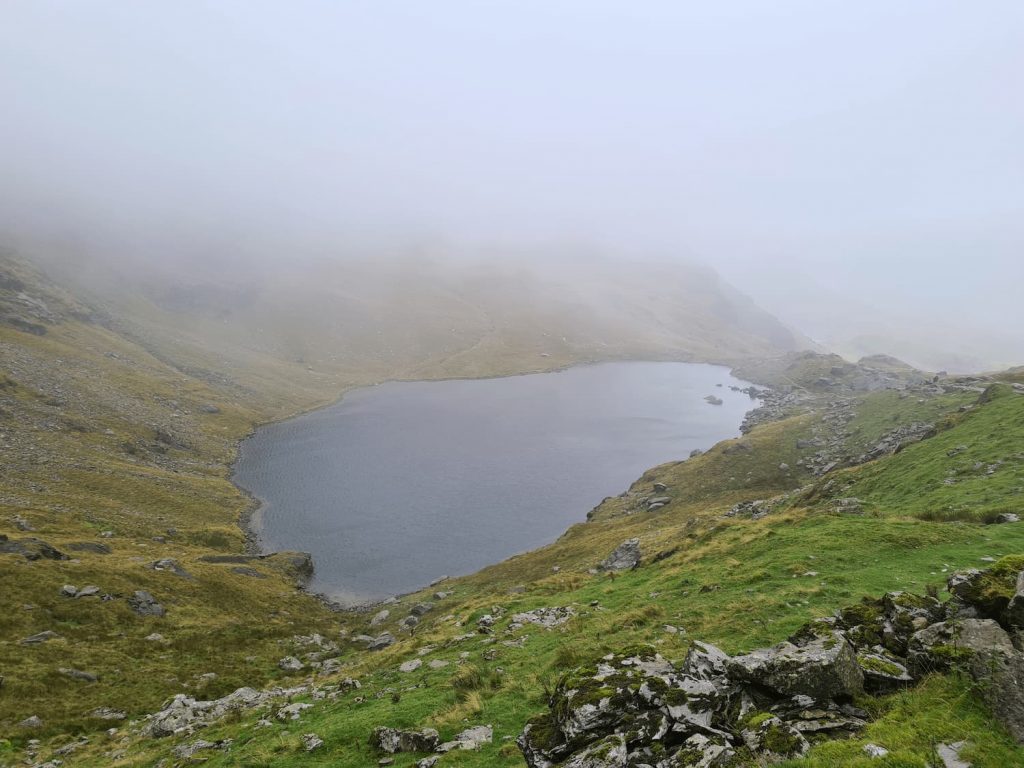 Now the climb really begins and it's a bit scrambly in places. It's hard going, made even harder by people coming down the same route. If you are tackling the Old Man of Coniston hike with kids you'll want lots of rest stops on the way up! We chose the steeper climb up in the hope of having an easier descent on the way down but it was still tough going for Hols.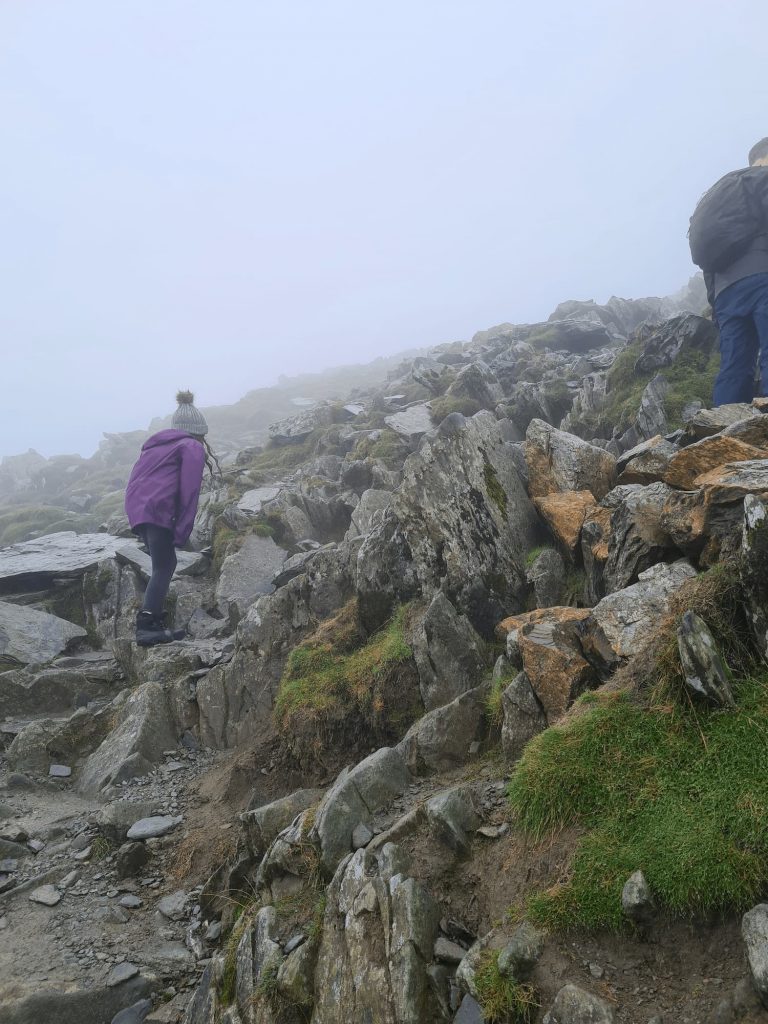 We reached the top, excited to see the amazing views of the surrounding area but all we ended up seeing was fog, mist and more mist! In hindsight I'm grateful for the fog as I hate heights but I wish I had seen the views.
After we had had the obligatory photos at the Old Man summit and trig point we headed about 600m north ish along Brim Fell Rake to the summit of Brim Fell (796m high). The summit is marked by a stone cairn although we could barely see it for the mist! The sheep residents of Brim Fell looked very amused to see us there in such weather.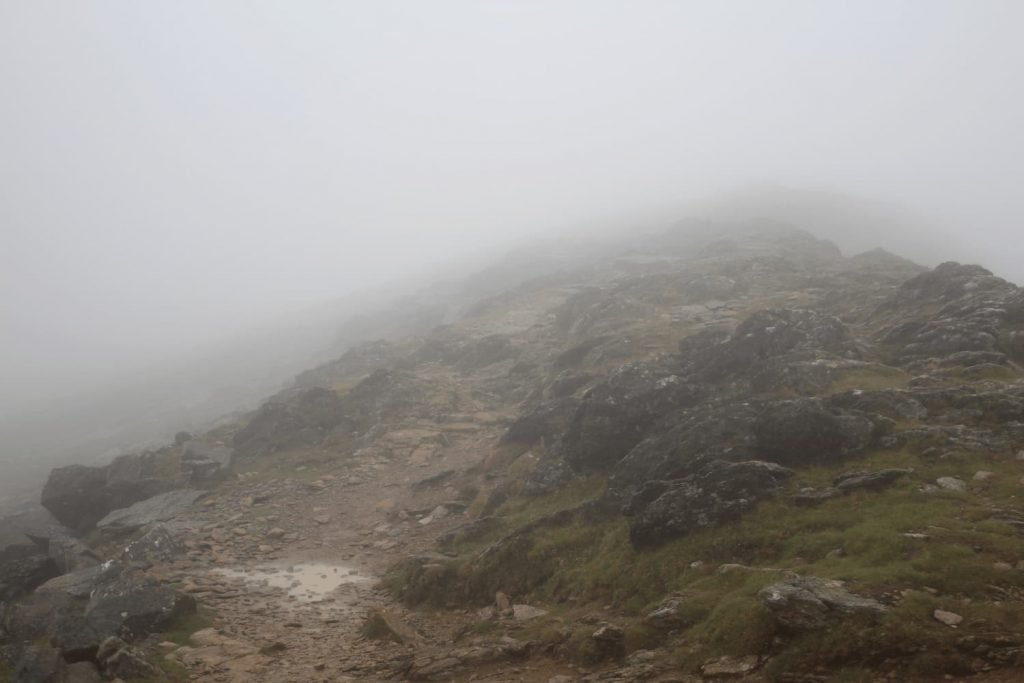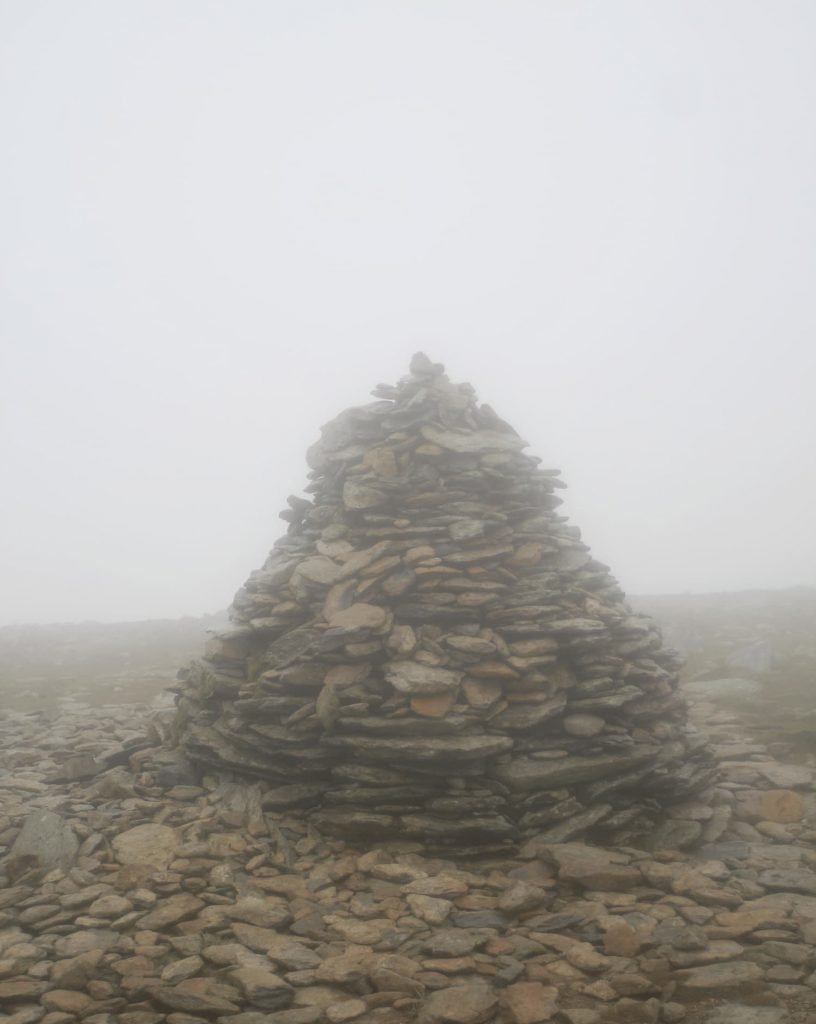 We headed back to the Old Man summit and down the Old Man Breast on the way back to the car, following paths that weren't really clear at all. We got down safely following our route map but the visibility was poor until we got about halfway down the mountain out of the cloud layer so it would be easy to get lost.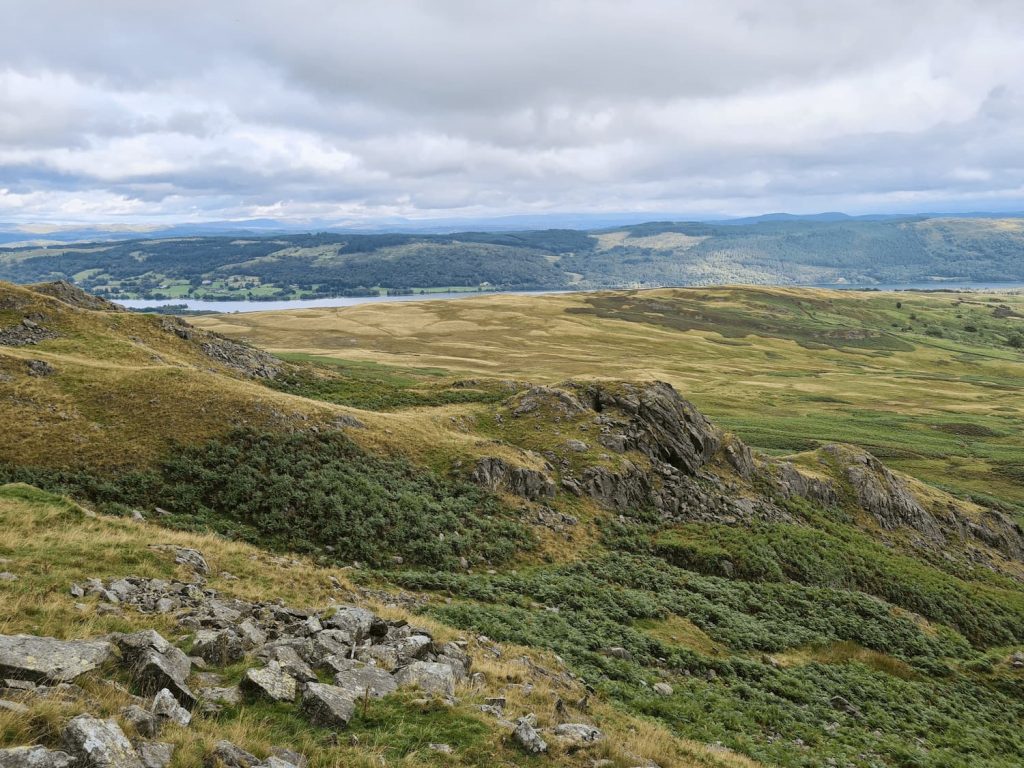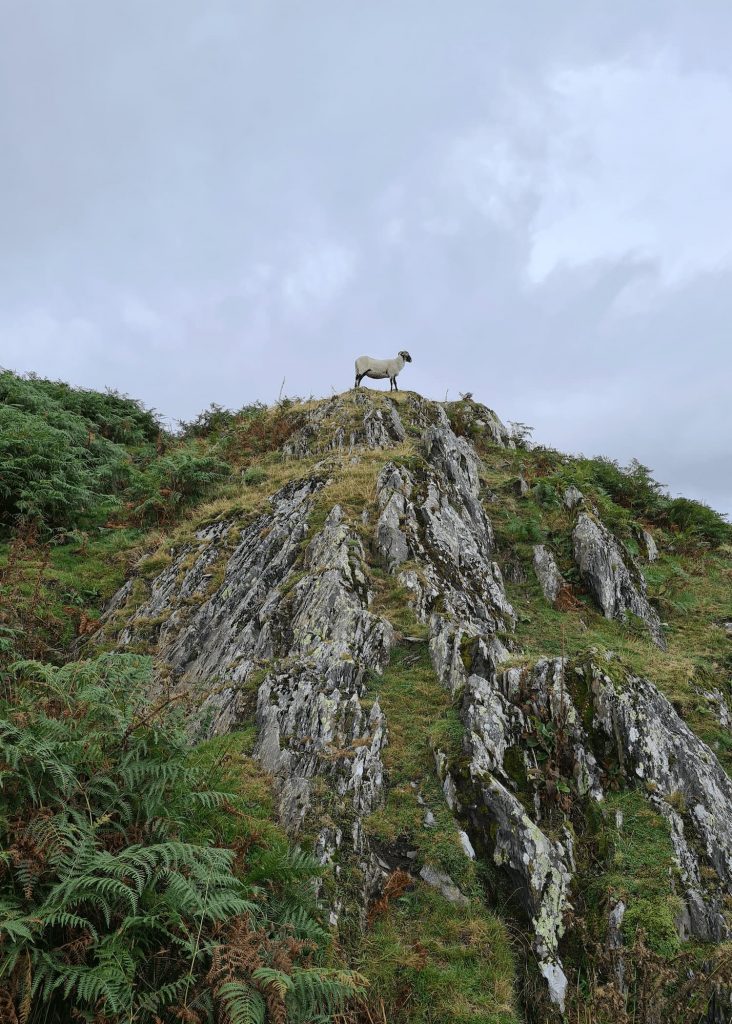 For more clearly defined paths you can either follow the route around to Goats Water and back to Walna Scar Road or take the path north from the Old Man summit and head across Brim Fell to Levers Hawse before descending to Levers Water. This is another mountain tarn, on the way to the Pudding Stone which is a magnet for climbers.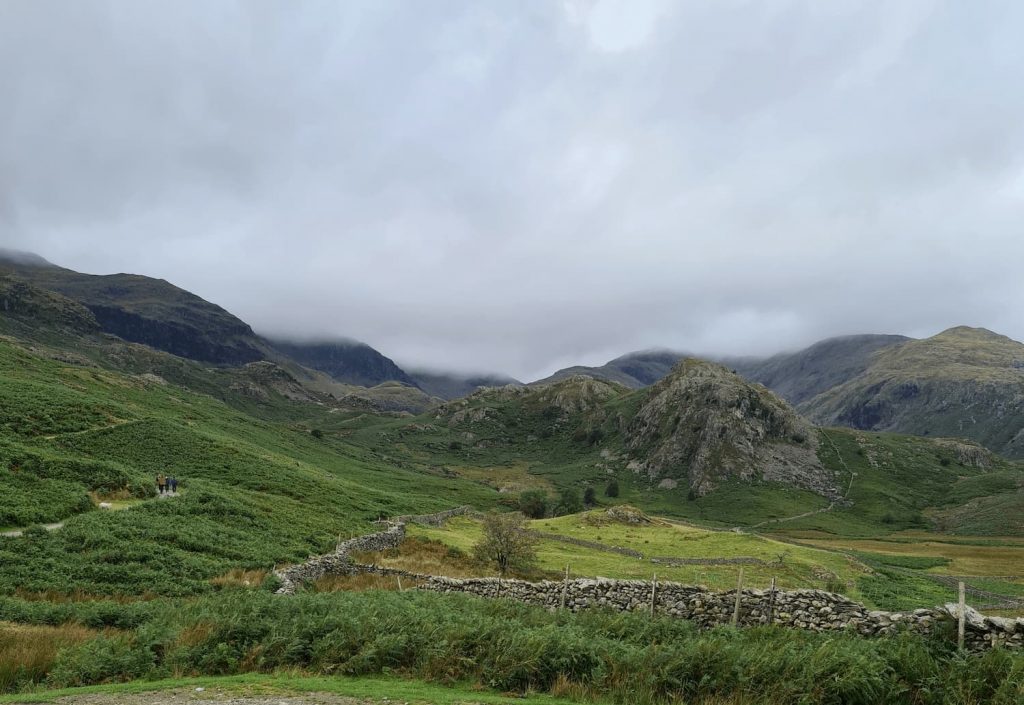 As I like all our walks to end in a pub, we drove to the nearby Sun Hotel to sit and have a well earned beer whilst drying off. This was the wettest hike we've done so far but I'm so proud of Hols for climbing the 12th highest mountain in England! She did brilliantly on this Old Man of Coniston circular hike and we're already planning the next one.
Parking: Coppermines Car Park on Walna Scar Road
Facilities: None
Walk Time: 5-6 hours
Difficulty: ▲▲▲
Distance: 6.6 miles (11km)
Wainwrights Bagged: Old Man of Coniston, Brim Fell
Old Man of Coniston Walk Map: 
You can click on the map to download the GPX file from Komoot
This blog may contain affiliate links through which, at no additional cost to you, I may earn a small commission. I only recommend products I would use myself and all opinions expressed here are my own. Read full privacy policy here.
Some frequently asked questions about the Old Man of Coniston walk:
Can I wear trainers to do this walk?
The terrain is very rocky and slippery so I would recommend proper walking boots. I love my Scarpa Terra GTX walking boots. As the weather can be unpredictable I would also recommend you take adequate layers and waterproofs. Be sure to take a map and compass – even though the route is well marked it is better to be safe than sorry.
Can kids climb The Old Man of Coniston?
There were lots of kids of a similar age to Hols (9) on the route. I didn't see any I would say were younger. It is a very challenging climb for kids, with lots of clambering and scrambling. If you do this hike with kids, make sure you are prepared, take lots of snacks and allow for plenty of rest stops along the way.
Coniston Old Man via Low Water hike
It is possible to swim in Low Water but you do so at your own risk. There are no facilities there whatsoever and the water will be VERY cold, even on a hot day. For some other Lake District tarns to swim in, you might like Scales Tarn.
How long does it take too walk up the Old Man of Coniston?
We took 5 hours to complete the hike, including a stop off for lunch at the summit and regular rest stops along the way. Someone who isn't completing this hike with kids might well be able to do it a lot quicker.
How hard is the Old Man of Coniston hike route?
The Old Man of Coniston route is pretty steep for most of the way, and other than the mine ruins and Low Water there isn't much of a break from the climbing. The paths are a mix of steps, rocky paths and gravel so it is quite a challenging walk. It is however one of the best walks in the Lake District so well worth checking out.
For more Lake District hikes, check out these Lake District Walks.