Climbing Pen-y-ghent with Kids
Wondering whether you can climb Pen-y-ghent with kids? Hopefully this blog post will help you decide! This was the first of the Yorkshire 3 Peaks with kids for us.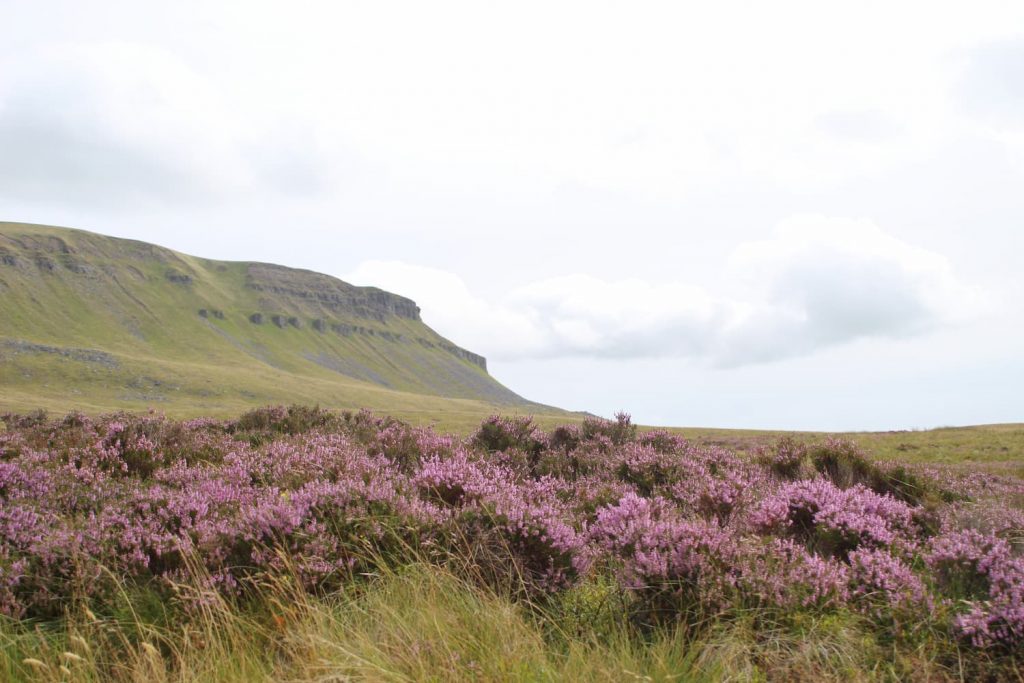 Pen-y-ghent is one of the mountains in the Yorkshire Three Peaks and at 694m above sea level it's pretty high! We chose this one as its the smallest of the three so we thought it would be a nice introduction for Hols (who's 9, by the way). We walk regularly but this is the biggest hill we've attempted. I might have forgotten to mention how big it was to Hols, and I didn't point it out on the drive over in case she was put off the walk. Ignorance is bliss sometimes!
This blog may contain affiliate links through which, at no additional cost to you, I may earn a small commission. I only recommend products I would use myself and all opinions expressed here are my own. Read full privacy policy here.
We camped at Rimington for the weekend. After stopping off at The Delicious Deli in Gisburn on the way to get some lunch to take with us, we headed to Horton in Ribblesdale to begin the circular walk up Pen-y-ghent. There is plenty of free parking on the road and we parked just outside the Holme Farm Campsite. We were a bit cheeky and used their facilities before we started the climb as there is nothing but fields and open moorland en route!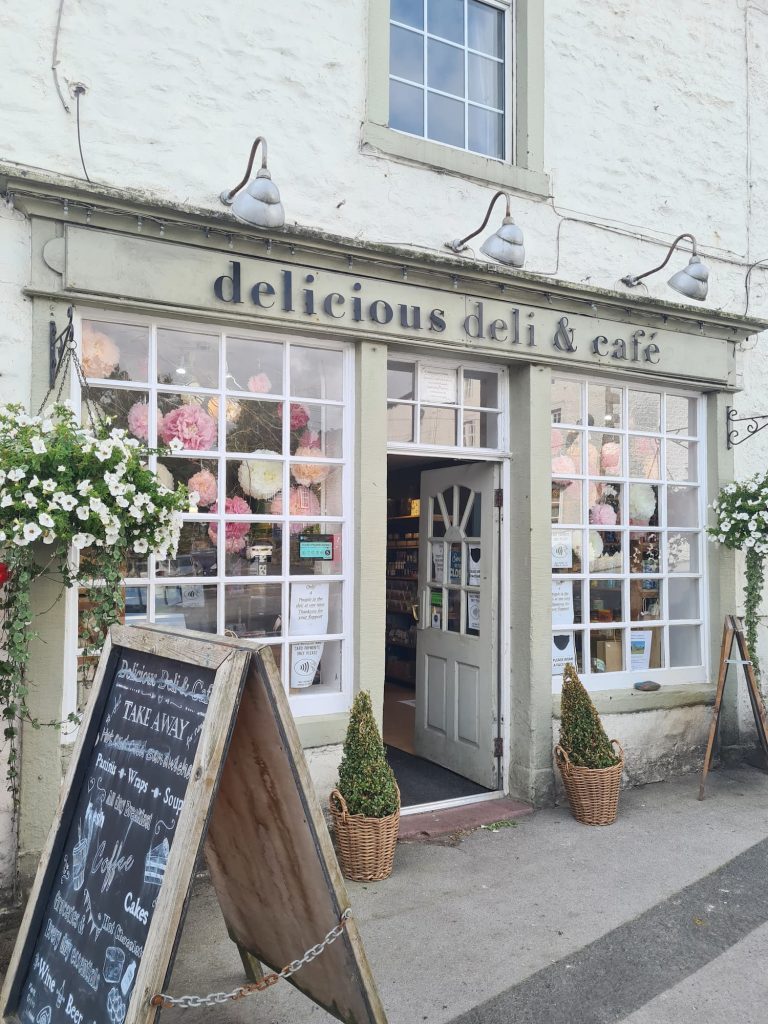 There were a few other families climbing Pen-y-ghent with kids, including some younger than Hols. The big decision was whether to climb the Pen-y-ghent red or blue route – we chose the red route up and the blue route down!
We took the red route up to the summit, which is the shortest but steepest. This route takes you down some beautiful country lanes before turning left and starting the long walk up. The path is really clear and there is a constant stream of other walkers heading up so you won't lose your way! There is a real mix of terrain on the lower slopes, with there being gravel paths, steps cut into the rock, grassy paths and stone steps.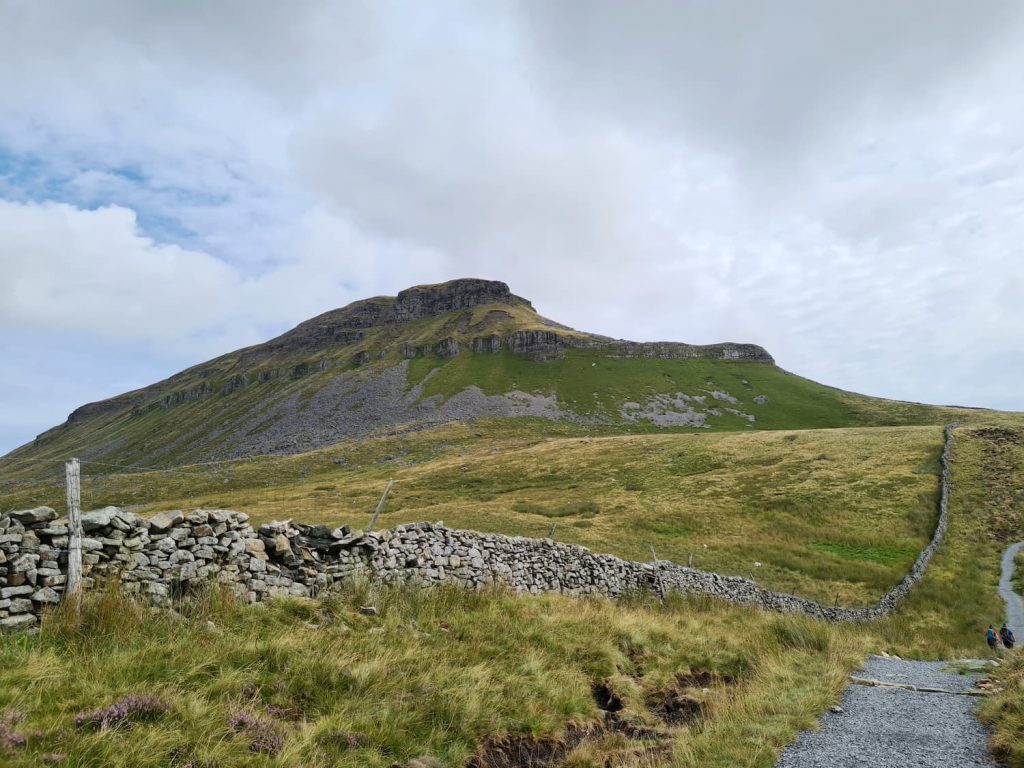 The climb is pretty gentle for the most part until you come to the stile where the path joins the Pennine Way. You turn left up to Pen-y-ghent and it gets steep. Really steep. There's a scramble of about 1km up a rock face and very thin path before the path levels out getting towards the summit. I won't lie, I hated this bit. I am not good with heights and the path was very narrow. It was awkward with people trying to come down this path as we were going up, which made me feel even worse! It was a great feeling when the path levelled out at the top, and even better when we reached the trig point! We had to wait a bit to get a photo though as it was so busy.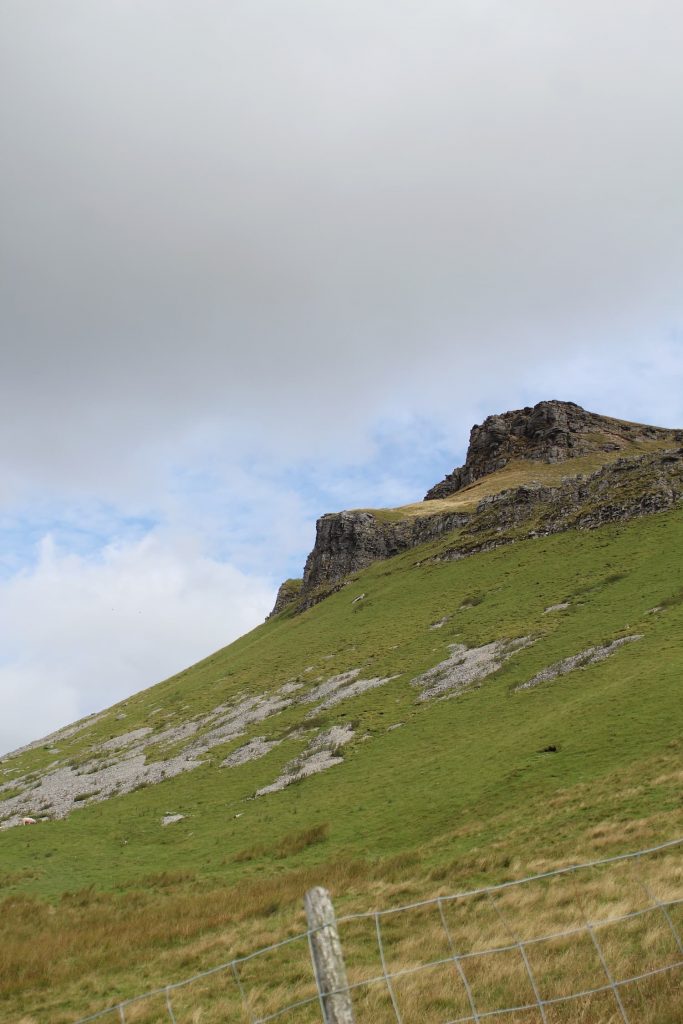 We ate our picnic at the top, which consisted of a cold toasted currant teacake for Hols and a very squashed egg mayo sandwich for me. Unfortunately egg mayo had leaked all over the other sandwiches and my coat, which was delightful. I also had to pick apart the neckhole of Hols' top as it was too tight for her to get on and off comfortably. Another walker commented on my "extreme haberdashery" at the top of a mountain!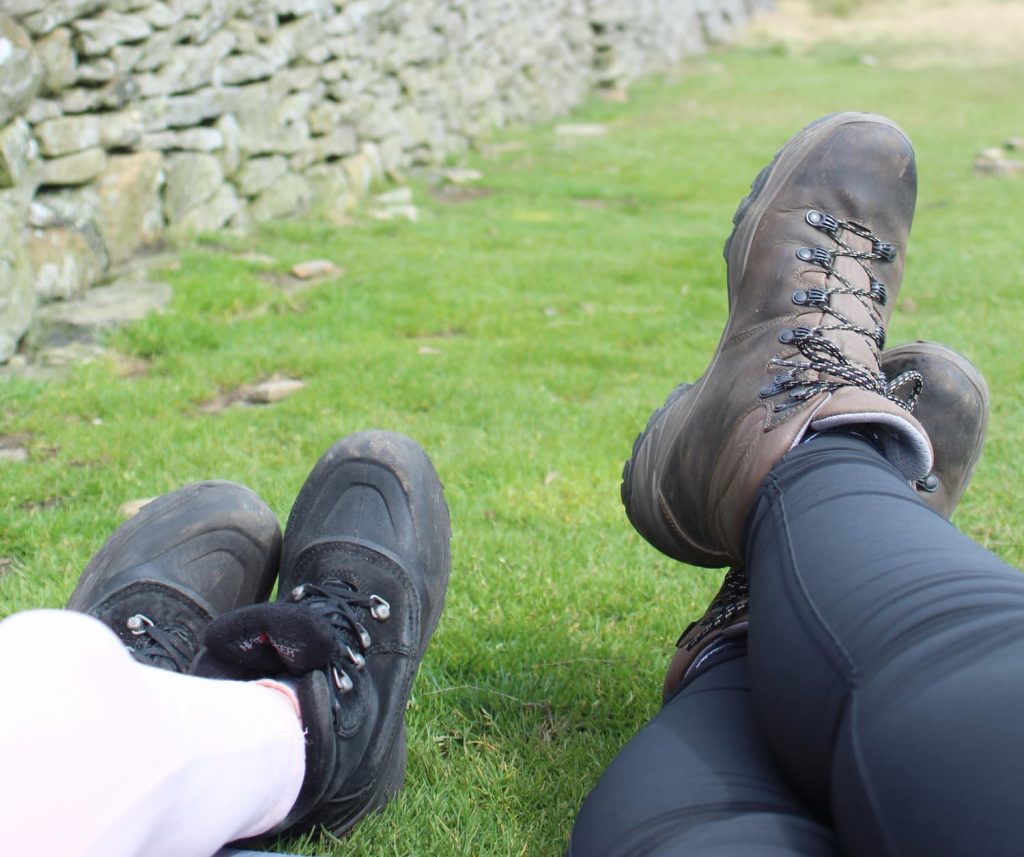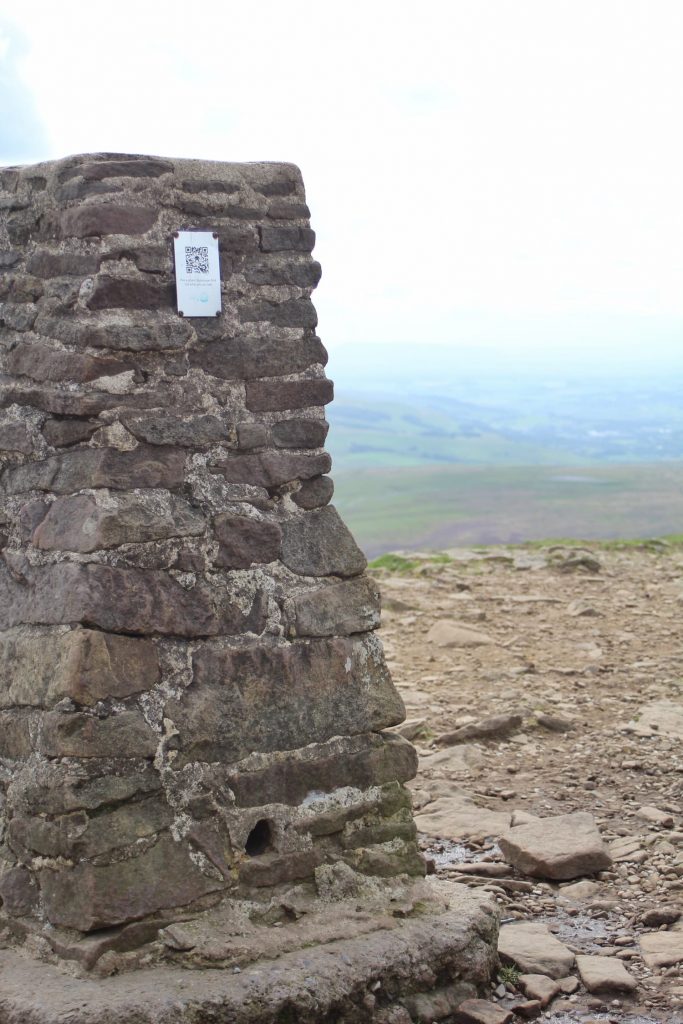 After a rest at the top we continued on and came back down the blue route, which is longer but gentler slope than the red route up. If you wanted to avoid climbing up rocks, you could come up and down the blue route. The blue route is also really near the spectacular Hull Pot, which is a collapsed cavern near the foot of Pen-y-ghent. After heavy rain this turns into a spectacular waterfall although it was dry as a bone when we went!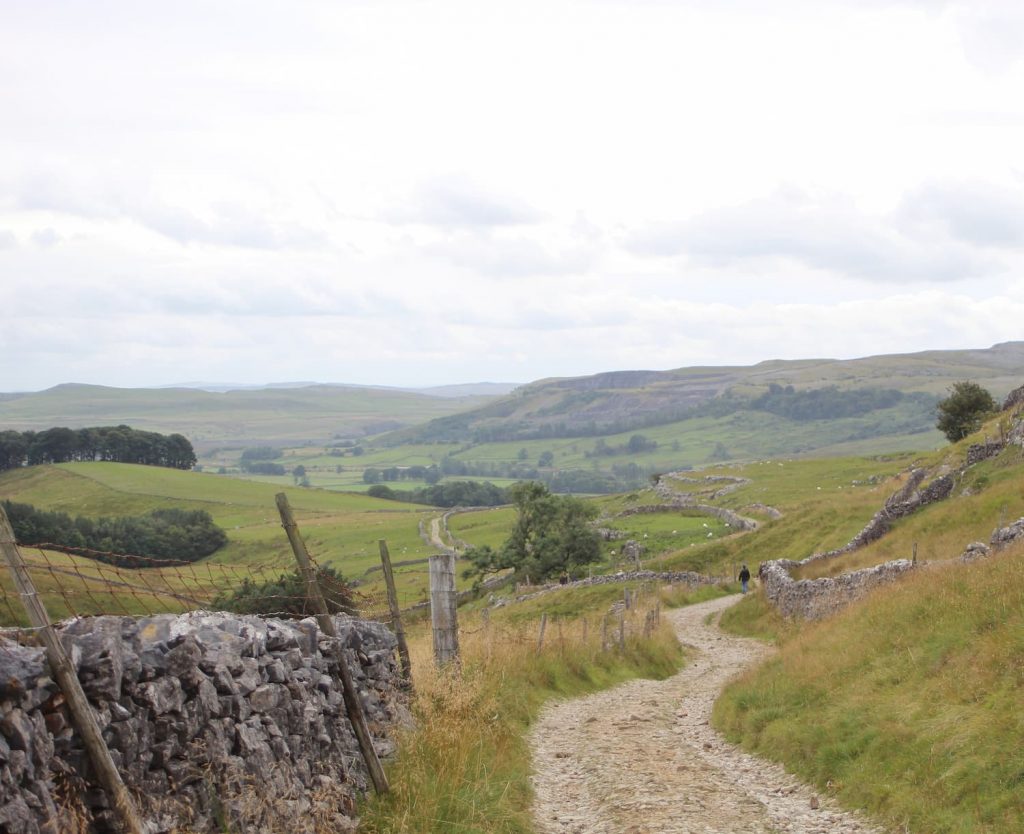 Hols did amazingly well getting up Pen-y-ghent. We live in quite a hilly area so she's used to walking up smaller hills, but this was by far the biggest she had tackled. We had frequent rest stops and walked at her pace so she didn't feel rushed. She was so pleased to reach the top and really proud of herself for climbing it!
How difficult is Pen-y-ghent?
Pen-y-ghent is the smallest of The Yorkshire Three Peaks and is a great introduction to the series for kids. The walk is approximately 6 miles/10km and is a relatively gentle climb for the most part, with a scramble over rock to the top part of the hill. It's not difficult climbing Pen-y-ghent with kids.
How long does it take to walk up and down Pen-y-ghent?
It took us an hour and a half to get up there, starting at 10.50am and reaching the summit (and having our lunch) at 12.30pm. We had a rest for about an hour before setting off back down the other side, getting to the pub for 3.15pm. It's always nice when the walk finishes at the pub.
Top tips for climbing Pen-y-ghent with kids
Climbing Pen-y-ghent isn't something you should do unprepared as it's a long way from help if things go wrong! Check the forecast before you go and choose a day when it should stay dry and not too warm. It would be a tough walk in the rain with small children.
I'm sure every parent knows this one, but take plenty of snacks. I think Hols may have eaten her own bodyweight in artisan chocolate mice but she got to the top!
Be sure to allow plenty of time for rest stops. It's a tough walk for little legs, and there is plenty of clambering over boulders and up rock faces, so leave enough time to finish the walk and have lots of rests. We paused at the top for a picnic lunch and to make sure Hols felt rested enough to carry on back down the other side (not that she had much choice, we couldn't leave her at the top!). It took us an hour and a half to reach the summit and about two hours to get back down, including rests along the way.
Take layers! The weather can be so changeable on Pen-y-ghent. You'll get warm on the climb up but if you pause at the top it can be really cold, so make sure you take appropriate clothing. I walked up in a vest top and had to put another top and hoodie on for the way down, but then had to take these off again nearer the base. Be sure to take waterproofs in case it rains as well.
Be sure to wear proper walking boots – the terrain is rough underfoot and can be slippery. My boots are the Scarpa Terra II walking boots and I can thoroughly recommend them. Hols has The North Face Chilkat which she loves and keep her feet warm and dry.
You can also check out Whernside with Kids and Ingleborough with Kids! Another great walk is this Yorkshire Dales Walk from Settle to Long Preston
Climbing Pen-y-ghent with kids is a brilliant way to get them introduced to The Three Peaks, and it's a beautiful walk to do on a clear day. Is this one you'll be attempting?