Ingleborough from Ingleton Walking Route
Looking for the route to Ingleborough from Ingleton? This 14km hike starts in the pretty village of Ingleton and heads up to the summit of Ingleborough before returning via Little Ingleborough. This is the second of the Yorkshire 3 Peaks with kids that we've attempted.
Photo by Roving Wanders on Unsplash because we had zero views!
Ingleborough is the second highest mountain in the Yorkshire Dales at 723m above sea level, only just short of Whernside at 736m high. Little Ingleborough is also a mountain at 639m of elevation but has a prominence of just 5m, so isn't really much of a challenge after Ingleborough! This route up Ingleborough from Ingleton is a lovely scenic view and on a clear day the views will be amazing.
This blog may contain affiliate links through which, at no additional cost to you, I may earn a small commission. I only recommend products I would use myself and all opinions expressed here are my own. Read full privacy policy here.
I read online that there is a blanket of cloud that sits at the top of Ingleborough so I packed plenty of waterproof clothes, waterproof covers for the rucksacks and trusted my waterproof walking boots. I wrapped Hols up in plenty of layers and a waterproof coat as well as her North Face Chilkat walking boots.
We started our trip from Ingleton and parked in the pay and display car park there. Initially you walk up the road to reach a farm track known as Fell Lane. There is a bit of an incline from here but the lane soon flattens out again.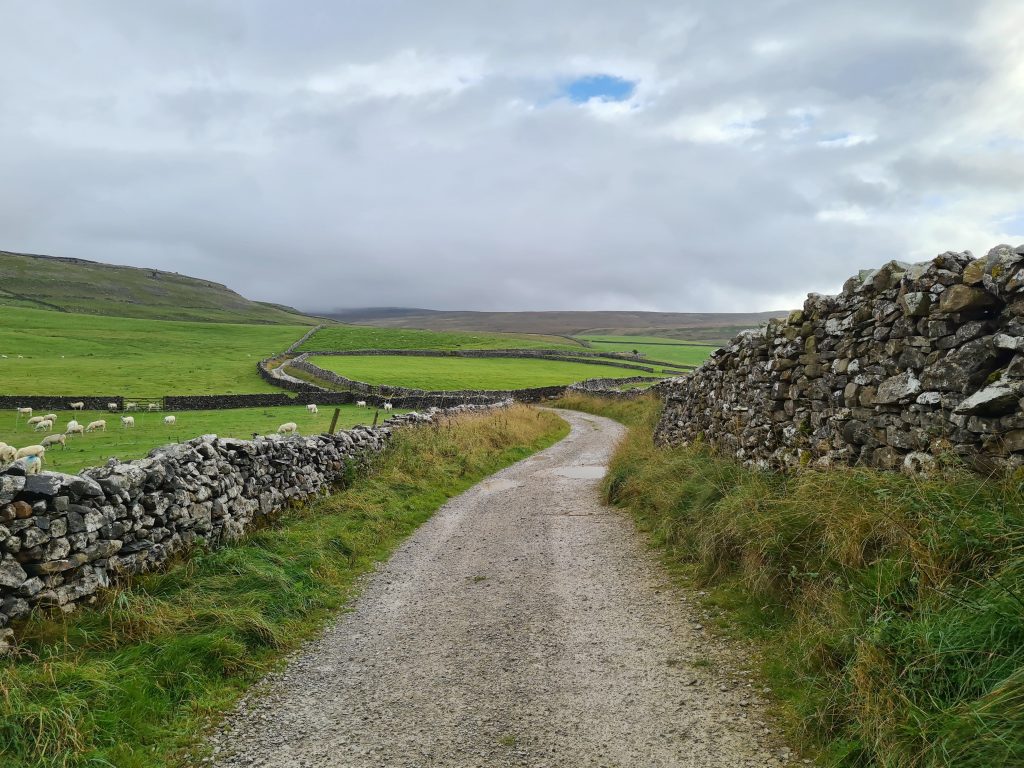 The lane brings you to an open valley, Crina Bottom, which has rocks and potholes scattered all over. I'm sure on a clear day this is a beautiful valley to explore but the weather had started to turn for us and we couldn't see very much! The weather forecast was for rain from about 3.30pm but the weather lied, and it was starting raining at 10am.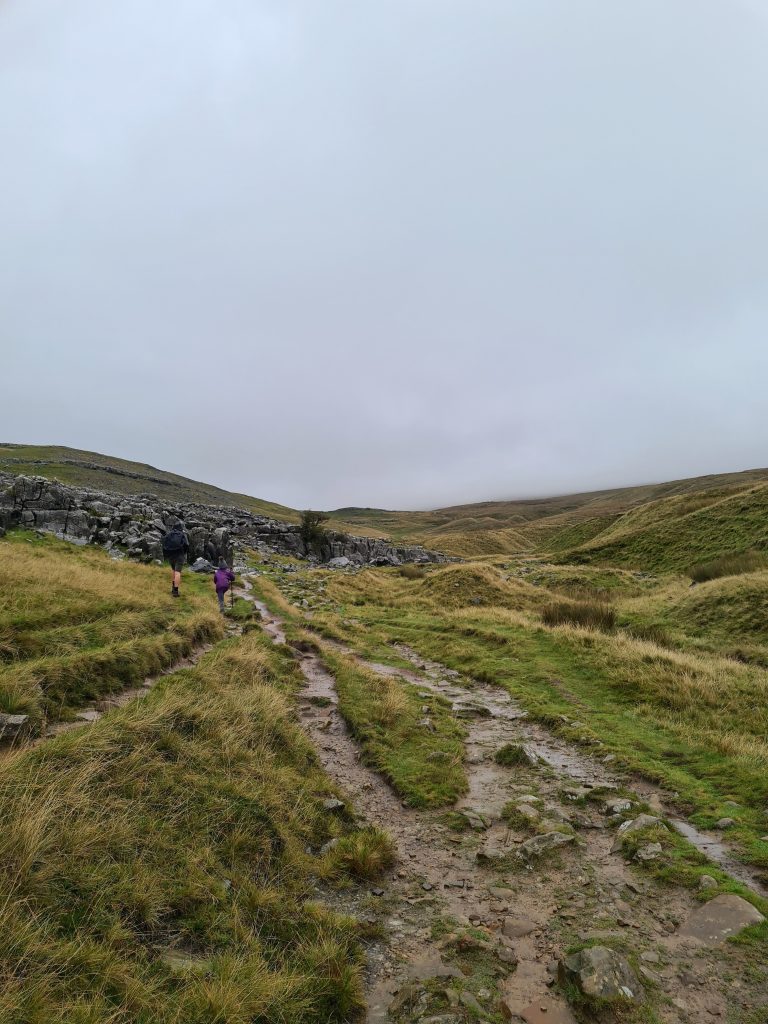 We carried on as the path surface changed again from grass and rocks to just rocks, with the odd section of stone steps. Ingleborough is tough because from this direction (and in this visibility) it seemed to have a few false summits. Just when we thought we had reached the top another climb presented itself! The route is clearly marked and there isn't really a scramble from this approach.
When we reached the summit the weather was atrocious. We had rain, hail, wind and freezing cold. Foolishly, despite having waterproof trousers in my rucksack I didn't put them on and my socks got wet, soaking into my boots and making me feel like I had a puddle of water in each boot. It was a miserable time!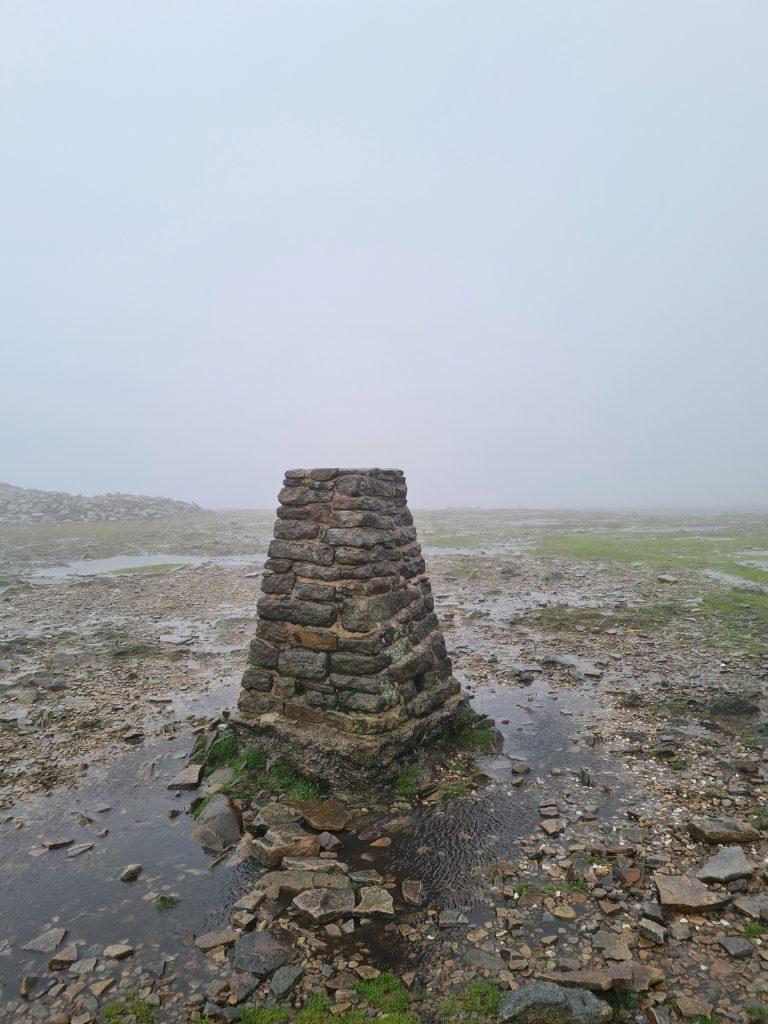 We had a quick picture of the trig point then tried to find the path down. Our route off the mountain was to the south towards Little Ingleborough and was so wet and boggy. The moorland was saturated and it made for slow progress as we dodged the huge puddles.
We took a quick detour to Little Ingleborough, snapped the cairn there and then walked back down the moorland to the road again. The route then headed back along the road to the car park and to the pub!
We went for a well earned and delicious Sunday lunch at the Craven Heifer in Ingleton. I feel I must apologise to anyone who may have sat on those seats after us as we were all drenched!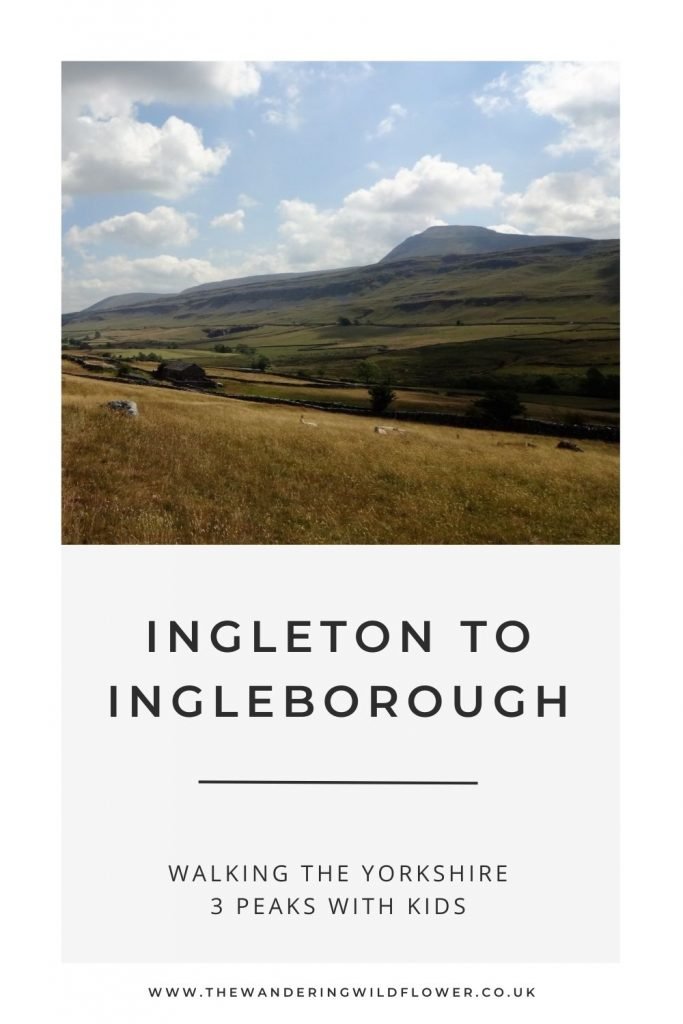 Here's the route we took from Ingleton to Ingleborough:
This was the second of the Yorkshire Three Peaks we had tackled as a family (the other being Pen-y-ghent) and the weather made this one by far the hardest. The actual climb wasn't the hardest we had done but the weather made it a pretty miserable affair. We've still got to complete the last of the Yorkshire 3 Peaks with kids – Whernside – but we might have to wait until the New Year now to try that one. Hols is only 9 and I don't want to put her off hiking forever by taking her up any more mountains in horrible weather conditions.
How long does it take to walk up Ingleborough from Ingleton?
It took us an hour and 50 minutes to reach the summit of Ingleborough after setting off from the car park, and we spent about 5 minutes there in the shelter before starting off down the other side!
Is Ingleborough hard to climb?
Ingleborough isn't too hard if you have a decent level of fitness and we all thought the weather was far worse than the climb. Hols is 9 and has climbed some tough mountains like Coniston Old Man and Pen-y-ghent but didn't find Ingleborough too bad.
Where do you start Ingleborough?
We started our route up Ingleborough from Ingleton but you can start from nearby Clapham. The Yorkshire Three Peaks route has you approaching Ingleborough from Chapel-le-Dale usually. There are a number of routes up and down Ingleborough.
If you are thinking of tackling any of the Yorkshire 3 Peaks with kids, be sure to be prepared! Check the weather, take plenty of layers and snacks and allow plenty of rest stops. For more tips and advice on hiking with kids, why not follow the blog or follow The Wandering Wildflower on Pinterest?