Black Hill, West Nab and Blackpool Bridge
This Dark Peak walk starts in the pretty village of Holme and heads up to Soldier's Lump, Black Hill via Issue Clough waterfall before a trip along the Pennine Way to West Nab, then back via Blackpool Bridge to Holme.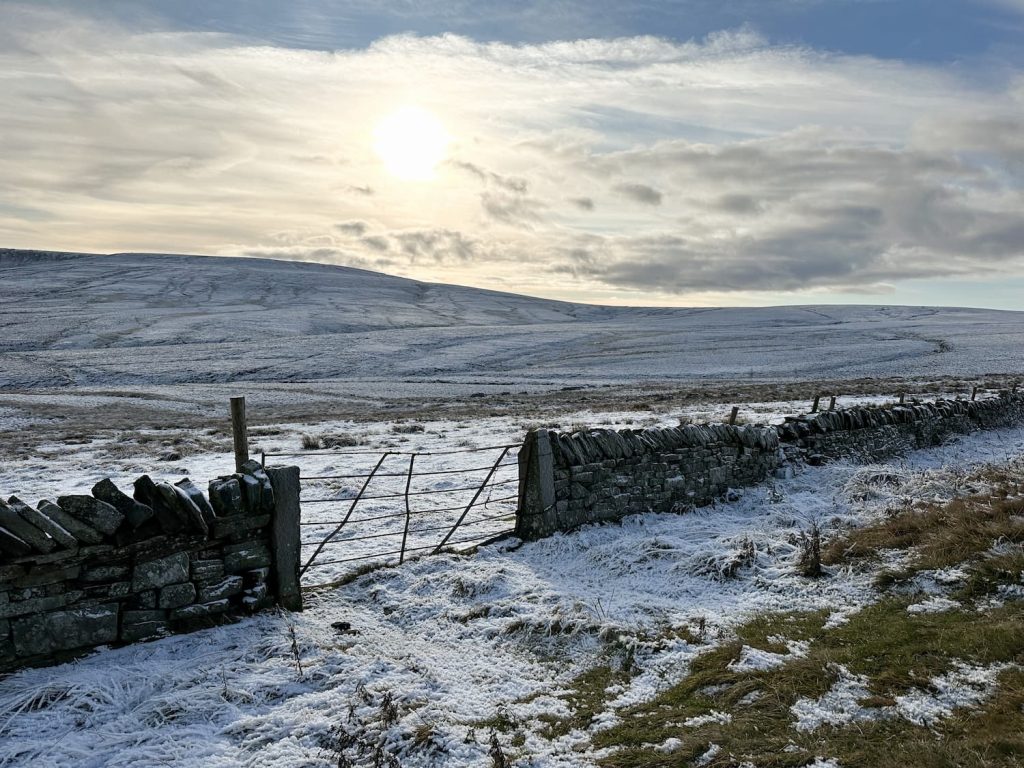 This walk will bag you two Ethels, West Nab and Black Hill, as well as trig points at each, a beautiful waterfall at Issue Clough and a wild dip spot at Blackpool Bridge.
Black Hill in the Dark Peak is one of my favourite places to walk – it's rugged, bleak but so peaceful, and some days you can be out for hours and not see anyone else. At 582m above sea level, the Black Hill plateau looms over nearby Holmfirth and it can be a challenging place to walk in poor weather conditions, so please make sure you're prepared.
We decided to start our walk from Holme, a quaint village nestled at the foot of the moors. We headed up Meal Hill Road, past the bus stop, playground and school, then followed the track until it becomes Issues Road. Issues Road is a really straight track which goes out onto the moors.
After about a mile, the path forks, with the right hand fork heading off to Blackpool Bridge and the left fork leading up to Black Hill. We took the left hand fork and started to climb up the hill, crossing Issue Clough. After another 0.15 miles we left the main path and followed the contour of the hill round to the south. In clear visibility there is a faint path leading round to the waterfall but the ground was covered in snow when we visited. If in doubt, stick to the lower sections of the hill as there is a boggy pond a bit further up the hill!
We traced the Clough south-east for a short distance to reach the main waterfall at Issue Clough, which looked like something from Narnia! The icicles and snow were just stunning.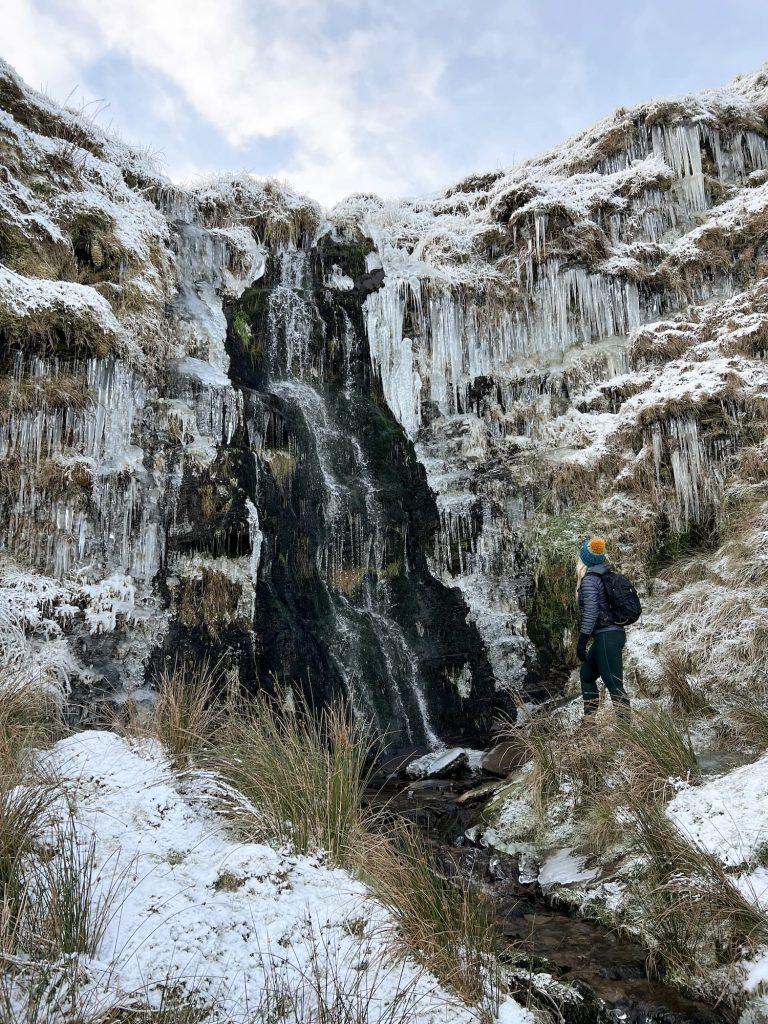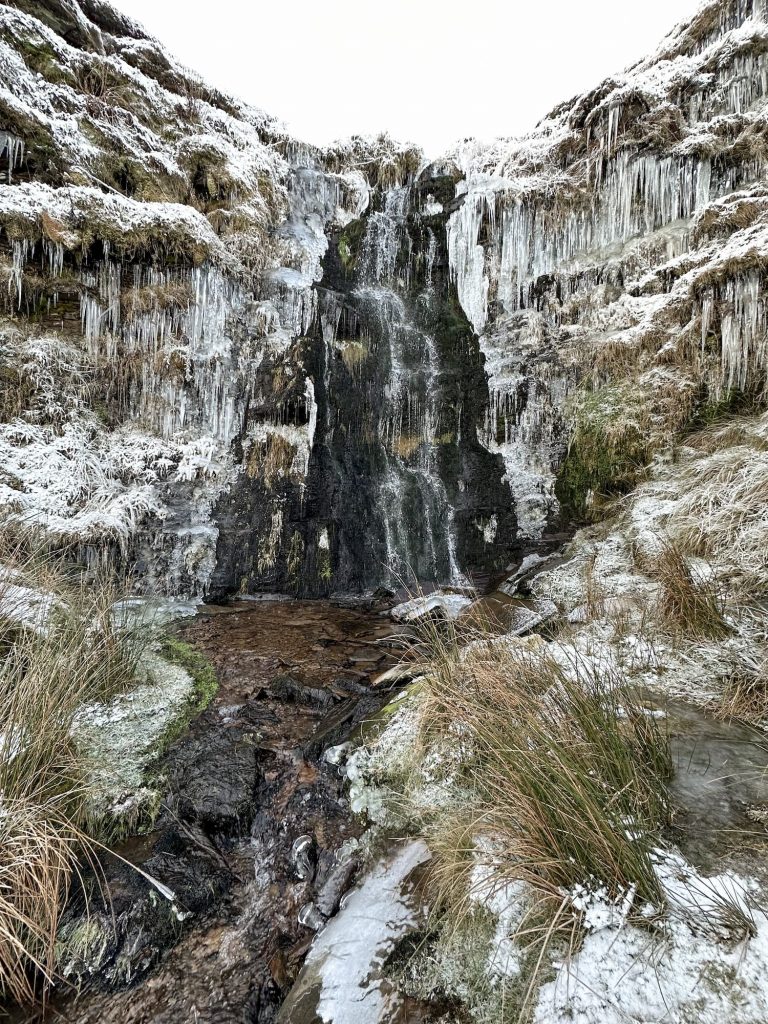 After we'd taken a lifetime's supply of frozen waterfall pictures, we headed back round to rejoin the path to climb up Black Hill. The path joins the Pennine Way, which climbs steeply for a short distance before levelling out as you reach the top of the plateau. The going is much easier here, and the Pennine Way is paved for much of the route to the Black Hill trig point.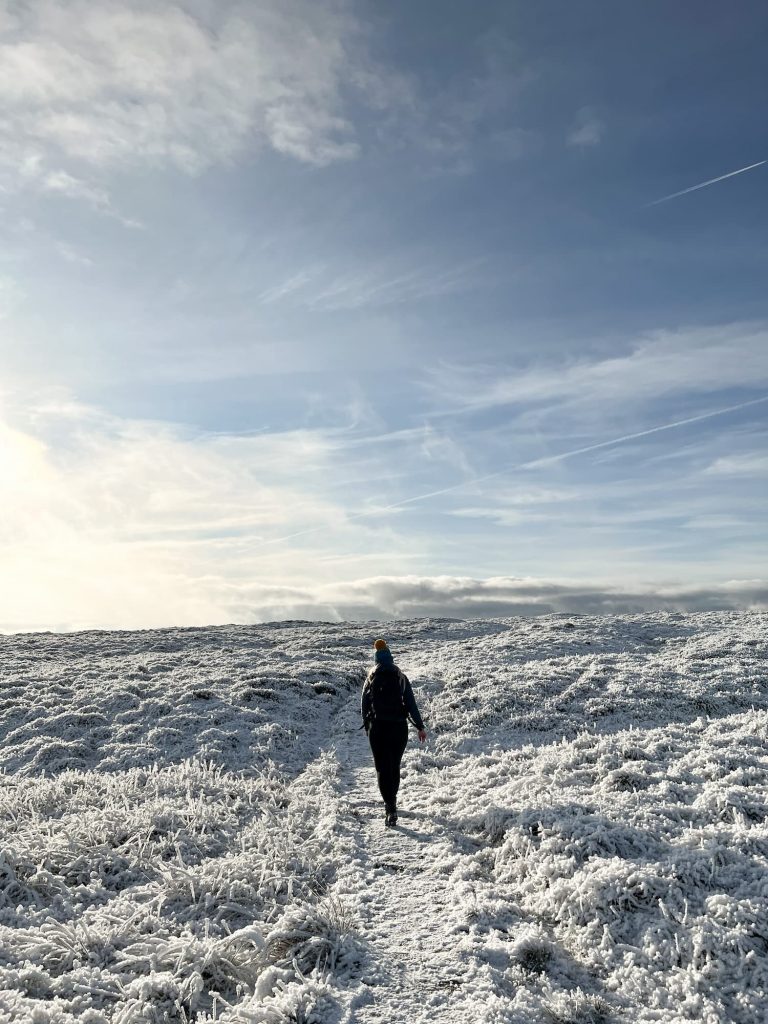 This blog may contain affiliate links through which, at no additional cost to you, I may earn a small commission. I only recommend products I would use myself and all opinions expressed here are my own. As an Amazon Associate I earn from qualifying purchases. Read full privacy policy here.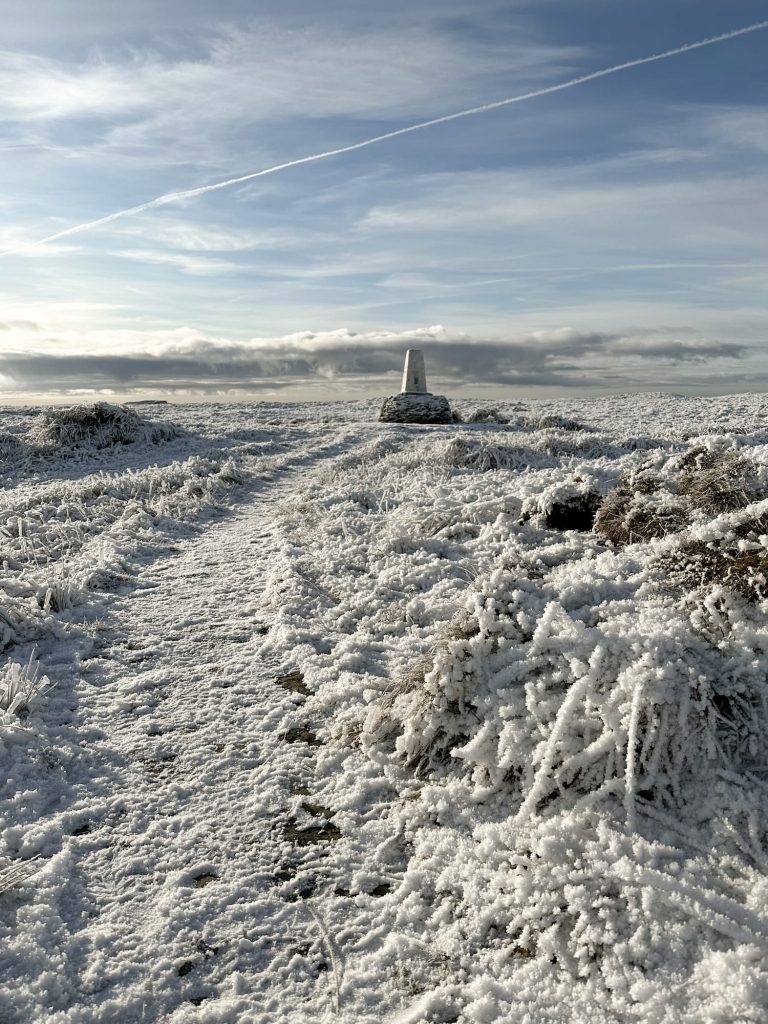 The Black Hill trig point at 582m above sea level is sat on Soldier's Lump, which was used in the original Ordnance Survey. According to Alfred Wainwright, who described Black Hill as "The broad top really is black. It is not the only fell with a summit of peat, but no other shows such a desolate and hopeless quagmire to the sky. This is peat naked and unashamed" and "a brute in any weather" in his Pennine Way Companion, the support timbers for the Ramsden theodolite were still to be found here many years later. Presumably this was before the construction of the paved Pennine Way and no-one wanted to brave the peat bogs to go and retrieve them!
From the trig point, we headed back north-east along the Pennine Way, braving icy sections and treacherous crossings of Dean Clough and Marsden Clough before climbing up to meet Greenfield Road. Crossing the road, we set off along Wessenden Head Road towards West Nab.
Walking along the road for just under a mile, we then crossed the stile and headed through the (normally boggy) frozen peat and climbed up to the summit of West Nab.
The West Nab trig point is surrounded by rocks, some of which are thought to have a mystical past. There was a rocking stone here at one time, which was destroyed as it was presumed to be dangerous, and the large rock with bowls in it is thought to be a druids stone. Nowadays it's my little girl's favourite seat to eat her hiking snack!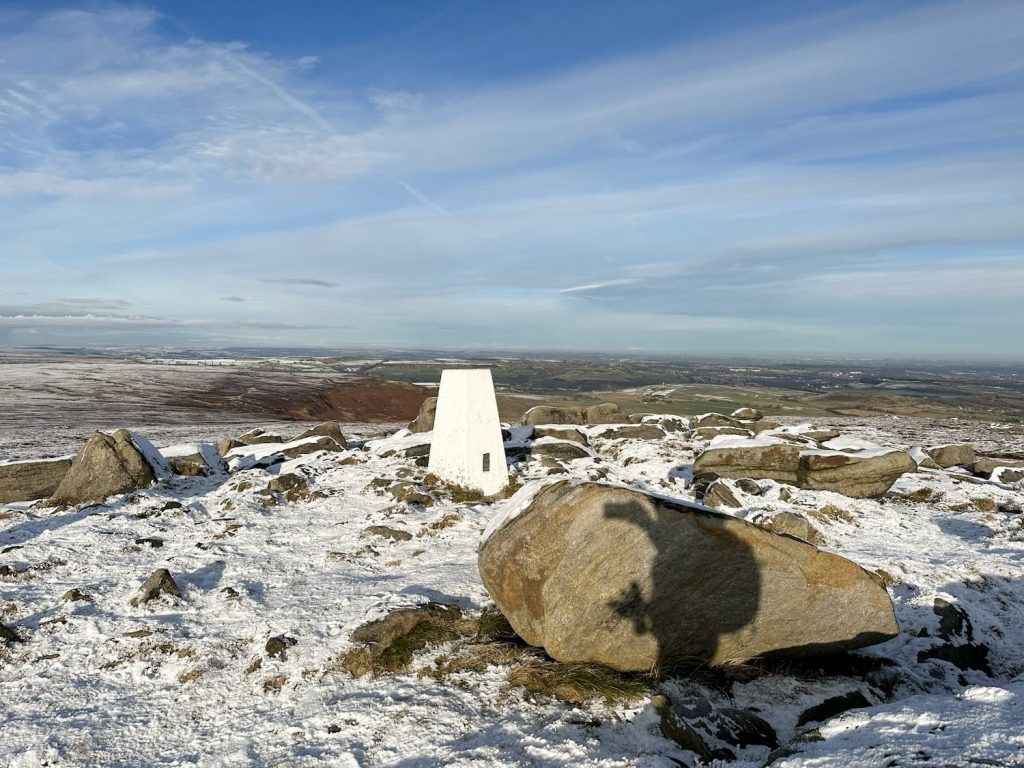 From West Nab we headed back down to the road, then along Wessenden Head Road to Greenfield Road. Crossing the road, we climbed over the stile past the site of the former Isle of Skye Hotel, then down the Kirklees Way towards Reap Hill Clough.
The path winds through a small woodland and then over a stile onto a farm track. On the right hand side, before Good Bents Farm, there is a foopath leading over the fields. The path descends steeply and leads to Blackpool Bridge, a crossing where Dean Clough and Reap Hill Clough meet to flow downstream into Marsden Clough.
Blackpool Bridge, Holmfirth
The original Blackpool Bridge was a large stone bridge wide enough for horses and carts to pass over, but the modern bridge is only wide enough for pedestrians. The name apparently comes from the black pools of water downstream where locals used to swim (there are a few deep enough for a dip), rather than the seaside town of the same name!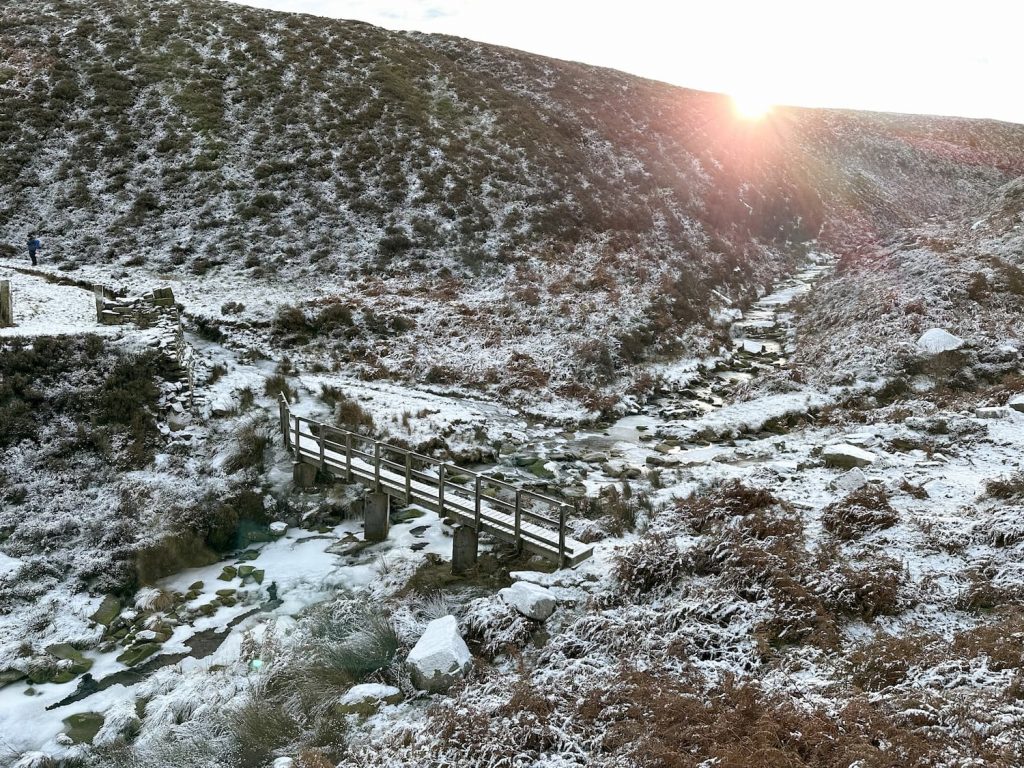 From Blackpool Bridge the track climbs up relatively steeply to wind back round Stopes Moor to Issues Road, and then it's a case of following Issues Road back to Meal Hill Road and then back into Holme, where The Fleece Inn is (I can recommend their food, it's delicious after a long walk).
This is one of my favourite areas to explore, and the snowy conditions made it extra special. It was very icy in places however, especially in those valleys and cloughs which don't get much winter sun.
For more Black Hill walks, why not try
Holme Moss to Black Hill Trig Point
Holme to Black Hill to Crowden Circular Walk
Holme to Black Hill Circular Walk
Black Hill Circular Walk, Holmfirth – Yorkshire Walks
Black Hill via Crowden Little Brook
Blackpool Bridge Walk
Parking: On street in Holme village. Please be considerate to local residents.
Facilities: Public toilets in Holme
Walk Time: 4-5 hours
Difficulty: ▲▲▲
Distance: 10.6 miles (17km)
Trig Points Bagged: Black Hill, West Nab
Peak District Peaks Bagged: Black Hill, West Nab
Peak District Ethels Bagged: Black Hill, West Nab
Blackpool Bridge Walk Map: 
You can click on the map to download the GPX file from Komoot.