Holme to Black Hill to Crowden Circular Walk
This Black Hill to Crowden walk from Holme Village heads up to Black Hill in the Peak District via Issue Clough then heads down to Crowden past Laddow Rocks, before climbing back to Black Hill past Westend Moss and White Low. It's a 16.5 mile circular walk in the Peak District that covers bleak, moorland terrain.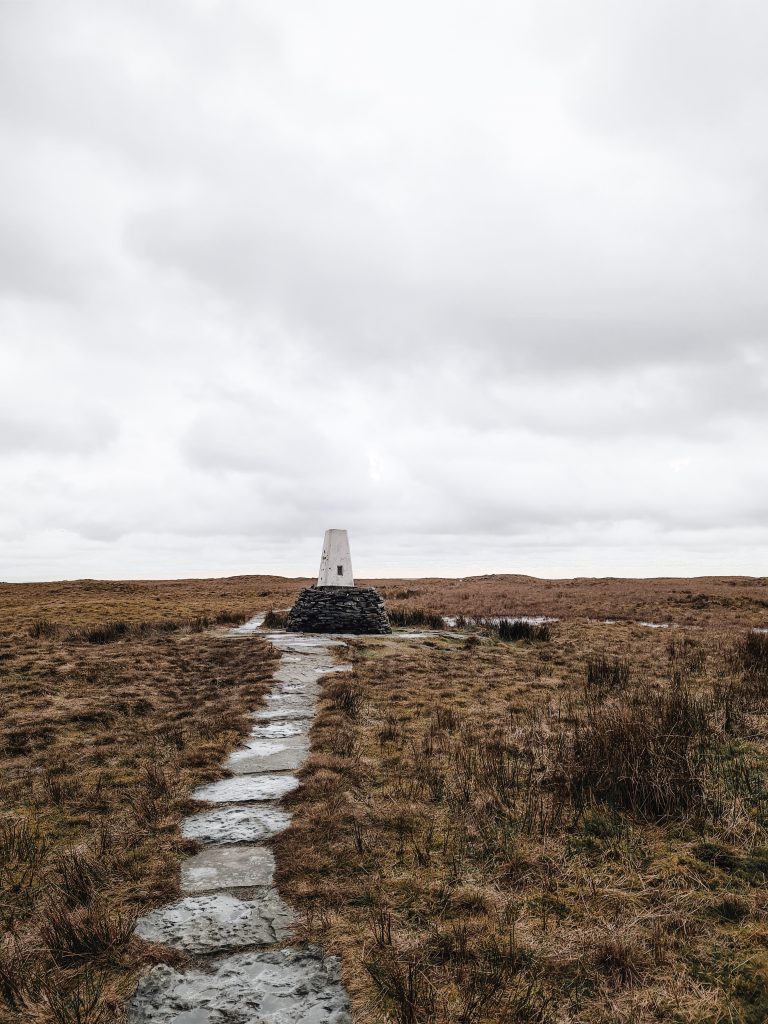 As part of my training for the Yorkshire 3 Peaks I'm doing a few longer walks near home. We're lucky to live close to the Dark Peak part of the Peak District and I love walking on the moors, so I put together this challenging 16.5 mile walk from Black Hill to Crowden. The walk goes over bleak, featureless moorland so only attempt this if you can navigate confidently.
Black Hill is the highest point in West Yorkshire at 582m above sea level. It's also a really lovely place to walk as it's really quiet compared to some of the other more popular parts of the Dark Peak like Kinder Scout. I was out for 6 hours and only saw 5 other people! It has a wonky old trig point known as Soldier's Lump on the summit and has views to Holme Moss and the surrounding Peak District moorland.
I had originally planned to start this walk at Digley Reservoir but drove to Holme village on autopilot. It was quite lucky really, as it meant I could get a sandwich from The Fleece Pantry before I set off, and have a chat with a lovely old chap who owned a mule. It could only get more Yorkshire if we were talking about whippets in our flat caps!
Starting from Holme, the walk heads up past Holme School on Meal Hill and then onto Issue Road. This long straight track will take you to the bottom of Black Hill and is easy to follow, being a bit muddy in places. On the right hand side of the path you'll see Issue Clough. On the OS Map there is a path marked to go to this Peak District waterfall however there is nothing on the ground, so I made my way around the edge of the hillside as best I could. This is a beautiful hidden gem of a waterfall, and I bet many people will just whoosh past on their way along the Pennine Way to or from Black Hill without even noticing it!
I took some pictures, almost fell in because I was on my own (using the self timer on my phone and rushing), then set off up Black Hill. The OS map again shows there being a path leading up the Clough to meet with the Pennine Way where the path levels out, but I couldn't see one. I made my way up the hillside as best I could, having to dodge around the peat groughs and boggy bits, and reached the Pennine Way. This way actually seemed much quicker than the long slog up the Pennine Way path from the bottom!
Once on the path it was an easy wander to the Black Hill trig point for the first time this walk. I passed the trig point and followed the Pennine Way down Dun Hill over Grains Moss. For the most part the path is paved but there are a few fords to cross along the way.
The path runs alongside Crowden Great Brook and then climbs up to pass along the top of Laddow Rocks. The views from here down the Crowden Valley are stunning, but it can be very windy.
Wandering over the top of Laddow Rocks, I then walked down into Crowden Valley, following the path under Black Tor. The path is quite rocky in places and there is a scrambly section coming down near Oakenclough Brook. You could add in a trip to Featherbed Moss trig point or Black Chew Head from Laddow Rocks – both are relatively close.
I turned down towards Crowden Camp Site, where there are some loos and a shop (cash only), then turned through the gate as though I was going to the Outdoor Activity Centre. I climbed up the steep hill to the quarry site, then followed the path to the north-east over Hey Moss. There is Hey Edge trig point here if you fancied a little diversion but whenever we've been it's always wet so I didn't bother this walk.
I walked up and over the very wet Westend Moss and White Low before heading up Tooleyshaw Moss. The path for the most part is quite easy to follow but it's not a paved path and in poor conditions could be easy to lose. When you get further up Tooleyshaw Moss, closer to the summit of Black Hill, the terrain becomes very challenging and it's hard to navigate through the high peat groughs as you can't always see where the path goes. There are some cairns to show the way.
Near the summit of Black Hill there is a big pool of water too, and it's very wet and boggy. You'll see on the map I had to do a lot of weaving around the bogs.
I reached the summit of Black Hill again, doffed my imaginary cap to the trig point and headed back down the Pennine Way towards Wessenden Moor. I followed the path for approximately 1.6 miles, crossing Dean Clough a couple of times. The Pennine Way heads back to the main Huddersfield Road but I cut across the field and joined the Kirklees Way where it passes near Reap Clough. The path eventually leads down past Goodbent Lodge along Nether Lane, a rough track.
At Greaves Head barn, I turned right down the hill and joined the path that runs between Digley and Bilberry Reservoirs. Bilberry Reservoir is one of my favourites – the view with Hey Clough and Good Bent End and beyond to Black Hill in the background is gorgeous.
The path runs back up the hillside and through Digley Wood, before heading south through the fields along the Kirklees Way back to Holme village. Some of the stiles are very narrow!
It had started raining when I reached Black Hill for the second time, and being the brave girl I am I didn't put on my waterproof trousers. As a result I was soaked to the skin and had to drive home in wet leggings!!
Black Hill to Crowden Walk:
Parking: On street in Holme village HD9 2QG. Please be mindful of residents and park considerately.
Facilities: There are public toilets in Holme village, together with The Fleece and The Fleece Pantry.
Walk Time: 6 hours including a quick sandwich stop in Crowden.
Difficulty: ▲▲▲
Distance: 16.5 miles (26km)
Trig Points Bagged: Black Hill (you could add in Featherbed Moss and Hey Edge with a small detour)
Peak District Peaks Bagged: Black Hill, White Low (you could add in Featherbed Moss and Black Chew Head with a small detour)
Peak District Ethels Bagged: Black Hill, White Low (you could add in Featherbed Moss and Black Chew Head with a small detour)
Black Hill to Crowden Route Map:
For more walks to Black Hill, Holmfirth, why not check out
Holme Moss to Black Hill Trig Point
Black Hill, West Nab and Blackpool Bridge
Holme to Black Hill Circular Walk
Black Hill Circular Walk, Holmfirth – Yorkshire Walks
Black Hill via Crowden Little Brook
There are also many walks in Crowden.