Chee Dale Stepping Stones Walk
Tucked away off the Monsal Trail is Chee Dale, a beautiful shady limestone gorge home to Chee Dale Nature Reserve and the infamous Chee Dale stepping stones.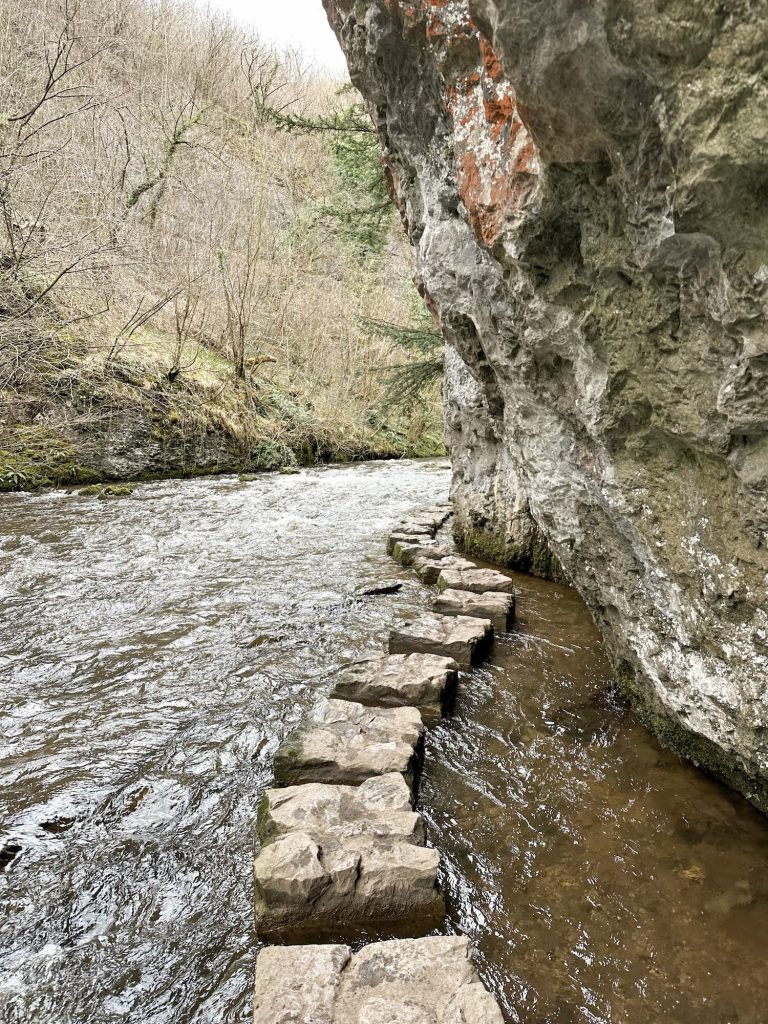 The Chee Dale stepping stones are located in Chee Dale, just off the Monsal Trail, and are hidden away in a steep sided valley filled with lush, moss covered foliage and ferns, carved by the River Wye as it meanders it's way through the gorge.
This Chee Dale stepping stones walk is a great one for older kids who don't mind a bit of an explore (and getting muddy). It's 4.4 miles long and explores the Chee Dale Nature Reserve before heading over the stepping stones and up onto the Monsal Trail. There's also a nature trail to keep little ones occupied.
After heavy rain, the levels of the River Wye can rise and the stepping stones might be submerged. If in doubt, wait until there has been a few days of dry weather before attempting this walk as there's no Plan B other than turning back on yourself and retracing your steps. Much of the path is muddy and as it's a limestone gorge it can be very slippery under foot. There are sections where you need to scramble a little, using your hands.
We started this Chee Dale stepping stones walk in the car park at Miller's Dale, by the former Miller's Dale railway station. Built in 1863, this was one of the largest stations on the Midland Line which closed in 1968 and has since been turned into a traffic free walking route known as the Monsal Trail. Nowadays this former station houses a cafe and toilets.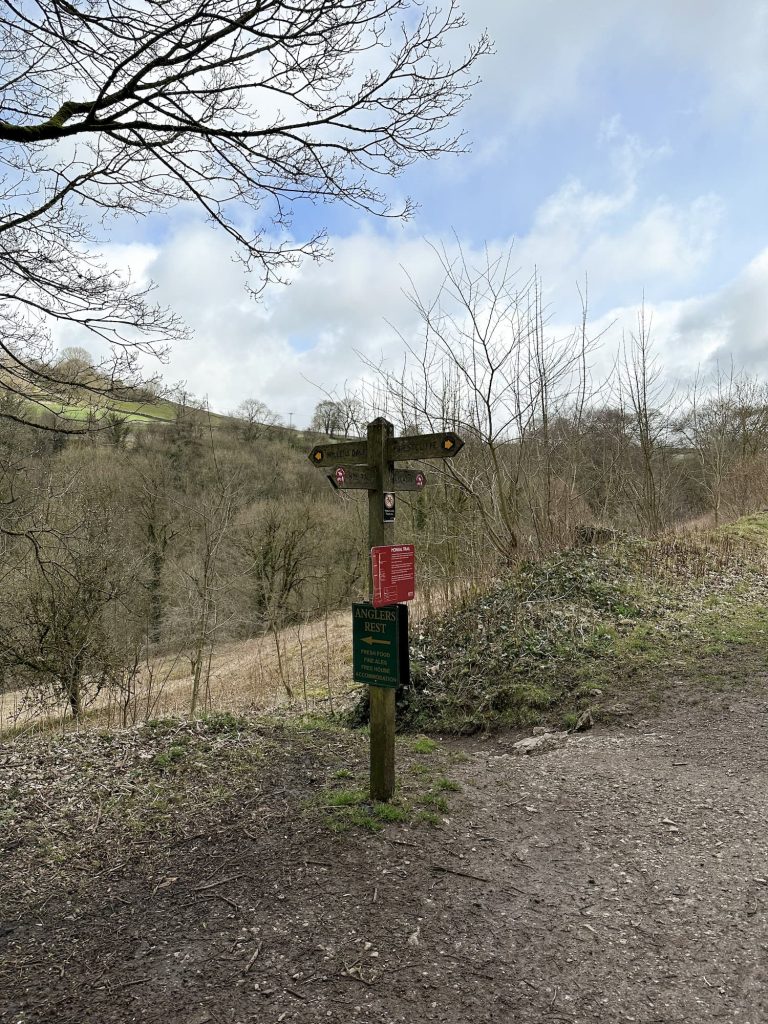 We walked a short distance on the Monsal Trail and then took a path down into Miller's Dale, a beautiful hamlet next to the river and the site of the Angler's Rest pub. There is lots of history here, including St Anne's Well (not the famous one in Buxton!) and the water wheel from the old Miller's Dale Meal Mill.
We headed on the road past the church and then back past the car park, under the Monsal Trail bridge and down the hill where we entered the Chee Dale nature reserve.
The path through the nature reserve winds it's way alongside the River Wye, which is home too a vast array of flora and fauna. There are information boards dotted throughout the reserve showing what you can expect to find and a nature trail complete with large wooden sculptures to spot and learn about.
We headed along the path, passing under the former railway viaduct. The path is very muddy in places and and does involve some scrambling sections over the limestone. There are a couple of bridges to cross, but the path is pretty easy to follow.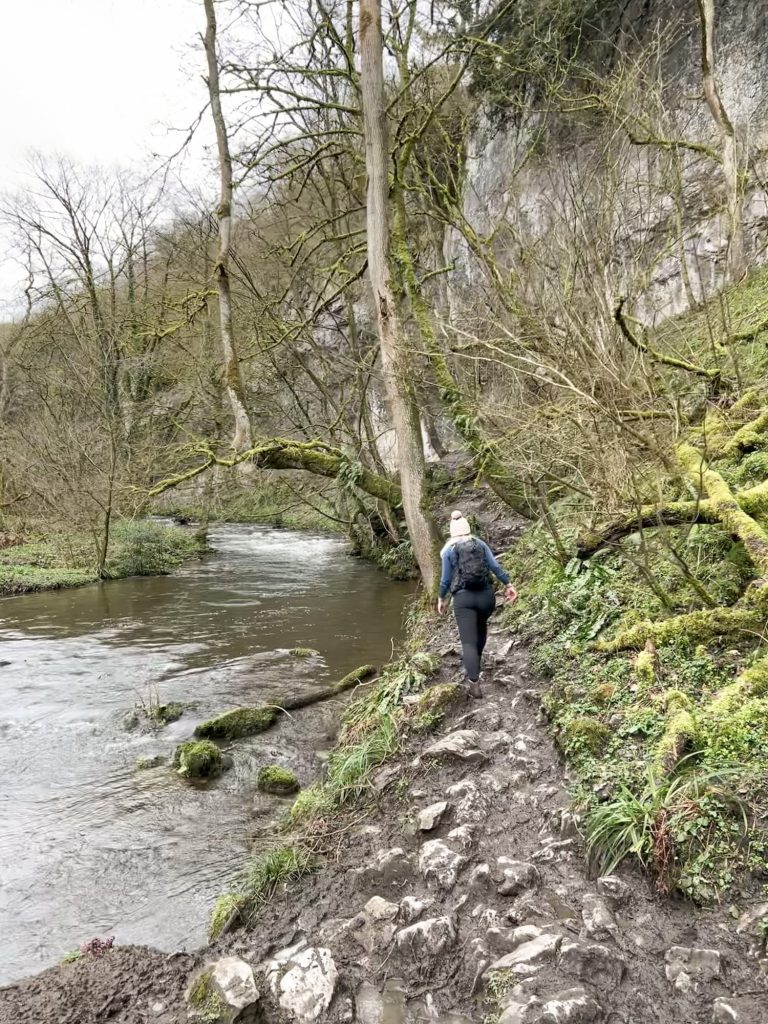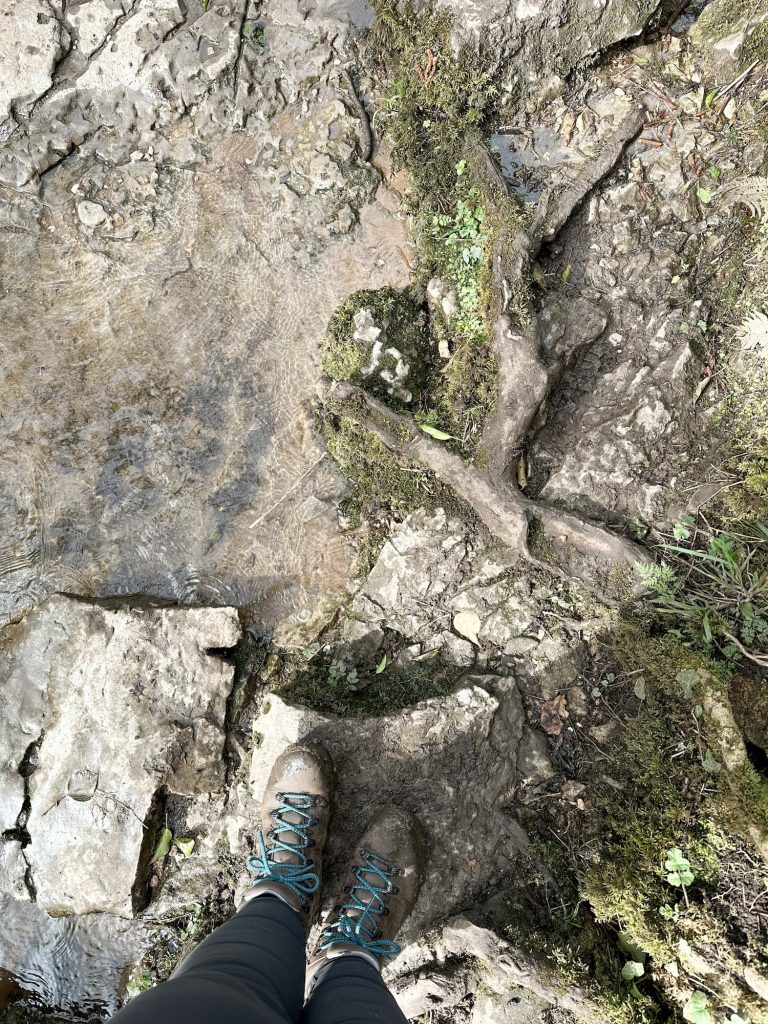 We passed an impressive limestone cliff and then hit the first set of stepping stones. These are narrow, so only one person can fit on them – make sure there's no-one coming the other way or you'll have to retrace your steps like I did!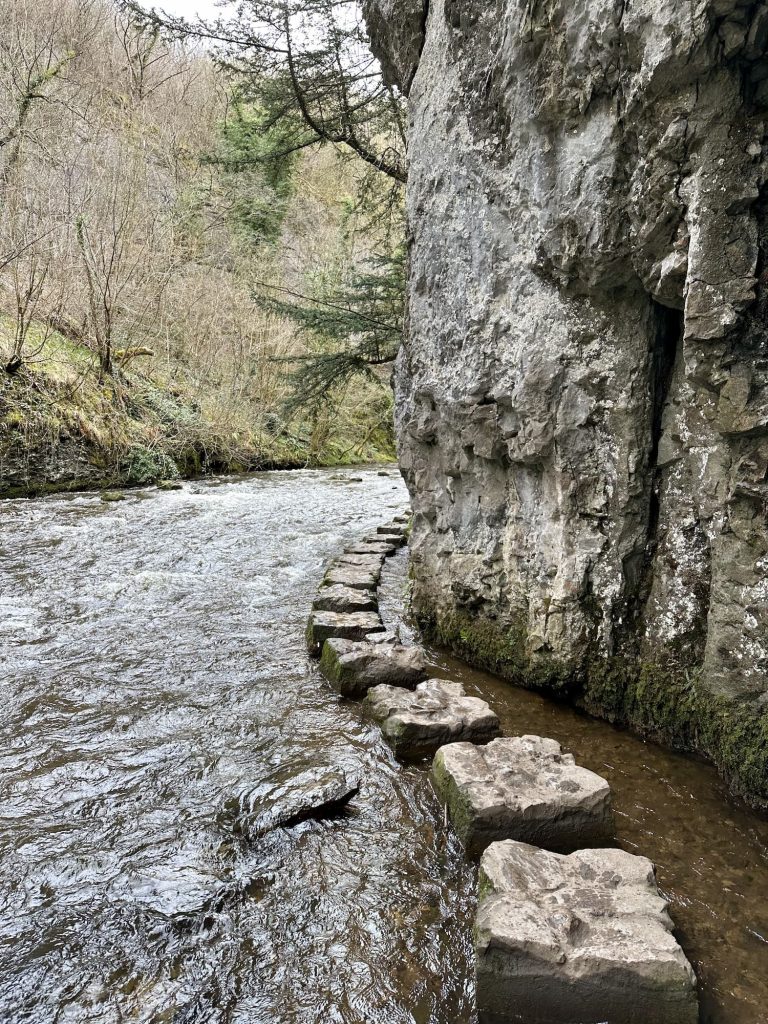 At the end of the stepping stones proper there's a little beach and some less uniform stepping stones for if the water levels are higher.
The path continues along the gorge, following the river closely, then becomes another set of stepping stones. These are a little but further apart to start with and were partially underwater when we went over them.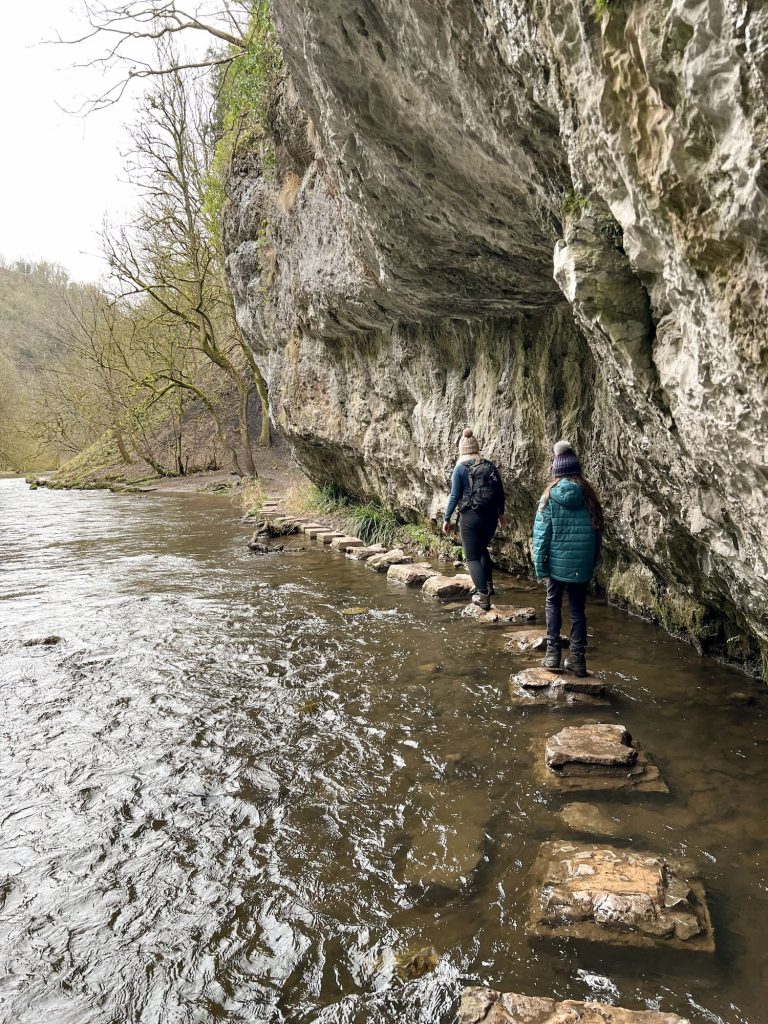 We carried on a short distance then climbed up some steep steps at the railway viaduct to join the Monsal Trail. We followed the Monsal Trail back towards Miller's Dale, passing the former lime kilns and railway water tower along the way. The Monsal Trail is a very level, former railway line which runs from Bakewell to Buxton.
This was a great walk, despite the mud (!), and it was lovely to see the signs of spring including Butterburs starting to flower.
Parking for the Chee Dale Stepping Stones:
Miller's Dale, Wormhill, Buxton SK17 8SN
Facilities: There are toilets and a cafe at Miller's Dale
Walk Time: 2-3 hours
Difficulty: ▲
Distance: 4.4 miles (6km)
Trig Points Bagged: None
Peak District Peaks Bagged: None
Peak District Ethels Bagged: None
Walk Map: 
You can click on the map to download the GPX file from Komoot.
The Derbyshire Dales are a beautiful part of the world. You might also like to explore
A Beautiful Walk Through Wolfscote Dale & Biggin Dale
Castleton to Mam Tor Circular Walk via Cave Dale
Walk from Castleton to Bradwell Moor Trig Point via Cave Dale
Fin Cop Walk; Longstone Moor, Wardlow Hay Cop and Waterfall Swallet
Thorpe Cloud, Dovedale Stepping Stones, Bunster Hill and Ilam
For more Monsal Trail walks, why not try this Monsal Trail walk?