Fin Cop Walk – Longstone Moor, Wardlow Hay Cop and Waterfall Swallet
This Peak District walk is a great one to do if you are taking part in the Peak District Ethels Challenge. You'll bag 3 Ethels (Fin Cop, Longstone Moor and Wardlow Hay Cop) as well as taking a detour via Waterfall Swallet, a secret Peak District waterfall. Starting at Monsal Head, this is a 13.2 mile Peak District walk with pub stop which has amazing views over the Headstone Viaduct from the start of the Monsal Trail.
Our walk started in the Monsal Trail car park near the Monsal Head Hotel, and we first wound our way through the woodland to the summit of Fin Cop. Other than the beautiful views over the Monsal Viaduct, the Monsal Trail and wildflowers, including cowslips, field pansies and wild orchids, there isn't much at the summit of Fin Cop other than a small cairn. The actual summit proper is the stake over the other side of the wall which can be reached with a stick if you really need to touch it (Joel did!).
After we'd been to Fin Cop, we retraced our steps back to the Monsal Head car park and set off towards the pretty villages of Little Longstone and Great Longstone. Passing the quaint cottages and the ancient village stocks, we followed the footpath up the farm track and up onto the moors. There are lots of abandoned mineshafts on Longstone Moor, so please take care.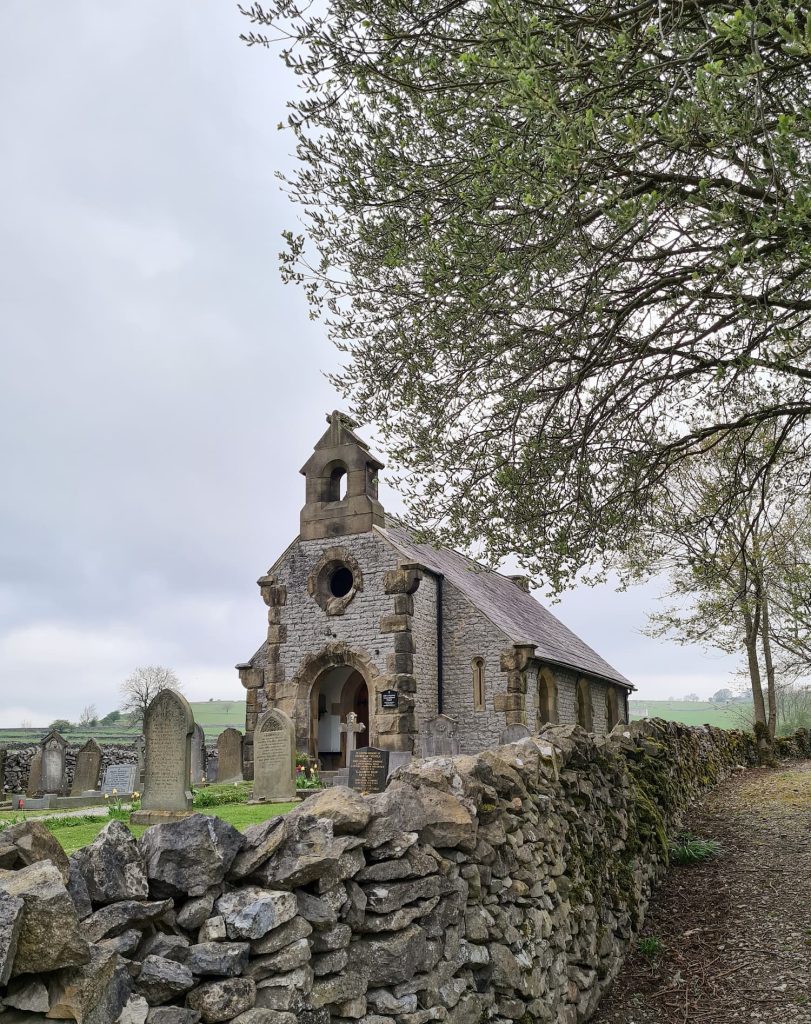 The summit of Longstone Moor is another one with a small cairn marker and has views over towards Wardlow Hay Cop.
We set off over the fields through (what seemed like) thousands of sheep and lambs on our way to Waterfall Swallet.
How to find Waterfall Swallet
This secret Peak District waterfall is set just off the roadside between Eyam and Foolow, and can be viewed from the roadside. There is no parking nearby so it's best included as part of a longer walk. The waterfall itself is privately owned but is down an easily accessible track with a small wooden access gate with no signage saying to keep out. The gate isn't locked. I think, from reading in online groups, the owner of the waterfall lets people go view it but does close access off at times. If you go, just go at your own risk as the way down to the waterfall is steep, muddy and scrambly with large loose rocks and broken glass. Go through the small wooden gate, not the big one. It's very muddy at the base of the waterfall. Also be sure to leave no rubbish and respect the area.
After the Waterfall Swallet, we headed back to the road and followed the footpaths across the fields to Wardlow Hay Cop. This is a really lovely part of the world with stunning views down the valley over the Derbyshire Dales National Nature Reserve. There's a short climb up to the Wardlow Hay Cop trig point, from which you can see over to Sir William Hill.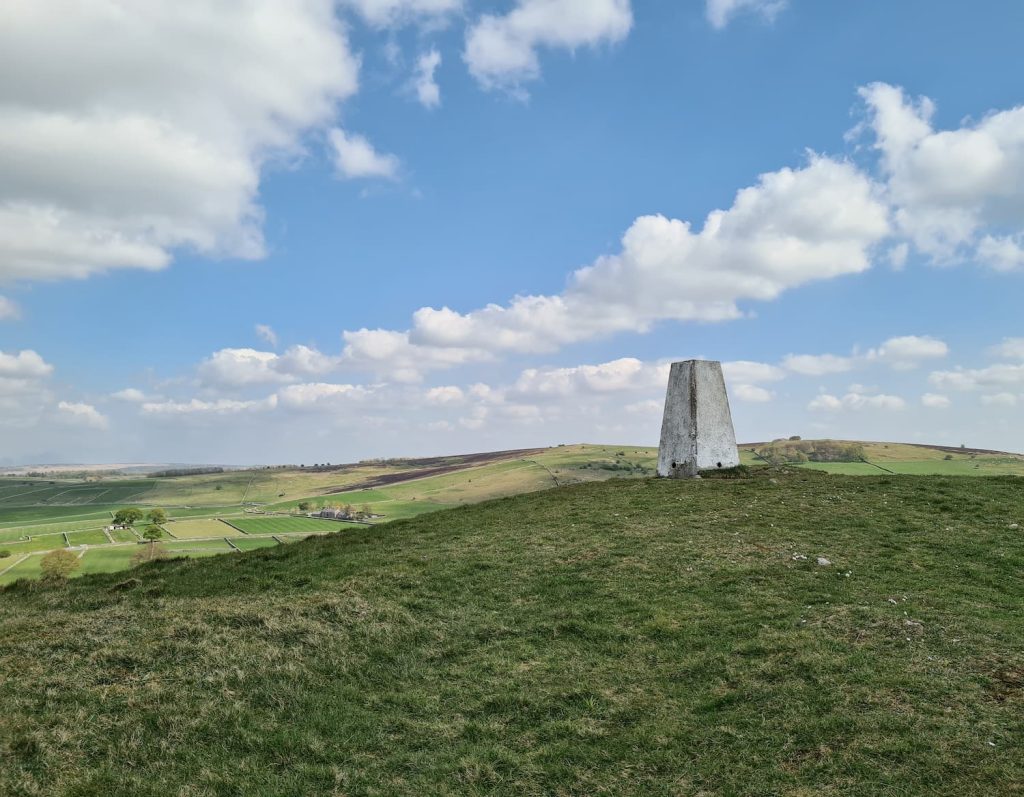 We headed up and over the hill then down the hillside, meeting some large locals on the way.
We followed the road back to Monsal Head, and had a delicious pub tunch (lunch and tea combined!) in the Monsal Head Hotel.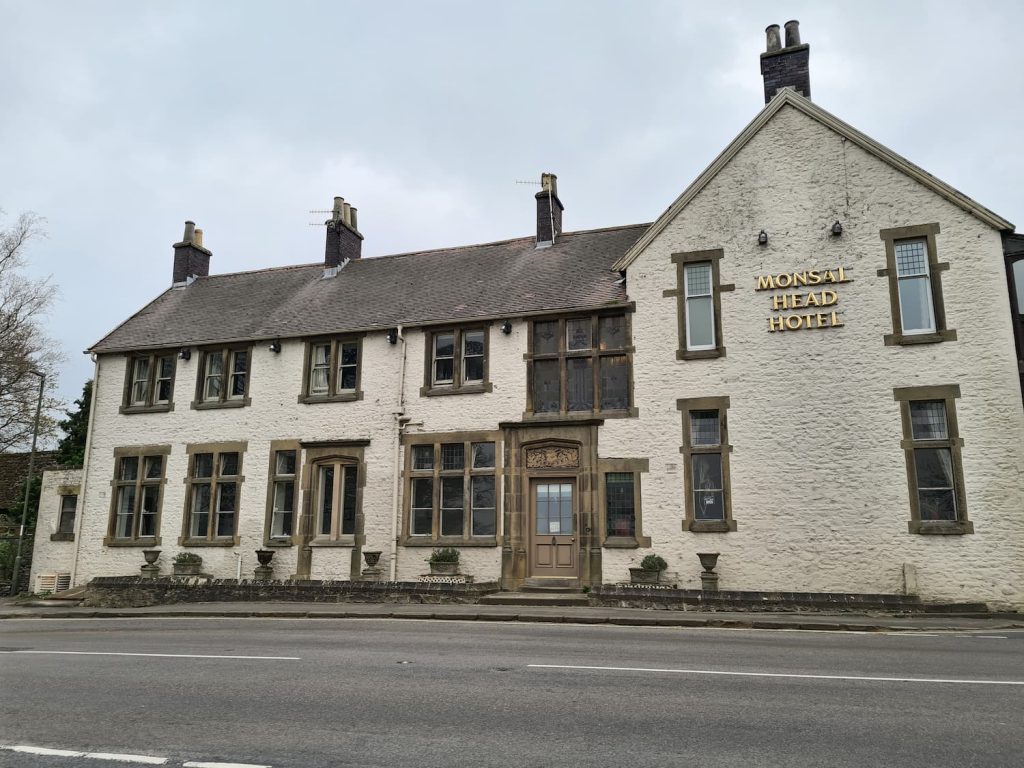 This was Holly's longest walk to date! She did brilliantly, fuelled by Tangfastics as always. I was going to tag this as a Peak District walk with kids but not many kids would walk this far. You could always break it up into smaller walks though as it's a beautiful part of the world to explore with kids. It also involves a lot of road walking, on narrow roads with fast traffic and no pavements in places.
Monsal Trail
As a side note, the start of this walk is also the start point for the Monsal Trail, which is a short steep climb down the hillside from the car park and provides 8 miles of vehicle free trails. It's popular with walkers, cyclists and horse riders alike, and there are four of the original railway tunnels to explore. You can find more information about the Monsal Trail here. This is a lovely walk to do with kids and is much less strenuous!
Monsal Head to Fin Cop Walk:
Parking: Monsal Head Car Park Long Stay, Castlegate Lane De45 1NJ. There is also limited on street parking nearby for free.
Facilities: Public toilets in the car park and pub at Monsal Head Hotel. There is also Hobbs Cafe and an ice cream truck.
Walk Time: 5-6 hours
Difficulty: ▲▲
Distance: 13.2 miles (23 km)
Trig Points Bagged: Wardlow Hay Cop
Peak District Peaks Bagged: Fin Cop, Longstone Moor and Wardlow Hay Cop
Peak District Ethels Bagged: Fin Cop, Longstone Moor and Wardlow Hay Cop
Monsal Head to Fin Cop Walk Route Map:
Click on the map to access Komoot.
You might also like:
A Beautiful Walk Through Wolfscote Dale & Biggin Dale
Chee Dale Stepping Stones Walk