Grindslow Knoll and True Kinder Scout Summit
This 7.5 mile walk starts in Barber Booth and heads up Grindslow Knoll before exploring the Peak District's highest mountain and the true Kinder Scout summit. With amazing rock formations and spectacular views, this is a classic Peak District walk.
Kinder Scout is the highest mountain in the Peak District, with it's recorded summit being at 636m above sea level. A lot of walkers use the Kinder Low trig point as the summit, as it's only 3m below the summit level and the summit itself is located off the beaten path in the peat bogs.  In 2009 or 2010 a survey by The National Trust revealed there was a slightly higher point at 636.3m, making this the true Kinder Scout summit. It's around 45m north-west from the previous summit and not marked on the OS map, however is marked on the ground by an underwhelming cairn on a tussock of grass. I can see why most people don't bother heading here!
Our walk started in the free car park at Barber Booth and headed along the road towards Upper Booth. At the phone box we followed the Pennine Way through the campsite and to the base of Broadlee-Bank Tor. From here we headed off onto the Open Access Land to climb the very steep hillside to the summit of Grindslow Knoll.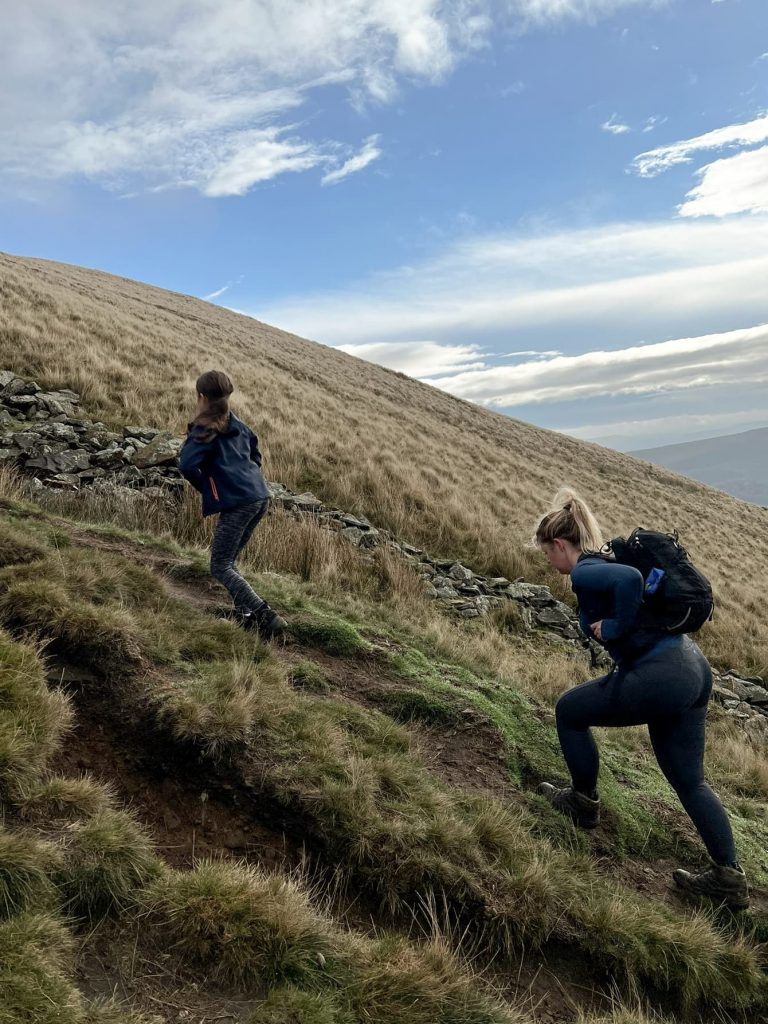 Though it's very steep, it doesn't take long and then that's most of the climbing out of the way for this walk!
The summit of Grindslow Knoll at 601m above sea level is marked by a large cairn and there are spectacular views over the vale of Edale and towards The Great Ridge, Mam Tor and Lose Hill to the south-west. To the west, on a clear day, there are views over the Kinder Scout plateau towards Crowden Brook and the Woolpacks. We didn't get a clear day – our views got worse and the walk got wetter as we got higher!
From Grindslow Knoll we followed the footpath heading north-east towards Crowden Tower. On a clear day the path is easy to follow and has  mixture of paved surface and rocky areas.
We passed the top of Crowden Clough, which is a fabulous way to scramble up onto Kinder Scout, then headed on towards Crowden Tower, a huge gritstone formation looming over Edale. The rock formations on Kinder Scout are some of my favourites!
From Crowden Tower we continued along the path heading west to The Wool Packs, an other worldly collection of gritstone tors and boulders which are so-called because they're said to resemble packs of wool on the horizon. They're brilliant for adventurous kids to climb about and explore but it's a VERY boggy and peaty area. When Joel and I did our Mini Edale Skyline walk we came this way and I dropped my phone in the peat! Yuck!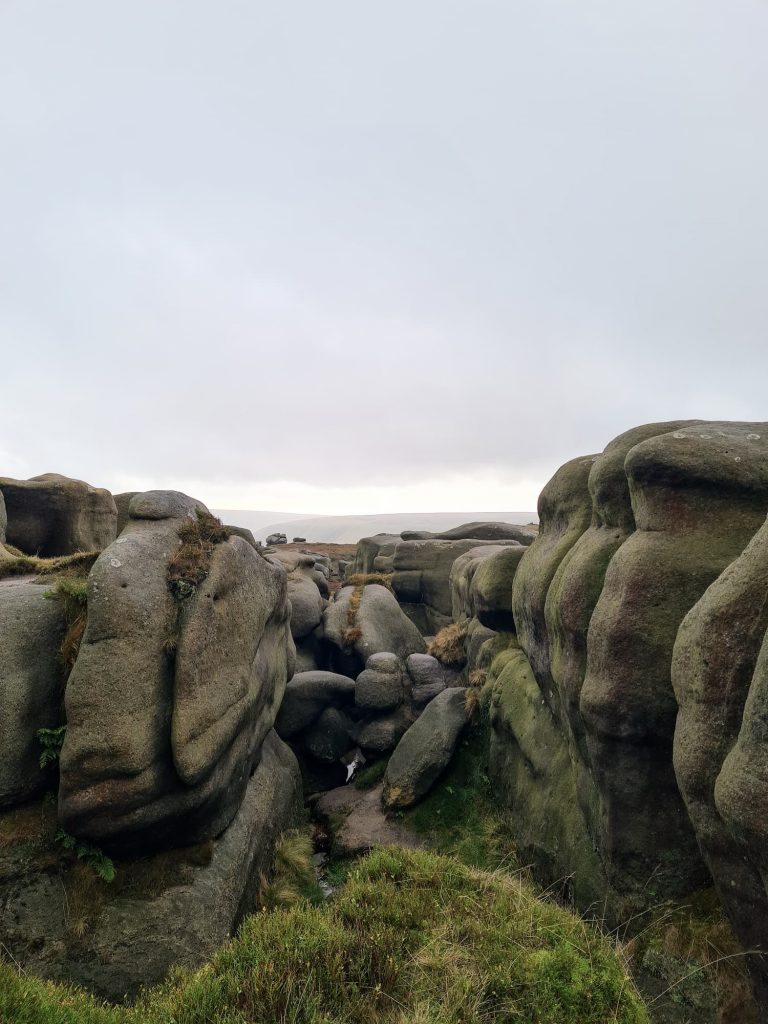 Once out the other side of The Wool Packs we headed along the northernmost path to Pym Chair. Again, this is a humongous gritstone tor which towers over the Kinder Plateau. From Pym Chair we headed off the path to look for the true Kinder Scout summit.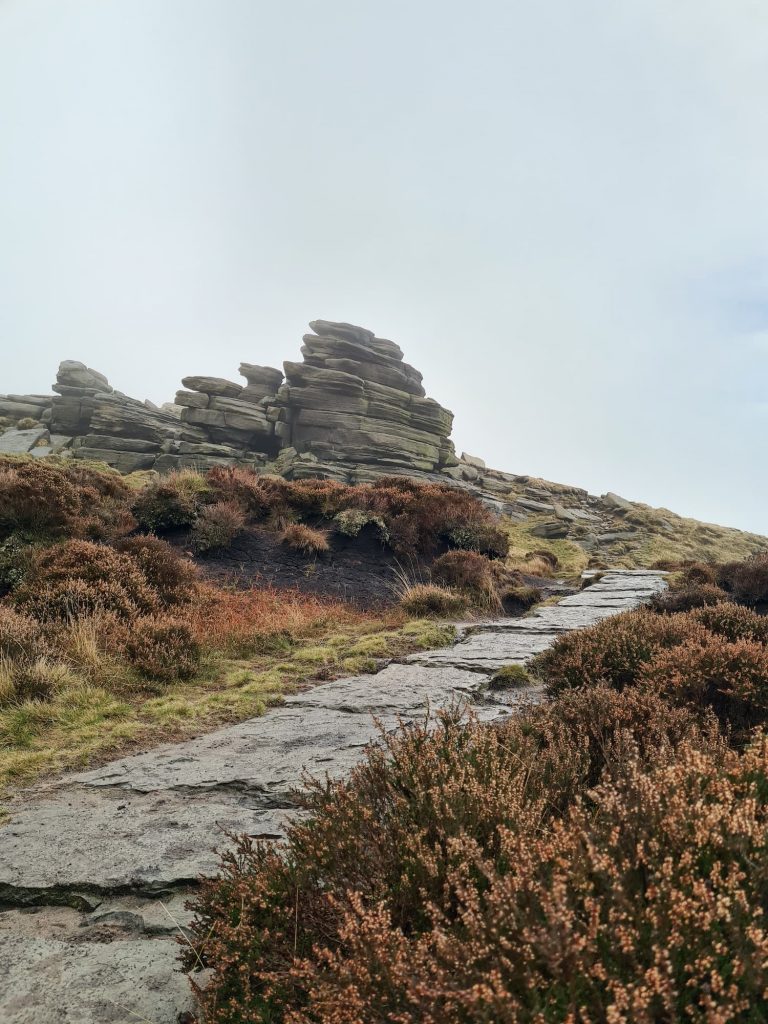 There is a very faint path leading through the peat bogs and groughs but on a misty day it would be hard to find. This path winds it's way to the summit in a generally north-west direction from Pym Chair, towards the point on the OS Maps marked with a 636 and a dot. The true summit of Kinder Scout lies some 45m to the north-west from this point and is marked by a small cairn on a grassy tussock. We couldn't find anything at the 636 point apart from a single stone!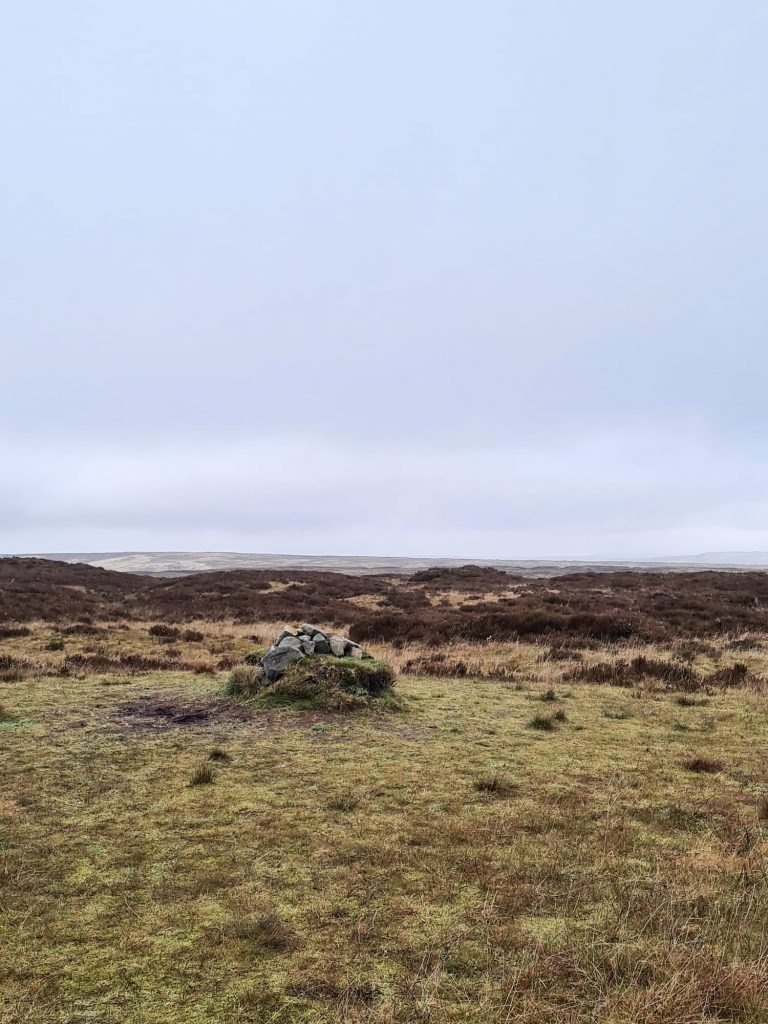 Once we'd been to the (frankly) underwhelming summit, we headed off south back to rejoin the path and follow it round by Noe Stool.
We picked up the Pennine Way near Swine's Back then headed back down Jacob's Ladder, the most popular way to walk up Kinder Scout. It did feel lovely coming DOWN it, rather than climbing UP, as it's really tough going!
At the cairn we took the left hand path to continue down Jacob's Ladder. This takes you down through farmland and following the road takes us back to the phone box at the campsite, where we retraced our steps back to the car.
We jumped in the car and drove a short distance for some Sunday lunch at The Cheshire Cheese Inn in Edale.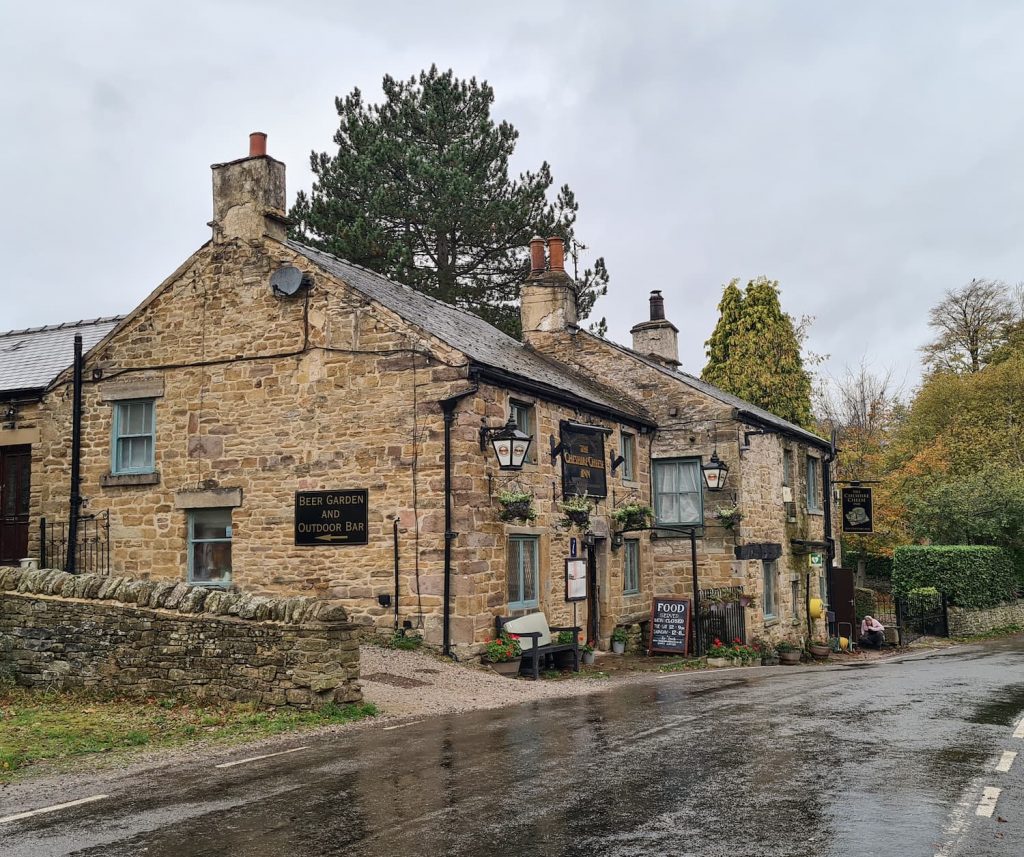 This blog may contain affiliate links through which, at no additional cost to you, I may earn a small commission. I only recommend products I would use myself and all opinions expressed here are my own. As an Amazon Associate I earn from qualifying purchases. Read full privacy policy here.
This was a great walk, but as always on Kinder Scout the weather can change quickly. Our walk started out with clear blue skies, with no rain forecast, and ended up with me having two coats on and being very glad of my Sealskinz waterproof socks! If you try this walk please make sure you're prepared – it'll be a long time before Mountain Rescue can reach you if you need help.
Is Kinder Scout a difficult walk?
This would be regarded as a strenuous walk, being moderately challenging. The navigation makes it extra difficult as there are a few off path sections which can make it easy to get lost if you're not sure where you're going. The Kinder plateau is quite featureless in places and the terrain undulates, making visibility difficult at times.
Grindslow Knoll to Kinder Scout summit walk
Parking: Barber Booth car park S33 7ZL – this is free although only large enough for 10-12 cars and fills up quickly on weekends.
Facilities: None
Walk Time: 3-4 hours
Difficulty: ▲▲▲
Distance: 7.5 miles (12.1km)
Trig Points Bagged: None
Peak District Peaks Bagged: Kinder Scout
Peak District Ethels Bagged: Grindslow Knoll, Kinder Scout
True Kinder Scout Summit Walk Map:
Click on the map to download the GPX file.
For more Kinder Scout walks, why not try:
Hayfield to Kinder Scout Circular Walk
Red Brook Scramble to Kinder Scout
Crowden Clough to Kinder Scout Walk
Or some other Grindslow Knoll walks to try:
Edale to Grindslow Knoll Circular Walk
Edale to Ringing Roger Scramble
If you're taking part in the Peak District Ethels Challenge, this is a great walk to tick off a couple of Ethels. You can find more Peak District Ethels Walks here.