Hade Edge Circular Walk with Pub Stop
Looking for a Hade Edge circular walk? This walk around the beautiful Holmfirth countryside is a great one to try! It's a lovely Peak District walk with a pub stop.
A few months back we booked a camping trip with friends to Whitegate Leisure Caravan and Camping Site and headed out on a walk around the local area. This is a great walk near Holmfirth Vineyard too, so if you are staying in the area you'll be able to get out and explore.
We started out from the camp site and headed up the road, skirting the edge of the forest. There were some very friendly cows in the field!
The road sweeps round and skirts the edge of the moors, with Cooks Study Moss and Ruddle Clough Moss looking beautiful as ever. You pass the gateway to Snailsden Reservoir, which is on the to visit list. Snailsden Reservoir doesn't allow dogs off leads at all, and there are notices up on the gate to this effect. Please keep your dog on a lead – there is so much wildlife and livestock there that dogs can disturb.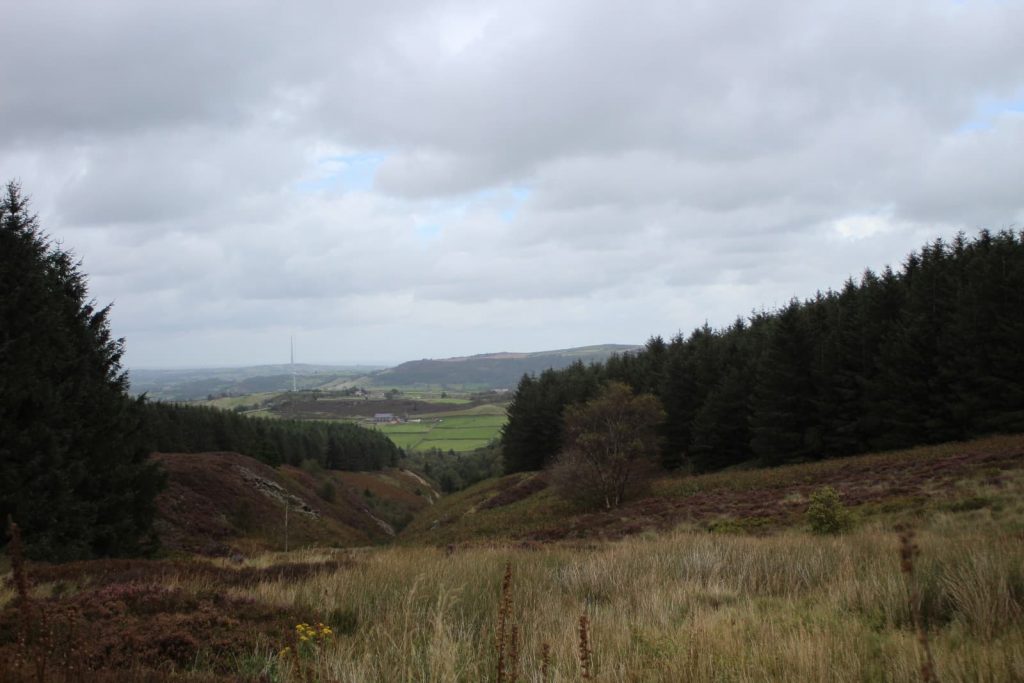 Onwards! There's a spectacular tree which stands at the start of the gravel track for the next part of the walk. This guy wouldn't look out of place in a Lord of the Rings film! Very Ent-like.
Walking down the gravel track brings you out onto the road again and it's a quick walk through the village of Hade Edge to get to the Boshaw Trout pub. Hade Edge is a lovely little village and often has events such as a fairy door trail or scarecrow trail.  We did the fairy door trail and Hols loved it (she loves all things magical).
After a very welcome lunch stop and glass of wine at the Boshaw Trout we headed off over public footpaths towards Holme Styes reservoir. There are lovely views over the valley from here.
The paths then lead upwards through the woodland and past the ruins of some abandoned cottages. From researching online these ruins appear to be an old farmhouse. There's even an old bed in there! Explore them at your own risk and beware the nettles.
The track leads back to onto a track which will take you back to the camp site. It is shown on maps as a road but I definitely wouldn't want to drive down here in our 206!
This Hade Edge circular walk is a great one to do if you are in the Holmfirth area, and there are many footpaths leading off so you can add on extra loops and stops along the way.
Here's the route we took:
For more walks around Holmfirth, why not check out:
Walks in Yorkshire – Circular Walk Around Harden Moss in Holmfirth
or
Walks in Yorkshire – Circular Walk from Marsden to Wessenden Head